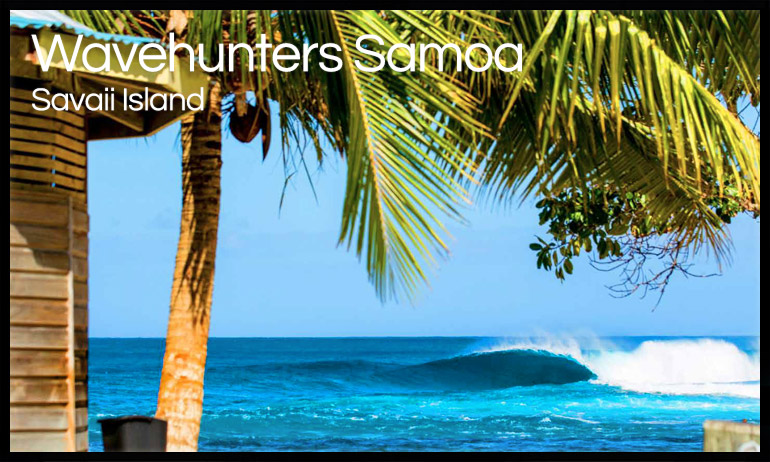 Aganoa Lodge : Savai'i Island
A visit to Aganoa Lodge Samoa offers surfers and non-surfers alike an unparalleled experience, while preserving the natural and cultural integrity of one of the last untrodden surf wonderlands on the planet.
Every aspect of the Aganoa Lodge Samoa guest experience is designed to immerse you in Savai'i's pristine natural environment. Theirgoal is to transport you to another time and place. A world of open air and open spaces, of falling asleep to the soft patter of rain on a tin roof or waking to the kiss of a light trade-wind breeze sliding off of the ocean. At Aganoa Lodge Samoa they invite you to unplug from your busy world and experience something perfect. Perfect and simple.
Welcome to Savai'i Samoa
Situated in the middle of the South Pacific Ocean, five and one half hours from Hawaii and Australia, Aganoa Lodge Samoa is located on the lesser known island of Savai'i Samoa. Savai'i is mountainous, fertile and surrounded by coral reefs. Lonely Planet describes the Savai'i landscape as 'spectacular tropical terrain'.
Savaiʻi is the largest and highest island in Samoa and the Samoa Islands chain, reaching a maximum altitude of 1,858 metres at Mt Silisili. It is also the biggest landmass in Polynesia outside Hawaii and New Zealand. The island of Savai'i is also referred to by Samoans as Salafai, a classical Samoan term used in oratory and prose. The island is home to 43,142 people who make up 24% of the country's population.
The only township and ferry terminal is Salelologa, the main entry point to the island, situated at the east end of Savai'i. A tar sealed road serves as the one main highway, connecting most of the villages with local buses reaching most settlements.
Due to the this remote location and low levels of traditional hospitality – Savai'i remains largely unspoilt by the rampant development in most parts of the South Pacific. Wavehunters welcomes you and your family to visit the private beaches and waves of Aganoa Lodge and experience the beauty and culture of the Polynesian paradise which is Samoa.
Accommodations
Aganoa Lodge Samoa is located on a five-acre oceanfront parcel bordering on the Tafua Rain forest Preserve with exclusive access to a 180 meter white sand beach and crystal clear lagoon. The beach is protected by a barrier reef making ideally suited for swimming, snorkeling and sunbathing.
The Lodge is a full service all-inclusive surf lodge featuring fully guided surfing experiences for a maximum of eight guests while also catering to non-surfers and their families who enjoy an active travel experience. Our common area is a huge open-plan space that features a bar, lounge area, and individual surf-observations areas. Our beautiful white sand Aganoa Beach is flanked by manicured grounds including a common sundeck featuring umbrellas and sun lounges with a view of the break directly in front of the lodge. Our bar is also accessible from the main deck area.
The Lodge is fully equipped with complimentary snorkel gear, bicycles, sea kayaks, fishing gear, yoga mats to enjoy all the property has on offer. We also offer daily hike, cultural tours and eco-excursions to the nearby waterfalls and blowholes.
Our Rooms
Our "rooms" are simple. Eight stand-alone, open-air fales (bungalows) each surrounded by its own "privacy screen" intended to give guests their own perfect carved-out piece of paradise. Each unit is constructed almost entirely of reclaimed timber and lava rocks collected on-site, and each features a king or queen-sized four-post bed cooled by high-speed mounted fans, en suite bathroom with open-sky shower (with Molton Brown amenities), power outlets and private porch decks for relaxing or watching the surf (literally steps from the lagoon beach).
Amenities
Mosquito nets, high-speed fans and en-suite bathrooms
King or Queen Sized beds (depending on group configurations)
Private dining, private patios
Services
Global roaming service available for guests' mobile telephones
WiFi connectivity at restaurant and bar
Daily housekeeping, laundry services
Dining
Meals are all-inclusive – with the exception of select beverages – at the Aganoa Lodge Samoa and have been designed to emphasize fresh, healthy, super-food/performance-enhancing nourishment to maintain peak energy levels during the experience.
Aganoa Lodge Samoa offers a delicious and authentic set-menu for breakfast, lunch, and dinner at the oceanfront restaurant. Locally sourced and sustainable ingredients anchor a menu of Samoan delicacies blended with Western cuisine. Stars are fresh fish caught daily right offshore and organic fruits and veggies grown in our on-site organic hydroponic facility.
The Surf
There are over 10 different waves within an hour's run of the lodge; the majority are within 30 minutes. The surf here is ultra-consistent, with lefts and rights that work in all tides. Best of all, the variety of surf offers many options for all levels of surfers and equipment.
Over the past 30 years we've been in the region, we've had the privilege to "discover" many waves and surf a multitude of others. The incredible part about most breaks on Savai'i (including the main break out front) is how accessible they are. While most breaks on neighboring Upolu require a boat ride to an outer reef, nearly all of Savai'i's waves are a short paddle from the Lodge.
At Aganoa Lodge Samoa, our guides are the key to our success, and are responsible for countless guests surfing the best waves of their lives. We invest seriously in hiring and developing the best surf guides in the world. World-class surfers who focus on enhancing your experience, not their own. They ensure your time is maximized, and match a break's degree of difficulty with your own capabilities.
AGANOA RIGHT
Savai'i's premiere wave and just a quick paddle from the beach at Aganoa. Like Salani on neighboring Upolu island, Aganoa Right is extremely consistent, breaking any time of the year and at all sizes from 2-10ft+. The Right also has multiple take-off spots for any surf-level and is optimal at mid though high tides.
AGANOA LEFT
Also in front of the restaurant at Aganoa and a short paddle from the Right, the Left peels around the reef pass and into a channel on the western side of the beach. Depending on the swell direction, the Left has a gorgeous barrel as well.
K-LAND
An intoxicating reef pass eerily reminiscent of the famed G-Land on Java. Surfable from 4-12ft+, the wave is a long, wrapping mix of both hollow, barreling sections and rippable walls. Just 30 mins from Aganoa.
MIDDLES
Just across the channel from K-Land, Middles is a playful, bowly split-peak peeling into a wide channel. Across the channel from the left is also a shorter but very fun right when you get frustrated by the crowd (your other 4 buddies) at Middles.
PASTOR POINT
A long, extremely fun right 30 minutes up the northeast side on the corner of an outer reef (that's still paddle-able). While the wave still barrels, it's a bit softer than Aganoa and perfect for any skill level.
EAST SIDE SECRET SPOTS
Keith Martin has uncovered a wealth of unknown, unsurfed "secret" spots over the course of almost three decades Savai'i. And though he's hesitant to give away his secret locations, he won't hesitate to tell you that the outer reefs of the East-side are home to some of his favorites. Accessible only by boat and almost invisible from shore, perfect reef passes peel down empty lineups into sparking blue lagoons.
COCONUTS
An hour away from Aganoa and the reliable "hedge" against the "devil wind" that hits our house waves straight onshore, Coconut Grove is a mercurial setup that can be fun and playful or downright terrifying. A series of left-hand setups that wind across a shallow reef, the wave can be as hollow as any wave in the Pacific or as rippable as any wave, well, anywhere.
LITTLE LEFT
Savai'i's only beginner wave, the Little Left softly breaks on a reef pass at the edge of our Lagoon at high tide. While you still need reef booties, the Left can provide hours of fun small waves and smiles.
DINING
Aganoa Lodge Samoa offers a delicious and authentic set-menu for breakfast, lunch, and dinner at the oceanfront restaurant. Locally sourced and sustainable ingredients anchor a menu of Samoan delicacies blended with Western cuisine. Stars are fresh fish caught daily right offshore and organic fruits and veggies grown either in our on-site organic hydroponic facility or in the gardens of nearby villages.
The recipes at Aganoa have been tailored to provide an authentic Samoan culinary experience, while the chosen ingredients emphasize fresh, healthy, super food / performance enhancing nourishment to maintain peak energy levels during the adventure.
Should you have special dietary requirements please lets us know in advance and we are more than happy to cater specifically for them.
Breakfast (served 7.00am to 10.30am; after 10.30am, fruit and cereals available) :
Breakfast is served in the Main House dining area and includes everything from fresh fruit and various grains, to hot foods and traditional Samoan breakfast options.
Lunch (served 12.00 to 2.00pm) :
A casual affair served after guests return from the morning surf session. Lunch options will include hearty, nourishing, fresh proteins with abundant sides.
Sunset Bar Snacks :
We have built a tradition across the years of serving fresh seafood snacks around sunset drinks time, or when guests return from the last surf session; all fresh from the local fishermen. Nothing tastes better than a snack and a cold beer after a day surfing.
Dinner (served 7.00pm to late) :
A sit-down affair and highlight of the day. Dinners will surprise and delight your taste buds and take you on an adventure through the regional influences of our chef and his team.
Dessert : 
Generally a hand-prepared sweet of some type. Everything from ice-cream through to banana cake, chocolate mud cake, carrot cake and preserved fruits in glazes. We swear it's a crime but often guests are not able to make it through to dessert from the main meal, and they require that the dessert be refrigerated for a midnight snack.
Beverages : 
Delicious beverages such as fresh fruit juices, fresh coconuts, coffee, tea, and spring water are complimentary and always available.
Soda, beer, wine and a full service bar are available as well at a nominal cost.
 
Additional inclusive features and services
Surfboard Repair
Ping-pong Table
Extensive Book Library
Stand Up Paddle Boards
Bike, Hiking, Waterfall, Blowhole, Eco, & Cultural Tours
EXPERT Western Surf Guides with 30+ Years of Local Experience
Sea Kayaks
Bocce Ball
Board Games
Snorkeling Gear
Fishing Equipment
Yoga Pavilion
Optional Features and Services
Bar
Aganoa Lodge is equipped with a full-service bar offering everything from beer and hand-crafted cocktails to fresh, tropical smoothies. Open from noon until 10pm.
Apparel / Equipment
A range of luxury surf specific products are available at the lodge on arrival or pre-order prior to your arrival.
Photo Services
We offer full photographic service. Guests who wish to reserve a photo package can do so at time of booking or upon arrival at the lodge.
Broadband Internet
Bar and restaurant areas of Aganoa Lodge feature BlueZone Wi-Fi access. Also your cell phone will get a signal in most areas for data and internet usage.