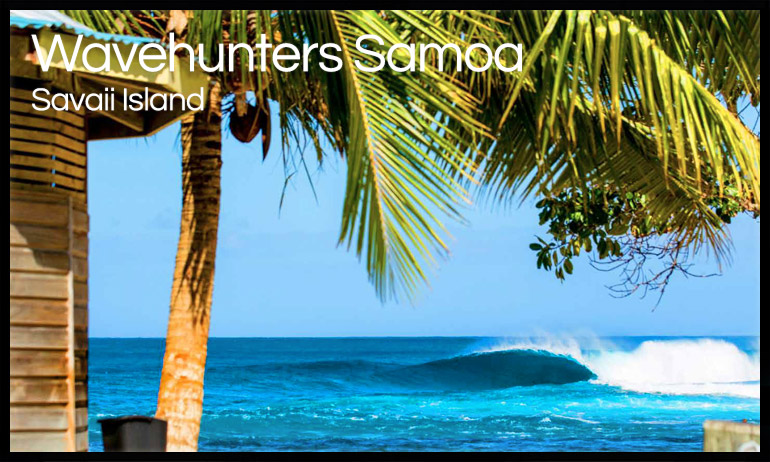 Aganoa Lodge : Pricing & Inclusions
2019 Aganoa Lodge Available Tour Dates
August 24-30:Fales available 
August 31-September 6: Fales available 
September 7-13: Fales available 
September 14-20: Fales available 
September 21-27: Fales available 
October 5-11: Fales available 
October 12-18: Fales available 
October 19-25: Fales available 
October 26-November 1: Fales available 
November 2-9: Fales available 
November 9-15: Fales available 
November 16-22: Fales available 
November 23-29: Fales available 
December available upon request
AGANOA LODGE PACKAGE INCLUSIONS
• Meet and greet in Apia (includes porters).
• Return transfers out to Aganoa Lodge Samoa from Apia Airport , Sheraton Samoa Aggie Greys Resort or the Airport Lodge.
• All surf and non-surf activity transfers (fishing tours, snorkel tours, etc.) are included in your package and will be carried out in the comfort of our vans and/or tender on rare occasions.
• Three meals per day prepared by our chefs; should you have special dietary requirements please lets us know in advance and we are more than happy to cater specifically for them.
• Unlimited drinking water via spring water tap.
• Complimentary hospitality offerings include fresh fruit such as bananas, as well as tea, coffee, fruit juiceandwater. Our attentive staff will attend to your needs at a moment's notice.
• Alcoholic beverages are available at our fully serviced bar.
• Access and uninterrupted views to the only resort-front break in the region. A short paddle from shore and available on Sundays!
• Use of all equipment and facilities at Aganoa Lodge Samoa, including fishing and snorkeling equipment, bikes, SUP, seakayaks, bocceball, ping-pong, magazines, books, yoga mats and much more.
• We offer a complimentary surfboard repair service but ask you do tip the staff member who has carried out the repair.
• Also included in this package is the expert knowledge of your western guides who have been living and surfing in this part of Samoa for almost 30 years!
TRANSFERS
We understand getting to a remote paradise can be a daunting and difficult task without some local knowledge and assistance. Rest assured that as a part of your reservation we will provide safe, timely transfers from the airport door - to the door of your private Fale.
Meet and greet at Apia Airport including porters
Transfer to Sheraton Samoa Aggie Greys Hotel or Aganoa Lodge Samoa (depending on arrival time)
Apia transfer to Ferry Terminal (Short drive to Ferry Terminal + 1 hour ferry ride)
Transfer from Ferry Terminal in Savai'i to Aganoa Lodge Samoa (Short 10 minute drive)
Return transfers to Apia airport or Apia Hotel
 
FREQUENTLY ASKED QUESTIONS
What is the general health & safety situation in Samoa?
Samoa is one of the safest travel destinations in the world, boasting a low crime rate, no terrorist activity, and very few diseases to worry about. However, we still recommend that you apply the same common sense approach to your health and safety as you would at home, by not leaving valuables unattended, and investing in both travel insurance and a basic travel first aid kit.
What documents do I need to take?
A passport with at least six months of validity remaining and one other form of identification.
Visitors to Samoa are not required to obtain an entry permit for stays of less than 60 days. Visitors must have a return or onward ticket and passports must be valid for six months or more at the time of entry into the country.
Travel insurance information.
In case you misplace any vital documents you should also carry a back-up photocopy of your passport, I.D, and airline ticket with you at all times. It doesn't hurt to leave another copy at home as well!
Is Cash Accepted at Aganoa Lodge?
No, cash is accepted on site. Please plan to pay all final charges via credit card or bank transfer. All bills must be settled prior to departure. Aganoa Lodge accepts only Visa and MasterCard. You may wish to have a small amount of cash on hand in Samoan Tala or credit card for personal telephone calls, additional meals, snacks & drinks in transit or transit accommodation.
Do I have to pay a departure tax?
No. Departure taxes are included in all airfare.
Do I need to take any vaccinations / immunizations before I fly to Samoa?
No vaccinations are required to enter Samoa unless you are arriving from, or transiting through, an area infected with yellow fever within 6 days. 
What is check-in time? 
Available at 9am on the start of your trip.
What is check-out time?
Guests generally check-out around noon but arrangements can be made to check-out much later in the day depending on your next destination, keeping in mind the last ferry typically leaves at 4pm. 
What are bar hours and appropriate dress for the bar?
Bar hours are Noon to 10pm, extended hours are available subject to staffing. Men should wear a t-shirt and women should wear a lavalava (sarong), pants or shorts and a t-shirt while in the lounge/bar.
Room cooling?
All rooms are equipped with hi-speed wall/floor fans which provide ample cooling during the day or evening.
Grocery Stores on the island?
A number of grocery stores are available to purchase snacks and drinks if needed as well as basic supplies.
Can I bring my own alcohol?
Guests can bring alcohol duty free up to two-litres of alcohol (Wine or liquor) and 200 cigarettes per person. If you would like to indulge in your alcohol in the bar area, we require a $10 corkage fee.
Due to medical or personal reasons I follow a special diet. Can you accommodate this?
Yes, with prior notification (minimum four weeks) we can accommodate most dietary requests.
Do I need to bring my own laptop?
Should you need to work while you are in our Samoan paradise, we strongly recommend you bring your own laptop or tablet.
Appropriate Dress? 
Light summer clothing is appropriate all year round and packing a light sweater for the cooler evenings is recommended. As Samoa has a strong cultural structure and Christian faith, visitors are asked not to wear bathing suits in Apia or in villages.
Nude and topless (for women) swimming or sunbathing is prohibited and when leaving the beach to venture into the villages, guests are asked to wear a lavalava (sarong), pants or shorts and t-shirt. If attending church on Sunday, women are asked to wear a dress or blouse and skirt and men trousers and shirt.
Surfing on Sundays?
Sunday is generally respected as a holy day and most shops and businesses are closed. You should not walk through villages on Sundays. Surfing is not allowed in Samoa on Sundays. However, because of Aganoa's private beach location, Aganoa is the only surfing spot that allows surfing and available exclusively to our guests. Guests will also be able to snorkel, SUP or use the Sea Kayaks on Sunday. A lunch feast will be served on Sunday's called Toanai.
Cell Phone Service?
Digicel and Bluesky are Samoa's main telecommunications provides.  Both offer extensive coverage.  Prepaid SIM cards are available at Faleolo International Airport and around Apia as well as in Savai'i. If you would like to purchase a prepaid phone for your visit, please let a staff member know.
How many boards should I bring?
If you do not wish to use any of our boards, it is entirely up to you as there will be no space limitations on the ferry or onsite at Aganoa. We can provide you with pre-trip advice on the best board for the local conditions. Please don't hesitate to ask. Remember to bring 1 x extra leg ropes and a couple blocks of tropical surf wax.
What is the main language?
Language: English is widely understood and spoken in the capital, Apia, as well as in many tourist resorts. However, it is less commonly understood in the villages, so learning a few words of Samoan can really help.
Where is the closest hospital?
The main hospital Malietoa Tanumafili II (M.T.II) Hospital in Savaii is approximately a 25 minute drive from Aganoa and they have doctors on duty 24 hours, 7 days a week.
Can I eat the coconuts?
Yes! If you would every like a fresh coconut to drink or eat, please tell the staff, the will prepare one for you.
Tell me about insect borne diseases.
There is no risk of catching malaria in Samoa, but there are occasional outbreaks of dengue fever. Dengue fever is transmitted by a daytime-biting mosquito, and travelers are recommended to apply a tropical strength insect repellent to avoid the risk of transmission, and to make your time here more comfortable. 
What is the quality of water like in Samoa?
The water in Samoa is generally safe to drink, although we recommend that travelers purchase bottled water, which is widely available. 
Can you give me an idea of how many other people I'll be surfing with?
Our aim is to spend the majority of our trips surfing with just the people staying at the lodge (maximum 8 surfers). This is not always possible, but there are plenty of waves in this area and due to our extensive experience we know how to be in the right place at the right time. While it's inevitable that we'll come across other surfers from time to time, rest assured you will get plenty of waves.