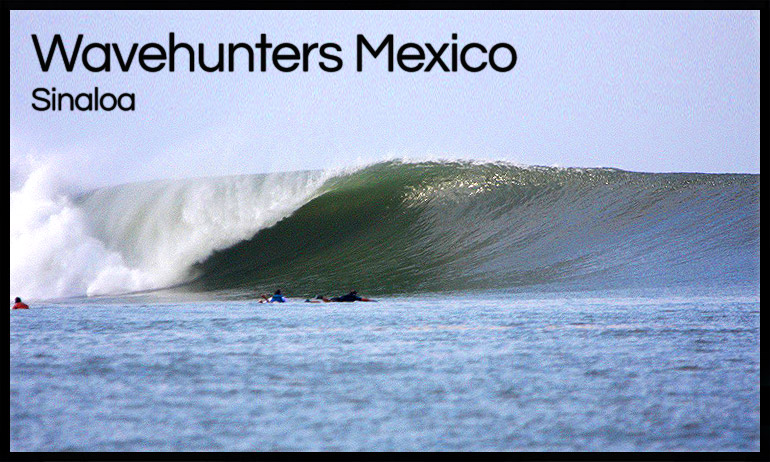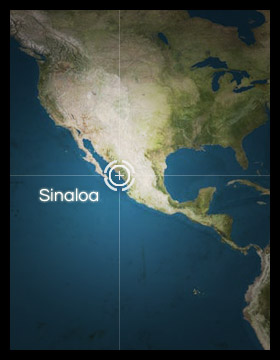 Sinaloa, Mexico
Located one hour north of Mazatlan, Mexico, directly across the Gulf of California from Cabo San Lucas on the Mexican mainland, the area around Sinaloa is a magnet for south and southwest swells.
Wavehunters experienced operator in this region SSA is your host to some of the world's most pristine and virgin coastlines, offering world class point and beach breaks for surfers of all abilities. Whether you are in the mood to drive down the line for 300 plus yards or pull into a barrel, you will find it at SSA. Most of the areas we surf are all sand bottom. Shortboarders and longboarders are both welcome and each will find what they are looking for here. Water temperatures hover around 75-85 degrees from May through November. In April, a vest or spring suit may be desirable. Typically there is always an off-shore flow in the morning that lasts until early afternoon.
For over nine years, SSA has been providing its clients with a surf getaway like no other. Set in the small, tranquil fishing village of Las Barres, SSA provides a place to get away from the stress of everyday life. This overlooked region in Mexico has been referred to as "the land that time forgot" and the "promised land". For decades surfers have flown right over the area (only 2 hour flight from LAX) for more well known and overcrowded surf destinations. Most of the spots we surf including the area's most famous wave Patole are on private property and SSA has negotiated exclusive access to these breaks so you can be assured of surfing with only 7 other guys in the water! Crowds are a non-issue here with SSA.
As important as the georgraphy and the surf, is the facilities and service that SSA provides. A first-class surfing and fishing lodge w/modern amenities and comforts awaits surfers who make the short trip down here from the Estados Unidos. No need to rough it. The SSA lodge is a couples and family friendly facility. Moreover the lodge and surrounding area is completely safe and despite recent safety concerns related to travel to Mexico you do not need to be concerned about your safety on a Wavehunters/SSA trip to this area which is professionally guided and staffed.
Typical Day
5:30AM TO 6:00AM - Breakfast
7:30AM to approx. 1:00PM - Morning surf session (we don't come in until the last man is in the boat)
1:30PM TO 2:30PM - Lunch
2:30 PM TO 7:00PM - Relax, nap or surf
7:00PM TO 7:30PM - Dinner 7:30 PM - Watch surf videos, read, shoot pool, etc.
Repeat daily schedule for six days!
The Surf
There are over 10 spots the camp has access to via their two fully outfitted superpangas or four trucks. Typically, they send out two boats of eight people daily. Most of the spots they surf including the area's most famous wave Patole are on private property and SSA has negotiated exclusive access to these breaks so you can be assured of surfing with only 7 other guys in the water! Crowds are a non-issue here with SSA.
All spots are reachable within 30 minutes of the lodge. Due to their crew's years of swell, wind, and tide knowledge, in addition to their ability to move quickly, they'll put you on the best waves. Most of the time, it will only be the other seven guys in your group out in the water. SSA is open April 1st-mid-November. Our objective is to maximize your surf time.
Surf Spots!
Patole – World class left point break
Vananos – World class left point break
River Mouth – Left/right A frame
Shelby's - Beach break A Frame Left / Right
Echehuevos – Right point break
Ronnies – Left Point Break
Weather
What is the weather like that time of year? April - May, August - November typically averages 85 during the day and 65 at night. June - July averages 95 during the day and 75 at night.
Accommodations
The SSA lodge sits on the water inside a small bay in the town of Las Barres, home to some 300 local inhabitants, the majority of whom are fishermen. You will see how the local residents make their livelihood off of the ocean.
The lodge is equipped with six air-conditioned bedrooms and six bath rooms, surfboard storage area, a fully enclosed, air-conditioned eating and entertainment room, and a huge balcony. Total sleeping accommodation is 17.
Rooms:
(4) Doubles/2pp each
(3) Triples/3pp each
(1) extra room that can be rented individually ($520 sole occupancy surcharge applies).

How to Book:
1.  THERE ARE FOUR WAYS TO MAKE A RESERVATION
A. BOOK ONLINE: Click the "BOOK ONLINE" button on the right side or bottom fo your desired destination/option and follow the instructions to make a deposit using our secure online reservation system.
B. SUBMIT A TRIP INQUIRY: Fill out the "Trip Inquiry" form on the right side of the page or under the "Booking Info" section on the top menu. Wavehunters will get back to you as soon as possible, usually within 24 hours.
C. SEND US AN E-MAIL: Send your questions and trip inquiries to wavehunters@wavehunters.com.
D. GIVE US A CALL: We are located in Carlsbad, California, USA. 1-760-413-1513
2. CONFIRM DATES AND MAKE DEPOSIT: Before you book online please double check that the trip you want and the dates you need match up. If you make a reservation online you will pay the deposit by credit card. We can also process credit cards offline, take checks made out to "Wavehunters Surf Travel", and we accept wire transfers, cashier's checks, money orders, or direct deposits. 
3. SEND US YOUR INFORMATION: During the booking process we strive to make everything as simple and easy as possible. When you're ready to make your reservation please have your passport ready as we will need the number, expiration date, and country of issue. We will also need your flight itinerary (if we do not help set it up) as well as a few destination specific questions. If you are travleing with a group please specify the number of people in your group and their names.
4. MAKE FLIGHT RESERVATIONS (AS NEEDED): Wavehunters is a full service travel agency capable of handling all of our guest's flight arrangements. Each destination typically requires a specific flight itinerary that needs to be confirmed by Wavehunters prior to departure. If you don't have the time or inclination to deal with setting up your flight arrangements Wavehunters will be happy to coordinate them for you. 
5. MAKE FINAL PAYMENT: You final payment is due two to four months prior to your trip's departure depending on which trip you are on. Once that's in along with the requested information you're all set to go!
6. SHOW UP: Rule #1 is to remember to not miss your flight and remember to have a passport with at least 6 months left before the expiration date.
7. SURF: Once you're at your destination the only thing you should have to to worry about is what board you should ride and where to surf. Have fun!

© 2018 Wavehunters Surf Travel, Inc. is a registered California Seller of Travel, C.S.T. Registration # 2060272-40. WAVEHUNTERS SURF TRAVEL . all rights reserved | Privacy Policy