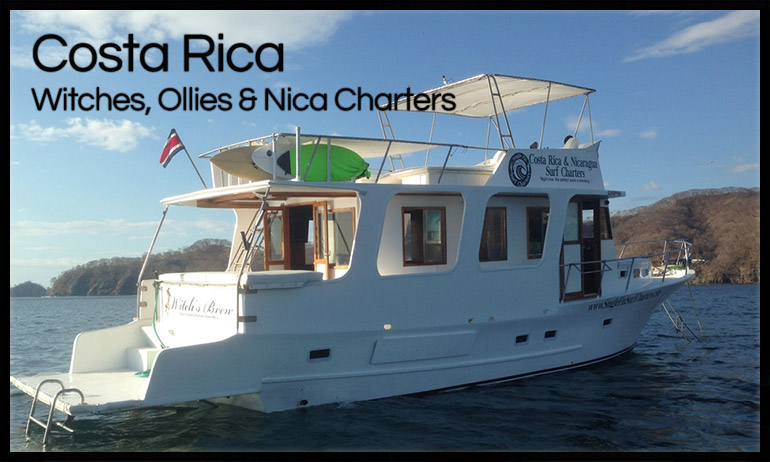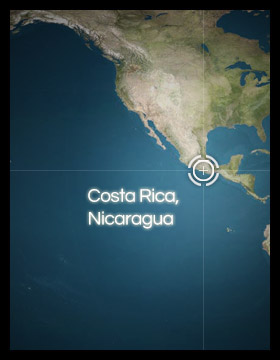 Witches Brew Surf Charters- Guanacaste, 
Costa Rica & Nicaragua
Ollies Point and Witch's Rock (2-8 day Charters)
Surf the world famous Witch's Rock and Ollie's point! Witch's Brew is the only boat permitted to anchor overnight in the Santa Rosa National park next to the surf breaks. We offer what no other company can: hours of crowd-free surf before the pangas arrive and well after the pangas have gone for the day! Choose as many nights as you would like, bounce between the two break as you please, enjoy the luxury accommodations, gourmet food and epic waves.
This all inclusive charter allows the surfers to concentrate on getting the best waves while avoiding the hassle of crowds and car rides. Anchor each night directly by the breaks, enjoy the luxury accommodations and feast on gourmet meals; surfers can relax and have a beer while the crew takes care of everything. Climb aboard the "Witch's Brew", set sail on the Pacific Ocean and explore the waves of Costa Rica and Nicaragua like you never have before.
Nicaragua and Costa Rica Signature Charter (6-14 day Charters)
Join us for the surf adventure of a lifetime spanning the best waves of Costa Rica and Nicaragua. This signature charter starts by heading north from Playa Del Coco, Costa Rica to the world famous surf breaks Ollie's Point and Witch's Rock in Guanacaste.
Motoring overnight, they continue to San Juan Del Sur, Nicaragua for customs and immigration. Spend several days surfing the best variety of waves Nicaragua has to offer including: Manzillo, Colorado's, Santana, Popoyo, Outer Reef, Astillero and more. From reef breaks to point breaks and sandy bottom beach breaks, Nicaragua has something for everyone of every skill level. With two days left, the charter heads south returning to Costa Rica, anchoring again at Ollie's Point and Witch's Rock. Depending on the swell, these breaks as well as Isla Colorado and Labyrinth are the surfer's choice. The final morning is a farewell, crowd-free surf session at Ollie's Point or Witches before the final sail back to Playa Del Coco.
Day Charters
Don't settle for a "Panga ride" to Witch's and Ollie's Point! Instead, relax and enjoy the boat ride, great food and luxury accommodations between sessions. Even non-surfers will enjoy the day of beach combing and snorkeling in the National Park.
The Witch's Brew
The "Witch's Brew" is your own personal cruise ship. You and your friends will cruise the Guanacaste coast in comfort and style enjoying the multitude of contemporary amenities.
She is equipped with 3 staterooms, each with two beds, comfortably sleeping 6. All the cabins are equipped with air conditioning for everyone's sleeping comfort. There are 2 bathrooms outfitted with showers, a full kitchen with brand new appliances and BBQ.
Relax in the salon with a flat screen TV, Xbox 360, and hard drive with over 1200 movies. Hook up your phone or any music device to the 8 speaker Bose sound system and blast your favorite tunes.
Lay out in the sun on the fully cushioned bow deck or topside on the flybridge on cushioned bench seating. There is ample room for everyone in the shade and in the sun. The Witch's Brew can accommodate 18 passengers on day trips (Max. 8pax for overnight trips).
The Witch's Brew is available for private, all-inclusive charters to meet any live-aboard needs. Full day and overnight excursions are offered for surfing, fishing, snorkeling, sunset trips, beach tours or voyages to special destinations. You can customize your boat charters to whatever you like!
About Us
Witches Brew Charters are based out of Playa Del Coco in the northern Pacific region of Guanacaste, Costa Rica, 30 minutes from Liberia International Airport. They are also 1 hour from the famous surf town Tamarindo.

Surf charters focus on the remote breaks of Northwest Costa Rica including Witch's Rock & Ollie's Point and Southern Pacific Nicaragua.
Their fishing charters will take you to the best fishing areas in Guanacaste. Day charters will take you to secluded beaches and snorkeling destinations only accessible by boat, where you may see giant manta rays, huge schools of fish, octopus, eels and more of the diverse marine life that Costa Rica has to offer. Sit back and cruise the coast with schools of dolphins playing in the bow wake and come evening, take in the beautiful sunset.
Custom live-aboard charters are our specialty; they can customize any charter to meet your needs. They offer exclusive surf trips and additional services to make the most of your vacation. Trips are all inclusive; from food and drinks to National Park passes and fees they will take care of your every need.

How to Book:
1.  THERE ARE FOUR WAYS TO MAKE A RESERVATION
A. BOOK ONLINE: Click the "BOOK ONLINE" button on the right side or bottom fo your desired destination/option and follow the instructions to make a deposit using our secure online reservation system.
B. SUBMIT A TRIP INQUIRY: Fill out the "Trip Inquiry" form on the right side of the page or under the "Booking Info" section on the top menu. Wavehunters will get back to you as soon as possible, usually within 24 hours.
C. SEND US AN E-MAIL: Send your questions and trip inquiries to wavehunters@wavehunters.com.
D. GIVE US A CALL: We are located in Carlsbad, California, USA. 1-760-413-1513
2. CONFIRM DATES AND MAKE DEPOSIT: Before you book online please double check that the trip you want and the dates you need match up. If you make a reservation online you will pay the deposit by credit card. We can also process credit cards offline, take checks made out to "Wavehunters Surf Travel", and we accept wire transfers, cashier's checks, money orders, or direct deposits. 
3. SEND US YOUR INFORMATION: During the booking process we strive to make everything as simple and easy as possible. When you're ready to make your reservation please have your passport ready as we will need the number, expiration date, and country of issue. We will also need your flight itinerary (if we do not help set it up) as well as a few destination specific questions. If you are travleing with a group please specify the number of people in your group and their names.
4. MAKE FLIGHT RESERVATIONS (AS NEEDED): Wavehunters is a full service travel agency capable of handling all of our guest's flight arrangements. Each destination typically requires a specific flight itinerary that needs to be confirmed by Wavehunters prior to departure. If you don't have the time or inclination to deal with setting up your flight arrangements Wavehunters will be happy to coordinate them for you. 
5. MAKE FINAL PAYMENT: You final payment is due two to four months prior to your trip's departure depending on which trip you are on. Once that's in along with the requested information you're all set to go!
6. SHOW UP: Rule #1 is to remember to not miss your flight and remember to have a passport with at least 6 months left before the expiration date.
7. SURF: Once you're at your destination the only thing you should have to to worry about is what board you should ride and where to surf. Have fun!

© 2017 Wavehunters Surf Travel, Inc. is a registered California Seller of Travel, C.S.T. Registration # 2060272-40. WAVEHUNTERS SURF TRAVEL . all rights reserved | Privacy Policy