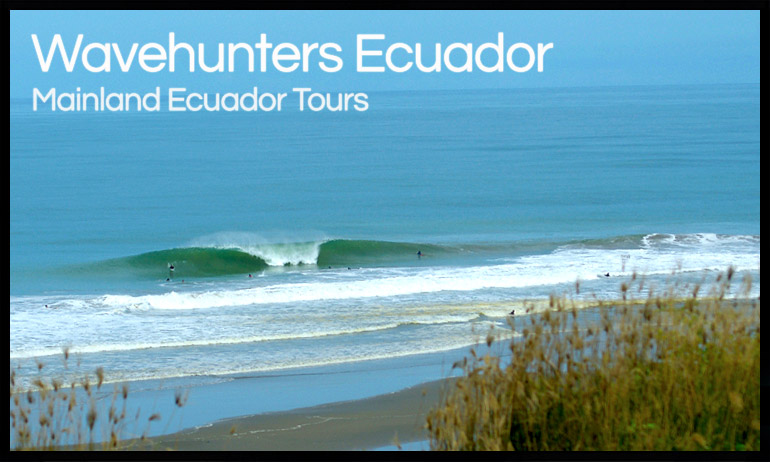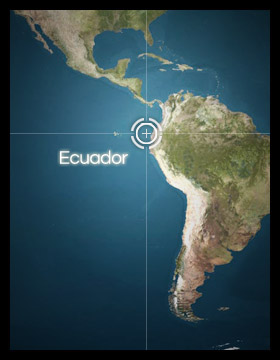 Ecuador
Wavehunters new mainland Ecuador tours are the result of our recent return visit to this region in the spring of 2012 and collaboration with Ecuador and Galapagos surf tour guru Eddie Salazar, a native Ecuadorian surfer who possesses a lifetime of local knowledge of this entire coastline. A wave of massive investment by the Ecuadorian government riding the back of oil revenues has resulted in new international and domestic airline routes, vastly improved roads and infrastructure, concurrent with new accommodation options all that did not exist just a few years ago. For the surfer this means easier and faster access into and within Ecuador, comfortable accommodations, great dining and nightlife options, and increased wave counts. Our tours now fly you right into Manta airport at the coast, where you are only minutes from the first surf (versus hours before when you had to fly into Guayaquil). Strategically located on Ecaudor's Central coast, from Manta we can follow the swell north or south and score dozens of uncrowded waves within a several hour radius.
Wavehunters Ecuador tours do not focus on just one beach or even one province, but endeavor to surf all the best waves throughout the country from Esmereldas province in the North, to Manabi province in the Central region, to Guayas province in the South. From North to South is a drive of about 8 hours at highway speed without stopping to check any of the dozens of breaks to be found along the way. We have tactically broken up the country into 4 surfing zones to take on this task of striking Ecuador's best surf: Northern (Mompiche to Bahia de Caraquez), Central (Manta zone), Baja Manabi, and Southern (Las Salinas to Montanita).
Our All Zones "Wavehunter" Tour is designed for the hardcore surf traveler keen to follow the swell and surf the entire country of Ecuador. Our Baja Manabi Zone tour on the other hand is designed for surfers seeking a more laidback and qualitative approach focusing on one wave zone. Our Baja Manabi Zone tours include specialized "Performer" packages for both Beginner and Experienced surfers which include a combined surfing, fitness, relaxation and organic foods diet program, along with optional photo and video packages. 
Seasons
Ecuador's prime surf season is from December to April. This is the season of NW swells generated by winter storms in the North Pacific ocean and NW-SW combo swells (or West swells), transitioning into the Southern hemisphere swell season. Winds during this time of year are predominantly glassy to offshore along most of the coast resulting in often good to epic conditions. During this season Ecuador is a world class surfing destination and one of the most consistent places to score tropical waves during the Northern hemisphere winter. El Nino Years (when the Pacific storm track drops further south) are particularly legendary in Ecuador. May-November has dominant onshore winds (S-SW) along much of the coastline although mornings can still be glassy. We still offers tours in this season and it can be worth the trip, especially for beginner to intermediate surfers just looking to enjoy some really fun uncrowded waves off the beaten track, or for someone passing through Ecuador or this part of South America who wants to drop in.
The Surf
Surf Variety
Ecuador has incredible surf variety. There are an equal proportion of rights to lefts, and an equal proportion of points, rock reefs, jetties, rivermouths and beachbreaks. Some of the breaks, depending on their orientation, work best on north swells, others on south swells and others on combo or "West" swells, making Ecuador a very dynamic surf destination. In general the breaks are very tide sensitive. An approximately 2 meter (7 foot) tidal range will make or break a lot of the spots. Most spots are also heavily direction sensitive and swell dependent, some being magnets for swell and others needing larger swells to turn on. Wind is another variable to throw in as some spots are more protected than others. The vast majority of breaks are not visible from the main highways and require turnoffs at unmarked roads and some time to reach, which means you can waste an incredible amount of time looking for surf here if you don't know where to go and when to go. The answers to these equations rely on a combination of surf forecasting, years of local knowledge, and cell phone communications with friends (spotters) up and down the coast. Wavehunters Ecuadorian surf guides have the coast completely dialed in to put you onto the best surf at any given time including many secret and semi-secret spots with no crowd factor. By contrast, if you go to Montanita, Ecuador's best known surf spot, expect to find a few dozen surfers, mainly locals, hugging a tight take off zone on the point. We don't think that's what you traveled this far to experience, so Wavehunters offers the opposite of this: uncrowded surf in unspoiled beaches.
Surfing Zones
Northern Zone 
This zone extends from Bahia de Caraquez (about 1hr north of Manta) through Canoa and north to the Mompiche area in Esmereldas province. Bahia is not a major surf town except on giant SW swells when it has one of the best left pointbreaks in Ecuador. The Canoa zone contains a series of rivermouths and sand points that come alive on NW swells and produce fun rippable waves over a sand bottom that is more forgiving in most areas. This is a great area for beginners and intermediates. Mompiche is Ecuador's most famous world class left pointbreak that comes alive on big NW swells which Ecuadorian surfers wait patiently for and then descend on it. Fortunately it is remote enough to still catch it and especially some of the surrounding waves reasonably uncrowded from time to time.
Central Zone
This zone extends from Manta where the coastline faces due North with dead-on exposure to winter Northwest swells at several point and jetty breaks, out to the San Lorenzo Cape, a rugged zone containing a series of remote point and reef breaks which work on a wide variety of swell directions and tides with varying wind protection, and finally to the south facing end of the cape which contains some of Ecuador's hollowest beachbreaks and rivermouths. All in all the Central Zone has Ecuador's most uncrowded surf. Here on any given day you can regularly expect to surf with almost no one, but this zone also has the most difficult access and hard to read conditions so that you could waste a lot of time here checking spots for nothing, making local knowledge and experience crucial to scoring.
Baja Manabi Zone
This zone is located between the Central and Southern zones on a less populated stretch of the coastline. Wavehunters base camp and bungalows are located here and the break out front is an exposed beach break breaking right and left depending on the swell, offering a wide variety of options for all levels of surfers. If a dominant North swell is showing, our beach lights up like a point break with rights peeling on the outside for about 200 yards then to an inside section that barrels hard. If you catch a South or West swell, the conditions will vary depending on tides with many empty left and right peaks to ride, but never the less the waves are rarely flat. If you are learning with our surf school, we will take you out when the tide is low in the surf and close to shore to judge your ability. However, if you are an advanced surfer incoming tides always bring bigger surf with an outside peak just a short paddle away. The best part about our beach is the lack of crowds due to our remote location in a very large mountain range. You will surf alone. Our beach breaks year round with little to no crowds.Nearby Surf: There is 1 reef break that is approximately a 15-minute boat ride away. This reef break is a hollow grinding right-hander and breaks over shallow rocks (Advanced surfers recommended). The 2nd break is a rock point that sits in a bay and is a nice mellow left-hander that can get up to 12 feet and break 200 yards easily. This break has a nice tube section on the inside (Med-Adv surfers recommended). The 3rd break is a remote left-hand rock break that is about a 20-minute car ride away with either a hike on foot for 15-minutes or a 25-minute boat ride from the bay (Med-Adv surfers recommended). All 3 of these spots are consistent and pick up swells from most directions.
Southern Zone
This zone includes the popular beaches of Las Salinas and Montanita. These breaks are best on SW swells but some also work very good on NW. Las Salinas is the backyard for Guayaquil based surfers who are only 2 hours away. The coastline around Las Salinas here is indented and contains a variety of points, reefs, jetties, and beachbreaks with sometimes restricted access that has to be negotiated. Montanita is a Bohemian surf mecca and party town frequented by international youth and backpackers as well as active lifestyle South Americans. Some of the more popular spots can still be surfed with reasonable crowd levels very early mornings (when a lot of surfers are hungover or just closing the bars). Our surf guides can easily transport you away from the more crowded spots to surf uncrowded waves in and around this zone within a reasonable driving distance while you may enjoy the social atmosphere, beach activities, and nightlife.
Baja Manabi : Moderate hotel
Wavehunters base camp is located in Baja Manabi between the Southern and Central Surf Zones. The property consists of brand new spacious bungalows that sit on a small hill set a couple hundred meters back from this acclaimed beachbreak, one of Ecuador's most consistent high performance waves.
Bungalow Amenities
Private bathroom
Hot water
Ceiling fan
Private rooms with luxury, orthopedic mattresses
Large closets for board storage and clothes
Private patio with table
Unlimited purified drinking water
*Upgraded bungalows include air conditioning and DIRECTV®.
Bar
At our Bar you can join other travelers and locals and enjoy a freshly prepared organic breakfast during the mornings and enjoy mixed drinks, beer, or light snacks at night. The Bar also has front seats (or comfortable hammocks and bamboo seats) to one of the best sunsets in the world. During the day, our 40-inch LCD TV features the newest and best surf videos, sporting events, or movies.
Management
A husband and wife team offering Manhattan hotel industry knowledge, over 10 years of client service experience, and a passion for surfing, Keith and Marilyn Keller have tapped into the culture and beautiful scenery of Manabi, Ecuador to offer a unique and amazing experience. With the combination of extensive surf knowledge, local insights, and the natural gift for client services, this duo can help find whatever you're looking for during your trip to the beautiful country of Ecuador.
Montanita : Deluxe Accommodation
Location: Beachfront 400m south of the point
Description: Opened December 2012, this hotel brings a new level of sophistication and class to the Ecuador surf scene
Facilities: Reception, Swimming pool, Restaurant (specializing in Peruvian cuisine), beachfront bar and lounge, SPA, Sauna, Game area (ping pong, billiards, foosball), WIFI
Suites:
1st floor: (2)triples, (2) matrimonials w/ocean view, (1)Double) w/ocean view
2nd floor: (2) triples, (3)matrimonials w/ocean view
3rd floor: (2)matrimonials, (1)matrimonial w/ocean view, (1)Presidential Suite w/Ocean view
Matrimonials: 40sq meters (1 queen bed + 1 sofa bed)
Doubles: 40sq meters(2 queen sized beds)
Triples: 60sq meters (1 queen bed + 2 double beds)
Presidential Suite: 80sq meters (1 king bed + living room)
Room amenities: A/C, Satellite TV, WIFI, private designer bathroom
Breakfast: included in rate.
Tour Options
Wavehunters Ecuador offers 2 tour options:
1)All Zones "Wavehunter" Surf Package
Season: December to April only
This tour arrives and departs Manta on Ecuador's Central coast (via direct flight from Quito). If you have a flight arriving in the evening or departing in the morning don't worry we have a 4-star hotel option 10 minutes from the airport and just minutes from the closest surf. From here we move north, west or south depending on the swell and conditions. Our primary accommodations are about 1hr30min to the south in Baja Manabi on the border between the Southern and Central Surf Zones, where virtually all breaks in either zone can be accessed in 75 minutes or less. Accommodations can also be interchanged between different zones as necessary.

Tour includes: Internal flights Quito, Ecuador to Manta roundtrip including taxes; Manta Airport Greeting and transfers; Full-day surf tours with bilingual Ecuadorian surf guide w/drinking water included; Transportation provided by Hyundai Tucson SUV (2pp groups) or Hyundai Grace Van (3-6pp groups); All fuel and highway tolls; Access to over 30 breaks on the South, Central and North Coast of Ecuador (including secret spots with no crowds); Accommodations with private double room, AC, hot water, Satellite TV, wireless internet and breakfast included.
2)Baja Manabi Zone: The "Performer" Coaching/Learn-to-Surf & Fitness Package
Season:Year-round
Tour arrives and departs Manta (via direct flight from Quito) or Guayaquil. This tour is based exclusively out of Wavehunters Baja Manabi base camp and bungalows located at one of Ecuador's best beachbreaks in a surf rich zone away from crowds on Ecuador's South-Central coast.

Tour includes Roundtrip transfers from Manta or Guayaquil to Wavehunters Baja Manabi base camp; 7 nights in a Private bungalow (max 2pp); Pre-Surf Yogurt, fruit, coffee, water; Full freshly prepared breakfast and lunch; 6 in-water surf coaching/classes lasting 1.5 hours each; All equipment included; Video analysis of your surf session to improve your technique; 2 fitness classes to improve paddle power, core power, and surfing strength; 1 post surfing massage.

How to Book:
1.  THERE ARE FOUR WAYS TO MAKE A RESERVATION
A. BOOK ONLINE: Click the "BOOK ONLINE" button on the right side or bottom fo your desired destination/option and follow the instructions to make a deposit using our secure online reservation system.
B. SUBMIT A TRIP INQUIRY: Fill out the "Trip Inquiry" form on the right side of the page or under the "Booking Info" section on the top menu. Wavehunters will get back to you as soon as possible, usually within 24 hours.
C. SEND US AN E-MAIL: Send your questions and trip inquiries to wavehunters@wavehunters.com.
D. GIVE US A CALL: We are located in Carlsbad, California, USA. 1-760-413-1513
2. CONFIRM DATES AND MAKE DEPOSIT: Before you book online please double check that the trip you want and the dates you need match up. If you make a reservation online you will pay the deposit by credit card. We can also process credit cards offline, take checks made out to "Wavehunters Surf Travel", and we accept wire transfers, cashier's checks, money orders, or direct deposits. 
3. SEND US YOUR INFORMATION: During the booking process we strive to make everything as simple and easy as possible. When you're ready to make your reservation please have your passport ready as we will need the number, expiration date, and country of issue. We will also need your flight itinerary (if we do not help set it up) as well as a few destination specific questions. If you are travleing with a group please specify the number of people in your group and their names.
4. MAKE FLIGHT RESERVATIONS (AS NEEDED): Wavehunters is a full service travel agency capable of handling all of our guest's flight arrangements. Each destination typically requires a specific flight itinerary that needs to be confirmed by Wavehunters prior to departure. If you don't have the time or inclination to deal with setting up your flight arrangements Wavehunters will be happy to coordinate them for you. 
5. MAKE FINAL PAYMENT: You final payment is due two to four months prior to your trip's departure depending on which trip you are on. Once that's in along with the requested information you're all set to go!
6. SHOW UP: Rule #1 is to remember to not miss your flight and remember to have a passport with at least 6 months left before the expiration date.
7. SURF: Once you're at your destination the only thing you should have to to worry about is what board you should ride and where to surf. Have fun!

© 2017 Wavehunters Surf Travel, Inc. is a registered California Seller of Travel, C.S.T. Registration # 2060272-40. WAVEHUNTERS SURF TRAVEL . all rights reserved | Privacy Policy