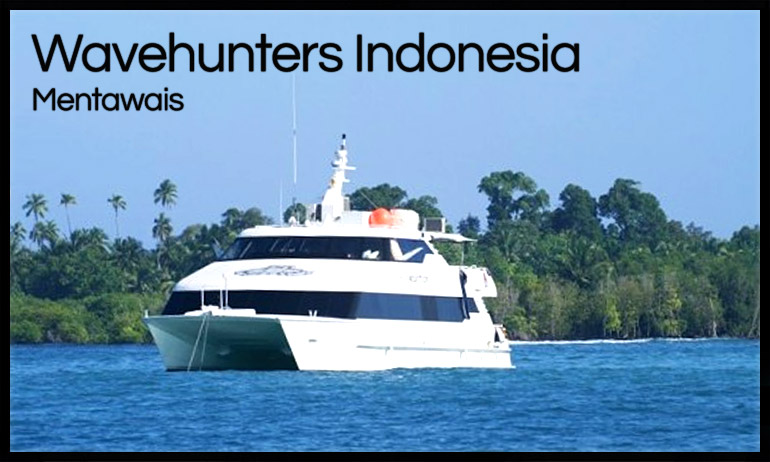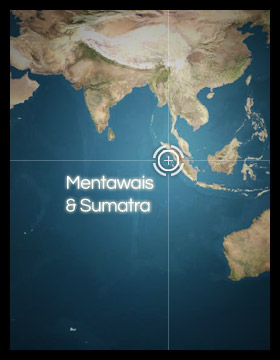 Addiction : 80ft Power Catamaran
Addiction Surfing Adventures is owned, operated, and skippered by surfers for surfers. We offer guided surfing charters to the Mentawai Islands and North or South Sumatra. Our trips give you the opportunity to surf the kinds of waves YOU want; from all the world class breaks of the Mentawai, to deserted perfection at rarely surfed destinations all over the Sumatran island chain. Come aboard our luxurious 24 meter (80 ft) high speed catamaran and let our experienced crew take you on the surfing adventure of a lifetime. With over 15 years of combined experience in West Sumatra, our crew are there to get you into the best possible waves on every trip.
Why Choose 'Addiction Surfing Adventures?
 
Speed : MV Addiction is capable of 28 knots and that means more surf time. If you wake up in the morning and the swell has dropped you don't have to travel most of the day at 10 knots to get to a new break. Before you have finished breakfast our crew will have you on a new wave picking up the swell from another direction.
Space : Space and tons of it. 24 metres long (80ft), 8 metres across the beam and approx 100 gross tons means Addiction is amongst the 3 largest vessels in the Mentawais. There are 5 guest cabins each with a double bed and single bunk, a large gourmet galley, dinner seating for 12 and a saloon/lounge area to die for. There are also 2 large outdoors lounge and dining areas to just kick back and watch the surf or enjoy dinner as the sun goes down.
Safety : Addiction is a commercially constructed catamaran and has all of the safety features that go with it. Unlike most others we have no accommodation in the hulls of the boat. The hulls are set up as watertight bulkhead compartments that offer maximum protection in the unlikely event of hull breach. The engine rooms are fitted with air cut off switches and a CO2 fire suppression system. The safety of our passengers and crew are all the more important to us because of the remote areas in which we operate.
Comfort : Nothing offers comfort like a large catamaran. No need for gyro controlled stabilizers here because we use the best stabilizing system around, 2 hulls and an 8 meter beam. Whether flying along at 20 knots+ or just sitting at anchor Addiction will be the smoothest ride you ever get.
Value : Addiction is a super luxury surf charter boat without the super price tag. If you value your safety, enjoy a bit of extra space and comfort but don't want to pay top dollar, Addiction is the boat for you!
MV Addiction Boat Specs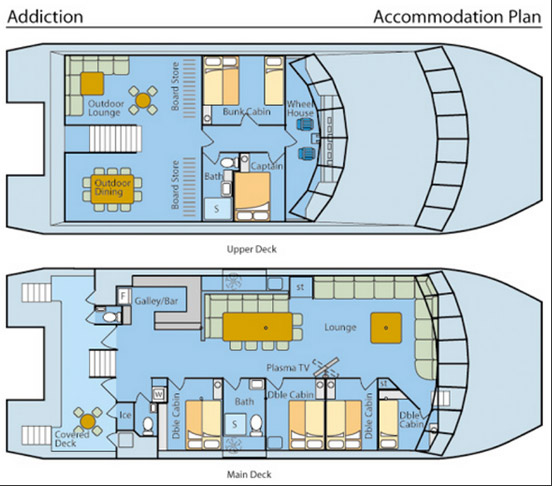 Type of vessel: Catamaran 24m (80ft)
Beam: 7.9m (26ft)
Draft: 1.7m (5.6ft)
Top Speed: 26 Kts laden
Service Speed: 24 Kts
Built: 1997 by Sabre Catamarans, Australia
Complete refit: 2006
Designer: Sabre Catamarans
Construction:Aluminium
Flag: Australian Flag
Main engine/s: 2 x MTU 8V M92 (Brand new for 2008)
Power: 2 x 965 Hp (720 Kw)
Auxiliary: 2 x Perkins
Generator: 2 x 30 Kva
Fuel Capacity: 4 x 2500 L
Water Capacity: 900 L
Water Maker: 100 litre/hr
Tender 1: 4.2 m (14ft) RIB with 60hp mariner engine and center console steering w/ power trim and oil injection

© 2016 Wavehunters Surf Travel, Inc. is a registered California Seller of Travel, C.S.T. Registration # 2060272-40. WAVEHUNTERS SURF TRAVEL . all rights reserved | Privacy Policy