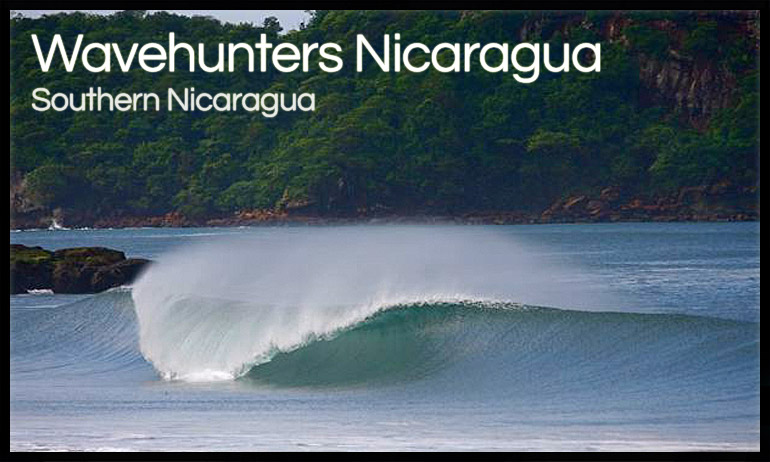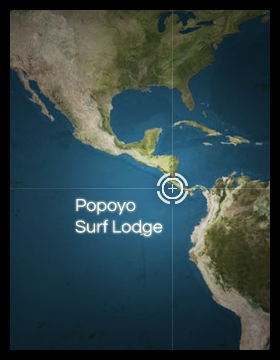 Nicaragua, South
At the Popoyo Surf Lodge we pride ourselves in being more than just a place to stay while you are in Nicaragua. Our main focus for every person that stays with us is to have them experience the same thing which I experienced the first time I came to Nicaragua in 1997. Now we have all those years of experience perfecting our vision. The first thing I saw coming into Nicaragua for the first time was a big sign that said BRAZOS ABIERTOS(open arms). Considering the only thing people had told me prior to my trip was be careful, I felt a lot of assurance from the moment we crossed the border because the locals had nothing but smiles and Brazos Abiertos towards us.
Today, the focus is still having people experience the real Nicaragua. We take care of everything so that you can just sit back and really take in all that Nicaragua has to offer. Now let's talk about the surf. One of the things that I feel set us apart isn't just our 15 years of experience and our being the first surf-focused business in Nicaragua, Its our staff, our food, our facilities (10 acres right in the center of the best surf in Nicaragua) and our unmatched(in my opinion) heart to serve you and our community.
It seems like there are a lot of people wondering if they should just rent a house and do it themselves. Well, I think that anywhere you are in Nicaragua you will have a great time. The problem is, have you ever been somewhere that had swell but wasn't really working, maybe the wrong tide or swell direction? Of course you have. This is what we specialize in. Our area has 17 breaks that can all be world class with the right tide and swell direction. Now add the fact that during our pursuit of putting you in the right place at the right time we have food, snacks, water, first aid, boats, trucks and nothing but smiles and Brazos Abiertos. I hope I'm painting a good picture why week after week people tell us they just had the best surf trip of their lives and then come back year after year. I really hope you will let us share with you the Blessing of what Nicaragua has been to us over the years.
Who should come here?
Popoyo Surf Lodge caters to surfers of various ability levels from advanced beginner to the most experienced of surfers and welcomes both shortboarders and longboarders (as well as boogieboarders and kneeboarders). Our guides offer hands-on surf coaching throughout the tours to help bring your surfing to the next level! Although we are not a learn-to-surf school, it is possible to learn to surf in Nicaragua but best to come during the smaller wave season from November to March and make a special request for instruction and we will try to meet it.
If the focus of your trip is surfing and/or seeing and experiencing real Nicaraguan countryside, beaches, community and people, and you're not looking for a tourism resort or a party scene, then Popoyo Surf Lodge is the right trip for you. Our accommodations and facilities (restaurant, bar, lounge, pool) are the best in the Popoyo area, our waves, surfing tours and surf guides are the best in Nicaragua, so if you're looking for the best surf camp or surf lodge in Nicaragua this is it.
Logistics
Popoyo Surf Lodge guests will be met at the international airport in Managua by Popoyo staff and transferred directly to Popoyo Surf Lodge which is 2.5 -3 hours away depending on road conditions. Packages include fully air-conditioned casita or cabina accommodation, 3 meals per day, most non-alcoholic beverages and daily surf tours with morning and afternoon sessions, as well as fishing.
Popoyo's hardware includes a fleet of LandCruisers and Toyota 4x4 trucks and 2 boats, a 25ft boat w/soft roof and 85hp Yamaha outboard, and a 26ft boat w/hard roof and 150hp Yamaha outboard. Both boats are fully outfitted for surfing and fishing.
Comfort
Popoyo Surf Lodge's signature facilities include:
- 10-acre property in the center of the best surf in Nicaragua
- Main rancho (big palapa restaurant/bar)
- Cash bar which sells cold beers and mixed drinks.
- Air-conditioned lounge w/sitting area, Satellite TV, DVD (HUGE collection of surf videos), Ping pong table, and Pool table.
- Swimming pool and sundeck.
- WIFI internet and Satellite TV ensure you can remain connected to the grid as much as desired.
Surfing
At Popoyo and in the vicinity you will find a plethora of surf breaks both lefts and rights including A-frame beachbreaks, rock reefs, and even a few points (lefts), as well as some massive outer reef breaks that come alive on the biggest swells. These surf breaks along Nicaragua's southernmost Pacific coast enjoy offshore winds over 300 days per year due to effect of Lago de Nicaragua. The near constant offshore winds groom the swells into clean hollow lines and almond-shaped barrels, and even when the winds are slack or slightly onshore there can be some great waves to be had!
The surf here is often good all day, so plan on surfing 2-3 sessions per day, bring plenty of sun protection, and arrive in good physical fitness. There are surf breaks here which work on all tides, high, mid and low, so the action never stops!! Popoyo Surf Lodge's surf guides are ON IT, and will make sure you get into the waves suitable for your ability level.
The local surf shop now offers a decent selection of rental surfboards if you are having trouble bringing your boards with the airlines or are not sure about your equipment.
Popoyo Surf Guides
Chris Conner Our head surf guide for the last 5 years. Chris week after week delivers the surf trip of people's lives with a smile on his face at all times. Often when the guests are worn out and can't surf anymore he will go out front and get another session in. He surfs more than anyone I have ever met and lets his passion for surfing just run over into everyone else life. Enough said......
Yamil Amador A La Salinas local, Yamil has been my friend for 12 years and worked with me for most of that time. From cook to gardener to now for the last 2 years full time surf guide. This is by far his best job ever and it shows with his dedication to show our guests the Best of what his country has to offer. Yamil is one of Nicaragua's best surfers and his local knowledge of waves and conditions speak for themselves every week when you see the guys coming back burnt and smiling that they just scored. Where did you surf? I don't know, we were sworn to secrecy....A True Blessing.....
Gustavo Noguera Our newest edition to the PSL crew. He is also a long time friend and amazing surfer from Playa Santana. Gustavo Rips. Its always good to be with a local whenever you show up somewhere. He is a huge Blessing in his community and is very respected in the surf community. Gustavo loves to see people smiling and his smile is contagious. After a full year in training Gustavo has more than proven his ability in all conditions to make the right call. We are truly grateful to have him.......
John Matthews Started out as surf guide and has now taken his knowledge of the ocean and dedicated it to way to many hours behind the lens in the hot sun to make sure you get the best surf photos of yourself that you have ever had. John completely charges when it gets BIG. Being that he has been surfing since before there was sand(our little OLD joke lol). John is extremely good at critiquing your photos and helping you out to fix some of those style point things you have always wanted to fix. He has the newest and best equipment to document your trip with. A great asset to us at PSL....
Renato Renato is our Brazilian brother who came down 4 years ago and just never left. He has the biggest smile Ive ever seen. Renato is a surf photographer/ guide/anything that needs to be done. He has a Huge heart for the local youth and local surf community. Anywhere you ever go with him you feel as if you were part of the community. People just love him and so do we. You will love your time with him. A great encouragement always.....
JJ Yemma That's me. I'll always be around to help you with any detail of your trip. My main goal while you are here is to make sure you see and fall in Love with the same Nicaragua I fell in Love with 15 years ago. I will be surfing with you and trying to help you do a bigger bottom turn so you can pull into the pocket and get the best barrel of your life. I feel extremely Blessed to be doing what I have all these years and am just growing in a gratefulness that I feel is making me better at my job. Hope to see you soon.....
Accommodations
(5) Casitas: Poolside, nice decor, modern construction, AC, full sized double beds, TV w/Satellite, designer bathroom w/hot water, sitting area w/furniture.
The floor plan of the Casitas is open with spacious living and sleeping areas. We offer accommodation on a Private or Shared basis.
(2) Cabinas: Renovated original Popoyo Surf Lodge accommodations for the traveler on a budget including AC, 2 single beds and private bathroom w/hot water.
When to Come?
Popoyo Surf Lodge is open seasonally during the months of March, April, May, June, July, August, September, November and December. (Closed October, January and February).
Almost any time of the year can get really good in Nicaragua. Although commonly misunderstood, the South swell season is not limited to just a few months a year and runs year-round. The biggest swells normally occur from April to October, but March or November can also pump. November to March traditionally has more moderate sized surf and is a great time for less advanced surfers to visit who are not seeking bigger waves.
Mar/Apr: Dry season months with moderate to strong offshore winds blowing all day and consistent swell usually moderate+ size and sometimes big especially in April.
May/Jun: Big south swells frequent and swells very consistent. Transitional months between the dry and wet season. Still lots of offshores but not as strong as Mar/Apr, with possibility of some onshores developing (mostly in the pm).
Jul/Aug/Sep: Continued peak season south swell similar to May/Jun. Lots of moderate offshores. Some possibility of onshores (mostly in the pm) which can become more prevalent during tropical weather fronts which are more likely towards the later part of this period.
Oct: This is the rainiest month of the year in Nicaragua normally. We close due to volatile weather, flash floods, and periods of unabated onshore winds for days on end.
Nov/Dec: This is the beginning of the dry season. Sandbars at their best and many new surf breaks form. Consistent S swell still hits Nicaragua throughout this period but more moderate in size typically compared to peak season. Ideal time for beginners and intermediates. Generally completely uncrowded.
Water temps: Range from 75F-82F, with the coolest water temps likely during the period of the heaviest offshores from Dec-Apr and the warmest temps likely from May-October.
© 2015 Wavehunters Surf Travel, Inc. is a registered California Seller of Travel, C.S.T. Registration # 2060272-40. WAVEHUNTERS SURF TRAVEL . all rights reserved | Privacy Policy