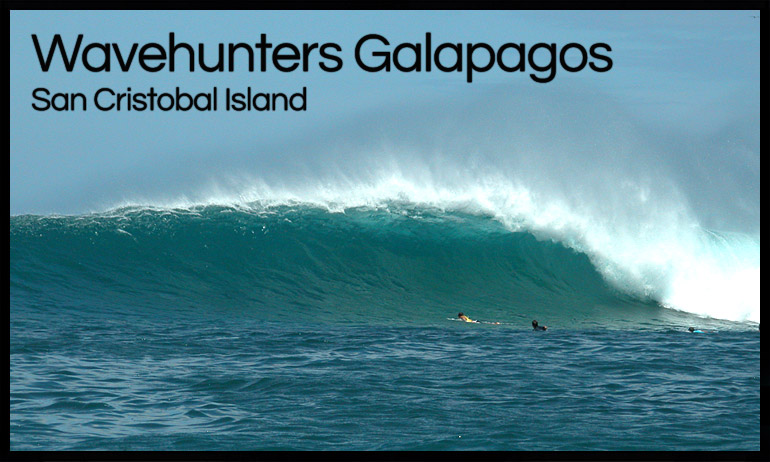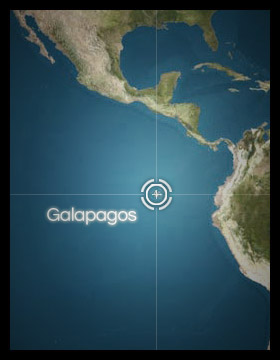 Galapagos, San Cristobal Island
Known as "Las Islas Encantadas" (The Enchanted Isles), the Galapagos islands are located on the equator approximately 800 km west of the Ecuador mainland. More than half of the islands is national parkland under the protection of the nation of Ecuador, a stable Latin American democracy recently dollarized. The Galapagos Islands are the pride of Ecuador and are internationally renowned as the place where Charles Darwin witnessed unique animal species cut off from the natural evolutionary processes of the continents and advanced his theories of Evolution. The Galapagos is mostly famous for its many indigenous species including marine iguanas, huge land tortoises, sea lions, blue-footed boobies, albatross, manta-rays, and finches.
The Galapagos also has world class surf. Wavehunters' focus is the island of San Cristobal where there are more than a half-dozen outstanding waves, at least 4 of them world class, 2 of which are square tubes with Hawaiian power. San Cristobal island is unique because it picks up BOTH North and South Pacific swells equally well. (Note, there are other waves on other islands in the Galapagos but most of them are closed off due to park regulations and access is difficult to impossible).
The waves on San Cristobal occur on the southwest and northwest facing sides of the island where they are exposed to ground swells from both the North and South Pacific. Though the Galapagos has waves year-round, the optimal "surf season" is from December until May. The reason is that the cold Humboldt current which travels northward up the coast of Chile and Peru during the Austral winter months of May-November creates prevailing onshore wind conditions during this period, with the wind and swell coming from the same direction.
The hot season from Dec-May sees the diminishing influence of this current, with hotter, sunnier offshore conditions ideal for surfing. The North swells occur most commonly from December until March. The south swell, despite pulses from December until February, is strongest during March, April and May. These months are particularly good for SouthWest swells which the island tracks far better than the more southerly swells which tend to be more dominant from June until November.
The Surf
San Cristobal island is located 960 Km west of Ecuador. The best surfing season is from December-April. This is the period when wind and swell conditions conspire to offer world class perfection. The waves average 3-6 ft, but can get up to 15 ft on the biggest swells. Long period ground swells arrive from a NW or SW direction and last between 3 and 4 days at a time. There is rideable surf everyday in the Galapagos at least chest-head high so getting skunked is a very remote possibility. For surfboards, recommended quiver would be a shortboard, a 6-6 to 6-9 rounded pin or mini gun, and one gun in the 7-foot range for the bigger days. Bring all equipment as there are no surf shops on the island.
North Swells
The Galapagos lies in an ideal geographical location to pick up the brunt of North Pacific ground swells which pound Hawaii and California but largely miss Mexico and Central America due to their south-facing orientation. As such, the Galapagos islands are on a short list of locations which really amplify and harvest the power of North Pacific ground swells and enjoy ideal weather and wind conditions at the same time. La Carola (hollow Sunset-like righthander), El Canon (peak lefthander similar to Popoyo), and Manglecito (hidden bay w/peaky A-frames) are at their best on NW swells.
South Swells
While the North swells have received a lot of attention, the South Swells are actually bigger and more consistent most of the year (especially from March onwards). Loberia (an A-frame reef break reminiscent of Pipe/Backdoor) is the go-to option for serious chargers, while Tongo Reef provides a more classic line (lefthander) with rides up to 300 yards. El Canon and Outer Reef will also pickup strong SW swells and provide some additional surfing venues.
Consistency, Size, Variety - Galapagos has it!
Because of the combination of northerly and southerly swells the Galapagos has a high degree of consistency over 70% during the season, although some of the breaks are deepwater volcanic rock reef waves which take a moderate to strong swell to go off. If it is breaking it is rarely under 4-5 feet. When major swells hit it can sometimes be huge at spots such as La Carola and Loberia hitting a legitimate 8-10 ft Hawaiian scale though 4-7 ft is more common, and fortunately there are some softer options like El Canon, Tongo Reef and Manglecito to find shelter.
Accommodations : Seaside Villa
Wavehunters Sea Villa- New Luxury Ocean View Property at Playa Mann
Wavehunters Sea Villa is located in a quiet residential neighborhood at Playa Mann, with stunning ocean and bay views, just minutes walk from the waterfront and center of town. The Villa has 8 private Jr. suites, with Ocean or Pool views. Guests here will enjoy the most private, exclusive accommodation available on San Cristobal Island and top level service.
Note: This is not a full-service hotel; it is a private villa. However the villa is fully supported by its sister hotel located a few hundred meters away.
Property and Room Amenities Include:
American breakfast served daily
Pool
Jacuzzi
WiFi Internet
A/C
Cable TV
Hot Water showers
Full –service bar & restaurant (at sister hotel nearby)
Gym (at sister hotel nearby)
Eco Tours / Activities
Snorkeling
Anytime. No charge. Guests must bring their own masks and fins.
León Dormido (sleeping lion)
A 20 minute boat ride. This is a 90 m tall rock in the middle of the ocean (submerged volcano) with great snorkeling possibilities and the place to spot some Galapagos sharks and perhaps some Hammerheads as well (harmless).
Included in Wavehunters package
La Laguna (the lagoon)
A lagoon in the highlands (It use to be also a volcano). This is the main supply of fresh water for the island. Lots of birds and other species.
Lobos island
A 20 minutes ride by boat to this islet. Lots of birds and other species.
Horse rides
Prices on request.
Scuba diving
2 dives at Kicker Rock, equipment, divemaster and boat provided. Prices on request.
© 2016 Wavehunters Surf Travel, Inc. is a registered California Seller of Travel, C.S.T. Registration # 2060272-40. WAVEHUNTERS SURF TRAVEL . all rights reserved | Privacy Policy