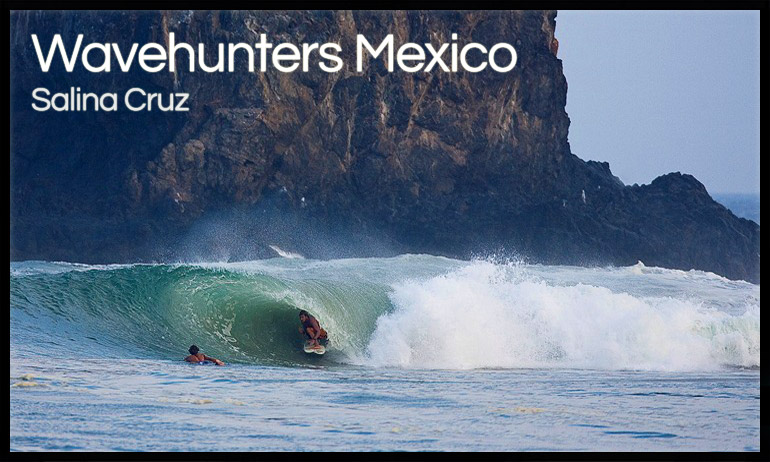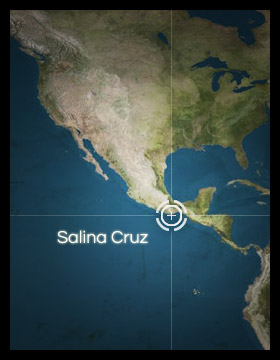 Salina Cruz, Mexico
"Casa El Mirador"offers a modern construction with full amenities located on a private hilltop compound with commanding ocean and surf views just minutes from the area's best surf breaks.
The arid badlands that border the Gulf of Tehuantepec are reminiscent of the Central Baja and are no more hospitable. Access in this area is difficult and sketchy, and because of the variety of set-ups and changing wind, swell and tide conditions, an experienced local surf guide and 4x4 is essential. Wavehunters and Salina Cruz Surf Tours has its own 4x4 fleet of off-road trucks and is ready to handle all your transportation and guiding needs.
The surf in this region ranges from intermediate to expert in difficulty level. There are many fast, hollow waves for shortboarding and also several classic points for longboarding. The best season is from mid-April to mid-October. A maximum of 12 surfers are booked  with Salina Cruz Surf Tours per week, and are divided up into smaller tactical groups for surfing averaging 3-4 surfers each. The trip is open to parties ranging from 1 individual to groups as large as 12, and is recommended for core surfers looking to maximize time in the water but not seeking a touristy experience.
Salina Cruz Tour Includes:
Accommodation at "Casa El Mirador" on private hilltop compound with commanding Ocean and Surf views.
1 bedroom w/AC and Private bathrooms 
Common Facilities: Living room w/Plasma TV w/Satellite feed, DVD player, X-Box. Kitchen, Indoor Eating, Patio Lounge w/Palapa, Table/chairs, Hammocks
Surf Tours: 2 sessions per day of 4-5 hours each. Tours start at 6am.
Bilingual Surf guides: Cesar Ramirez and staff
Transportation by 4x4 Truck including all gasoline (3) Dodge Ram 4x4 trucks: (1) vehicle per every 4 surfers)
3 meals per day Drinks: Water, Juice, Lemonades, Iced tea included w/meals. Note, all meals are served at the Hacienda.
2 x 1.5liter bottled waters per day Fast
Wifi internet connection now available, bring your laptop if you want.
Cesar Ramirez has grown up surfing this area and has operated its original surf tour company Salina Cruz Surf Tours since 2000 with the blessing of the local people, surfers and government, and has hosted many groups of everyday surfers as well as top professional surfers such as Mick Fanning, Shane Dorian, Dane Reynolds, Joel Parkinson, Taj, Jordy Smith, Benji Weatherly, Mike Parsons, Dino and Kolohe Andino, Stephanie Gilmore, and many more.
Not Included:
Huatulco Airport Transfers (2.5 hours)
1700 pesos each way for a station wagon (1-3pp)
2200 pesos for a Suburban (4-6pp) payable direct to driver
The Surf
Tehuantepec Beachbreak: Miles of good, A-frame beachbreak with prevailing offshores year round, though sometimes too strong Oct-Apr. Tubes. A swell magnet, best on small-medium S and SW swells. N-E winds. Low tide best. Boat access only from nearby fishing village. No other surfers.
Tuxtepec : Worldclass righthand jetty break. Comparable to Sandspit. Steep, often, dry takeoff. A mistake puts you into the rocks. The wave is a barrel with up to 5 second stand up tube rides when on. The prevailing N winds are offshore here but sometimes turn hard NE and give the wave a dangerous cross chop. Low tide only.Punta Cuicatlan : Surreal location amidst massive primordial sand dunes in natural isolation hosting a world class right pointbreak with rides up to 500 meters that has been compared to Jeffrey's by Michael Tomson and others. SW-W winds or no wind best. The dominant and often strong N-NE winds blow side onshore here and ruin the wave. Best during rainy season and boat access only for most of it. Low to mid tides best and needs a major S swell to turn on.
Punta Coyotepec : Another righthand pointbreak but this one is a mushier wave ideal for longboards and beginners. High tides best. NW-SW winds or light N winds okay.
Punta Coaixtlahuaca : Postcard whitesand beach tucked away inside a surreal rocky headland. The wave wedges up against a rocky headland and into a powerful thick bowl as it peels along the cliff. The wave starts to work at 5 feet and holds up to 12ft + and doesn't close out. Low to mid tide best. No public access. The break lies on private land and has a locked gate patrolled by local landowners with machetes. Access with Salina Cruz Surf tours only.
Punta Teotitlan : This is another right point requiring low tide and a strong southerly swell to work. The wave breaks in deep water and has a steep bowly takeoff, then sets up into a long peeling inside wall section with wide open faces ideal for longboarding or fun shortboarding. SW-W winds best.
Punta Ocotlan : A righthand pointbreak accessible only by boat and still largely unexplored.
Inside Ixtlan : A powerful, hollow righthander breaking on the inside of a short jetty. Similar to Santa Barbara Sandspit. The wave sucks out and peels for 50 meters or so before self combusting. Low tides mandatory due to high tide backwash. Better wind protection than some of the other points and more consistent. Works on N, W and SW winds. 4x4 access only during rainy season and by permission of local landowners only.
Outside Ixtlan : A longer, outside second jetty which yields an extremely powerful, thick and tubing righthander with consequences.
Punta Putla : A right point break with a large rock in the lineup from which you take off on the outside or inside and surf the wave along and into a shallow inside section that tubes at low tide.
Punta Temascal : This is the most famous wave in the area. A righthand sand pointbreak. The wave barrels from the top of the headland and peels for several hundred meters down the point. The takeoff is steep and hollow but innocuous. Super fun wave. 10-15 surfers common, but 8 or less possible at times. Crowd becomes a non-issue at size due to plentiful set waves, lengthy rides and heavy currents.
The Accommodations : Casa El Mirador
The camp is located on a private hilltop compound w with commanding ocean and surf views.
Living Arrangements
4 bedrooms all with AC and Private bathrooms including (1)Quad, (2) Triples, (1) Double.
Common Facilities:
Living room w/Plasma TV w/Satellite feed · DVD player · X-Box. · Free WIFI internet throughout house · Kitchen · Indoor Eating · Patio Lounge w/Palapa, Table/chairs, Ping Pong Table, Hammocks.

How to Book:
1.  THERE ARE FOUR WAYS TO MAKE A RESERVATION
A. BOOK ONLINE: Click the "BOOK ONLINE" button on the right side or bottom fo your desired destination/option and follow the instructions to make a deposit using our secure online reservation system.
B. SUBMIT A TRIP INQUIRY: Fill out the "Trip Inquiry" form on the right side of the page or under the "Booking Info" section on the top menu. Wavehunters will get back to you as soon as possible, usually within 24 hours.
C. SEND US AN E-MAIL: Send your questions and trip inquiries to wavehunters@wavehunters.com.
D. GIVE US A CALL: We are located in Carlsbad, California, USA. 1-760-413-1513
2. CONFIRM DATES AND MAKE DEPOSIT: Before you book online please double check that the trip you want and the dates you need match up. If you make a reservation online you will pay the deposit by credit card. We can also process credit cards offline, take checks made out to "Wavehunters Surf Travel", and we accept wire transfers, cashier's checks, money orders, or direct deposits. 
3. SEND US YOUR INFORMATION: During the booking process we strive to make everything as simple and easy as possible. When you're ready to make your reservation please have your passport ready as we will need the number, expiration date, and country of issue. We will also need your flight itinerary (if we do not help set it up) as well as a few destination specific questions. If you are travleing with a group please specify the number of people in your group and their names.
4. MAKE FLIGHT RESERVATIONS (AS NEEDED): Wavehunters is a full service travel agency capable of handling all of our guest's flight arrangements. Each destination typically requires a specific flight itinerary that needs to be confirmed by Wavehunters prior to departure. If you don't have the time or inclination to deal with setting up your flight arrangements Wavehunters will be happy to coordinate them for you. 
5. MAKE FINAL PAYMENT: You final payment is due two to four months prior to your trip's departure depending on which trip you are on. Once that's in along with the requested information you're all set to go!
6. SHOW UP: Rule #1 is to remember to not miss your flight and remember to have a passport with at least 6 months left before the expiration date.
7. SURF: Once you're at your destination the only thing you should have to to worry about is what board you should ride and where to surf. Have fun!

© 2019 Wavehunters Surf Travel, Inc. is a registered California Seller of Travel, C.S.T. Registration # 2060272-40. WAVEHUNTERS SURF TRAVEL . all rights reserved | Privacy Policy