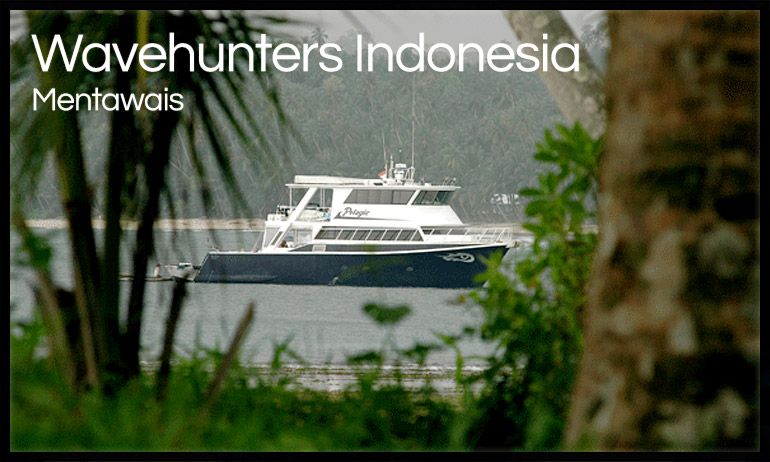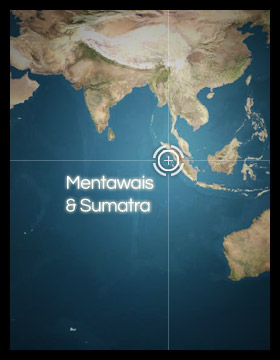 Pelagic : 65ft Deluxe Power Cruiser
Pelagic Charters began with the dream of two surfers John Musser and Griff Alker. Drawing from a common entrepreneurial spirit and vision, they set out to develop an operation that would provide surfers like themselves with unparalleled surfing experiences aboard vessel the likes of which the surf travel industry had never seen before.

The Pelagic was designed and forged from their vision and crafted at Fine Entry Marine shipyards in Western Australia. The result was a 65 foot, aluminium mono-hull vessel, outfitted for high-speed cruising, deft manoeuvrability, complete luxury and stalwart seaworthiness. 
The Surf Mission
The Pelagic is the first boat ever designed and constructed for the sole purpose of surf exploration. Combined with a five star crew and experienced waterman our guests are treated to an exceptional voyage to surfing's greatest frontiers.
The surf in Indonesia is arguably some of the best in the world. On board the Pelagic, any surfer, intermediate or world champion, on any given trip, has the potential to score the best waves of his or her life. Our intimate knowledge of the area and the constantly changing weather patterns maximizes that potential.
The Boat
Built in Western Australia by Fine Entry Marine and launched in 2002, the 20m Pelagic offers the discerning surfer the ultimate Indonesian experience. The vessel incorporates surf-specific design, drawing on a wide range of experience in the field. All specifications comply with Australian USL survey codes. Powered by twin turbo diesel 680-horsepower Yanmar engines, the Pelagic has a cruising speed of 20 knots and a range of over 900 nautical miles. This combination generates unparalleled opportunities. The twin-keeled, mono-hull design was developed in the extreme waters off the coast of Western Australian and gives the highest level of seaworthiness. The boat's performance is matched only by her luxury and wide range of amenities. No matter what the sea state, crew and passengers alike will be treated to a smooth, safe and comfortable ride.
MV Pelagic Specifications
MAIN ENGINES - Twin Engine Yanmar 680 horse power engines x 2
GENERATORS - 35 KVA Yanmar Generators x 2
FUEL - 10,000 litres total in 2 tanks. Port / Starboard
FRESHWATER - Two Village Marine 400 gallons per day water makers - 400 gallon water storage with mains pressure.
AC POWER - There are two Generators each supplying the vessel wit 240/415 power throughout the vessel.
AIRCONDITIONING - The rooms and salon are supplied with Marine Air Systems Vector Compact units. Each unit produces 24,000 BTU's. The wheelhouse is cooled by Petrel air command roof top units. 2 each @13,500 BTU
ELECTRONICS - 1 Garmin chart plotter - 1 SI TEX fish plot 12 chart plotter -1 Nobeltec hook into laptop chart plotter system - 1 Furuno FVC 50/200 Commercial depth sounder -1 Furuno Model 1932 Radar 64 mile -1 Furuno model 1731 Radar 32 mile -1 simarad AP 20 Auto pilot with remote control -1 Furuno FX 207 weather fax -1 Icom M700 SSB -1 Icom VHF -1 Mini – M sat server with email through skyfile – (Satellite Phone)
ACCOMODATION - The pelagic sleeps 14 people total - the wheelhouse has a Queen bed and a twin - below deck guests have 4 rooms, each with 2 beds per room - there are a total of 2 queens and seven twins below. An ensuite is located off guest rooms with 2 full size bathrooms located on the aft deck.
SALON - The salon has Bose surround sound along with a 50 inch flat screen TV there is a DVD Player, VHS and CD player. Opposite the TV is a full wrap around lounge seating for 8.
GALLEY - The galley is a full service galley. Chef quality stainless steel oven with gas cook top. Full "house style" refrigerator/freezer with a cabinet freezer for extra freezer space plus walk-in cool room below deck.
DINETTE - There is outside eating area with settings for 8. There is clear weather screening 360 degrees around the dining area in case of weather.
AFT DECK - The aft deck is open space. Jet ski compartment and a ramp for the skiff to be carried. When the skiff is off there are stairs to the swim step to ingress into the water. Two board rooms accommodating 12 boards plus separate board locker.
TENDERS - 18 ft skiff with 2007 50 HP Suzuki outboard - 2010 Wave Runner with HSA Rescue sled.

© 2016 Wavehunters Surf Travel, Inc. is a registered California Seller of Travel, C.S.T. Registration # 2060272-40. WAVEHUNTERS SURF TRAVEL . all rights reserved | Privacy Policy