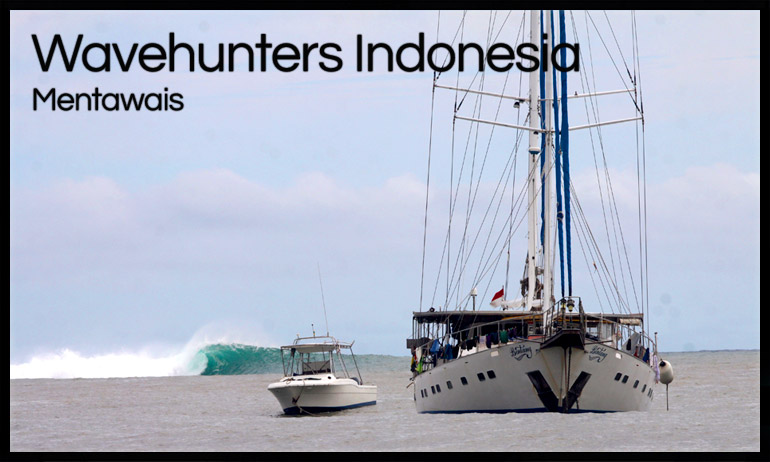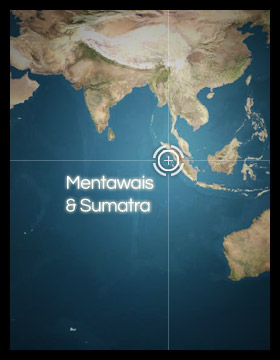 Bintang : 115ft Schooner
Bintang Surf Charters. Mentawai | Telos | Banyaks
Bintang is a sturdy-sleek stay sail schooner built by Classic Yachts in Perth in 1988. Bintang is 115 feet overall, with a beam of 28 feet. Under 165 HP of diesel power she cruises at 8 knots powered by an 8LXB Gardner diesel.
Bintang's speed increases to 13 knots when all the sheets are up and tight: Bintang is an ocean going sail boat and when the rough weather comes we start going fast. That's when Bintang takes off up to 13 knots and gives us the ability to get to the different spots quicker. After that speed we start to decrease sail for safety.
Bintang has multiple diesel-powered generators electrifying a full array of the best communication and navigation electronics: SSB and VHF radio, autopilot, radar, GPS echo sounder and position beacon. That quality extends to the comfort and entertainment of guests as Bintang has a 500 square foot salon equipped with state of the art entertainment center with TV, VCR and digital machines for replaying the surfing recorded that day, and a DVD/CD surround sound system for catching up on all the latest movies and music. Should anything go wrong, Bintang has AMSA / USCG fire-fighting equipment, a life raft and life jackets for 18 people, and an EPIRB position beacon so the rescuers will know where you are, even if you don't.
Fully-loaded, Bintang sails with as many as six crew and 12 guests. The crew cabin is in the bow, and there are four guest cabins, each equipped with one double and two single beds. There are three bathrooms. We can accommodate 10 to 14 guests with an exclusive charter, individual bookings will be capped at 10 guests.
Meals are usually taken on deck, which accommodates 14 people comfortably.
Our boat trips cover all of the Mentawais, Telos, and Banyaks, and we do trips at the end of the year up to Thailand which provides so many waves along the way.. We are the sole operators and owner of the charter boat. The knowledge of our skippers is Second to none in knowing when to trust the forecast or follow the conditions. There are still many waves you can surf out here alone, heavy waves for chargers, and more friendly spots for the less experienced surfer. The variety of waves are ideal for all types of surfing and we make shore we cover all bases.
The Deck
Used as a BBQ, dining and general area to relax/hang out in, the Bintang's shaded rear deck hosts most of the boats entertainment. Adjacent to the rear deck and below the captains cabin, we have the air conditioned downstairs lounge. Here, you can kick back, put on some tunes or chill out to a movie. If you would like to catch some rays or just find some of your own space, we have a huge front deck to accommodate.
The Kitchen
Below deck, we have a large 20 x 5 ft kitchen where your welcome to cook up the days catch or watch the chefs do their thing. Our menu consists of a delicious selection of local and western dishes. We have 5 fridges and 2 deep freezes to keep everything fresh right through out your trip. Any food requirements can be accommodated upon request.
The Cellar
We also have a 120 bottle wine/spirit cellar to help celebrate after an epic day of surfing. A four pack of Bintang Larger / day / guest is included in the price. Any additional beers are available to cost price.
The Rooms. En-suite Accommodation.
Our accommodation comprises of 2 x double cabins (both with additional single beds if needed) and 2 x triple bedrooms. With exception to one, all our rooms come en-suite with air conditioning. We have an additional shared, shower and toilet room on deck. We recommend a total of ten in a group. However, we can accommodate up to 14.
 Yacht Bintang Standard Charter Inclusions:
Bintang Shipboard Accommodation: Cabin #1: 1 forward cabin with 2 single beds + 1 double bed (sleeps 3) & Private ensuite bathroom; Cabin #2: 1 forward cabin with 2 single beds + 1 double bed (Sleeps 3) & Private ensuite bathroom; Cabin #3: 1 Stateroom with 1 king sized bed + 2 single beds (sleeps 3 or 4) & Private ensuite Bathroom; Cabin #4: 1 back cabin w/double bed + 1 single bed.(sleeps 2 or 3) w/Exterior bathroom (not private)
Transfers to and from Padang Airport.
You can fly in and out on the same dates of your charter. 
3 Awesome meals per day including snacks, desserts ect 
4 Bintangs per day per guest. The guest can buy more bintangs in Padang when everyone is together. Or buy 1 at a time at $2.50 per can when on the boat. 
Photos will be taken bring a hard drive to transfer all the shots.    
Full use of all amenities on board
 Extras:
30ft speed boat 2/150hp Yamaha: AUD$1,500.00 divided by #passengers for individual trips.
Included on Group Charters.
Details, Equipment and Specifications.
Registration: Indonesia
Owner : Mick O'shea
Built by Classic Yatchts, Perth Western Australia - 1988.
Gardiner 8XLB165 BHP 165 hp season, Bintang has a new 8-cylinder engine from 2012, gear box and 2 rebuilt gensets.
Length: 115ft - 35m overall.
Deck line 110 ft - 33m.
Water line 100 ft -30m.
Beam: 28 feet - 9m.
Steel hull construction.
Cruising speed - 8 knots, 13 knots under full sail.
Diesel cap. 10,000 lt. - Water cap 6,000 lt.
Generators: 110 -240v Power; 1 Yanmar 3 ph. 20kw, 1 Dunlite 3 ph. 20kw, 1 Dunlite 1 ph. 5kw.
Electronics and Instrumentation.
SSB Radio: JRC.
Autopilot: Coursemaster 1000.
VHF Radio: Uniden.
Radar: JRC - Range 30 miles.
Fixed GPS: JRC.
Echo Sounder: JRC 500 Meter Range.
Position Beacon: EPIRB.
Lifejackets for 18 persons.
Life Raft for 18 persons.
Fire fighting equipment and extinguishers - procedures compliant with AMSA / USCG Standards.
THE SURF:
The Mentawai Islands
The Mentawai Islands offer some of the best surf to be found anywhere in the world, with more perfect left and right hander waves in one region than anywhere on earth. The Mentawai group of Islands attracts swells all year round with the most consistent season generally being between March and November.
Waves can vary size in The Mentawai Islands region . They can range anywhere from fun sized walls to awesome stand-up barrels. If you can hold you're own on a wave, whether you're natural or goofy, this place has the waves for you. Even today you still have the opportunity to surf uncrowded waves as this area keeps producing quality line ups which are scattered amongst a vast array of reefs, Beaches ,point breaks and secluded bays.
The Telo Islands
The Telos is more of an unknown and some of the glamour waves here have been kept deliberately quiet by those that have visited. But almost everyone returns from a surf trip here with big grins. Telos surf spots are relatively well guarded and many unknown to the greater majority. There are several top- quality breaks to suit to all levels and Bintang surf charters is guaranteed to place you at the best wave on the day. The local game fishing is also virtually untouched. As many years in the region, Bintangs crew still holds a few secrets close to there chest.
The Banyak Islands
The Banyak Islands in North Sumatra are located approximately 60 miles off the northwest coast of Sumatra, There are two main islands in the Banyak Islands: Treasure Island and the island of the Bay providing incredible breaks perfectly to catch the clean consistent swells of the Indian Ocean. Many of the Banyak Islands surf breaks have remained nameless and there is still more exploring going on. There is a huge range of left and right-hander waves in the Banyak islands . There are waves for every surfing style and ability ranging from long deep barrels, perfect peaks to long cruising walls with plenty of time to rip the faces apart.
The Camera Equiptment. Never forget those Mentawai waves.
We have a Canon 50D and 7D camera with a selection of lenses ranging from 70mm and 400mm available on the boat for your use. Remember to bring a laptop or a portable hard drive to transfer photos and video's at the end of your surf trip.

© 2016 Wavehunters Surf Travel, Inc. is a registered California Seller of Travel, C.S.T. Registration # 2060272-40. WAVEHUNTERS SURF TRAVEL . all rights reserved | Privacy Policy