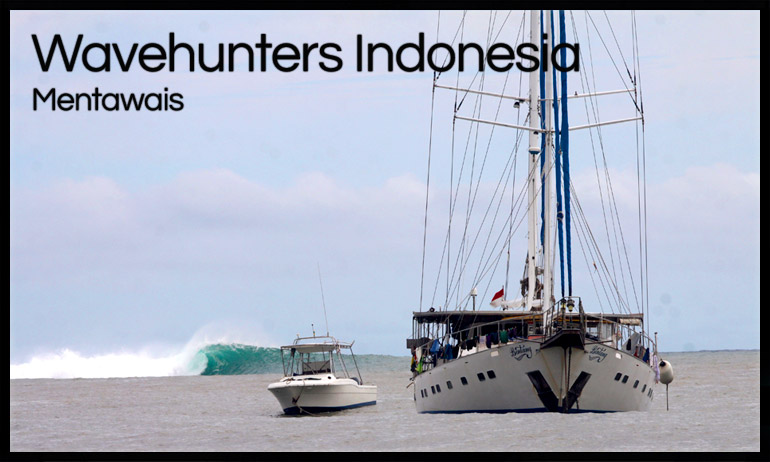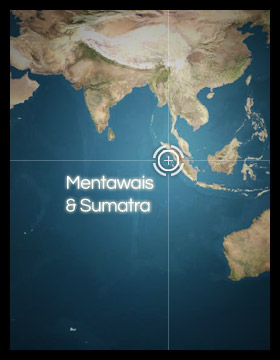 Bintang : 110ft Schooner
Our ocean going 110ft Schooner IS the largest Western vessel in the Mentawai Islands and is set up exclusively for surf charters. Bintang is owned and operated by Daryl Robinson and his two sons, Ashton and Carrick, all keen surfers and knowing where to find the best waves on a daily basis is their forte. Bintang comfortably sleeps 10 guests in air-conditioned comfort.
The 25 x 20ft saloon has a state of the art entertainment centre which includes TV, VCR, Digital and video play backs of days surfing. We also have a DVD / CD stereo surround sound system. On deck is spacious with a seating area for 12. You will find it perfect for those breezy tropical nights sampling the local cuisine and freshly caught seafood after a hard days surfing.
Charter Details:
You'll be met at the airport by a member of our crew, with transportation provided either to a local hotel, (2 star to 4 star), for you to unwind overnight, or alternatively, directly to the boat
The boat normally leaves the harbour between 1pm and 3pm.
Included in the daily charter fee is nightly accommodation, 3 meals a day, soft drinks, tea/coffee etc.
Free use of all equipment: skin diving, fishing rods & reels etc.
Other facilities include TV, VCR and a VCD home entertainment center.
Travel insurance is compulsory, and must include a medivac option / lost charter days due to unforeseen circumstances or emergencies.
A comprehensive first-aid kit including medication is available onboard
The Captain of the ship, Daryl Robinson is responsible for all decision making onboard.
Details, Equipment and Specifications:
Registration: Australia
Built by Classic Yachts, Freemantle Western Australia - 1988
Gardiner 6XLB165 BHP 165 hp engine
Length: 110 ft. deck line, 100 ft. waterline
Beam: 25 feet
Steel hull construction
Cruising speed - 8 kts, 15 kts under full sail
Diesel cap. 10,000 lt. - Water cap 6,000 lt.
Generators: 110 -240v Power ; 1 Yanmar 3 ph. 20kw, 1 Dunlite 3 ph. 20kw, 1 Dunlite 1 ph. 5kw.
Powerboat: 30ft Fishing skiff w/ 2x200hp engines
Tender: 14ft inflatable dingy.1x25hp
Electronics and Instrumentation:
SSB Radio: JRC
Autopilot: Coursemaster 1000
VHS Radio: Uniden
Radar: JRC - Range 30 miles
Fixed GPS - Portable JRC
Echo Sounder: JRC - 500 meter range
Position Beacon EPIRB
Emergency Position Finding Beacon - EPIRB
Lifejackets: available for 18 persons - Solas Ocean Type
Fire fighting equipment and extinguishers - procedures compliant with AMSA / USCG Standards
The Master / Owner has "Master 4" Marine Qualifications as issued by AMSA to legally operate vessels the size of Bintang.
© 2015 Wavehunters Surf Travel, Inc. is a registered California Seller of Travel, C.S.T. Registration # 2060272-40. WAVEHUNTERS SURF TRAVEL . all rights reserved | Privacy Policy