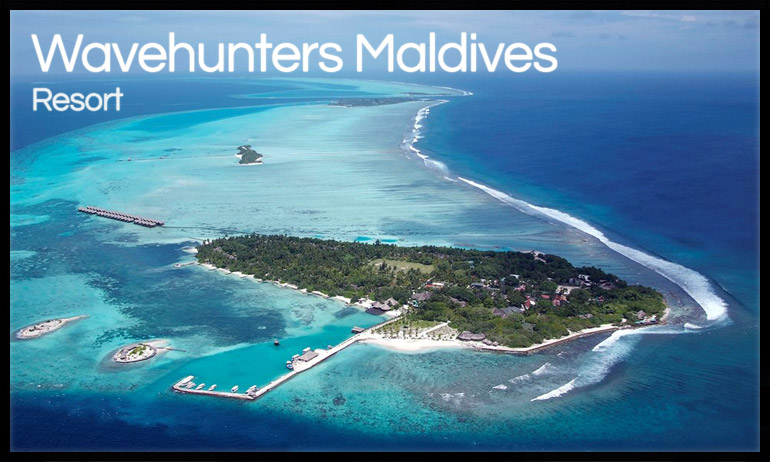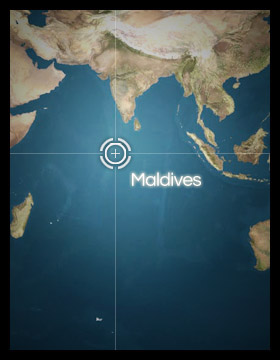 Hudhuranfushi Island Surf Resort
Location: North Male Atolls, Maldives
Walk from your room to a world-class left-hander, Lohis left - exclusive to resort guests
There are not too many resorts in the world with a world-class wave within walking distance from your room. Lohis left is an ultra-consistent reef break that is highly regarded as the best left in the Maldives. A down-the-line wave that gives you a high speed ride from take-off to the end section.
New for 2014 Strictly Enforced Surfer numbers on island. Enjoy exclusivity of World class Lohi's left without crowds!

With effect for stays from 1 March 2014 and through to season end of 31 October, ALL SURFERS coming to the resort MUST have a pre-paid surfing package purchased via Wavehunters. If surfers arrive to the resort without a pre-paid surfing package they will not be able to surf at Lohis break or have access to the dhoni boats to surf the surrounding breaks. 
Season: March 1-April 12
There will be a maximum of 15 surfers permitted on island during this period with only 1 surf dhoni operating 2 x 3 hour boat trips per day (flexible times)

Season: April 12-October 5
There will be a maximum of 35 surfers permitted on island during this period. Only 7 night bookings will be accepted (or multiples of 7 such as 14, 21, etc...). Wavehunters has an allocation of 25 beach villas per week. 13 villas will be sold on a Saturday-Saturday basis only and 12 villas will be sold on a Sunday-Sunday basis only.
April 12-May 3: there will be  2 x surf dhonis operating 2 x 3 hour boat trips per day (flexible times).
May 3- Oct 4: there will be 3 x surf dhonis operating 2 x 3 hour boat trips per day (flexible times)
Season: October 5-31
There will be a maximum of 15 surfers permitted on island during this period with only 1 surf dhoni operating 2 x 3 hour boat trips per day (flexible times)
4 resident surf guides on island from March 1-October 31 to look after all your surfing needs.
PRESS RELEASE- SEPTEMBER 2013

HEADLINE: New surf management plan at one of the best Surf Resort in the world
SUB HEADER: The Maldives best left hander just got better.
Management at Hudhuranfushi Resort, Maldives have taken a welcome step to managing on island surfer numbers by appointing World Surfaris/Wavehunters their official surf operations manager & offering a new surfer management plan that will limit surfers permitted to a maximum of 35 during March to October season.
The new surfer package is only available through international surf adventure company World Surfaris/Wavehunters and their affiliate agents and promises to free up the house break 'Lohi's' from the annual abundance of visiting surfers.
Fostering a 'less is more for everyone' attitude World Surfaris owner Shaun Levings has indicated that this is a positive step in managing surfer numbers in the North Male' atoll of the Maldives.
"Surfer numbers visiting North Male' atoll & Hudhuranfushi Resort have considerably increased in recent years. The resulting influx has often left guests frustrated to say the least with a bad atmosphere in and out of the water. After all who'd want to travel to this dream destination and have to share the line up with an excessive crowd? The new surf management plan means less people in the water with more waves for your money and a great vibe throughout your holiday." Levings stated.
ADS Resorts Pvt Ltd, the leaseholders of Lohifushi Island now known as Adaaran 'Select' Hudhuranfushi Resort are granted private use of the house reef which includes 'Lohis left'. This is indeed quite controversial in the world of surfing however in the Maldives; the tourism laws grant most resorts a boundary for privacy reason that often includes the surf break.  Surfers have flocked to the resort to surf 'Lohis for many years however on island surfer numbers have spiralled out of control and the break was fast losing its reputation as a desirable location.
Mr Mohamed Lantra, General Manager of marketing at Adaaran Resorts was quoted the following when questioned about limiting surfing numbers. "With regard to the surf operation, the company has taken a decision to manage it well and uplift the standard of the Lohis surf break as well as the property as such, we have appointed World Surfaris/Wavehunters to manage the surf operation. The above decision was taken after reviewing for almost 2 years and to maintain discipline among surfers. No surfers will be allowed to surf 'Free' at Lohis without a paid surf pass".
The new surfer package will limit surfers on Island to a maximum of 35. The lucky 35 surfers at the resort can also sample the other North Male' atoll jewels with guided boat trips to the 6 other breaks within 30 minutes. Right pits at Cokes or warm water J'bay at Jails, all within 20 minutes from the resort. Resident surf guides Richard & Amy Kotch are thrilled by the development.
"Quite simply, Hudhuranfushi is the best place to be based for a surf trip in the Maldives. 'Lohis', the island left that is exclusive to Hudhuranfushi guests is one of the most consistent in the world, for 8 months of the year there is a rideable wave pretty much every day of the season. Managing surfer numbers on the island means that you can surf perfect, uncrowded waves in paradise without the hassles that we've seen developing in previous years. It's an awesome initiative by Adaaran Resorts!" Richard said.
The new surfer package will also include the addition of two new local expert guides. With four guides on the island, surfers and visitors can expect to receive the best possible service and care throughout their stay.
With the new package only recently released spaces are wide open for the 2014 season March – October. With only 35 surfer spaces available for sale to surfers all over the world, a space in the line-up at Lohi's break will become highly sought after.
Hudhuranfushi/Lohifushi Island Resort - Overview
Hudhuranfushi means Island of White Gold. The resort, formerly known as Lohifushi, is the ultimate Surfers paradise with a perfect left on the door step! Hudhuranfushi is a 3.5 star resort with fantastic facilities including swimming pool, watersports centre, scuba dive centre, tennis and squash court, gymnasium, day spa, kids' playground and a variety of bars and restaurants.
The resort has 137 guest rooms (beach villas) and 26 ocean villas. In 2006 the old Lohifushi beach villas were completely transformed with new interior and exterior architecture and design. All villas have thatched roofs, timber front deck, polished cement flooring, TV, mini bar, bathtub and outdoor open air shower.
The resort is perfect for surfing couples, honeymooners, families or the boys looking for an alternative or add-on to a boat trip.
Located in the North Male atoll, approximately 30 minutes boat ride from Male airport, the mid range resort is a multi-facility island paradise with sandy beaches, crystal clear pristine lagoons surrounded by coral reefs teeming with colourful tropical fish. More importantly, it hosts a perfect left-hander which wraps around the south east corner.
The Surf
Surf Spots & Season
 The Maldives experiences a similar surf season to Indonesia from March through October. During these months the conditions are usually off-shore somewhere. Swell direction varies from SE to S to SW. The North Male Atoll breaks generally face a southeast to southerly direction with bigger long period SW swells having to wrap in. Because of this size may vary greatly depending on both swell intensity and swell direction. On any given day the surf size could vary from waist-chest high to double overhead+. Traditionally June-September is the biggest and most consistent, although every season has a few surprises and sometimes early or late season can produce big swells also.  A great variety of reef breaks exist ranging in intensity from quite mellow shreddable walls to gnarlier hollow pits. There is something for everyone.
In the North Male' atoll, between Male' and Thulhusdhoo is an assortment of 7 breaks.
Jailbreaks is a classic right-hander that was previously off limits. A long down the line right-hander with 3 distinct sections including a mid barrel section. Rides of up to 300m can be had when it's lining up.
Honky's is located near HP reef just North of Himmafushi Island. It is a fast wrapping left at 4-6ft and needs the right swell direction. Worth checking if Sultans is crowded.
On the other side of the channel you have Sultans. An easy right-hand take off which leads you to an intense wrapping section at the end. Breaks 3-8ft. Please note: this wave is the most protected from the southerly winds in the North Male atoll and collect the most swell – so go there if it is small.
20 minutes further North you will find the right-hander known as Ninjas which breaks off Kani Resort. A mellower right-hander which can be quite fickle.
Directly opposite Kani Resort you have Lohis, a long wackable left-hander that breaks off Hudhuranfushi Resort – very consistent wave and has hosted the WQS O'neil 'Deep Blue Open'.
25 minutes north of Lohifushi are 2 breaks opposite each other at a reef pass. The right-hander known as Cokes (Colas) breaks 3-10ft and is fairly protected from the southerly winds that may affect other breaks such as Lohis. This wave has been well photographed and is the hollowest in the North Male atoll. This will test your tube-riding ability.
The left hander known as Chickens is probably the fastest wave in the North Male atoll. This wave holds swell size from 3ft to well over 10ft and provides rides up to 500m long.
Accommodations
Location: 19 km from airport/30 minutes by speedboat.
The resort has 137 guest rooms (beach villas) and 26 ocean villas. In 2006 the old Lohifushi beach villas were completely transformed with new interior and exterior architecture and design. All villas have thatched roofs, timber front deck, polished cement flooring, TV, mini bar, bathtub and outdoor open air shower.
Room facilities
Air conditioning, shower, hot and cold water, bath tub, open air shower, mini bar, IDD in room, satellite TV, shaver socket, timber deck, sea view, beach bed, bath foam, bath towels, face towels, hand towels, soap, shampoo.
Restaurants
Banyan Restaurant – main restaurant
Sunset Restaurant – a la carte restaurant/coffee shop (24 hour room service)
Bars
Sunset Bar – Attached to Sunset Restaurant
Beach Bar - At the north end of the island
Surf Bar – At the south end of the island with full view of the wave surfing break
Coconut Day Spa
This new Balinese operated day-spa offers a comprehensive range of pamper packages that will relax and rejuvinate you during your stay. The warm stone massage is highly recommended.
Other facilities (highlighted are paid activities)
Two swimming pools including a children's pool, karaoke lounge, children's park or playing area, souvenir shops, gem and jewellery shop, safe lockers in reception, luggage storage room, courtesy room, beach towels, bicycles, laundry service, express photo service, porter service, reading lounge, cyber station.
Activities
Water Sports
Surfing transfers: Our in-house surfing guide co-ordinates up to three dhoni boats with a maximum of 15 surfers per boat for transfers to the various surfing regions in the North Male atoll (all within 20 minutess by dhoni boat)
Wind Surfing: Basic, beginners, refresher, fun board courses (international license)
Catamaran-sailing courses (international license)
Water skiing courses
Banana riding
Canoeing
Kite surfing
Evening programs
Live music, disco, karaoke, traditional shows, crab race, magic show, fire dance, beach parties etc.
On-island sports activities
Surfing at Lohis break (walk from your room to world class left-hander), tennis, table tennis, squash, billiards/snooker, darts, football (soccer), beach volleyball, table soccer, badminton, fitness equipment, chess, carom.
Diving Schools
Languages spoken: English, German, Japanese and Dhivehi.
Types of Courses: PADI - open water to dive master, CMAS - one star, discover scuba diving.
Certificates: PADI, Barakuda, CMAS.
Dive spots: 40 different points (MS Victory Wreck, Octbetilla, Manta Point, Shark Point, Rainbow Giri, Lions Head, Paradise Rock, Aquarium, Coral Garden, Banana Reef, etc).
Equipment: BCD, regulator, wetsuit, computer, mask, fins, snorkel, video camera etc.
Organized diving safaris or excursions every day.
© 2014 Wavehunters Surf Travel, Inc. is a registered California Seller of Travel, C.S.T. Registration # 2060272-40. WAVEHUNTERS SURF TRAVEL . all rights reserved | Privacy Policy