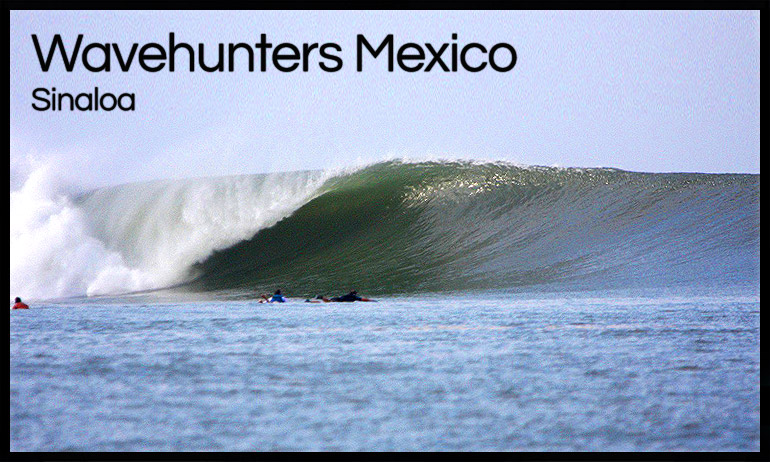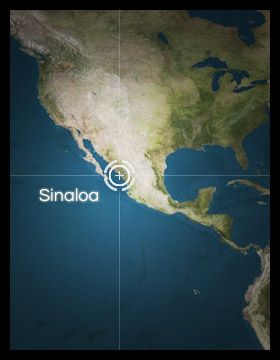 Sinaloa, Mexico
One of the only truly private surf resorts left in the world, Sinaloa Surf Adventures is fortunate to own all of the land surrounding its signature break "Patole", a world class, 200 to 800 yard left.  Jump in at the point and get covered or if you prefer an easy approach at second or third base either way once you kick out most likely it will be the longest ride of your life! And don't worry about the paddle back to the point SSA has zodiac that will pick you up and drop you back off in the zone.  Once you get done surfing our top rated Mazatlán chief will have your meal waiting. So if you are ready to have a true surfers getaway and not fight the crowds come on down and check out SSA. 
At 16 years running SSA has been providing its clients with a surf getaway like no other.  The camp is only open from April 1st to early November and is a magnet for any southern energy.  We have 6 spots to choose from based on the conditions and only allow 16 surfers a week at the camp.  Two boats of 8 go to different breaks each morning and come back when the last man is in the boat.  Average boat ride is 25 minutes.  Our world class left point break is surrounded by land owned by SSA so you will only be surfing with 7 other guys.  SSA knows that the last thing you want to do is jockey for waves when you travel to a surf destination and we are one of the only camps in the world that can offer this.    Whether you are in the mood to drive down the line for 800 plus yards plus or pull into a barrel, you will find it at SSA.  Shortboarders and longboarders are both welcome and each will find what they are looking for here.
Wavehunters experienced operator in this region SSA is your host to some of the world's most pristine and virgin coastlines, offering world class point and beach breaks for surfers of all abilities. The camp is located one and a half hours from Mazatlán, the camp sits in a small rural fishing village of roughly 350 people away from the stress of everyday life.  Temperatures hover around 75-85 degrees from May through November. In April, a vest or spring suit may be desirable. 90% of the spots we surf are sand bottom. Typically there is always an off-shore flow in the morning that lasts until early afternoon.  Once you land the crew picks you up at the airport and drops you back off the on your day of departure. 
In the 16 years SSA has been running we have not had one incident relating to safety.  In fact, SSA offers a 100% money back guarantee should you ever not feel safe at any point during your visit.  Our average client has been down to the camp 9 years in a row and we have many female clients as well.  Once you land the crew picks you up at the airport and drops you back off the on your day of departure.  You do not need to be concerned about your safety on a Wavehunters/SSA trip to this area which is professionally guided and staffed.
Typical Day
5:30AM TO 6:00AM - Breakfast
7:30AM to approx. 1:00PM - Morning surf session (we don't come in until the last man is in the boat)
1:30PM TO 2:30PM - Lunch
2:30 PM TO 7:00PM - Relax, nap or surf
7:00PM TO 7:30PM - Dinner 7:30 PM - Watch surf videos, read, shoot pool, etc.
Repeat daily schedule for six days!
The Surf
Crowds are a non-issue at SSA!  Last year SSA purchased all the land around their world class left point break, something truly unique in the surfing world.  SSA wants to make sure that you have a great time without having to jockey for your waves.  In most cases you will only be surfing with 7 other surfers.  There are 6 spots the camp has access to via two fully outfitted super pangas.  The pangas are outfitted with individual cushioned seats and a bimini top for shade.  All of the spots are reachable within 30 minutes of the lodge.  Our crew has lived in the town their entire lives and can easily read the conditions to put you on the best waves.  Most of the spots we surf are sand bottom.  In order to truly get a feel for just how good it is make sure to watch the videos.    
Surf Spots!
Patole – World class left point break
Vananos – World class left point break
River Mouth – Left/right A frame
Shelby's - Beach break A Frame Left / Right
Echehuevos – Right point break
Ronnies – Left Point Break
Weather
What is the weather like that time of year? April - May, August - November typically averages 85 during the day and 65 at night. June - July averages 95 during the day and 75 at night.
Accommodations
The surf hacienda sits in the bay adjacent to the fishing village.  There is a large patio with lounge chairs and hammocks, the perfect place to watch the panga fishermen bring in their catch or take in the amazing sunsets while sipping a Pacifico.  Inside the hacienda is a dining room.  Each morning during breakfast you will receive an meal option for lunch and dinner.  It is also equipped with a pool table, satellite TV, high speed INTERNET/WIFI, and blue ray player.  There are 7 rooms throughout each with their own full bathroom,  air conditioning,  memory foam beds, TV and DVD player.  The entire facility is covered by a $12,000 reverse osmosis system SSA put in to ensure there are no issues with water during your stay.  There are also kayaks, SUP and a ping pong table. 
Rooms:
(4) Doubles/2pp each
(3) Triples/3pp each
(1) extra room that can be rented individually ($520 sole occupancy surcharge applies).