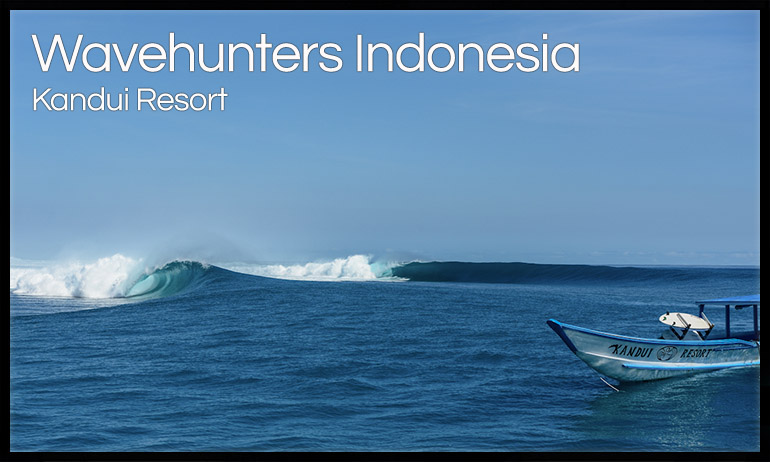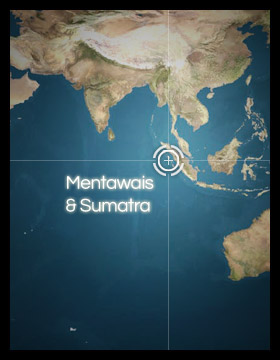 Kandui Resort
Resort Overview
Kandui Resort is located in the Playgrounds area of the Mentawai Islands and is considered to be one of the best surf resorts in the entire world for waves, accommodation, service, and overall experience. Kandui lies on a small, idyllic tropical island and consists of eight "umas" that host up to only 18 people at a time. With dozens of breaks within a 30 minute boat ride if there's any swell at all you are going to score and if the swell is pumping it will completely blow your mind!
When to Go:
The Mentawai Islands are one of the most consistent surf destinations on Earth. The ideal time to go is between March through November but even in the "off-season" of December through February there is a wave breaking somewhere every day. We recommend people looking for fun-sized waves and smaller crowds to go early in March or April or later in October and November. For all the chargers out there we suggest a trip May through September.
Kandui Resort is dialed in to the zone and knows where to go according to what the swell and wind are doing. We have a full array of boats at our disposal but mainly use panga-style canoes with outboard motors on the back that can get you just about anywhere in the Playgrounds area quickly.
Why:
Kandui Resort is best suited for people who only have a two week window to score great surf and want to maximize their time in the water. It is one of those rare places on Earth where you can surf all day, every day and since you are traveling by boat to surf reef passes and breaks you spend more time surfing and less time paddling. Your host, "All Day Ray Wilcoxen", will expertly guide you into the best waves possible and manages a wonderful team all focused on making your vacation the best experience it can be.
How:
Most of their guests fly into Singapore from their respective departure cities. From there you fly from Singapore to Jakarta, Jakarta to Padang, then Padang to Kandui via a speddboat or fast ferry It's a long haul but well worth the payoff when you arrive. Singapore Airlines is hands down the best carrier; their prices are affordable, they don't charge for boards, and are known as the best airline in the world.
Food:
The food at Kandui is delectable. Served buffet style in the main bar/restaurant area, the meals are included in the price. The typical breakfast includes cereal, eggs style, bacon, fruits, and rocket fuel coffee. Lunch and dinner are more varied, and anything from fresh tuna to tacos can be featured on the menu. The kitchen is particularly good with vegetarians and/or those with special dietary needs.
Essentials:
The best advice when packing for a surf trip is to pack as light as possible. This fundamental rule of travel is especially true on a surf trip through the Mentawai Islands when most of your time is spent in the water. Most people bring 3-4 boards that range from their standard shortboard on up to a small gun; it helps to plan what boards you want to bring according to the swell forecast. Since there are no surf shops on the island bring extra everything, boardshorts, leashes, fins, wax, sunblock. Life on land is pretty much the same. For most of the day you will be living in boardshorts but at night we suggest putting on light pants to protect from sand flies that come out at dusk and a nice shirt to have dinner in. Think barefoot luxury. Kandui is not a place where any cash is needed, the trips are almost all inclusive and any bar bills you rack up can be covered by credit card. The emphasis is on surfing and enjoying yourself!
Schedule and Rates: Trips to Kandui Resort are all 10 or 11 days in length and pricing is structured to be as simple. Our trips include all accommodation, food and drinks, transport to the waves, entertainment, and all taxes. Optional extras available on the island include photos, video services through our partner FTR Films, beer and alcohol, massages, and souvenirs. Please note: Kandui Resort is very remote and requires a $375 transport charge to get you out to the resort. This transport charge consists of a charter flight/speedboat.
Kandui has hosted surfers from all over the world and consequently has become the "go to" spot in Indonesian surfing. It's this popularity and a high rate of return guests that makes us recommend you book your trip at least 12 months in advance!
The Surf
The Mentawai Islands are one of the most consistent surf destinations in the entire world. It's broad exposure towards the vast, southern Indian Ocean provides these majestic islands with remarkable consistency and quality. There are great waves in this area YEAR-ROUND. However, the most ideal time to surf in the Mentawai's is during the dry season, late March to early November, the southern hemisphere's winter, when the Indian Ocean is an ultra-active, groundswell producing machine. During the entire year Kandui Resort offers the average surfer the opportunity to score the best waves of their lives in the premiere surf resort location in the entire world, nothing else comes close... Here is a quick look at a few waves we have in our area:
4 Bobs - 4 Bobs is a short, playful right-hander located directly in front of Kandui Resort. Swells that break here wrap considerably around the south end of the island and break over a relatively shallow reef. If you're fast you can take off deep and try to float the first section where most people take off; otherwise, it's strictly a one or two turn wave. Ironically, despite it's relatively tame appeal, 4 Bobs is a perennial favorite to almost every person who surfs it and is one of the most consistent and fun waves in the Mentawais.
A Frames - A Frames is one of the most consistent lefts in the Mentawai Islands. Situated in front of an idyllic island it is one of the many good waves found in the Playgrounds region. There are generally two sections to surf, the top and the inside. The peaks at the top can be a bit shifty and require a fair amount of paddling around to find the right area while the inside section is more dependable and offers up a better wall to work with. A Frames is easily one of the most popular spots in the Mentawai's and is sometimes referred to as "John Candies".
Bankvaults - Bankvaults is a thick, barreling right punctuated by a shifting line-up. Sets seemingly emerge out of nowhere and can wreak havoc if you're caught out of position. The ideal size to surf Bankvaults is head-high to a triple overhead, in any swell size, getting caught inside is a certainty. Despite the dangers, snag a clean, open barrel here and you'll be talking about it for years.
E-Bay - E-bay is a fast, barreling left that gets good when it's head high or bigger. When a pumping west swell is marching through, E-bay does a close impersonation of Padang Padang on Bali without the death cliff looming inside. The overall set-up at E-bay is flawless, stereotypical Indonesian, with beautiful, bluish-green water and tall palm trees everywhere. Besides its aesthetic beauty, double overhead E-bay is a beast and force to be reckon with.
Hideaways - Hideaways is an occasionally heavy left near the Playgrounds region that is frequently visited by Kandui guests. In the last few years it has been one of the "go to" waves because it is a lot more consistent the other world class waves in our area and can handle a lot of the more annoying wind directions like straight souths. Hideaways has the ability to be a sick cavern or offer up a rippable shoulder. You can really only surf it on medium to high tide, at low tide it sticks out of the water and unless you like reef cuts stay away!
Kandui - Kandui a.k.a Kanduis or Nokandui is one of the fastest, down the line, left-hand barrels in the world. Kandui is an obscenely hollow wave with your only option for survival being tucked inside its enormous, gaping jaws. Unless you're comfortable pumping inside the barrel the best you can hope for is to find the right line, exert a little extra front foot pressure, and hold on. Most of the waves will simply outrace you; however, the thrill of charging through the longest barrel possible is more than worth the effort. If the conditions are right you'll take your share of beatings; but chances are you'll kick out of the best barrel of your life as well.
Karangbat Left - Karangbat Left lies smack dab in the middle of "Playgrounds." It breaks best on a direct south swell and is a fairly straightforward wave for people of all abilities. The wave itself runs almost exactly one hundred yards over a shallow, but manageable reef. While sitting in the line-up you are surrounded by a triangle of islands which offer a really unique perspective. Easily visible from Kandui Resort Karangbat Left is surfed by those people looking to take a fish or longboard out and get some longish rides. Even though it's soft a lot of the time with a medium tide you'll have a blast!
Nipussi - Nipussi is a high-performance right situated inside a reef-laden cove. Most people line up at the apex of the point and surf a solid wall that hugs the inside, but during a west swell some people prefer to sit wide and wait for the swinger sets which break in the middle of the cove. Nipussi always has waves and is a good alternative when the rest of the islands are flat. It's known as one of the mellowest waves in the islands but it's still a powerful wave.
Pitstops - Pitstops is one of the most high performance waves in the Mentawai Islands. Located a few hundred yards away from E-Bay you can't really tell if Pitstops is breaking unless you take a close look. The wave itself starts breaking in a compact area over reef, remarkably, if you're not paying attention, the take-off can be quite challenging. However, once you're on your feet you've got a really fun, semi-backwashy wave to carve, pull in, or boost on. As the wave progresses it starts breaking over a combination of sand and reef until eventually expiring itself on a beautiful tropical beach. One of the most photogenic waves in the world.
Rifles - Rifles is one of the longest, most perfect, awe-inspiring waves in the world. When it's breaking properly with a hint of northwest wind you can expect four to six hundred yard right walls with numerous tube sections. Rifles is a violent barrel from start to finish, sometimes when you think you are coming out another section will throw over, and another, and another. If you do come out and see it lining up, you have to put the pedal to the metal to make it through the next barrel section. Surfer Magazine dubbed Rifles the 6th best wave in the world!
Resort Amenities 
Kandui Resort is undoubtedly located in one of the most sought after locations in the world and complimented by an assortment of features that separate it from any other experience in not only the Mentawai Islands, but Indonesia in general.
Accommodation
During your stay on Kandui, home will be one of only 8 "umas", traditional thatched houses built in the traditional Mentawai style by local Mentawaian craftsmen. Each is clean, spacious, comfortable, and offers an unparalleled view to the waves, ocean, and islands that surround the resort. Hand-woven vaulted ceilings and the natural design features provide a sense of adventure and culture while the interior design features provide a feeling of home. Each traditional "uma" is identified by a unique Mentawai name.
Using local Mentawai builders, under the guidance of an American development team, Kandui maximizes its local surroundings and functions as a partial eco- resort, yet still delivers a very high standard of accommodations and personal space.
Restaurant: Kandui's restaurant and bar is the main congregation area, the heart of the resort, and our most prized structure - Kandui Restaurant and Bar was built from the ground up virtually by hand. It's design principles follow the local traditions and customs and every inch of this area has been meticulously detailed to provide a sense of barefoot luxury.
Indulge in the flavors of the Mentawai. Each day the resort's chef prepares a variety of food with an emphasis on the succulent seafood caught by local fisherman and our guests. Sit back and enjoy the relaxed atmosphere of our restaurant – which serves some of the tastiest food in Sumatra in front of one of the most idyllic settings possible. 

There is also a set schedule for meals so you don't have to wonder what time you eat. Lastly, your visit will have as many barbeques as possible; nothing is tastier or more satisfying than having a bbq
Game Room
A new addition to Kandui, the Game Room sports an extra bar area, pool table, ping pong, and entertainment corner. A perfect building to hang out and relax in between surfs!
Office
The Office is set up as a communication center to the outside world. It has two computers for people to browse the internet, a phone service to make calls overseas without having to use the Satellite phone, safety deposit box, and money changing service. Everything you have in your office at work.
Boats
Our ultimate goal is to provide our guests the most authentic Mentawai experience possible and our core mode of transportation achieves this. We have resisted the temptation to bring in "western style" speedboats and have instead opted to custom configure 2 luxury canoes and 2 tenders to shuttle people around the resort for whatever activity they are enjoying. Each one of our luxury canoes is capable of cruising at a very comfortable 20 knots and that is really all we need due to the geographic proximity to most of the surf spots and various sites we visit. All canoes have the necessary safety and communication equipment in case of emergencies. The tenders are used to shuttle people around our immediate area.
Thry have also added a 39' Catamaran with 2x250 hp engines perfect for cruising all day, surfing and fishing as well as another 39' Speedboat for guest transfers and emergencies.
Internet
Kandui Resort boasts the fastest, most reliable, high-speed internet connection in the Mentawai Islands. Since they are using a satellite, connectivity is faster than you'd expect and allows dozens of people to be online, making phone calls, and working at the same time. Internet is included on the final price. Their internet connection is wireless and can be found in the office, restaurant, each uma, and even on the beach!
Activities
Do as much or as little as you like. The landscape and activities available in our area are extraordinary and varied. There are things to keep you totally busy or you can practice the fine art of doing nothing at all. Here is a short list of their most popular activities:
Surfing
Basketball
Bocce Ball
Fishing
Snorkeling
Table Tennis
Jungle or Beach Volleyball
Poker
Board Games
Movies
Satellite TV with Big Screen TV
Karaoke
Picnic
Visit a Local Village
Yoga
Jungle Cruise
Cultural Tours
Your time on Kandui is your own, whether you're surfing, snorkeling, fishing, lounging, visiting local villages, or participating in one of our unique cultural tours – there is something for everyone. Couples can reserve a beach for the day and enjoy a romantic picnic together. Relax, read a book, play in the warm, inviting equatorial waters, this area is beautiful – enjoy it!
Tsunami Bridge
The "Tsunami Bridge" which is located in the back of the resort winds for over 400 yards to a 50m hill in the center of the island presumably high enough to escape the largest run ups predicted. Until then, they hope the bridge is never used for its intended purpose but for now it provides a great hike through the interiors of the island, through the mangrove swamp and into the forest for 360 degree views that you can't believe.
Local Climate
The local climate is considered tropical, hot, and humid with a temperature range between 70 - 90 degrees Fahrenheit or 21 - 32 degrees Celsius. The water temperature is always around 80 degrees (27 degrees Celsius) no matter what time of year you visit. The local landscape is dense, tropical forest with four main islands and dozens of auxiliary islands - sprinkled with a few main coastal villages throughout. The dry season in this area spans from February to September and the wet season typically occurs between October - January. At any time of the year however expect regular rainfall in short intervals - heavy at times. Local winds surrounding the resort are variable throughout most of the year but occasionally go through intermittent periods of storminess, called "Badai's". Kandui lies exactly 1 degree below the Equator and as a result is not influenced by the steady easterly trade winds often associated with the rest of Indonesia - that's what makes this area so unique!

How to Book:
1.  THERE ARE FOUR WAYS TO MAKE A RESERVATION
A. BOOK ONLINE: Click the "BOOK ONLINE" button on the right side or bottom fo your desired destination/option and follow the instructions to make a deposit using our secure online reservation system.
B. SUBMIT A TRIP INQUIRY: Fill out the "Trip Inquiry" form on the right side of the page or under the "Booking Info" section on the top menu. Wavehunters will get back to you as soon as possible, usually within 24 hours.
C. SEND US AN E-MAIL: Send your questions and trip inquiries to wavehunters@wavehunters.com.
D. GIVE US A CALL: We are located in Carlsbad, California, USA. 1-760-413-1513
2. CONFIRM DATES AND MAKE DEPOSIT: Before you book online please double check that the trip you want and the dates you need match up. If you make a reservation online you will pay the deposit by credit card. We can also process credit cards offline, take checks made out to "Wavehunters Surf Travel", and we accept wire transfers, cashier's checks, money orders, or direct deposits. 
3. SEND US YOUR INFORMATION: During the booking process we strive to make everything as simple and easy as possible. When you're ready to make your reservation please have your passport ready as we will need the number, expiration date, and country of issue. We will also need your flight itinerary (if we do not help set it up) as well as a few destination specific questions. If you are travleing with a group please specify the number of people in your group and their names.
4. MAKE FLIGHT RESERVATIONS (AS NEEDED): Wavehunters is a full service travel agency capable of handling all of our guest's flight arrangements. Each destination typically requires a specific flight itinerary that needs to be confirmed by Wavehunters prior to departure. If you don't have the time or inclination to deal with setting up your flight arrangements Wavehunters will be happy to coordinate them for you. 
5. MAKE FINAL PAYMENT: You final payment is due two to four months prior to your trip's departure depending on which trip you are on. Once that's in along with the requested information you're all set to go!
6. SHOW UP: Rule #1 is to remember to not miss your flight and remember to have a passport with at least 6 months left before the expiration date.
7. SURF: Once you're at your destination the only thing you should have to to worry about is what board you should ride and where to surf. Have fun!