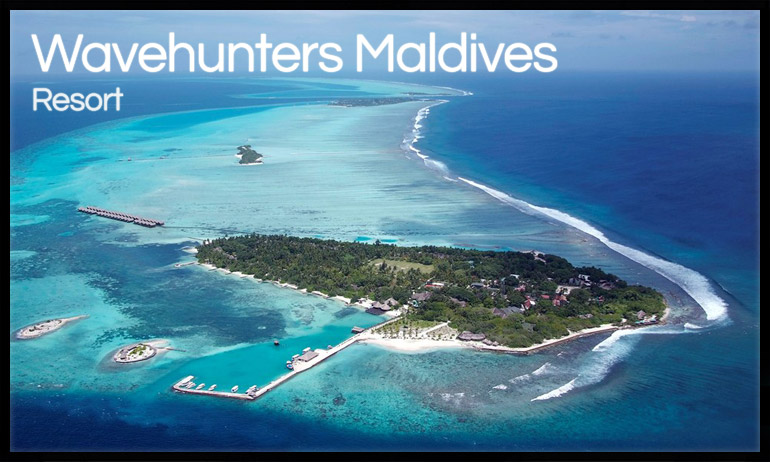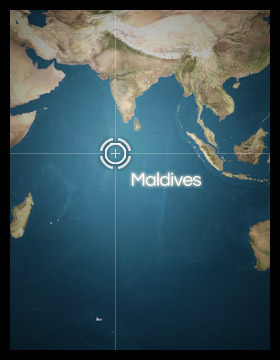 Hudhuranfushi Island Surf Resort
Location: North Male Atolls, Maldives
Walk from your room to a world-class left-hander, Lohis left!
There are not too many resorts in the world with a world-class wave within walking distance from your room. Lohis Left is an ultra-consistent reef break that is highly regarded as the best left in the Maldives. A down-the-line wave that gives you a high speed ride from take-off to the end section.
Surfer numbers capped
Wavehunters and its affiliates have initiated the capping of on-island surfer numbers to a maximum of 45 to improve the surfer package and maintain uncrowded waves at the house break 'Lohis'.  Hudhuranfushi Resort is a mid-range multi-facility resort, perfect for surfing couples, honeymooners, families or the boys looking to kick back after a boat trip.  There are not too many resorts in the world with a world-class wave within walking distance from your room.  Lohis is widely regarded as the best left in the Maldives, not only is it super consistent and surf-able in any swell/wind/tide combination, but it is also good at any size, from 2ft to 6ft, and has multiple take off areas to spread out the guests.  It's hard to imagine a better set up so close to your room.  Under the surfer management plan, you will be one of only 45 surfers with access to Lohi's left! Less people in the water will mean more waves for you, but with only 45 passes available at any one time, you must act now. 
Guaranteed uncrowded surfing
ALL SURFERS coming to the resort MUST book onto the 'surfer allocation'.  If surfers arrive at the resort without a space booked in the surfer allocation, they will NOT be able to surf at Lohis break.  The allocation system is the only way to manage surfer numbers and ensure uncrowded waves.
Two (2) dhoni boats will be available at all times during the surf season for transfers to the 6 other breaks in the area. The cost of a surf trip by boat is US$50 per 3 hour trip and on a pay-as-you-go basis, booked on island.  In 2017 there will be discounts on blocks of pre-purchased boat trips bought in blocks.  Eg: Pay for 5 get 7 trips, Pay for 7 get 10 trips, Pay for 10 get 14 trips.  Most surfer visitors take 1 boat trip per day.
Hudhuranfushi/Lohifushi Island Resort - Overview
Tour Durations and Schedules-
FLEXIBLE SCHEDULING. NO SET SCHEDULES!
Accommodation:
Hudhuranfushi Resort accommodation is a mix of Beach Villas, Lohis Rooms (new rooms within 1 min walk to surf break) and newly built Ocean villas.
Beach villas are spacious with timber front deck, polished cement flooring, TV, mini bar, bathtub and outdoor open air shower. The beach villas are literally 20 steps under the vegetation canopy to the white sandy beach and lagoon making the beach villas an ideal choice for couple or families with non-surfers. Bedding is a king split.
10 new Lohis Rooms were completed in 2014 and Wavehunters have the allocation of these from April until October. This is the ultimate place to stay for keen surfers who want to be as close to the action as possible. It's literally a 1 min walk from room to paddle out. These rooms are configured with 1 double bed or 2 single beds with TV, Mini Bar, wardrobe, well-appointed bathroom and a small relaxation deck.
The Ocean Villas are ideal for honeymooners or that special romantic occasion however they are only available on a request basis and prices and there is currently an upcharge of $295/night for these villas. All rooms are air conditioned as well as ceiling fans. Non surfing partners and families love the laid back island paradise feel just as much as the surfers. King sized bed. Ocean villa guests dine at the more exclusive Sunset Restaurant on the lagoon (exclusive to Ocean villa guests).
The Surf
Season
The Maldives experiences a similar surf season to Indonesia from March through October. During these months the conditions are usually off-shore somewhere. Swell direction varies from SE to S to SW. The North Male Atoll breaks generally face a southeast to southerly direction with bigger long period SW swells having to wrap in. Because of this size may vary greatly depending on both swell intensity and swell direction. On any given day the surf size could vary from waist-chest high to double overhead+. Traditionally June-September is the biggest and most consistent, although every season has a few surprises and sometimes early or late season can produce big swells also.  A great variety of reef breaks exist ranging in intensity from quite mellow shreddable walls to gnarlier hollow pits. There is something for everyone!
Surf Guides

Wavehunters and its affiliates are the official appointed operators of surfing at Hudhuranfushi Resort. Husband and wife super guides, Richard and Amy Kotch have been managing the surf operation here for several years and are now assisted by 2 local surfer guides. You will receive the rock-star treatment with their extra special care and attention ensuring you achieve a high wave count on your surf trip. They co-ordinate the boat trips to the 6 breaks within 30 minutes and ensure you are at the right break to suit your needs at the right time. This dynamite duo is without a doubt the greatest asset on your surfing holiday. Years of experience on the island mean that your surfing holiday is in the most capable of hands. Richard has fast earned a reputation as a surf photographer and for an additional fee can capture amazing keepsakes that will immortalize your surf adventure. Amy is a goofy footer charger and a veteran of many Maldivian barrels, her unique style and ability has been well documented. These two know the North Malè atoll region better than the back of their hands. Wavehunters regularly receives glowing reports about Richard and Amy Kotch and we are proud to extend their exceptional service to our valued clients.
Surf Breaks
Lohis surf point
The crown jewel of the North Malè Atolls is Lohi's. A long wackable left-hander that breaks off Hudhuranfushi Resort –highly regarded as the Maldives most consistent wave and has hosted the WQS O'Neil Deep Blue Open in the past. Go deep and get barreled off the take-off and then rip the wall apart or just pick off the wide sets and enjoy a freight train ride all the way to the end section. There are only a handful of places in the world where your partner or family members can sit in the shade on the observation deck sipping a cool drink with the perfect vantage point of the surf action. Makes for a great location to capture some memorable footage and photos of the surf action. Come in from the surf at dusk and signal the bar man for a cold beer as you watch the sunset over the islands beyond. Lohis surf point has an incredible atmosphere and is being further enhanced with the Wavehunters surf operations being located near the bar area with cool tunes playing; professional photos of the action on display; and nightly entertainment on offer.
Breaks 20 minutes south of Hudhuranfushi:
Jailbreaks  is a classic right-hander that was previously off limits. A long down the line right-hander with 3 distinct sections including a mid barrel section. Rides of up to 300m can be had when it's lining up.
Honky's is located near HP reef just North of Himmafushi Island. It is a fast wrapping left at 4-6ft and needs the right swell direction. Worth checking if Sultans is crowded.

On the other side of the channel you have Sultans. An easy right-hand take off which leads you to an intense wrapping section at the end. Breaks 3-8ft. Please note: this wave is the most protected from the southerly winds in the North Male atoll and collect the most swell – so go there if it is small.
Breaks 5min from Hudhuranfushi:
Directly opposite Lohis (Hudhuranfushi) across the channel you will find the right-hander known as Ninjas which breaks off Kani Resort. A mellower right-hander which can be quite fickle.
Breaks 25 minutes north of Hudhuranfushi:  
2 of the Maldives best breaks opposite each other at a reef pass. The right-hander known as Cokes (Colas) breaks 3-10ft and is fairly protected from the southerly winds that may affect other breaks such as Lohis. This wave has been well photographed and is the hollowest in the North Male atoll. This will test your tube-riding ability.
The left hander known as Chickens is probably the fastest wave in the North Male atoll. This wave holds swell size from 3ft to well over 10ft and provides rides up to 500m long.
Resort Details
Location: 19 km from MALE airport (MLE)/30 minutes by speedboat.
Room amenities
Air conditioning, shower, hot and cold water, bath tub, open air shower, mini bar, IDD in room, satellite TV, shaver socket, timber deck, sea view, beach bed, bath foam, bath towels, face towels, hand towels, soap, shampoo.
Restaurants & Bars
Hudhuranfushi Resort keeps the party going after sunset with several bars scattered throughout the islands with live music and even karaoke.
Banyan Restaurant – main restaurant
Sunset Restaurant – a la carte restaurant/coffee shop (24 hour room service)
Sunset Bar – Attached to Sunset Restaurant
Beach Bar - At the north end of the island
Surf Bar – At the south end of the island with full view of the wave surfing brea
Coconut Day Spa
A new Balinese operated day-spa offers a comprehensive range of pamper packages that will relax and rejuvenate you during your stay. The warm stone massage is highly recommended. Wavehunters has an exclusive 'pamper package deal' for the non-surfers to enjoy whilst their partners are surfing.
Activities
Sport facilities
Hudhuranfushi Resort also has a myriad of other sporting facilities to keep you active and entertained. Have a game of tennis or squash at the courts; work out in the gym; take the kids to the playground or swim some laps in the pool
Water Sports
The Maldives has long been considered an aquatic adventure land, thrilling surfers and non-surfers alike. Hudhuranfushi Resort makes the utmost of its beautiful surrounds. The lagoon is a premiere feature at the resort, teeming with tropical fish. The Water Sports Centre offers catamaran-sailing courses (international licence), wind surfing, banana rides, canoeing, kite surfing, snorkelling and more.
Dive Center
The Maldives boasts an amazing array of marine life, from bronze whale sharks, to bright tropical fish and colourful coral. Highly regarded in the top 10 'must dive' sites for international divers, the Maldives crystal clear water, array of marine life, dramatic drop offs and abundant reef life adds yet another dimension to this amazing holiday. You can access up to 40 different dive points including; MS Victory Wreck, Octbetilla, Manta Point, Shark Point, Rainbow Giri, Lions Head, Paradise Rock, Aquarium, Coral Garden, Banana Reef and more whilst staying at Hudhuranfushi Resort. Hudhuranfushi Resort offers dive courses in; English, German, Japanese and Dhivehi in order to cater for all groups. Additionally Hudhuranfushi Resort now also offers certificates for: PADI, Barakuda and CMAS. The following equipment is available through the dive centre: BCD, regulator, wetsuit, computer, mask, fins, snorkel, video camera etc and can organise diving safaris or excursions every day.
Yoga at Hudhuranfushi
We are pleased to announce in 2019 we will have Yoga Instructor Eliza Ballard teaching twice daily Yoga Classes at Hudhuranfushi. 
Eliza combines her experience as a Physiotherapist, Pilates Instructor and experienced Yoga Teacher into a style that could best be described as 'Soul Flow'. Her classes flow at slower pace than Power Yoga, allowing time to dive into the alignment of poses and generate strength and flexibility in moments of stillness. We believe this sounds like the perfect way to begin a beautiful day in the Maldives!
Eliza was first introduced to yoga as a teenage hockey athlete, and although physical injury was her first port of entry, it is the magic of mindfulness and post-yoga buzz that keeps her coming back to the mat…That and the magical way she always seems to Surf better after a good Yoga session!
As a Pilates instructor and keen Surfer she has seen and felt the benefits that come with having a strong core foundation to fitness,  she uses this movement practice to assist both rehabilitation and general fitness conditioning. Experienced in both mat and equipment based Pilates, you'll find her classes light-hearted and fun, yet challenging and rewarding. 
Eliza now travels the globe with her Snow-sports and Surf physiotherapy skills and seasonal yoga program opportunities; currently splitting time between Hudhuranfushi Resort in the Maldives and Nozawa Onsen snow resort in Japan.   
Scheduled classes will be held morning and evening and are open to all hotel guests. Guests can receive further information from the Surf Office at Hudhuranfushi.
Yoga at Lohis Price List:
Drop In for a single class $20
Daily Pass – morning and evening Yoga$30 
Unlimited week -  up to 14 classes a week $180
5 class pass $85