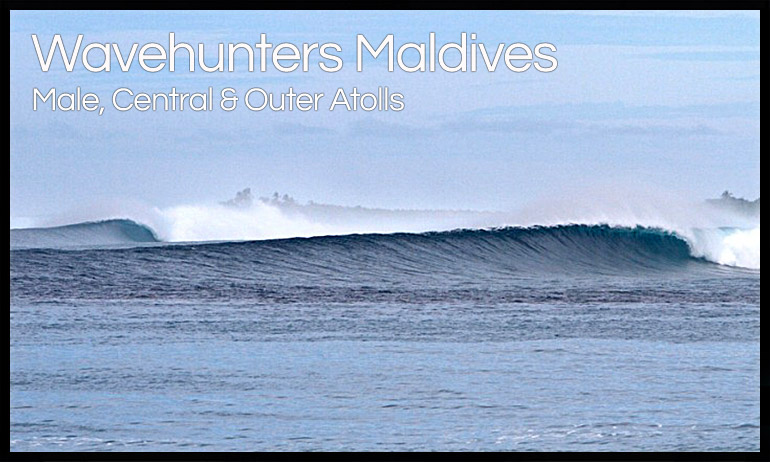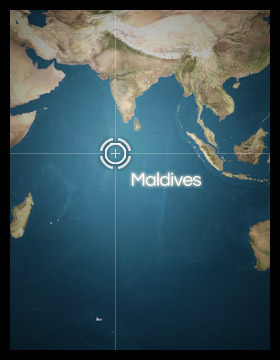 MALDIVES : Male and Central Atolls
The Maldives atolls are a tropical paradise strategically located in the center of the Indian Ocean with full exposure to Southern Ocean swells. Geographically, the Maldives are at the intersection of Europe, Asia and Africa and as such are serviced by a wide variety of air carriers such as Singapore, Emirates and Malaysian and are surprisingly accessible from all parts of the world. It is possible to fly into Male airport and be onboard your surf charter boat or at your resort within an hour or less upon clearing customs. Even if you are bound to the more distant atolls they are reachable within a 1 hour charter flight.
The Maldives has 3 major surfing zones spanning a region of over 300 nautical miles from Latitude 4N down to the Equator:
The Surf
The Maldives experiences a similar surf season to Indonesia. The best waves can be had from April to October, with the biggest swells likely to occur in June-September. During these months the conditions are predominantly off-shore all day due to the monsoonal winds from the Indian Subcontinent and the swell generated from the south. The surf generally ranges in size from 3-8 feet, however bigger days have been experienced. A great variety of reef breaks exist ranging in intensity from quite mellow shreddable walls to gnarlier hollow pits. There is something for everyone.
Male Atolls Surf
In the North Male' atoll, between Male' and Thulhusdhoo is an assortment of 7 breaks.
Jailbreaks is a classic right-hander that was previously off limits. A long down the line right-hander with 3 distinct sections including a mid barrel section. Rides of up to 300m can be had when it's lining up.
Honkys is located near HP reef just North of Himmafushi Island. It is a fast wrapping left at 4-6ft and needs the right swell direction. Worth checking if Sultans is crowded.
On the other side of the channel you have Sultans. An easy right-hand take off which leads you to an intense wrapping section at the end. Breaks 3-8ft. Please note: this wave is the most protected from the southerly winds in the North Male atoll and collect the most swell, so go there if it is small.
20 minutes further North you will find the right-hander known as Ninjas which breaks off Kani Resort. A mellower right-hander which can be quite fickle.
25 minutes north of Lohifushi are 2 breaks opposite each other at a reef pass. The right-hander known as Cokes (Colas) breaks 3-10ft and is fairly protected from the southerly winds that may affect other breaks. This wave has been well photographed and is the hollowest in the North Male atoll. This will test your tube-riding ability.
The left hander known as Chickens is probably the fastest wave in the North Male atoll. This wave holds swell size from 3ft to well over 10ft and provides rides up to 500m long.
Over the months of Jun/Jul/August the North Male atoll surf breaks are getting busier due to the European Summer holidays. Many nationalities of surfers flock to the Maldives over this period. The surf at this time is VERY consistent and can accommodate a large number of surfers spread-out over the 7 breaks in the atoll. If you are after less crowded conditions Apr/May/Sep/Oct are recommended. The swell over this period may not be as consistent as Jun-Aug however good waves certainly still exist at this time.
The South Male atoll also several great set-ups that on LARGE swells will be 2' smaller than North Male breaks, with less crowd factor. Our surf guides have experience in this region and can make recommendations accordingly. It is only a 2 hour trip from Nth Male atoll breaks to the Sth Male atoll breaks.
Kandooma Right is at your doorstep if you're staying at Kandooma Resort. You could throw a cricket ball on the take off zone from your villa. A fast breaking right with two take off spots, the first an easier option with the second a more critical take off. This wave breaks over relatively shallow reef for 100 meters and provides many barrel opportunities. It is best on a mid tide and is one of the best waves in the Maldives  when 3 to 6ft. It likes a SE swell direction and is offshore in any W win.
Natives/Foxys -  This wave is very fast and hollow breaking over relatively shallow coral. It's "Goofys Paradise" or if you're fast on the backhand you will love this wave. Breaks for 100 to 150 metres and provides many barrel opportunities. Best with SE swell and NW wind. On transfer you will visit both Foxy's and Rip Tides, so you get the best of both worlds.
Riptides - A right hander breaking for 150 meters on a reef in the middle of a channel. Need a transfer to this wave even though it is very close. The wave is aptly named as sometimes very strong currents can sweep you seaward so we always check current conditions before settling in for a session. Great wave for the longboarders and shortboarders as well as low intermediate surfers, providing very carvable walls with the occasional hollow section. Best with S swell and SW wind.
Twin Peaks - Iyaru Faru near the island of Gulhi, an inhabited island, eastern reef of South Male Atoll. Sectiony left & right, which picks up more swell than most of the breaks in South Malé Atoll. Can have a good end section on the left in a big southerly swell. The right is a real mixed bag and rarely delivers the goods. Best in N winds, and the higher the tide, the better.
Quarters - Gulhigaathuhuraa, uninhabited island attached to Anantara Resort. Eastern Reef of South Male Atoll. The wave has two sections, the outside is a fat, slow and meandering wave perfect for longboarders and even beginners and the inside section is a really nice, fast little right-hander that picks up less swell than most other places but on its day delivers perfect barrels. Best in winds W to NW, named after the resort workers' quarters on the island.
Kates - Boduhuraa, uninhabited island near the Anantara Resort, eastern reef of South Male Atoll. Small short left, best in winds NW to N. This wave is a fickle one, but with the right conditions is a very fun option.
Tucky Joes / Boatyards - Considered by those "in the know", to be the best break in the Maldives on it's day. The take off can be steep and a very fast reaction is required to set up for the freight train ahead. Up to 200 mtrs long it offers many barrel opportunities, sometimes linking to offer long intense rides out of the sun. On a perfect day you will get 3 barrel sections with the best being the last if you have the guts to take it on. The reef is shallow and low tide can stop play. Prefers light NW wind and SE swell. Not for the faint hearted on a big day.
Central Atolls Surf
An 8 hour steam south from the South Male Atoll brings you to Mulaku atoll.
Mulaku Atoll
All Spots in the Mulaku Atoll are on a coast line facing to the east. There is always a left or a right hander well protected from the predominant wind directions. All spots are close to each other so that you can change spots within a few minutes!
Veyvah : Left Hander Perfect wave with long wall. Easy take of with several options with long rides. Not too heavy - Great Fun.
Mulha : Right Hander Can hold bigger swells. Easy to ride even when it is big. Good for intermediates and even beginners.
Mulha : Left Hander Pretty shallow, fast wave. Works only in certain times of conditions.
Muli Inside : Righthander Very fast, long walls, hollow, barreling, can be shallow but still save ending. Very well protected from southerly winds. Needs bigger swells.
Muli Outside : Righhander Picks up more swell, good in sw winds, long walls, can max out easily, on the corner easy exit.
We have recently scoped out 2 atolls on the West Side between Mulaku and Hadhdhunmathee atoll and in the right swell direction, Handhu will take you over there. There are some perfect set-ups on these atolls and almost certainly no-one else around. If the surf on the East side is small or onshore then your guide will use his expertise to determine whether it's worth visiting the west-side also.
A further. approx. 8 hour steam south brings you to Hadhdhunmathee atoll hosting the following breaks.
Hadhdhunmathee atoll
Spots are spread from the south facing coastline along the east facing up to the north east corner where waves wrap around. As a result you will find spots protected from all wind directions except a rare straight easterly breeze.
Isdhoo : Righthander which needs large easterly swell but very well protected from southerly winds.
Maabaidhoo : Left and Righthander. Left: Very fast and hollow, sometimes closing out, well protected from westerly to northerly winds. Right: works only in large swells. Fun Wave, Longboarders and shortboarders will have a good time.
Mundoo : Righthander Fast and shallow take off sectiont, barelling, spitting, perfect wave. With soft ending.
Gaadhoo : Lefthander Fun clean wave playground. When big: perfect lefthander.
Ying Yang/Hithadhoo : Righthander Yin Yang is a long and typical outside -typical reef corner right in a pass. Outside is a mellow wall, often cross shore, with safe rides in deep water. Then, the wave bends in the corner, mush out for a while, then wraps into one of the most critical sections in the Maldives. Inside section can be long and tubular, guys getting barreled 3 times but it can be fairly heavy too on pretty uneven reef, producing potential intimidating barrels on the first bend.
There is another atoll to the west (between Mulaku and Hadhdhunmathee atolls) that with the right swell direction (SSW) will offer a few other options and may be worth investigating on the 11 night Male to Hadhdhunmathee trips.
Wavehunters boats and expert surf guides have been surfing all these waves listed above for the last decade on route to Gaafu Dhaalu atoll (Southern atolls). Claims by other operators have been made that they discovered these breaks etc...We don't make these claims as surfing in the Maldives dates back to the 70's and some local Maldivian surfers were surfing these breaks 3 decades ago.
About the Male & Central Atolls
The Country
Scattered across the equator in the middle of the Indian Ocean, the gem like islands of the Maldives depict the rare vision of a tropical paradise. Palm fringed islands with sparkling white beaches, turquoise lagoons, clear warm water and coral reefs teeming with abundant varieties of marine flora and fauna and hosting a variety of world class waves that are now accessible to the travelling surfer. Measuring 820 km's north to south and 120 km's east to west, the closest neighbors are India and Sri Lanka. There are over 1,192 islands in the Maldives Republic. People who have never been to the Maldives often have trouble comprehending that there is almost NO land. It is sea with little pockets of coral dotted on top of an old volcanic mountain range. Only 202 of the islands are inhabited; there are no hills or rivers: the highest point above sea level is less than 10 feet.
The Climate
The Climate of the Maldives is warm year round, determined by the monsoons. The air temperature varies little with an average daily maximum of 90F and the minimum at 79F. There are two monsoon seasons: the northeast from November to April (February is the driest month), and the Southwest from the end of May to October. Water temperatures remain about 80F year-round.
EQUIPMENT
You'll need to take everything. Nothing is available in the Maldives. Board size is a personal thing, but it would be wise to bring an assortment for various conditions. Recommended quiver is 2 boards: A normal shortboard and a mid-range gun (6-8 to 7-0). It rarely gets over 8ft. The warm crystal blue waters make it possible to swim without a wetsuit, but a vest or long-sleeved rashguard is advised for protection from the sun. Booties are a necessity due to the sharp coral found all over the atolls. A helmet is also recommended. Be sure to bring plenty of waterproof sunscreen with an SPF of 15 or higher.
Maldives : Outer Atolls
The Surf
Maldives: Southern (Outer) Atolls
Gaafu Dhaalu starting from the airport making your way around in a clockwise direction some of the breaks don't have names so will give the island name also some of the breaks have two names so will give both.
Kaededhdhoo - right, island with the airport on it, has a right hander that is fun when the swell is large is on the west side of the atoll so doesn't receive as much swell as the other breaks.
Beacons or Barracuda Point - right, one of the most powerful and hollowest wave in Maldives, faces south so picks up plenty of swell, needs north west or north wind so always better early season February to April. Pretty short ride with easy takeoff where you then line up for the inside and the fun begins best on mid to high tide and can be surfed 2 to 10 feet.
Dhigulaabadhoo - left, across the channel from beacons we call it dhiraagu after the phone company in the Maldives as the island is shaped like a phone. A sort of fat ride on the takeoff and if the swell direction is right can link up with another section on the inside where it produces a bit more speed and power, needs same wind as beacons and can be surfed on all tides. Plenty of marine life around here common to see whale sharks.
Castaways - right, very shallow only to be surfed on high tide, when the swell is over 4 foot breaks out the back where a fun wave can be had and you make the choice to keep going through to the inside where it hits the shallow ledge and gets a bit tricky, nice little deserted island in front of the break.
Blue Bowls or Voodoos - right, long wave not so hollow but a lot of fun best around 4-6 feet on mid tide it is protected if the wind swings around to south south west which is common in April.
Gani Point - right, also protected from south winds, gets hollow, best on mid to high tide.
Booga Reef - left and right, a Bombi in the middle of channel into atoll, not so hollow but a fun ride can be had the right usually being the pick needs west to north west wind.
Love Charms - left, great wave from takeoff to finish, nice tube on the inside breaks 2-10 feet needs west to north winds and can be surfed on all tides.
Rockets - left, fun wave not so hollow but nice long walls to be had picks up plenty of swell and can be surfed all tides needs west to north winds.
Note: There are some more spots on the top of the atoll (Gaafu Alofi) always smaller though as swell is blocked from the east side of the atoll which sticks out past these channels into the atoll.