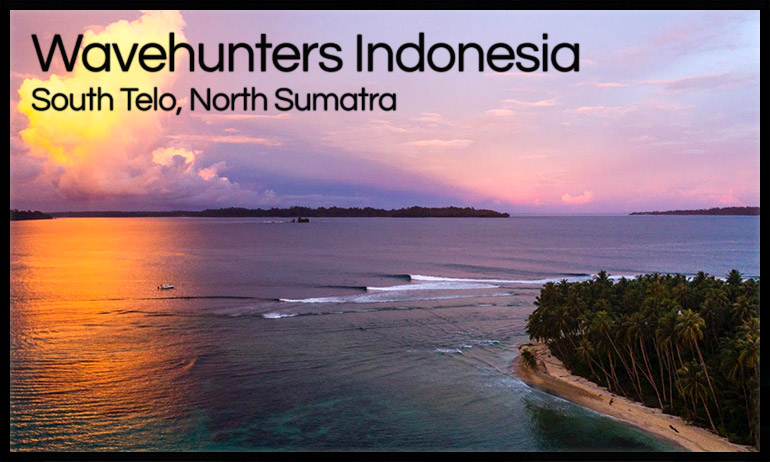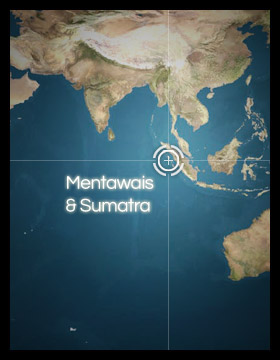 South Telos
Another excellent Telo Islands option! This time, set in the southern reaches of the archipelago.
Four private, air-conditioned bungalows and dining pavillion, set in a bay that's the classic Indonesian postcard
This place is pretty much brand-spanking new – construction was completed in early 2018 by the legendary Mark Byrne and as far as the southern Telos are concerned, this place is incomparable in comfort and quality.
With our home break out at the mouth of the bay, and a half a dozen options within a short boat ride radius, Monkeys is a trip you'll go bananas* over.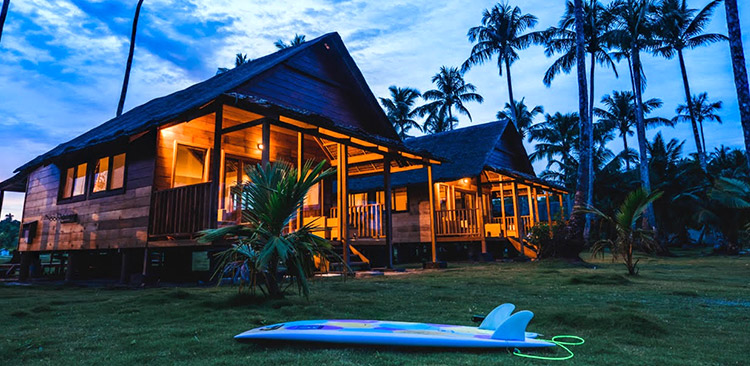 LODGE OVERVIEW
Monkeys South Telo is a classic Pegasus creation. Comfortable, understated and harmonising with the stunning surrounds.
Four private bungalows and central dining / socialising pavillion. A bank of high performance solar panels help power the aircon and make Monkeys' already light footprint even more sustainable. It's all designed to maximise the outlook to this spectacular and remote stretch of coast.
MONKEYS SURF SPOTS
Here's a quick rundown of some of the breaks we'll be burying a rail at:
Monkeys : Our home break! Super fun right in view of the lodge – suitable for all levels and one of the most consistent waves in the Telo Chain.
New Schools : An easy takeoff that gets more interesting and tubular as the wave progresses!
Bojo's : Long, fun left. Breaks for 300 meters on its day.
Outside Monkeys :  Comes alive with a bit of swell energy. Provides looong and fun walls.
Gilly's : A left that packs a punch out of deep water.
Bombers : Down the line right-hander. Long walls with two tube sections.
Beachies : Fun when everywhere is small.
Squirrels : Secret left-hander. Not unlike Macaronis on its day.

YOUR SANCTUARY
Monkeys South Telo features four generously-sized private villas (each with a king-sized bed and two day beds) and ocean views.
All villas feature air-conditioning and en-suite facilities.
Rooms are serviced daily, with complimentary laundry service.
LODGE AMENITIES
4 private air-conditioned bungalows; 1 king + 2 day beds in each
En-suite bathrooms and A/C in all rooms
Full-service bar
24/7 Satellite WiFi
Daily housekeeping; Complimentary laundry service
DINING
The cuisine at Monkeys South Telo is based on authentic Indonesian culinary traditions with just the right amount of western indulgence thrown in.
Meals are all-inclusive – with the exception of select alcoholic beverages. 
We are able to provide a menu based on any dietary requirements requested prior to arrival.
Meals vary between buffet and table service, shared in the company of other guests.
And be sure to save room for dessert!
MONKEYS RIVER TOUR
With the incredible surf at our disposal, it's easy to overlook some of the other features of the area that make this place so special.
One of the more memorable activites here has got to be the Monkeys River Cruise, where we take our trusty boat upriver and channel our inner David Attenborough.
Up to four different species of Monkey can be spotted (well, five if you include your fellow humans on board)
It's a hit of nature and adventure that's highly recommended.
SNORKELING
You've surfed, you've eaten, you've chilled, caught up with your sleep. You've had days of waves.
Time for something a bit different. Time for a snorkel!
Time to check out what goes on under that aqua carpet we spend so much time sliding around on top of!
FISHING
Fishing isn't the main reason you've come to Monkeys, but while you're here, it's a bit of fun and nothing's better than fresh sashimi after a day on the water.
No need to bring your own fishing gear, and we'll even take care of the messy stuff if you're not a fan of blood & guts.