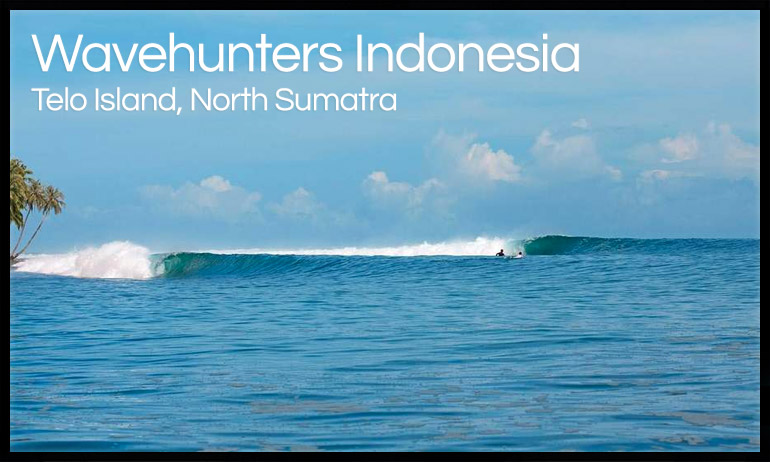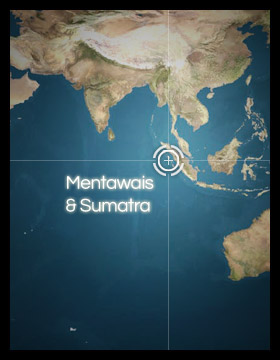 Pinnacles on Telo
Situated on a 50-acre uninhabited private island containing one of the Telos' finest surf breaks, Pinnacles on Telo is the culmination of Indonesian experience and the ultimate expression of ambition.
Pinnacles on Telo is a carefully considered response to the overwhelming demand for aneight-surfers only Telo Island Lodge product. Using Telo Islnd Lodge's  vast knowledge of the region and understanding of guests' needs, they have designed a next-level operation that will incorporate the unpretentious, small-format intimacy of the Telo Island Lodge with the look, feel and meticulous design detail expected of a full-service, private island retreat. Few places on earth provide a more peaceful, private and naturally stunning escape...
Accomodations
The main lodge will include a restaurant, bar, and infinity edge pool. Guests will enjoy acres of grounds manicured with fruit trees, a hydroponic garden, and a spectacular private beach. The operation will offer numerous activities catering to non-surfing guests, including cooking classes in an open demonstration kitchen, a full spa, massage, yoga, games, and of course a full compliment of snorkeling gear, SUPs, kayaks, and even a sunfish or two for those who know how to sail.
Rooms
Pinnacles on Telo will feature eight private air-conditioned bungalows (each with a king-sized bed and two day beds) and ocean views from every place in the room.  Designed by highly regarded BAR Architects of San Francisco with interiors curated by New York's High Line Collective, all rooms feature air-conditioning and en-suite facilities, with 24/7 WiFi. Rooms are serviced twice daily, with complimentary laundry service.  Importantly, Pinnacle on Telo, along with the Telo Island Lodge, are the only land-based surf lodges in North Sumatra with a tsunami escape zone three meters from the main building, ensuring a level of safety not available in any other surf tourism facility in the region.
Amenities
AC and en-suite bathrooms In all rooms
King sized beds with two day beds
2x daily housekeeping
Satellite TV in main lodge
Services
Satellite phone available for guest use
Complimentary laundry service
Full-service bar
Satellite WiFi
Dining
The cuisine at Pinnacles on Telo has been tailored to provide an authentic Indonesian culinary experience, while the chosen ingredients emphasize fresh, healthy, super food / performance enhancing nourishment to maintain peak energy levels during the adventure. Meals are all-inclusive – with the exception of select alcoholic beverages. The Chef and his staff have a suite of unique, signature dishes at the ready. He and his crew are also able to provide a menu based on dietary requirements (requested prior to arrival.)
Their guest concierge will contact you prior to the trip to personalize all food and beverage needs so no detail is overlooked. Meals vary between buffet and table service, shared in the company of other guests. Feel free to dine in the dining room or one of the al fresco areas of the resort. And be sure to save room for their hand-crafted desserts!
The Surf
There are over 20 different breaks within an hour drive of Pinnacles on Telo, and 70% of them are within 20 minutes of their front door. The surf here is ultra consistent, in the 3-5-foot range, lefts and rights that work in all tides and opposite wind directions virtually guaranteeing offshores every day. One of the main attractions of this region is the variety of surf offers many options for ALL levels of surfers and equipment.
They'll be sticking with what they already know works well by limiting surfer capacity of the property to eight surfers with the added benefit of being able to bring along non-surfing partners and up to 2 children per bungalow. For the waves that are not right at your doorstep, they provide fast, comfortable, and safe boat transfers with a new fleet of surf boats.
In the end all of the travel, time and energy to get to a remote surf resort destination is trivially wiped away with just that one epic wave. The staff, speedboat transfers, and uncrowded region of plentiful surf is eagerly awaiting to get you out there. 
Surfing Guides
A good surf guide understands the ocean. A great surf guide understands his guests. At Telo Island Lodge, their guides are the key to their success, and are responsible for countless guests riding the best waves of their lives. They invest seriously in hiring and developing the best surf guides in the world. World-Class surfers who focus on enhancing your experience, not their own.
PINNACLES
The house wave a short paddle from the beach is set before one of the most stunning backdrops in the region, this super-fun right lies about meters from the resort. Pinnacles is a great longboard wave, and in certain conditions becomes one of the better breaks in the area.
THE BUBBLE
A spirited, wrapping, mechanically perfect right hander. The water clarity here has to be seen to be believed and has been the location of many fine tube rides. Many personal-best speed records have been achieved here. 10 minutes from the resort.
MAX'S LEFT
A very long, bowling, walling left that will throw up the occasional tube section. The left is one of the most consistent breaks in the area, and is located directly to the south of the resort, a mere five-minute boat ride away. Max's left works on the opposite winds to Max's Right, so one of our 'locals' is always offshore. The left has been the location of countless memorable sessions and is a returning guest favorite.
MAX'S RIGHT
A fun, sometimes challenging, bowling right out front of The Telo Island Lodge that offers everything from hittable walls to tube rides. Less than 100 meters from the front door of The Telo Island Lodge, and 15-minutes by boat from the Resort, it is a sight to behold when it turns on.
GTs
The crown jewel. An intense but fun tubular right, about 30 minutes from the Resort, and named after Aussie surfing legend Grant Thomas (who holds the Telo Island Lodge Bintang record). GT's has been compared to HT's in the Mentawais – but without the shallow end section. This world-class tube has featured on the cover of many magazines.
JURASSIC PARK
An epic left point over coral, with a prehistoric backdrop. This is a wave of moods, from heart-in-mouth tubes to totally whackable walls. Located in southern part of our range, Jurassic Park requires a full days outing and a couple of hours in the speedboats to access – which is fitting for a trip back in time.
SCHOOL YARDS REGION
Made up of several separate waves, all of which work on different swell directions, the "yard" is about 10 minutes from the resort and open to the full brunt of swell. Schoolyards can offer everything from a "Sunset Beach" style open-ocean peak, to fun hittable rights and lefts. A trip to the yard always draws a smile.
LE-BA
A pretty righthander that runs along the edge of a nearby island. Has been compared to Lagundri Bay. At three to five feet it may be one of the most enjoyable rights on the planet. Suits beginners to intermediate surfers. 10 minutes from the resort.
THE E.R.
Made up of two separate reef passes, the E.R. features multiple lefts and rights. Best on a very light to medium swell, the E.R. has a wave suited to all levels of experience. Generally the surf needs to be flat at our other breaks for this to be its best. The E.R. is also home to some amazing live coral and snorkeling. 25 minutes from the resort.
DISLOCATORS
A shallow, tubing left suited for intermediate and advanced surfers. Dislocators is in a region to the south that is more suited to the advanced level surfer willing to leave a little skin on the reef. 35 minutes from the resort.
WEGS
Wegs equals Kegs. An amazing coral point, 45 minutes south of the resort. Nothing but high-speed tubes.