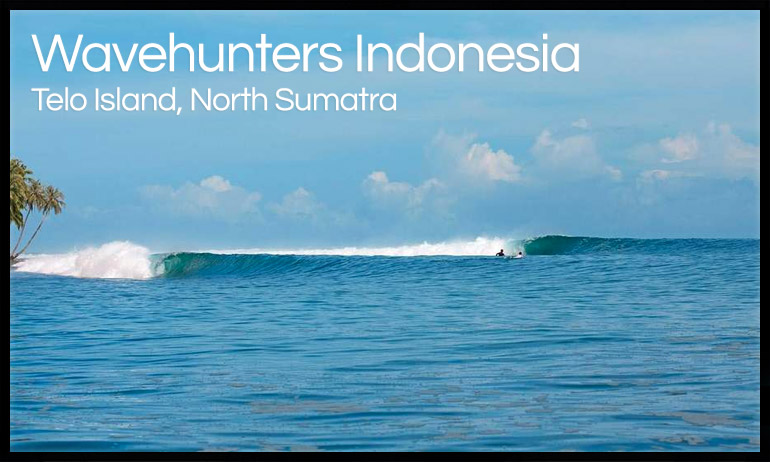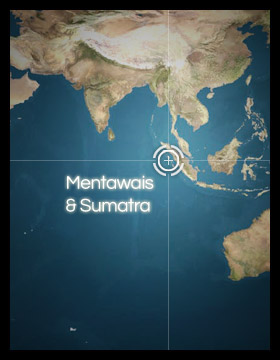 Pinnacles on Telo : Pricing & Inclusions
*Please submit a Trip Inquiry Form or email wavehunters@wavehunters.com for tour availability and pricing.
**Please inquire for reservations and pricing:  wavehunters@wavehunters.com
Pinnacles on Telo Trip Inclusions:
Meet and greet in Medan (includes porters).
Return transfers out to Telo Island.
Pinnacles on Telo will feature eight private air-conditioned bungalows (each with a king-sized bed and two day beds) and ocean views from every place in the room.  Designed by highly regarded BAR Architects of San Francisco with interiors curated by New York's High Line Collective, all rooms feature air-conditioning and en-suite facilities, with 24/7 WiFi. Rooms are serviced twice daily, with complimentary laundry service. 
All surf transfers are included in your package and will be carried out in the comfort of our super-fast speed boats.
Three meals per day prepared by our chefs; should you have special dietary requirements please lets us know in advance and we are more than happy to cater specifically for them.
Unlimited drinking water.
Complimentary hospitality offerings include fresh fruit such as bananas, watermelon, mandarins, apples or papaya, as well as tea, coffee, fruit juice and water. Our attentive staff will attend to your needs at a moment's notice.
Alcoholic beverages are available at our fully serviced bar.
Access and uninterrupted views to the only resort-front break in the region. We'll even run you out the back and pick you up!
Use of all equipment and facilities at Pinnacles on Telo, including fishing and snorkeling equipment, ping-pong, DVD with a huge selection of movies, CD player, Sat TV, magazines, books, laundry service and much more.
We offer a complimentary surfboard repair service but ask you do tip the staff member who has carried out the repair.
Also included in this package is the expert knowledge of your Australian guides who have been living and surfing in this part of Indonesia for almost 20 years!
AN AUTHENTICALLY UNIQUE CULINARY EXPERIENCE
Breakfast is served in the Main House dining area from 7.00am to 8.00am and it includes everything from fresh fruit and various grains, to smoothies and traditional Indonesian breakfast options. The recipes at Pinnacles on Telo have been tailored to provide an authentic Indonesian culinary experience, while the chosen ingredients emphasize fresh, healthy, superfood / performance enhancing nourishment to maintain peak energy levels during the adventure.
BREAKFAST : A casual affair served after guests return from the morning surf session. Feel free to take lunch in the Main House or enjoy it outside on a deck chair. Lunch options will include hearty, nourishing, fresh proteins with abundant sides.
LUNCH : Perfect food for recharging for the afternoon surf session!
SUNSET BAR SNACKS : We have built a tradition across the years of serving fresh seafood snacks around sunset drinks time, or when guests return from the last surf session. These vary from sashimi through to king prawns or calamari all fresh from the local fishermen. Nothing tastes better than a snack and a cold beer after a day surfing. The perfect entrée for the main cuisine event of the day, yep, you guessed it ....
DINNER : A sit-down affair and highlight of the day. Dinners will surprise and delight your taste buds and take you on an adventure through the regional influences of our chef and his team.
SAVE ROOM FOR DESSERT : Generally a hand-prepared sweet of some type. Everything from ice-cream through to banana cake, chocolate mud cake, carrot cake and preserved fruits in glazes. We swear it's a crime but often guests are not able to make it through to dessert from the main meal, and they require that the dessert be refrigerated for a midnight snack.
TRANSFERS AND ITINERARY
When you've arrived and cleared immigration you'll be approached by the porter and asked if you are a guest of Pinnacles on Telo. Our porters will assist in collecting your bags and exiting customs, and will carry your luggage out to meet our ground agent as you exit the airport. Our agent, Boraspati Express Tours, will be waiting for you with a clearly marked uniform & "Pinnacles on Telo" signage. The porters are pre- paid by Pinnacles on Telo and there is no need to pay for this service.
ARRIVAL IN MEDAN
From here, our agent will transfer you and your luggage over to the domestic terminal (or to your hotel if you are staying overnight) where you will check in for the Susi Air flight to Pulau Telo (estimated time of departure 12.00pm). Should you be arriving a day early and require accommodation in Medan, our agent will pick you up from the airport on arrival and transfer you to your hotel. They will then arrange a time to pick you up again the following morning to transfer you to domestic terminal in time for the 12.00pm departure to Pulau Telo.
MEDAN TO TELO
The flight to Palau Telo takes just over an hour and a half. You will be met at Pulau Telo airport by management of Pinnacles on Telo and a quick speedboat transfer to Pinnacles on Telo (5 minutes) will have you in the surf by around 3:00pm. The first order of business however – as you gaze around slackjawed at your home for the next ten days – is a briefing on surf safety and basic procedures.
On the final day of your package you'll check out of The Lodge at 12:00pm. The speed-boat transfer to Palau Telo airport will have you checking in for your flight back to Medan soon thereafter. Our agent will meet you on arrival in Medan and assist with transferring you to either your departing flight (we recommend you do not book an onward flight from Medan earlier than 7.00pm.) or to your hotel for the night. If overnighting, our agent will arrange a time to pick you up from the hotel the following morning and transfer you to the airport for your departing flight.
Frequently Asked Questions
How many boards should I bring?
If you do not wish to use any of our ECOBOARDS, we suggest limiting to a maximum of 2 boards per person. The normal board you ride at home is fine and perhaps a slightly larger semi-gun. Your Pinnacles on Telo transfer flight has strict weight restrictions and airlines is only able to load 2 boards per person on this flight. Any excess luggage & boards will be left in Medan. Remember to bring 1 x extra leg ropes, 1 x cloth cover to protect your boards in the boats and 1 x block of tropical surf wax. Should have questions on which boards are best for our waves, please let us know and we can provide some recommendations as well as equipment purchase options prior to your trip.
Do I need to bring my own laptop?
Pinnacles on Telo provides a guest computer which is available in the main lounge. Should you need to work while you are away or don't want to wait to use the computer, we strongly recommend you bring your own laptop or tablet.
Will I be able to check my emails?
Yes! If you have not brought your own laptop or smart phone, then you can access the lodge's guest computer at anytime. There is wireless internet access available throughout Pinnacles on Telo, which is charged out at a fee. Our staff will issue you with codes to use at your leisure.
Do I need travel insurance?
ALL guests must have full comprehensive travel and medical insurance and should include at least a MedEvac option and compensation for lost charter days due to unforeseen circumstances or emergencies. 
What documents do I need to take? 
A passport with at least six months of validity remaining, including a valid visa (most passport holders can apply for a visa on arrival at $35USD) and one other form of identification. 
2 x COLOUR photocopies of your passport (photo page). 
Airline tickets 
Travel insurance information, itinerary and other travel documents. 
In case you misplace any vital documents you should also carry a back-up photocopy of your passport, I.D, and airline ticket with you at all times. It doesn't hurt to leave another copy at home as well.
How much cash will I need to bring, and in what currency?
You will only need a small amount of cash during your stay including: 
$35USD cash to purchase an Indonesian tourist visa on arrival 
Indonesian rupiah for Airport Departure tax (200,000 rupiahs for international departures & 75,000 rupiahs for domestic departure). 
Indonesian rupiah or credit card for personal telephone calls, additional meals, snacks & drinks in transit or transit accommodation. 
Credit card to pay for any additional services at Pinnacles on Telo.
Can I bring my own alcohol?
Guests can bring alcohol at their own risk, but note due to our full liquor license the local government has informed us that if during a random inspection undocumented liquor is found on the premises we are subject to a minimum 5 million rupiah fine, which we will pass along to the guest. Bag inspections are also tightening at the new Medan airport for alcohol. Bring it at your own risk.
Due to medical or personal reasons I follow a special diet. Can you accommodate this?
Yes, with prior notification (minimum two weeks) we can accommodate most dietary requests. 
Do I need to take Malaria medication?
It is a matter of personal choice whether to take anti-malarial medication. Malaria is present in the region and we take the matter very seriously. Whether you choose to take a prophylaxis or not, we strongly urge all our guests to wear repellant at dawn and evenings. All guest beds are netted, the lodge is fully screened, and the grounds are fogged regularly. To date we have had no reported cases of malaria at Pinnacles on Telo and the best policy is to avoid getting bitten by mosquitoes.
Are there any other health risks?
When traveling to any remote region in the world, most travelers will usually update their tetanus and hepatitis shots. Malaria is a reality in some parts of Indonesia. We suggest you consult your doctor for the right preventative treatment, which you may be required to start some weeks before you arrive. Should you be taking any prescription medication, please ensure you bring the necessary paperwork that goes with it in case of an emergency. For more travel health related information, please consult your doctor or visit: http://www.indonesia.travel/en/travel-information
Can you give me an idea of how many other people I'll be surfing with?
Our aim is to spend the majority of our trips surfing with just the people staying at the lodge (maximum 8-12 surfers). This is not always possible, but there are plenty of waves in this area and due to our extensive experience we know how to be in the right place at the right time. While it's inevitable that we'll come across other surfers from time to time, rest assured you will get plenty of waves.
What do you suggest I pack?
We're glad you asked! Besides yourself and your boards, we recommend that you bring the following items: 
All necessary documents and cash as per page 16 of this travel wallet 
2 pairs of board shorts 
Some t-shirts (singlets are inappropriate in major towns & muslim areas) 
One long sleeved t-shirt (believe it or not it can get fresh in the tropics) 
Booties 
Solarez - (with rovings) 
Spare leg ropes 
Long sleeve rash shirt 
Tropical surf wax (2 blocks) 
Spare fins & keys, spare plugs, screws if you have FCS 
Sunscreen & lip balm 30+ 
No towel (we provide 'em)! 
Sunglasses 
iPod 
Insect repellent 
Sun hat and/or surf hat 
Toiletries 
A good sense of humour (grumpy people will be sent home on first available flight) 
Books, CDs, magazines (the lodge has many, but you may wish to bring your own) 
Camera, charger, adapter 
A reusable drink bottle to fill up from our filtered water dispensers. (We're over single- use bottles.) 
Fishing and diving gear (again Pinnacles on Telo supplies these but some people prefer using their own) 
First Aid Kit. The lodge has a fully equipped first aid kit. However we strongly suggest you bring the following items in your personal kit: 
Pain relief 
Waterproof bandages and band aids 
Antibacterial ointment 
Betadine (iodine) 
Tweezers Syringes 
Sting ease 
Malaria medication 
Aqua ear & Cotton buds 
Cold/flu tablets 
Multi- vitamins 
Sports rub 
Motion sickness medication 
General antibiotics 
Suture kit (for stiches) 
Personal medication
Note: Some prescription medication requires a note from your doctor before international travel. If you are taking prescription medication, please check with your GP before departure. If you are travelling as a group, it is worth consolidating items on this list to reduce luggage.