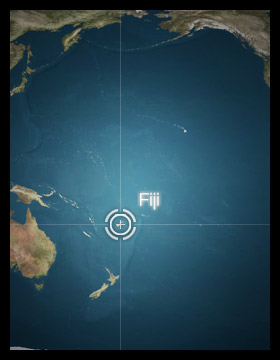 Fiji Resort - Tavarua
History
The Tale of Tavarua took place early in the 19th century. Ratu (Chief) Kini Vosailagi was the powerful Ka Levu (Paramount Chief) of the entire Southwestern region of Fiji. Upon visiting the outer island of Malolo, Ratu Kini was tricked, possibly by family members, separating him from the safety of his tribal warriors and following an ambush he was mortally wounded. Fleeing his attackers, Ratu Kini used his remaining strength to swim several miles to Tavarua Island, where he died wounded and exhausted. The owners of Tavarua Island, although blameless in the death of the Ka Levu, feared they would be seen as co-conspirators and would face brutal revenge. So they gave Tavarua to Ratu Kini's family to insure their own safety.
Today, the current Ka Levu and community members have allowed Tavarua to be modestly developed into a small vacation resort where you can find beautiful and colorful sealife and world-class surfing waves. You may also find Druku, the great-great grandson of Ratu Kini, fishing, surfing or laughing with the guests. As for Ratu Kini buried on the island, his spirit and legacy lives on through anyone who visits Tavarua.
The Resort
This remarkable 29 acre heart shaped private island has something for everyone. Tavarua Island caters to both the hard-core surfer as well as vacationing families and couples. Whether you enjoy dropping into six foot perfect Cloudbreak, or relaxing under the palapa by the pool with the book you have been meaning to read – Tavarua Island is your vacation island paradise.
Pool & Spa
Tavarua's resort-sized pool is surrounded by palm and pandanus trees and features a running waterfall. It is a great meeting place for everyone during the day. It offers shaded relaxing lounges poolside where you can watch the waves at Restaurants and enjoy your favorite holiday drink. Just beside the pool is the spa. A wonderful way to end your surf session, or spend some time allowing the stress leave your body as the sun sets on another perfect island day.
Restaurant / Bar
The Tavarua Island Restaurant has perhaps the best and most famous view in the South Pacific, as well as a perfect left named after it. Their buffet style meals cater to every appetite – surfer grind or health conscious, they offer many fresh, tasty choices for breakfast, lunch and dinner. Each meal is announced with the blowing of the Davui shell. Seated in the open air, our round tables can accommodate up to seven guests so each meal is a chance to meet people from all over the world.
Happy Hour begins each day at four with different appetizer platters served poolside and on the expansive deck. Their bar is fully stocked with wines, beers and liquors and some mixed drinks uniquely our own.
Office & Boutique
The friendly office staff is here to help with a smile and traditional Fijian hospitality. They can arrange phone calls home, send and receive faxes, set up the island high-speed internet connection for you, arrange all day trips and answer any questions you may have.
The Boutique has just about everything you might need; Board shorts to bikinis, children's clothes, surf gear and one of a kind hand made jewelry, artwork and photography. Don't worry if you forgot something at home that you might need, theye are stocked with most necessary items, as well as local handicrafts. 
The Surf
The legendary surf on Tavarua Island consists of three unique reef breaks: Cloudbreak, Restaurants and Tavarua Rights.


Cloudbreak
The most consistent and a short ponga ride out from the island.
Restaurants
Located directly off the front of the restaurant, and can easily be viewed while relaxing on the deck.
Tavarua Rights
Located on the backside of the island, playful and fun, but challenging when bigger.
Kiddieland
A wave playground at high tide – the perfect spot for beginners.
Additional waves now available in the area include:


Namotu (Left)
A mellow lefthander ideal for intermediates or longboarders.
Swimming Pools (Right)
A mellow righthander breaking on the back side of Namotu island.
Wilkes Pass (Right)
A long quality right reef break breaking along a flat reef .
Surfing Decree
The highly publicized surfing decree implemented by the Fijian Government in July of 2010 remains in effect. In the interest of safety for surfers and the protection of the environment, Tavarua remains hopeful that some form of regulation can be put into place. Until that time, Tavarua Island will uphold a policy of co-operation with the Fijian Government. Tavarua will continue to maintain the highest standards with regard to etiquette, environmental awareness and above all, safety.
Guest satisfaction remains their highest priority and our boat schedules have been modified. They now offer more flexibility in an effort to take advantage of conditions, various surf breaks, and un-crowded opportunities. With an ideal proximity to some of the best surf in the world, Tavarua Island continues to provide the ideal Fijian surf experience.
Safety Program
Since 1986, when Tavarua first trained Fijian lifeguards and boat drivers, they have made safety their first priority. Today that tradition continues and has expanded to other areas of our staff thanks to the hard work of some special volunteers. For water and injury related rescue, members of the Surf Lifesaving Association and Marine Safety Officers, Steve Rueter and Claude Panis put Tavarua lifeguards and boatmen through this important training. The clinic lasted ten days and included instruction in lifesaving techniques, wave runner rescue, first aid, and a rigorous endurance swim challenge. In the end, 23 members of the Tavarua and Namotu staff proudly passed the test and were awarded certification as lifeguards. 
Accommodations
Standard Bures
Tavarua has 14 private beachfront en-suite guest bures. Each has two queen beds, a day bed, air-conditioning, ceiling fans, mini-bar, and a large beach side verandah for relaxing, watching the sunset or just taking in the lush island foliage and bird life.
Sunrise Bures
To accommodate larger families or groups traveling together Tavarua offers Sunrise bures. Each comes with two bedrooms, 2 bathrooms, and a sitting room, as well as a large beachfront verandah. Sunrise bures can accommodate up to four adults and are equipped with air conditioning.