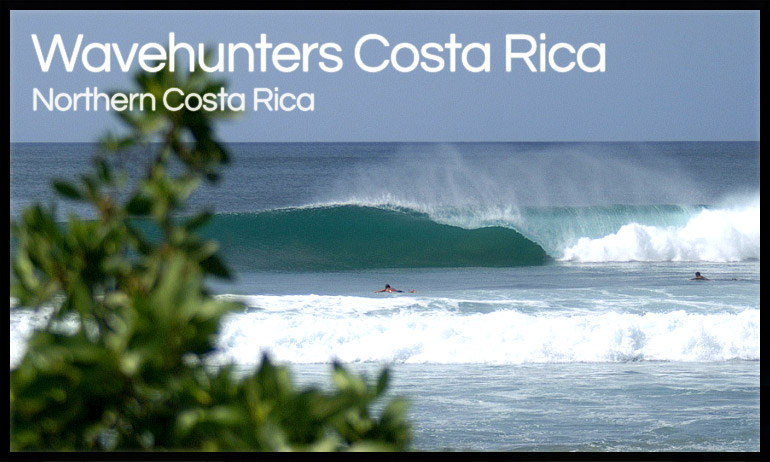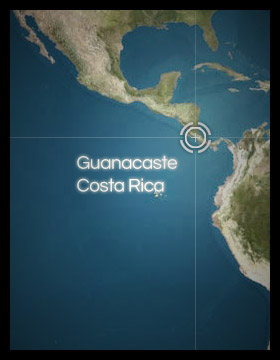 Costa Rica, North
Wavehunters Playa Negra CR Surf Tours
Wavehunters Guanacaste, Costa Rica is a fully-guided surfing trip catering to both experienced and beginner surfers seeking uncrowded waves on Costa Rica's beautiful North Pacific coast away from the more congested, heavily-trafficked zones. Our base is the Wavehouse, a 4000ft2 , 5-bedroom hacienda located inside a secure private development at Playa Negra. The villa comes available in a variety of configurations to cater to bookings ranging from individuals up to 10pp groups. All your logistical needs from the airport transfers, to full-day surf tours w/transportation provided, to deluxe accommodations, breakfast and dinner, and hosting by knowledgeable staff are taken care of, all for an affordable price!
Playa Negra is located 30 minutes south of Tamarindo, so while town and its attractions are accessible throughout your stay, they are also a long way outside of town in a remote residential beach area, so make sure this is the experience you are looking for and not shops and restaurants in walking distance from your hotel or you will be disappointed. This is predominantly a trip for surfers looking to get away from the touristy areas and log time in the surf not in traffic.
Professional photo and video packages are available through Tony Roberts Photography. Tony Roberts (TR) has worked with high profile clients such as: Surfing Magazine, Quiksilver, Sports Illustrated, National Geographic Extreme and others. Tony has lived in Costa Rica for over 20 years. He and his team know every detail of the surf breaks and how to document your surfing!
The Surf
Playa Negra is an old coral volcanic reef break that is a perfect reeling right with consequences, and is centrally located to all the best surf in the area. This wave is literally a couple hundred meters from your doorstep. A quick check or surf here will indicate what the surf is doing at all the other niches up and down the coast. The surf trip is set up mostly around 17 surf spots in a small stretch of coastline each with different wind, tide, swell angle, and lighting. Every variance in swell angle opens new possibilities in where we surf, we have reef breaks for every swell angle and condition, from a wave very similar to Playa Negra (never seen more than 6 surfers out there) to outer reefs reminiscent of the Eastside of Oahu, to a perfect right & left reef setup that comes to life when the swell is too far south for Negra. It seems every nook and cranny of this coast has a perfect wave and we have all the swell/wind/tide angle formulas worked out — of our 17 spots, only around 4 get crowded.
Witches Rock, Ollies Point, Labyrinth and a couple other mysto spots are a couple hours up the coast located in Santa Rosa National Park.
Beginner Surf Trip!
If you are interested in learning to surf and a vacation in Costa Rica then look no further. Enjoy hands-on surf instruction while learning proper surfing techniques necessary to consistently catch fun waves. This location features one of the best learn-to-surf waves in the world and when it's time for you to depart our surf camp, you will have the surf skills and confidence necessary to surf on your own. Stay at the house and we will take care of the rest. The beginners surf trip includes daily trips to local beaches & includes 1.5 hours of daily surfing instruction as well as a daily surfboard rental & rash guard. We go to beautiful and safe beaches with mellow-breaking waves with a gradual sloped sandy bottom. The beginner surf trip is geared to the individual that is new to surfing or a surfer that can't consistently stand or ride down the line. The beginner spots we take you to make for waves that are consistent and easy to ride. Age is not a factor! They can teach anyone to surf from 6 to 60, all you need are good swimming skills and comfort in the water. Our surf camp instructors are very friendly and approachable – they are great at teaching beginners to surf. Student to instructor ratio is only 4 to 1 – this is the key to improving your surfing skills. This allows them the opportunity to provide the highest level of fun, safety, and instruction both in the water and the beach.
Accommodations
Deluxe Accommodations 
Our new location is located 50 meters from a quiet beach with surf spots in both directions. The house has four fully equipped bedrooms and four bathrooms. High ceilings with big windows make this house light and bright, with good cross ventilation. The second floor features a big terrace- perfect to practice yoga, chill with a book, or enjoy the monkeys that pass by. Two big yards with tropical landscaping and a swimming pool lead to an ocean view through the trees and private access to the beach.
WAVEHOUSE PLAYA NEGRA FEATURES:
3,000 sq ft
12-ft ceilings
Four spacious bedrooms
Four full private bathrooms
Two large living areas
Satellite TV
Big deck off master
Large dining area outside
Air Conditioning & ceiling fans in every room
Swimming Pool and Private patio
Work area & Wi-Fi internet
 LOCATION INCLUDES:
Steps from the beach
2 meals per day, private chef
Fully guided surf transportation daily in 4×4 vehicles
All experience levels
Gated beach community, 24×7 security
THE TOWN
The community surrounding the casa at Playa Negra de Los Pargos is like going back in a time machine. You get to experience life as it was before any real outside development or influence. The tropical dry forest lands surrounding the house are still virgin & undisturbed. It is customary to see real cowboys, wild horses, cattle traffic jams, wild bull fights, wild monkeys, thousand of species of birds & more. These natural, wild and cultural experiences will make your stay with us unique and will remain with you long after you've returned home.
THE BEACH AND SURF
Playa Negra is an old coral volcanic reef break that is a perfect reeling right into a channel. All around Playa Negra are amazing spots and many are still rarely surfed if at all.
The main break at Negra was first made famous when it was featured in the surfing movie, The Endless Summer II. Experience this small laid back surf community that hosts a tropical blue, right hand reef break and sand bottom beach break right beside each other. It is one of Costa Rica's most consistent waves, it breaks on all tides and works best on southwest swells, which are the most common in this region of the Pacific Ocean.
At low tide a slamming barrel forms over a shallow reef leading to a ramp section. The paddle out (rock dance) at this tide looks frightening but is basic. At a higher tide the break is much more forgiving and even intermediate surfers can enjoy these amazing waves. (Check out our surf photos!)
Activities
The Northwest Pacific region of Guanacaste is the driest area of Costa Rica with beautiful beaches that stretch for miles. The 'Gold Coast' is a prime area for sun and relaxation. Little rain and consistent warm temperatures offer visitors an enviable climate, breathtaking beaches and lovely Pacific sunsets. The land is still "virgin" and undisturbed. It is still customary to see real cowboys, wild horses, cattle traffic jams, and wild bull fights, an experience that makes Costa Rica unique. A cultural experience that is becoming rare-if not extinct. When you're not surfing there is plenty to do — check out the beaches and explore the tidal pools. Nearby, discover all kinds of wildlife including Howler Monkeys, Iguanas, Toucans and much more. Chill at the local hotel and have a cold beer, play pool or grab your skate deck and hit the new Playa Negra skate park!
Yoga Classes
Classes available daily and we partner with the local yoga studio in town. Stretch and stay flexible, avoid common injuries and surf more loosely. Discover the many benefits yoga has on all aspects of your life.
Massage
Surfed hard all day? No worries, we'll arrange one of several certified masseuses to come to the house and work out the soreness that comes with paddling and getting tubed all day. You'll be limber and paddling circles around your friends next session!
Boat Trips
Witches Rock, Ollies Point, Labyrinth and a couple other mysto spots are a couple hours up the coast located in Santa Rosa national park. 
Golf Course
Hacienda Pinilla is a 7,300-yard, par 72 masterpiece golf course that offers picturesque scenery, immaculate conditions, and frequent glimpses of exotic wildlife. When there's down time from the surf or if you need a change of pace, the course is only minutes from the house.
Zip-Line Canopy Tour
A zip-line canopy tour is a must for all first-time visitors of Costa Rica. Fly weightlessly through the rainforest canopy, looking down upon birds, reptiles, monkeys and lush vegetation. We will only take you to tours certified by the Costa Rican Tourism Board. Most tours are between 2 and 3 hrs long and vary from $35 to $55.
Horseback Riding
See Costa Rica the way it's been seen for centuries: on horseback. Many are surprised to learn that Costa Rica has a rich cowboy culture, dating back to the when the Spanish first arrived in the early to mid 16th century. Tours vary from 2 hrs to a full day and cost between $35 and $150 and cater to all abilities.
Sport Fishing
We will charter a boat for you to fish, snorkel, surf, and do any combination of the three in a single trip. Maykol will take you to Flamingo Beach, where the boat departs. Costa Rica is renowned for having some of the world's best fishing. Expect to catch Mahi-Mahi, Wahoo, Yellow Fin Tuna, Red Snapper, Sailfish and many others.
Snorkeling
Snorkeling (equipment provided): Pristine, hidden coves are home to crystal clear water and you can expect to see eels, puffer fish, parrot fish, trigger fish, eels, rays and much more. During the ride, you may also see dolphins, manta-rays, devil-rays and whales.
River Rafting
There is Class II-III river-rafting on the Colorado River within an hour's drive of the house. The Colorado River is user-friendly with fun rapids and beautiful scenery. Watch for howler monkeys in the canopy above and iguanas and herons on the shoreline. Tours varies from 2 to 8 hrs and cost $35 to $115.
Guaitil Artisans
Guaitil is a small town that still practices some of the tradtions of the indigenous cultures of Costa Rica. The entire town is dedicated to the production of clay pottery and offers a slice of the mesoamerican indigenous culture.