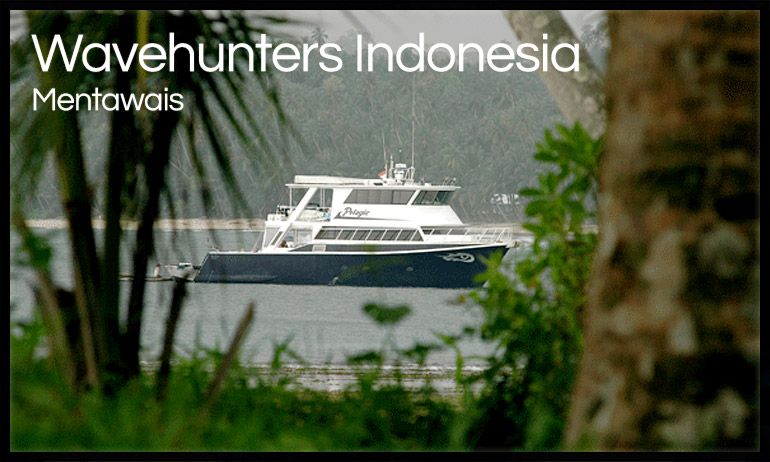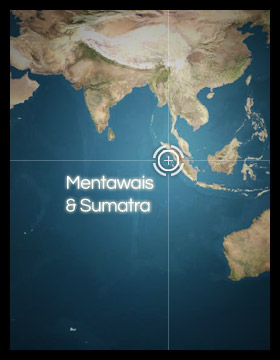 Pelagic : 
Pricing & Availability
Boat Cost - Standard Charter:
12 Night trips
Longer or special destination trips are available - please call to discuss
Based on 9 passengers
Cost Includes:
Transfers to and from Padang Airport to the Pelagic
All food, beverages and beer
Direct delivery to world-class surf spots via skiff and jet ski
Additional activities, such as fishing, free diving, snorkeling and SUPs
Photography Service - 100's of shot to take home !
Cost Does Not Include:
Airfares and stopover accommodation.
Any additional travel costs required for late arrival or early departure.
Arrival and departure taxes (see travel info section)
Use of the satellite phone
Wine and Spirit beverages 
Deposits
Trips are booked on a first-come, first-served basis and early reservation is suggested to get your preferred dates.
A deposit of $10,000 is required to reserve a charter.
Deposits are non-refundable but transferable (passengers are responsible for finding their own replacements)
Final Payment
Final payment is due 120 days prior to departure.
Final payments are non-refundable.
Payment Options
Payments can be made by check or electronically 
Visa/Mastercard/Discover 2.5% fee applies
Pelagic 2014 Charter Schedule

Mar 9 - Mar 21 : SAILED
Mar 22 - April 4 : SAILED
April 5 - April 17 : SAILED
April 19 - May 1 : SAILED
May 2 - May 14 : SAILED
May 15 - May 28 : SAILED
May 29 - June 10 : SAILED
June 11 - June 23 : SAILED
June 24 - July 6 : SAILED
July 8 - July 20 : SAILED
July 21 - Aug 2 : SAILED
Aug 3 - Aug 15 : SAILED
Aug 16 - Aug 29 : SAILED
Aug 30 - Sept 11 : 13 days, BOOKED, $42,000, max guests - 9
Sept 12 - Sept 24 : 13 days, BOOKED, $39,200, max guests - 9
Sept 26 - Oct 8 : 13 days, BOOKED, $39,200, max guests - 9
Oct 9 - Oct 21 : 13 days, BOOKED, $39,200, max guests - 9
Oct 22 - Nov 3 : 13 days, 9 spots, $4,400 per person
Nov 5 - Nov 17 : 13 days, 7 spots, $4,400 per person *Guaranteed Sailing!
Nov 18 - Nov 30 : 13 days, BOOKED, $32,000, max guests - 9
Dec 1 - Dec 11 : 11 days, open, $30,000, max guests - enquire
Dec 12 - Dec 23 : 11 days, open, $30,000, max guests - enquire
__________________________________________________________________________________

Pelagic 2015 Charter Schedule
(Please Inquire for pricing)

Jan 1 - Jan 8 : 9 spots (7 night trip)
Jan 9 - Jan 25 : BOOKED
Jan 26 - Feb 7 : 9 spots 
Feb 7 - Feb 21 : 9 spots
Feb 22 - Mar 6 : 9 spots 
Mar 8 - Mar 20 : BOOKED
Mar 21 - Mar 29 : BOOKED
Apr 1 - Apr 13 : 9 spots
Apr 15 - Apr 27 : 9 spots 
Apr 28 - May 10 : 9 spots
May 11 - May 23 : 9 spots
May 25 - June 6 : 9 spots
June 10 - June 23 : 9 spots
June 24 - July 6 : BOOKED
July 7 - July 19 : SAILED
July 21 - Aug 2 : BOOKED
Aug 3 - Aug 15 : 9 spots
Aug 16 - Aug 28 : BOOKED
Aug 29 - Sept 8 : BOOKED
Sept 10 - Sept 22 : 9 spots
Sept 23 - Oct 5 : BOOKED
Oct 6 - Oct 18 : 9 spots
Oct 19 - Oct 31 : 9 spots
Nov 1 - Nov 13 : 9 spots
Nov 15 - Nov 27 : 9 spots
Dec 1 - Dec 11 : 9 spots
Dec 12 - Dec 23 : 9 spots
© 2014 Wavehunters Surf Travel, Inc. is a registered California Seller of Travel, C.S.T. Registration # 2060272-40. WAVEHUNTERS SURF TRAVEL . all rights reserved | Privacy Policy