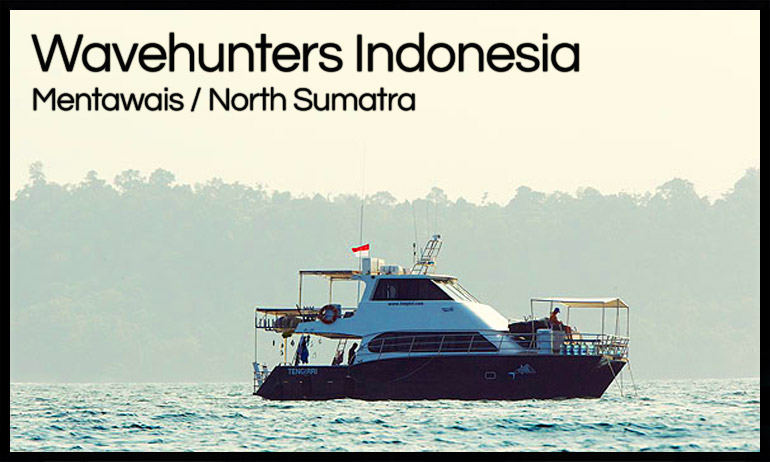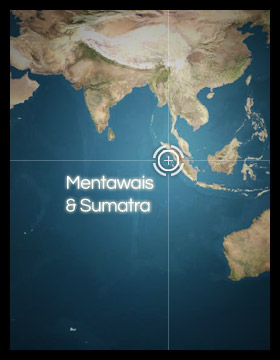 Tengirri : 46ft Power Catamaran
TENGIRRI is a 14 metre (46 foot), live aboard, power catamaran designed and built in Australia in 2004 specifically for luxury surf charters.
TENGIRRI is one of the strongest, safest, and fastest vessels operating in Indonesia. From our base in Padang we will have you surfing the morning after you arrive in Padang. To maximise surf time we try to do most of our travelling at night...but if conditions do change during the day we are able to quickly relocate you to a different spot. As guides, our experience in the area is second to none, and using this experience we can virtually guarantee you waves every day. Even when you aren't surfing or fishing you will be relaxing in style and making the most of the boat's luxurious facilities.
Charter Details
Enjoy extended periods of perfect Indo surf onboard a luxury, air-conditioned boat. •
Top fishing and snorkelling!
Fabulous food!
Experienced skipper and crew will get you to the best, most uncrowded waves available under the given swell and weather conditions.
To maximise surf time TENGIRRI aims to travel at night at a comfortable speed of 10 knots and have you on the waves on daylight. If the conditions change during the day we can travel at 15-17 knots to a better location.
Surf anywhere you want in the Mentawais & Telos regions!!
Small groups (maximum 8)! You only need 4 people and you can have the boat to yourselves!!
Skipper and Crew Details :
Tengirri is guided through the Mentawai Islands by Australian Phil Kiem (originally from Newcastle). Phil has been travelling throughout Indonesia for the last 15 years and has been working on TENGIRRI since it begun in 2004. Phil currently holds an Australian Maritime Safety Authority (AMSA) Master up to 24metres (Master 5) captains ticket and AMSA Marine Engine Driver 3 ticket. Phil speaks Indonesian fluently and has excellent knowledge of when and where the surf will be pumping and will take care of all logistics once you arrive in Padang. Along with his merry crew he will ensure you have the trip of a lifetime !
We also depart port on every charter with an experienced and qualified (Master Class 5 Seaman) Indonesian skipper. We also have two Indonesian deckhands and a cook who are there to help you with anything you need.
Our crew are all experienced and friendly and will do their best to make sure you have an enjoyable holiday and get the waves of your life!!!
Insurance and Certification
Phoenix Underwriters Limited (Brokers for Lloyd's)
Room 901, Chung Ying Building, 20 Connaught Road West, Sheung Wan, Hong Kong
Official Specifications :
Length OA : 14.1 Metres
Length Hull : 13.0 Metres
Beam : 5.00 Metres
Depth : 1.58 Metres
Draft : 0.66 Metres
Fuel Capacity : 2 x 1730 Litres
F/W Capacity : 2 x 420 Litres
Lightship Weight : 13 Tonnes
Construction : Aluminium Alloy
Hull Type : Symmetrical Hard Chine
Main Engines : Cummins C-430 8.3Litre 430Hp @ 2600 rpm
Transmissions : ZF 302IV Ratio 2.184:1
Propellers : MIKADO 4 Blade Skewed
Max Speed : 22 Knots
Cruise Speed : 17 Knots (day); 10 Knots (night)
Genset : Perkins 20KVA
2nd generator - Kolher 8.5 KVA backup genset
Electronic, Navigation & Communication Equipment :
GPS Chart Plotter : FURUNO Navnet GD1900C
Radar : FURUNO Navnet GD1900C 36nm
Heading Sensor : FURUNO PG-500
Sounder : FURUNO ETR6/10N
Autopilot : FURUNO NAVPilot 500
Compass : Riviera
VHF Radio : Icom IC-M402S
AM/FM/VHF Receiver : GME GR-100
Satellite Phones : 1 Pasti Sat phone, 1 Thuraya Sat phone (capable of sending text messages)
Steering : Hydrive Power Assisted
Controls : Morse
Desalinator : Spectra Catalina 300
Anchor Winch : MUIR HR1200
Safety equipment :
Liferaft : 2 x ZODIAC 6 Pax
Polycraft 4.5meter dinghy with Yamaha 40hp
Polycraft 3meter dinghy with Yamaha 15hp
EPIRB : GME MT400
Lifebuoys : 2
Lifejackets : 12
Entertainment and other Equipment :
Stereo amplified CD and cassette tape player, external and internal speakers
Colour TV and stereo DVD/video player
Extensive range of CD albums and videos
Chess, cards, scrabble, dominos, and a variety of popular board games
Large library with latest novels, educational reading and magazines
Fully equipped and serviced bar

© 2016 Wavehunters Surf Travel, Inc. is a registered California Seller of Travel, C.S.T. Registration # 2060272-40. WAVEHUNTERS SURF TRAVEL . all rights reserved | Privacy Policy