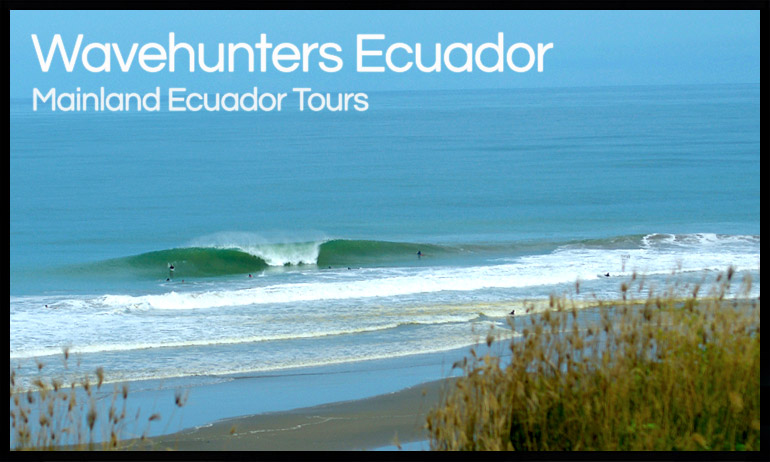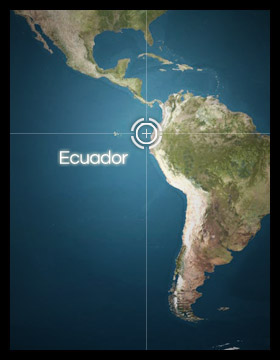 Ecuador
Wavehunters All-Zones Ecuador tours endeavor to escape the crowded popular spots and surf all the best waves throughout the country from Esmereldas province in the North, to Manabi province in the Central region, to Guayas province in the South. We have tactically broken up the country into 4 surfing zones to take on this task of striking Ecuador's best surf: Northern (Mompiche to Bahia de Caraquez), Central (Manta zone), Baja Manabi, and Southern (Las Salinas to Montanita). Our All Zones "Wavehunter" Tour is designed for the hardcore surf traveler keen to follow the swell and surf the entire country of Ecuador.
Seasons
Ecuador's prime surf season is from December to April. This is the season of NW swells generated by winter storms in the North Pacific ocean and NW-SW combo swells (or West swells), transitioning into the Southern hemisphere swell season. Winds during this time of year are predominantly glassy to offshore along most of the coast resulting in often good to epic conditions. During this season Ecuador is a world class surfing destination and one of the most consistent places to score tropical waves during the Northern hemisphere winter. El Nino Years (when the Pacific storm track drops further south) are particularly legendary in Ecuador. May-November has dominant onshore winds (S-SW) along much of the coastline although mornings can still be glassy. We still offers tours in this season and it can be worth the trip, especially for beginner to intermediate surfers just looking to enjoy some really fun uncrowded waves off the beaten track, or for someone passing through Ecuador or this part of South America who wants to drop in.
The Surf
Surf Variety
Ecuador has incredible surf variety. There are an equal proportion of rights to lefts, and an equal proportion of points, rock reefs, jetties, rivermouths and beachbreaks. Some of the breaks, depending on their orientation, work best on north swells, others on south swells and others on combo or "West" swells, making Ecuador a very dynamic surf destination. In general the breaks are very tide sensitive. An approximately 2 meter (7 foot) tidal range will make or break a lot of the spots. Most spots are also heavily direction sensitive and swell dependent, some being magnets for swell and others needing larger swells to turn on. Wind is another variable to throw in as some spots are more protected than others. The vast majority of breaks are not visible from the main highways and require turnoffs at unmarked roads and some time to reach, which means you can waste an incredible amount of time looking for surf here if you don't know where to go and when to go. The answers to these equations rely on a combination of surf forecasting, years of local knowledge, and cell phone communications with friends (spotters) up and down the coast. Wavehunters Ecuadorian surf guides have the coast completely dialed in to put you onto the best surf at any given time including many secret and semi-secret spots with no crowd factor. By contrast, if you go to Montanita, Ecuador's best known surf spot, expect to find a few dozen surfers, mainly locals, hugging a tight take off zone on the point. We don't think that's what you traveled this far to experience, so Wavehunters offers the opposite of this: uncrowded surf in unspoiled beaches.
Surfing Zones
Northern Zone 
This zone extends from Bahia de Caraquez (about 1hr north of Manta) through Canoa and north to the Mompiche area in Esmereldas province. Bahia is not a major surf town except on giant SW swells when it has one of the best left pointbreaks in Ecuador. The Canoa zone contains a series of rivermouths and sand points that come alive on NW swells and produce fun rippable waves over a sand bottom that is more forgiving in most areas. This is a great area for beginners and intermediates. Mompiche is Ecuador's most famous world class left pointbreak that comes alive on big NW swells which Ecuadorian surfers wait patiently for and then descend on it. Fortunately it is remote enough to still catch it and especially some of the surrounding waves reasonably uncrowded from time to time.
Central Zone
This zone extends from Manta where the coastline faces due North with dead-on exposure to winter Northwest swells at several point and jetty breaks, out to the San Lorenzo Cape, a rugged zone containing a series of remote point and reef breaks which work on a wide variety of swell directions and tides with varying wind protection, and finally to the south facing end of the cape which contains some of Ecuador's hollowest beachbreaks and rivermouths. All in all the Central Zone has Ecuador's most uncrowded surf. Here on any given day you can regularly expect to surf with almost no one, but this zone also has the most difficult access and hard to read conditions so that you could waste a lot of time here checking spots for nothing, making local knowledge and experience crucial to scoring.
Baja Manabi Zone
This zone is located between the Central and Southern zones on a less populated stretch of the coastline and contains many high caliber beachbreaks, as well as several remote left and right pointbreaks.
Southern Zone
This zone includes the popular beaches of Las Salinas and Montanita. These breaks are best on SW swells but some also work very good on NW. Las Salinas is the backyard for Guayaquil based surfers who are only 2 hours away. The coastline around Las Salinas here is indented and contains a variety of points, reefs, jetties, and beachbreaks with sometimes restricted access that has to be negotiated. Montanita is a Bohemian surf mecca and party town frequented by international youth and backpackers as well as active lifestyle South Americans. Some of the more popular spots can still be surfed with reasonable crowd levels very early mornings (when a lot of surfers are hungover or just closing the bars). Our surf guides can easily transport you away from the more crowded spots to surf uncrowded waves in and around this zone within a reasonable driving distance while you may enjoy the social atmosphere, beach activities, and nightlife.
Wavehunters Ecuador - Resort Accommodations!
The ME Tropical Boutique Hotel &  Villas are brand new and perfectly located on a hill overlooking vibrant Montañita.  The ME Hotel includes 17 Hotel Rooms and 9 Villas for couples and groups that overlook our beautiful pools and tropical gardens. Enjoy the finest facilities in the Montanita and Olon area including 2 pools, 2 jacuzzis, Twin Fin Bar and Restaurant, Tour Office, gym, yoga studio and our 40,000 sq ft tropical gardens.
Laguna Poolfront Rooms - King Size Bed or 2 Twins, 1 bath
The Laguna Poolfront rooms sit just in front of the second pool and jacuzzi. Guests can walk to town and the beach in just 30 seconds or choose to lounge at Montanita Estates pool, jacuzzi and tropical garden. Every room includes DirecTv and Wifi and is furnished with either a King size bed or two twins. Price includes breakfast for 2 people and access to all ME Hotel amenities including pools, jacuzzis, gym and children's playgrounds.
Amenities

King size bed or two twins
Studio 350 sq ft,  30 sq meters
Sleeps 1-2, $20 charge for 3rd person
Air conditioning
Full Bathroom
High-speed WIFI
42" flat screen television with Direct TV
Outdoor Pool and Jacuzzi

Ocean or Garden View
Daily maid service
Reception, Concierge and Tour Office
On-site guard
30 second walk to Montanita's bars and restaurants
2 minute walk to the beach
Laun
Me3 Suites - 1 Bedroom and 2 Baths
These beautiful ocean-view  Suites are 700 square feet (65 m) and include a small kitchen, 2 full bathrooms, satelite television as well as high speed internet.  The ME3 Suites are 2 floors and have 2 terraces one overlooking the pool and the second with beautiful ocean views. The Suites reside in the ME3 building, directly in front of our second pool, and jacuzzi .  They are just across from Montanita Estates primary restaurant Twin Fin.  The ME3 Suites are a 30 second walk from Montanita's bars and restaurants and 2 minute walk to the beach. Price includes breakfast for 3 people and access to all ME Hotel amenities including pools, jacuzzis, gym and children's playgrounds. 
Amenities

1 bedroom king size bed with optional 2 twin beds in the living room
700 sq ft, 65 sq meter, 2 floors
2 terraces, balconies
2 full bathrooms
Kitchenette
42" flat screen, Direct TV
Living room 
Sleeps 3 ($20 extra for 4th person)

Air conditioning
Drinking water provided
High-speed WIFI
Daily maid service
Reception, Concierge and Tour Office
On-site guard
1 minute walk to Montanita's bars and restaurants
2 minute walk to the beach
Laundry service available
Nexpa Villas - 3 Bedroom 2 Bath
These panoramic ocean-view, 2-story Montanita Villas are 1350 square feet (125m). Every suite includes a fully equipped kitchen, 2 full bathrooms, satellite television as well as high speed internet. The Villas are in the main ME Hotel building, Nexpa, and overlook Montanita Estates primary pool and jacuzzi and are just next to ME Cade Wine Bar and Restaurant.    The Villas are a 30 second walk from Montanita's bars and restaurants and a 2 minute walk to the beach. Price includes breakfast for up to 6 people and access to all ME Hotel amenities including pools, jacuzzis, gym and children's playgrounds. 
Amenities

3 bedrooms; 4 single beds and one King/Queen size bed
1350 sq ft, 125 sq meters, 2 floors
Sleeps 5-8
Ocean views of Montanita and beyond
Air conditioning
2 full bathrooms
Fully equipped kitchen

High-speed WIFI
42" television, Direct TV
Daily maid service
Reception, Concierge and Tour Office
On-site guard
1 minute walk to Montanita's bars and restaurants, 2 minute walk to the beach
Laundry service available