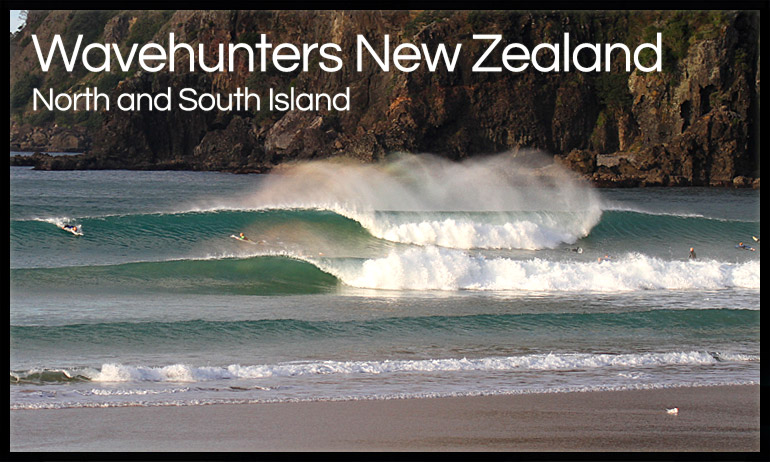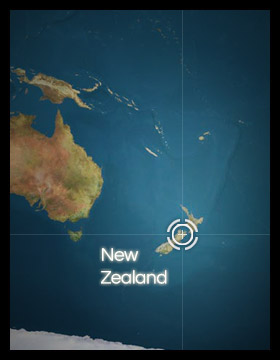 Wavehunters New Zealand
New Zealand is exposed to consistent swell from the south west, south east, north and east directions which provide an array of world class waves in the North and South Island. Southern hemisphere swells from the SW and SE directions arrive year-round with little swell dilution because of the short distance these swells travel from the Roaring 40s and 50s directly to NZ's coastlines, so that even small storms that wouldn't make a blip at Trestles or Central America can produce significant swells here, while major storms produce massive swells that become groomed as they wrap into its many protected points and bays. Other major swell sources include Northerly swells from tropical cyclones and depressions (Dec-Mar), NE-E ground swells, and wind swells!
Consisting of 2 major islands with much elevated terrain, and many smaller outlying islands, New Zealand has many microclimates wet and dry, mild and cold. As fortune would have it, the islands' rugged topography and microclimates create many scenarios of offshore or light winds for a majority of the prime surfing spots. Water temperatures are generally similar on the North Island to Southern California (55F-70F) while more like Northern California on the South Island (47F-60F). A 3/2 wetsuit for North Island or 4/3 wetsuit (+boots and gloves in winter) for South Island will ensure you are toasty warm year-round. Select spots on North island may be enjoyed in a shortie or trunks in the peak of summer or early fall.
Depending on the swell forecast on your arrival into New Zealand, the team at NZ Surf Adventures will assess the conditions to score you the best waves on offer during your stay. They have an experienced team of surf forecasters and using their knowledge and experience of New Zealand weather systems and wave locations can ensure you have the best experience possible during your stay.
It is common for several New Zealand surf zones to be working simultaneously off multiple swell sources, so quite often you'll actually have a choice between equally compelling surf based on personal preferences such as wave direction (lefts vs. rights), wave types (points, beachbreaks, rivermouths, reefs), wave size, or surroundings!
Compared to other international surfing destinations which offer a dozen waves or less on average and may experience significant crowding, New Zealand is extremely dynamic offering literally hundreds of waves, the majority of them without any crowd factor whatsoever or even empty in many cases!
New Zealand's proximity and relationship as an airline hub to world class surfing destinations in the South Pacific such as Fiji, Samoa, Papau New Guinea, New Caledonia, Tahiti, and Australia, also make it a logical stopover or component of a multi-country trip through this part of the world.  Wavehunters can offer multi-stop itineraries incorporating any of the above destinations into your New Zealand surf holiday plans.
Surf and Snow tours
New Zealand is one of the only places in the world where you can surf and ski/snowboard in the same day. At NZ Surf Adventures we offer complete surf and snow packages where you will be guided with experienced and professional snow guides through the mountains in the Central North Island, Canterbury and Southern lakes region. Surf and snow packages are offered from late June to early October.
Adventures
New Zealand is the adventure capital of the world so surfing isn't the only thing Wavehunters offers. NZ has amazing diving, fishing, cuisine, hiking, wildlife watching, rafting, hunting, culture, wineries, bungee jumping and loads more. It offers every type of adventure there is in NZ and we can find something to fit all your Kiwi adventure dreams on your trip with us.
Surf Zones
A trip with New Zealand Surfing Adventures will include any number of the following regions:
Northland
The 'winterless north', known for its beautiful empty white sand beaches, crystal clear water and NZ's warmest climate. The Northland region is made up of hollow beach breaks, the longest left hand point in New Zealand, a series of right hand barreling bar breaks, numerous world-class reef breaks and exposure to swells from every direction.
The Waves
Northland has one of New Zealand's best and largest left hand point breaks; Shipwreck Bay. This consists of several rock bottom reef breaks that stretch over 2 kilometers. There are many more reef brakes located around this coastline, it is home to some of the hollowest and suckiest beach breaks in NZ and A frame peaks are a common sight in this area. The best waves are more isolated and unknown to the average surfer. To find out how to score them you'll have to come along for the ride.
Other Activities
Diving and fishing - Northland is home to the best diving and fishing New Zealand has to offer. The guides at NZ Surf Adventures are experienced free divers and fisherman with an extensive knowledge of the diving/fishing areas on the coast. We offer land-based fishing adventures at your request and an introduction to spearfishing/free diving for the beginner and experienced free diver. Boat fishing and kayak fishing trips can be organized depending on the client's preference and fishing charters targeting marlin and big game fish are available at an extra cost.
Wine tasting and winery tours – Northland is where the first grapes were planted in New Zealand. There are top wineries and restaurants near Kaitaia, Kerikeri, Russell, Whangarei and Matakana which provide the ideal atmosphere to fully appreciate the regions wine and food.
Family orientated – Northland is an ideal place to bring your family along for the adventure. The surf locations we target can generally accommodate all levels from the beginner to the advanced surfer. The shape of the Northern coastline means that there are a variety of surf options and NZSA can accommodate beginner surfers while maintaining a world class standard of waves for our experienced guests. Land-based fishing is an awesome way to introduce children to an unforgettable fishing experience and we can offer the ultimate surf/fish adventure packages for the entire family.
North Island's West Coast : Raglan/Taranaki
The rugged West coast of the North Island is home to our most famous break, Raglan, consisting of 3 left hand points and 2 amazing beach breaks. The Taranaki coast is made up of over 50 world class reef breaks and point breaks that stretch around the coast.
The Waves 
Raglan's three left hand point breaks peel mechanically over volcanic reef and boulders. Raglan is remarkably consistent and surfable in a variety of conditions. The three different points mean that there are a range of options for different levels of surfing ability. 
Taranaki has it all: reefs, bars, points and beachies. Taranaki is famous for pumping reef breaks that produce intense takeoffs, fast walls and long barrels.
Taranaki has a swell window of almost 180 degrees so there is always somewhere that's un crowded, cranking and offshore. Many of the breaks around this coastline are however located on private farmland so having a guide is essential to gain access and navigate through the maze of paddocks.
Other Activities
Black Water Rafting – Black water rafting occurs in regular clear old water, but it's black because it's flowing along the floor of a cave. You can choose slow and calm waterways or high-grade rapids for the more adventurous. Whatever the level, black water rafting is a unique experience and only found in New Zealand and Belize.
Waitomo Caves - Under the green hills of Waitomo lies a labyrinth of caves, sinkholes and underground rivers. The caves were carved by underground streams pushing through soft limestone over thousands of years. Many have amazing stalactites growing down from the ceiling and stalagmites growing up from the cave floor, pointy cones of layered rock formed over centuries by dripping water. The cave walls are decorated with galaxies of native glow worms. The Waitomo caves are a must-see for international travellers.
Couples Getaway- Raglan is the perfect location for that romantic retreat you have been searching for! What would be better than a glass of champagne in the spa overlooking classic point breaks that are a short stroll away? NZSA can organize a truly unforgettable escape at one of the country's finest 5 Star boutique resorts.
North Island's East Coast – Gisborne
The Gisborne area is one of the sunniest places in New Zealand making it a prime agricultural region full of farms, orchards and vineyards. It is of course one of New Zealand's top surfing destinations, home to high quality powerful hollow beachies, reefs, points and river mouths.
Waves
Gisborne is the most consistent region on NZ's east coast copping the full brunt of southerly, easterly and northerly swells. Due to its remote location and relaxed atmosphere there is the opportunity to score pumping waves with just your own crew out. Gisborne has several offshore islands featuring reefs and slabs, barrelling beach breaks which are comparable to France or Mexico and classic river mouths which suck up and throw on shallow sand bars.
Gisborne is a great launching point for your surf adventure being the gateway to both the isolated East Cape and the fabled Mahia Peninsula. These areas are very remote and a wrong turn could mean a fruitless drive down a long winding dirt road with unwelcoming landowners. A local guide is required to access the world class reefs and points around this area.
Other Activities
Wine tasting and winery tours - The fertile plains and sunny climate create the ideal environment for growing and making world-class wine. With high sunshine hours, fertile clay loam soils and some of the most acclaimed winemakers in the country, Gisborne is famous for producing exceptional Chardonnay, Gewurztraminer, Viognier, Pinot Gris, Merlot and Malbec. A visit to local wineries after a long day of surfing is a relaxing way to round off an amazing day in Gisborne. Hawks bay is a short drive from Mahia and Gisborne and is home to the world famous New Zealand Syrah, Shiraz and Merlot varieties' and is well worth a visit if you consider yourself a wine lover.
Fishing - The East Cape area is home to many types of fish including marlin, southern yellowtail (kingfish), groper, snapper, tarakihi, bluenose and tuna. Mid to late summer (February / March are best) is the ideal time to go after game fish. Trout fishing in clear streams and lakes surrounded by native bush is also on offer in the East Cape. A stop off at one of the many productive rivers or streams can make an ideal break to a day's surfing. Just ask one of the NZSA team to point you in the direction of a secret fishing spot and you will be hooked up in no time.
Maori Culture – Gisborne is one of the centers of Maori culture in New Zealand where their people's magnificent sprit and traditions have been well preserved. NZSA can organize opportunities to get involved in local cultural activities where you can expect to be emotionally stirred. Performances are fun, educational, entertaining and an experience for people of all ages.
Marlborough
Marlborough has several rocky peninsulas where the Southern Mountains meet the Pacific Ocean. In the waters off the peninsula, a complex marine system provides an ideal place for getting 'close to nature'. Marlborough is famous for epic right hand point breaks that are intensified by deep ocean trenches and tidal upwellings.
The Waves
The majority of the surf breaks are located in a small geographic area. Many places in Marlborough feature its own micro climate in winter where the mountains funnel down light, offshore winds creating amazing glassy conditions uncommon in New Zealand.
Marlborough has classic right hand point breaks that peel for hundreds of meters down boulder points offering long walls and multiple barrel sections.
Reef breaks and river mouths are also scattered along the coast however access is an issue and knowing local tides and river levels is key to scoring these constantly changing surf breaks. The experienced guides at NZSA will make sure that you are surfing the right place at the right time.
Other Activities
Seafood - Your New Zealand culinary experience wouldn't be complete without getting amongst some of Marlborough's bountiful seafood. There are lots of fresh delicacies to try. Local specialties include grouper, cod, mussels, paua (abalone) and of course the town's namesake – crayfish (lobster). If you want to gather it yourself the NZSA boys know where to dive on the coast, so after surf, seafood can be collected and prepared for feast later that night.
Whale Watching - Off the coastline is a marine environment rich in nutrients attracting giant sperm whales, which can be seen all year round making Marlborough one of the most popular whale watching locations in the world. In addition to the sperm whale a number of different species of may also be seen including dolphins, seals and a wide variety of sea birds including the Royal Albatross.
Dolphin Swimming – Swimming with dolphins is like no other in the world - you don't swim with several dolphins but in pods of up to several hundred strong. This open ocean experience is unforgettable!
South Island's South Coast
Otago is a region of natural beauty overlaid with a fascinating cultural history. The South Coast's small surfing population and diversity of breaks mean you are bound to get some time to yourself on one of the beach, bar, point or reef breaks in the area.
The Waves
With a swell window of almost 270 degrees there's always a wave that's firing on the South Coast and there's something for everyone from hollow powerful beach breaks, to long mellow sand point breaks and isolated river mouths. Many of these breaks are off the beaten track, which require the NZSA guides intimate knowledge of the region to get the most out of the trip. There are over 30 waves (including 10+ right hand points) within a 30 minute drive from centre of the city and the consistent swell and off shore wind make it one of the best surf destinations in the country.
If you're keen to adventure a little bit further afield there are other regions close by with quality waves to found such as the Catlin's. The Catlin's region is almost a surf trip in itself and is a real adventurer's paradise. There are world class beachies, river bar breaks and reefs that are usually empty, surfing with anyone is quite rare. A lot of the spots are unknown to the average kiwi surfer and a trip with NZ surfing Adventures will literally blow your mind from the variety of world class waves and empty line ups the Catlin's has to offer.
Other Activities
Wildlife watching – Natural spectacles and unique wildlife encounters are two of Southland's biggest draw-cards. There are few places in the world that have the range of wildlife viewing experiences including: the majestic Royal Albatross colony, and the rare Yellow Eyed Penguin.
Diving/Fishing - Southland has some great diving and fishing and is home to a kiwi favorite 'the blue cod'. Paua (abalone) can be caught in rock pools and blue cod, butterfish and blue moki are everywhere in the water making them an easy target for spearing.
Family orientated – Southland is the perfect place for the ultimate family adventure. The surf locations we target can generally accommodate all levels from the beginner to the advanced surfer. The shape of the Dunedin Peninsula means that there are a variety of surf options and NZSA can accommodate beginner surfers while maintaining a world class standard of waves for our experienced guests. Snowboarding and skiing are awesome experiences for entire family and we can offer the ultimate family surf/snow adventure packages in this area.
Snow and NZ's Adventure capital - Queenstown/Wanaka in a 2-3 hour drive from most places in Southland making it the perfect place to score surf and snow on your adventure. There is some of NZ's best skiing and boarding in this area and there are 4 ski resorts within an hour from Queenstown/Wanaka. There are a range of epic tourist attractions in Queenstown from the shot-over river jet boat rides, para-gliding, bungee jumping, white water rafting, mountain biking and many more.
Queenstown and the Central Otago region is home to New Zealand's world famous Pinot Nior wine. The central Otago area has an abundance of amazing wineries and eateries surrounded by mountains and rivers and it is essential for any traveler to try the wines from this region. The night life in Queenstown is awesome and is filled with travelers from all over the world and just over the hill Wanaka is a little more chilled and relaxed if you're that way inclined.
Trout Fishing - Southland offers some world's finest fly fishing for wild brown and rainbow trout. The Otago and Southland tributaries are full big fish in small water; and the classic backcountry rivers of the Southern Alps where trophy rainbows and browns sway in pools as clear as mountain air. The Team at NZSA can service make your angling dream come true by organizing a day of large wild trout, professional guides, custom flies and gourmet lunch.
Wavehunters offers 3 unique New Zealand Surf (and snow) package options and levels for different budgets and clientele:
Deluxe
The luxury package is not just a surf tour – it is a fully catered surf trip with a surf guide as your chaperone for every need. We provide 1st class meals with 1st class service and 1st class accommodation to ensure that you relax and enjoy your holiday and maximize your time in NZ. The only thing you need to worry about is which adventure to choose first. All accommodation on the deluxe trip is safe and secure and a standard of 4 star hotels and modern fully furnished apartments are used during our stay. Wireless internet access and Sky (cable) television is provided at these locations. Professional photo packages are included in the deluxe package to give you something to take away from NZ and remember the awesome time you had. Surf/snow instruction and feedback is included if required to ensure our clients are getting the most out of their trip and progressing with their surfing and snowboarding. The surf guides will literally take care of everything from drying your wetsuit to serving you NZ roast lamb and pouring your wine. The deluxe package includes gourmet menu options (breakfast, lunch and dinner) which can be chosen by the client prior to arrival.
Classic
The Classic package is also a fully catered surf tour with your surf guide as your chaperone for your every need just at a lower cost than the deluxe package. You will receive the same 1st class service and meals as the deluxe package, the only difference is the accommodation is usually in boutique bed and breakfasts and modern apartments. Optional extras from the deluxe package can be purchased and customized to the client's preferences.
The Searcher
This (Camping) package is for the keen surfer who's less worried about 5 star accommodations and more concerned about the waves. The team at NZ surf adventures has a full outdoor camping set up, outdoor furniture, large communal outdoor tent, portable cooking facilities (bbq, gas cookers). Your meals will not be compromised as we have epic portable cooking equipment and butterfly lamb roast, spare ribs and any other food you can imagine can be provided with this package. We provide full mattresses and bedding (excluding pillow) and all camping equipment. This option allows us to camp at the more isolated spots in NZ and you will wake up right in front of the surf. Where possible we will provide fires to keep you warm after those long winter sessions and espresso coffees, hot chocolates' and even red wine to keep you toasty throughout the night. The NZ climate and the winter camping equipment mean that this option is available all year round; however when wet you will be accommodated indoors local accommodation with optional private rooms with communal cooking facilities.
Why you want to book with Wavehunters and NZ Surf adventures:
New Zealand has one of the most diverse weather systems/patterns in the world. Winds and swells can change in a heartbeat and the team at NZSA can ensure you make the most of the conditions and access the best spots throughout the country.
On your holiday you want to worry about one thing – having the best time possible. NZSA can take the hassle out of your holiday and provide you with the most amazing adventure you'll ever experience. From the world class waves, gourmet meals and luxury accommodation, we guarantee you'll have the best time in NZ during your stay.
The team at NZ surf adventures has 20-35+ years experience in the areas specified. We have driven the less travelled dirt roads and climbed the mountains in the north and south island for many years. We take the hassle out of driving for you and ensure a safe and enjoyable trip with NZSA.
 

How to Book:
1.  THERE ARE FOUR WAYS TO MAKE A RESERVATION
A. BOOK ONLINE: Click the "BOOK ONLINE" button on the right side or bottom fo your desired destination/option and follow the instructions to make a deposit using our secure online reservation system.
B. SUBMIT A TRIP INQUIRY: Fill out the "Trip Inquiry" form on the right side of the page or under the "Booking Info" section on the top menu. Wavehunters will get back to you as soon as possible, usually within 24 hours.
C. SEND US AN E-MAIL: Send your questions and trip inquiries to wavehunters@wavehunters.com.
D. GIVE US A CALL: We are located in Carlsbad, California, USA. 1-760-413-1513
2. CONFIRM DATES AND MAKE DEPOSIT: Before you book online please double check that the trip you want and the dates you need match up. If you make a reservation online you will pay the deposit by credit card. We can also process credit cards offline, take checks made out to "Wavehunters Surf Travel", and we accept wire transfers, cashier's checks, money orders, or direct deposits. 
3. SEND US YOUR INFORMATION: During the booking process we strive to make everything as simple and easy as possible. When you're ready to make your reservation please have your passport ready as we will need the number, expiration date, and country of issue. We will also need your flight itinerary (if we do not help set it up) as well as a few destination specific questions. If you are travleing with a group please specify the number of people in your group and their names.
4. MAKE FLIGHT RESERVATIONS (AS NEEDED): Wavehunters is a full service travel agency capable of handling all of our guest's flight arrangements. Each destination typically requires a specific flight itinerary that needs to be confirmed by Wavehunters prior to departure. If you don't have the time or inclination to deal with setting up your flight arrangements Wavehunters will be happy to coordinate them for you. 
5. MAKE FINAL PAYMENT: You final payment is due two to four months prior to your trip's departure depending on which trip you are on. Once that's in along with the requested information you're all set to go!
6. SHOW UP: Rule #1 is to remember to not miss your flight and remember to have a passport with at least 6 months left before the expiration date.
7. SURF: Once you're at your destination the only thing you should have to to worry about is what board you should ride and where to surf. Have fun!