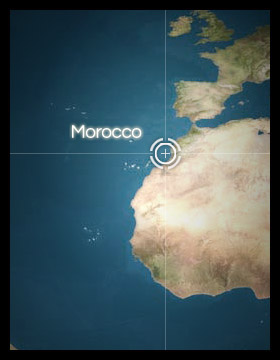 Morocco
The North African country of Morocco lies directly in the path of all major North Atlantic swell activity, yet is far enough south (between 20N and 35N) to avoid the same storms and weather fronts that pound Europe. On the edge of the Sahara, Morocco enjoys desert sun and seasonal water temperatures in the low 70s in early fall dropping to high 50s in the dead of winter. Morocco is best known for its right pointbreaks, but also has many reefbreaks and beachbreaks of high caliber as well.
While Morocco is a massive county with over 2000km of coastline, Wavehunters and our partner Surf Maroc focus on the region north of Agadir also known as Taghazout. This is Morocco's best known surfing zone and contains over 2 dozen documented breaks. What makes it special is the presence of a massive headland along this part of the coast that bends the winds into an offshore direction, cleaning up swells that are often overpowering and crossed up elsewhere, as well as a very indented rocky coastline with many rock and sand points, reefs and quality beachbreaks tucked in. In short, it is a dense wave zone with all the waves you need within an hour drive of Taghazout. For the surfer on 1 or 2 week holiday who doesn't have time or resources to explore the whole country, this zone is perfect. Add to the mix Surf Maroc's full range of accommodations, surfside restaurant and lounge in town, expert surf guiding and trip hosting, and Morocco's mind-blowing cultural diversity and you have a truly exotic surf trip.
There are some things you must know about traveling in Morocco in advance to avoid unpleasant surprises. The languages are Arabic, Berber, and French. English is not really spoken except by tourists. Surf Maroc's multi-lingual staff is just so key because of the language barrier you will encounter everywhere. The currency in use is Moroccan Dirham, which you must exchange in the airport. There is not an ATM in Taghazout it is about a 15min drive. Credit cards are not accepted in most places, so you really will need Moroccan Dirham to play. A 30 day tourist visa is issued upon entry for Americans and Europeans (other nationalities please inquire). Your passport must be valid a full 6 months beyond entry. The electricity is 220V with two-pin round plugs.
Getting to Morocco:
Wavehunters normally books flights for Americans from New York with Royal Air Maroc directly into Casablanca with connecting service to Agadir. Other major gateways to Morocco including London, Paris and Madrid. Contact us for itineraries and pricing.
Wavehunters Morocco Tour Packages include:
Airport transfers
Accommodation in a Private Apartment (Option of Killers Bay, Taghazout or Tiggers Bay) or Surf Villa/Camp.
Breakfast and dinner at Surf Maroc's L'Auberge Restaurant in Taghazout. Packed lunch with sandwiches, snacks and drinks provided on surfing tours. (Breakfast and dinner may be delivered to apartment if preferred).
Surf guide and transport all day, every day. (Option of Private or Shared Surf Tours)
The Surf
Morocco's coast has the most direct swell exposure to NW swells in the North Atlantic. Surf season is late September to early April (peak Dec-Feb). This can make for an overabundance of swell at any other region but with the lined up points and sheltered spots, even the largest swells of winter can be well groomed in the area. As far as wind and tide go, the normal winter-wind is North-east, blowing offshore to moderately cross-shore. In mid to late April, the NW "Chergui" winds blowout most spots until September. Tides can be an issue at the points with low to medium being the preferred tides for the area. But when there is swell running, you can still get really fun smooth walls for big turns, not to mention the beachbreaks in the area. The tides vary from 2-6 feet making them not extreme, but definitely mushing out the waves when the dead of high tides come.
| | | | | |
| --- | --- | --- | --- | --- |
|   | SWELL | AIR TEMP | SEA TEMP | WETSUIT |
|   |   |   |   |   |
| Sept - Nov : | 4 - 8 ft | 77F-86F | 65F– 70F | shorts/shortie |
| Dec- Feb : | 4 - 15 ft | 65F – 79F | 58F– 65F | 3/2 full suit |
| Mar - May : | 4 - 6 ft | 68F – 86F | 65F – 68F | 3/2 full - short arm 3/2 |
| Jun - Aug : | 2- 4 ft | 77F – 86F | 70F + | Shorts/ vest |
The region has something for everyone, from ideal beginner to intermediate level sand and rock points and beachbreaks to challenging hollow points and reef ledges for more advanced surfers. Deep water swell heights in this part of the Atlantic can reach 15ft but the refraction of the swell around the numerous points and bays of this area will cut the swell size down by as much as 30-70% depending on how sheltered the particular spot is. Because of the sheer # of spots in this area, and other variables such as swell direction and size, tide (big tides here) and wind, a surf guide is invaluable to ensure you don't spend your entire day driving around on a fruitless search.
Accommodations : Amouage Resort
There are 3 floors to the building: Garden/pool floor, Ground floor and 1st floor. There's an infinity pool, Bar, Spa, Restaurant, pool and table football, cinemas and wetsuit shower and drying area, all at the waters edge in Taghazout, overlooking the ocean and anchor point.
On the Ground floor- there are 3 sea view twin/ double bedrooms with balconies and 3 larger sea view with window balcony (juliet balcony) double/twin or triple
1st floor- Corner suite double/twin with balcony, 3 sea view with balcony double/twin, 3 sea view larger without balcony double/twin or triple, 1 dorm x 8 person on high quality bunks 2 x showers 2x toilets non-sea view, 6 non sea view twin/double
All rooms en-suite.
Accommodations : Killers Bay - Deluxe
Killers Bay luxury apartments are set in one of the most stunning surfing locations in the world. Situated on the peeling right and left reef break of la Source, the waves are so close you can almost touch them. The famous point break Killers rolls in to the right and the easy long fun waves of Mysteries are to the left. Just after Mysteries is the world class Anchor point only a 2 minute walk along the beach. There are also ideal beginners' waves in Killers bay and Mysteries bay.
We have 9 beautiful, chic, newly built luxury apartments available. Each apartment is individually appointed in contemporary Moroccan style and is finished to the highest standard. All of the accommodation has private balconies or patios which look out across the landscaped gardens, pool area and onto the breathtaking set up of 4 of the best surf breaks in this part of the world.
Every apartment has a large comfortable living room with tv and satellite system. The open plan kitchen has a fridge, cooking hobs, and oven. The bathrooms have a tiled finish throughout and bathroom towels are supplied. Eight of the apartments have one double bedroom and a twin. There is one deluxe apartment which is larger and has three bedrooms.
Accommodations : Taghazout Apartments - Moderate
Taghazout private apartments are up the point with a short 5 minute walk to the waves out front. The apartments are smaller in size than Killers Bay, but are very safe and have all the amenities of a small one or two bedroom Western apartment.
L'Auberge restaurant, operated by Surf Maroc, is the best in town, serving delicious homemade food and fresh juices from 7am to 11pm. The restaurant and its terrace is the perfect place to relax in the sun between surfs, and our kitsch Moroccan style chillout lounge is one of the most popular cozy spots in the village. Plush lounge with friendly faces and WIFI is perfect for chilling out anytime.
Accommodations : Taghazout Villa/ Surf Camp - Budget
Our original and famous Taghazout Villa, located at the water's edge on Hash point, has nine comfortable bedrooms. Unique and characteristic with a cool and beachy deco, the villa boasts a perfect view of Anchor Point, Hash point and the Super wedge and with other surf spots within walking distance... It is little surprise it remains one of our most popular locations.
Overview
spacious beach side villa on hash point 
our closest property to anchor and killer point
large range of room types 
sociable layout 
9 rooms in total: 2 en-suite twins/ doubles, 4 doubles / twin rooms, 3 triple / quads, 3 large shower rooms, 4 toilets, 23 person capacity
Eat, drink , socialze
communal dining on large rustic wooden tables and benches overlooking taghazout points breaks 
excellent chefs providing the very best Moroccan and international cuisine 
multi level terraces and outdoor lounge areas to socialise or relax in privacy
Recreational Facilities
board games, and library of books, magazines etc 
TV, DVD and media player 
ipod connection for surround sound 
indoor and outdoor lounge areas 
free wireless internet access 
lots of sunbathing space 
large terrace and balcony 
indo balance board
Services and facilities
villa hosts and concierge service 
surf camp - transport and chauffeured guiding with lunch
coaching - fully equipped surf school 
surf photographers- snapping your progress over your stay.
laundry service 
multilingual staff 
daily maid service 
24/7 live in care taker
Accommodations : Additional Options
Villa Mandala – Moderate Option
Situated right in front of Banana beach, tucked away from the market's hustle and bustle and standing out as the best villa in the area, Mandala is the perfect surf and yoga escape.
The large, private ocean front terrace has plenty of space for basking in the sun by Mandala's pool or lazy afternoons in shady spots. Seconds from fantastic surf of Banana Point, Onze and Douze, Mandala incorporates privacy and a soulful individuality.