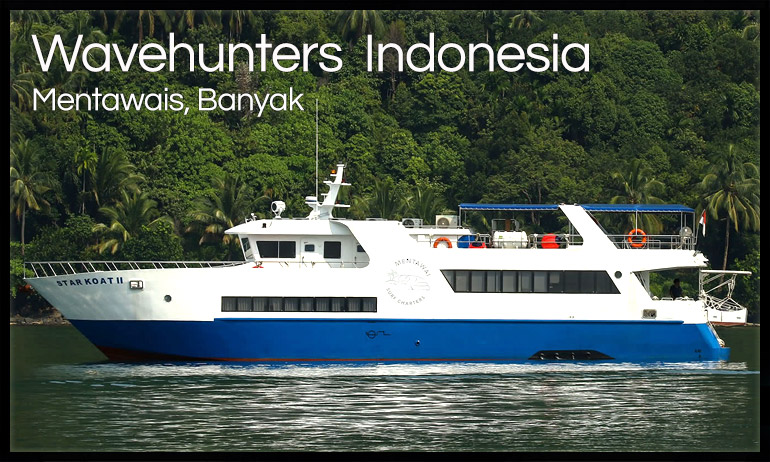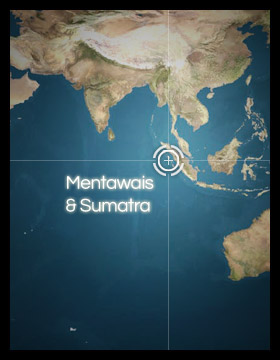 Star Koat 2 : Banyaks
The Banyak Islands lie a hundred miles to the West Coast of Sumatra and North of Indonesia. 
Daily flights operate from Medan to either Sibolga or more commonly used Gunung Sitoli (Nias).
Indonesia receives consistent swells most of the year making it one of the most consistent surf destinations on the planet.
Although the Banyaks were discovered a few decades ago it still remains a less frequented surfing hot spot due to its famous neighbours of The Mentawai and Telo Islands. It is an exceptional destination for a surf charter with world class waves spread out across 100 nautical miles of palm fringed coastline. This allows for you and the Star Koat 2, to operate in a heavenly un-spoilt location with the crowds.
Accommodation
Star Koat 2 boasts premium level comfort with one purpose, to get you to and have you ready for the best waves that the area has to offer. The vessel has 6 luxurious twin share cabins, sharing 2 bathrooms. With air-conditioned lounge and dining areas, the boat is the perfect place to come back to for a bit of relaxation between surf sessions. Being able to rest up and then head back out into the killer local waves is what Star Koat 2 was made to do.

Tender
Star Koat 2 has a 12 ft 15 horsepower tender for getting you as close to the break as possible and a monster 18ft 115 horsepower speedboat for getting you there as fast as you need.
Meals
Star Koat 2 pay particular attention to the menu and offer a well-planned meal plan with plenty of variety so that you will have the energy for the long surf sessions.  A combination of western style cuisine and local dishes will see you fueled and ready to take on each day. Trust us, this isn't the kind of trip you'll lose weight on although with all the surfing you'll be doing you'll return home looking fit & healthy.

Surf
Star Koat 2 has one goal in 2019 and beyond. Get you to the most uncrowded waves no matter the distance needed to travel to find it. Everywhere from the Banyaks, Nias and the Hinakos will be covered depending on swell conditions.
There is an incredible range of breaks in these regions. Lefts, rights, challenging hollow beasts to chilled long walls perfect for working over a section or riding a longboard.
No matter your surfing level, there is something for everyone.
North Sumatra is a playground of epic waves and adventurous journeys with an abundance of coast meets jungle landscapes scattered up and down, side to side.
Star Koat 2 is equipped with a speed boat which is your comfortable wave chasing chariot perfect for jumping from break to break during your 12 day surf trip.
Optimal Conditions for North Sumatra:
SWELL: Anything West
WIND: Anything East
Non Surf Activities
Although surfing is the main activity there are many other things to do during the trip. The Banyaks region is one of the most stunning regions on earth. Onboard the surf charter you'll have the opportunity to explore the many white sandy beaches and relax on coconut palm-fringed shores between sessions. World Surfaris highly recommend going snorkelling and checking out the huge array of tropical marine life and coral gardens in this pristine region. On top of that, there's the fishing. The fishing in the Mentawais is worth the trip alone and even inexperienced anglers will get a genuine buzz from tossing in a lure. Who knows you may even end up catching lunch.