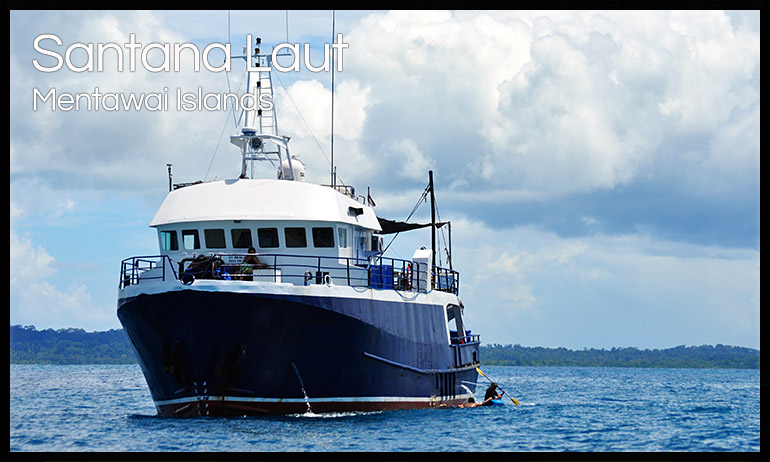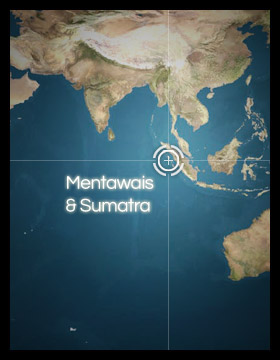 Santana Laut : 70ft Power Cruiser
The Boat 
The Santana Laut is the next generation of high end surf charter boats offered at an extremely affordable price point. With an experienced crew and expert surf guide that been travelling the Sumatran island chain for many years, they can create an unforgettable experience within Indonesia's best surfing spots, away from the crowds and surrounded by white sand beaches, crystal clear water, and perfect surf in every direction!
The Santana Laut is a steel charter vessel built as a screw fishing trawler and converted to a surf charter in 2015. It sports a large aft deck, forward cabin saloon and accommodations, and lower forward accommodations. It's class status allows it to accommodate up to 28 guests but surf trips are limited to a maximum of 12 surfers per charter. 
All accommodation areas are fully air conditioned and fitted out to allow maximum passenger comfort. Accommodation is divided as follows:
MAIN DECK
1 x 1 double bed with unsuit and 1 single bed cabin
2 x external bathrooms
UPPER DECK
1 x 2 single bed cabin with unsuit
1x 2 single bed cabin
LOWER DECK
2 x 4 single bed cabin
2 x 2 single bed cabin
2 x 1 double bed cabin
The operation is headed by Tony "Doris" Eltherington who has unparalleled experience in this region and who worked on Indies Trader boats as surf guide and captain for many, many years.  

Why:
The Santana Laut is best suited for people who only have a two week window to score great surf and want to maximize their time in the water. The Mentawai Islands and nearby areas are  one of those rare places on Earth where you can surf all day, every day and since you are traveling by boat to surf reef passes and breaks you spend more time surfing and less time paddling. 
How:
Most of their guests fly into Singapore from their respective departure cities. From there you fly from Singapore to Jakarta, Jakarta to Padang, Sumatra. The Santana Laut staff will pick you up from the airport, transport you to the boat, and from there the real adventure begins!  
Activities:
There are a range of activities on Santana Laut that you can take part in, in a group or on your own, for children or adults:
Surfing
Stand up paddle boarding
Kayak
Snorkelling
Fishing
Tin boat tours
Beach days
Swimming
Village tours
Food:
The food and beverage offering on-board Santana Laut is amazing! Meals are both healthy and tasty.
Fresh fruit such as bananas, watermelon, mandarins, apples or papaya are available for you to help yourself at all times while aboard.
As is tea, coffee, fruit juice, bottled water and soft drinks.
Breakfast served from 6.00 am to 9.00 am. Includes fruit salad, cereals, and yogurt. After the morning surf guests can order Bacon and eggs, French toast, pancakes and omelettes.
Lunchtime vary from 11.00 am to 2.00 pm. The menu changes daily and you will generally not eat the same meal twice during your stay. The lunch offerings may include fresh salads and cold meats, steak or fish sandwich, burgers, pastas, Mexican buffets or a traditional Indonesian dish.
Nothing better than a cold beer after a day on the ocean. Enjoy the perfect sunset on the top deck having delicious snacks or even sashimi, depending if any fish has been caught that day.
Dinner is served around 6.00 pm to 7.00 pm. Grilled fresh fish, mud crabs, curries, crumbed or grilled fish, pasta dishes, pizza and a variety of fresh salads including green salads.
Essentials:
The best advice when packing for a surf trip is to pack as light as possible. This fundamental rule of travel is especially true on a surf trip through the Mentawai Islands when most of your time is spent in the water. Most people bring 3-4 boards that range from their standard shortboard on up to a small gun; it helps to plan what boards you want to bring according to the swell forecast. Since there are no surf shops on the island bring extra everything, boardshorts, leashes, fins, wax, sunblock. 

Local Climate:
The local climate is considered tropical, hot, and humid with a temperature range between 70 - 90 degrees Fahrenheit or 21 - 32 degrees Celsius. 
THE WATER temperature is always around 80 degrees (27 degrees Celsius) no matter what time of year you visit. 
THE LOCAL LANDSCAPE is dense, tropical forest with four main islands and dozens of auxiliary islands - sprinkled with a few main coastal villages throughout. 
THE DRY SEASON in this area spans from February to September and the wet season typically occurs between October - January. At any time of the year however expect regular rainfall in short intervals - heavy at times. 
LOCAL WINDS surrounding this region are variable throughout most of the year but occasionally go through intermittent periods of storminess, called "Badai's". Mentawais lies exactly 1 degree below the Equator and as a result is not influenced by the steady easterly trade winds often associated with the rest of Indonesia - that's what makes this area so unique!

Mentawai Islands
The Mentawai Islands are arguably the most famous surf destination in the world. Their broad exposure towards the vast, southern Indian Ocean provides these majestic islands with remarkable consistency and quality. There are great waves in this area year-round. However, the most ideal time to surf in the Mentawai's is during the dry season, late March to early November, the southern hemisphere's winter, when the Indian Ocean is an ultra-active, groundswell producing machine. During the entire year surf charter boats offer the average surfer the opportunity to score the best waves of their lives in the premiere surf location in the entire world, nothing else comes close... We have compiled a brief glimpse of the well-known surf spots in the Mentawai Islands that our guests will have access to. We have provided descriptions of the most well known spots - the rest you'll have to find out about on your own!
4 Bobs:
4 Bobs is a short, playful right-hander located directly in front of Kandui Resort. Swells that break here wrap considerably around the south end of the island and break over a relatively shallow reef. If you're fast you can take off deep and try to float the first section where most people take off; otherwise, it's strictly a one or two turn wave. Ironically, despite it's relatively tame appeal, 4 Bobs is a perennial favorite to almost every person who surfs it and is one of the most consistent and fun waves in the Mentawais.
A Frames:
A Frames is one of the most consistent lefts in the Mentawai Islands. Situated in front of an idyllic island it is one of the many good waves found in the Playgrounds region. There are generally two sections to surf, the top and the inside. The peaks at the top can be a bit shifty and require a fair amount of paddling around to find the right area while the inside section is more dependable and offers up a better wall to work with. A frames is easily one of the most popular spots in the Mentawai's and is sometimes referred to as "John Candies".
Bankvaults:
Bankvaults is a thick, barreling right punctuated by a shifting line-up. Sets seemingly emerge out of nowhere and can wreak havoc if you're caught out of position. The ideal size to surf Bankvaults is head-high to a triple overhead, in any swell size, getting caught inside is a certainty. Despite the dangers, snag a clean, open barrel here and you'll be talking about it for years. If it looks too heavy, Nipussi is a scant three-hundred yards to the east.
Beng Beng:
Beng Beng is an extremely rippable left located a few hundred yards away from E-Bay and Pitstops. It's probably one of the easiest waves to surf in the Mentawai's and is fun for surfers of all ability levels. The area surrounding Beng Beng is breathtaking as it sits nestled inside a small bay with literally one of the most scenic views imaginable all around you. The best size to surf Beng Beng is anything over shoulder high - even though it's relatively short some people like this wave more than other waves that are considered far superior - best of all, it rarely has a boat on it so most sessions are by yourself.
Bintangs
A short and hollow right across the channel from Lance's Left. As the wave approaches the reef, the bottom drops out before barreling towards the channel.
Burgerworld:
Burgerworld is considered a last alternative when everywhere else is flat. Anything bigger than three feet here flattens out into a giant mushball. The one positive aspect about Burgerworld is its consistency; there is always something rideable here.
E-Bay:
E-bay is a fast, barreling left that gets good when it's head high or bigger. When a pumping west swell is marching through, E-bay does a close impersonation of Padang Padang on Bali without the death cliff looming inside. The overall set-up at E-bay is flawless, stereotypical Indonesian, with beautiful, bluish-green water and tall palm trees everywhere. Besides its aesthetic beauty, double overhead E-bay is a beast and force to be reckon with.
Greenbush:
Greenbush has gained a lot of recognition and prominence in the last few years. It is a very challenging left that breaks deep inside a beautiful bay. But don't let it's beauty fool you! Greenbush has a relatively tame drop on the right swell but things quickly turn more perilous as you charge down the line and the reef gets shallower and shallower - eventually it becomes completely dry. If you are not a competent barrel rider or aren't keen to leave a lot of your skin on that inside section we recommend you leave it alone!
Hideways:
Hideaways is an occasionally heavy left near the Playgrounds region that is frequently visited by Kandui guests. In the last few years it has been one of the "go to" waves because it is a lot more consistent the other world class waves in our area and can handle a lot of the more annoying wind directions like straight souths. Hideaways has the ability to be a sick cavern or offer up a rippable shoulder. You can really only surf it on medium to high tide, at low tide it sticks out of the water and unless you like reef cuts stay away!
Iceland:
Iceland is a sizable left that is known as one of the "big wave" spots in the Mentawais. It has a very large playing field and a few different take-off options including a few rights when it is small - but watch out for the paddle back out! Iceland isn't known as a barreling wave unless it has some serious size - if big enough it will look more like Hawaii Five-O than most other waves in the Mentawais and when it looks like that Telescopes is a much better option.
Kandui:
Kandui a.k.a Kanduis or Nokandui is one of the fastest, down the line, left-hand barrels in the world. Kandui is an obscenely hollow wave with your only option for survival being tucked inside its enormous, gaping jaws. Unless you're comfortable pumping inside the barrel the best you can hope for is to find the right line, exert a little extra front foot pressure, and hold on. Most of the waves will simply outrace you; however, the thrill of charging through the longest barrel possible is more than worth the effort. If the conditions are right you'll take your share of beatings; but, chances are you'll kick out of the best barrel of your life as well.
Lance's Left:
Lance's Left is one of the most popular destinations in the Mentawai's for consistency and quality. It is an occasionally grinding left with multiple take-off zones and during the right conditions two distinct barrel sections. Despite its relatively harmless allure Lance's Left can pack a serious punch, especially if you get caught inside and find yourself parked on the reef. The extreme inside sports a series of lava fingers with deep gaps in between, keep this in mind as before you try to squeeze in that last roundhouse. The place can hold size, up to ten feet, and is often compared to G-Land's Moneytrees section as steep take-offs throw you down the line with impressive speed and flow. Lance's Left is always a good call if the winds are right so it's no surprise that many boat captains and traveling surfers frequent the area.
Lance's Right:
Lance's Right, also commonly referred to as "HT's", is a fast, perfect, barreling right-hander. Out of all the breaks in the Mentawai's "HT's" best exemplifies the term "swell wrap". The waves here wrap around the south end of the island and into a guarded bay over one-hundred and eighty degrees before unloading over an unmerciful reef aptly named "The Surgeon's Table". It is probably one of the top five most famous waves in the entire world and not without good reason. There are three main take-off zones, but it's the deepest zone, dubbed "The Office" that serves up the heaviest, scariest, roundest, most mesmerizing barrels in the world.
Macaronis:
Macaronis more commonly referred to as "Macca's" is one of the best lefts our planet has to offer. It is the premiere destination of every boat charter in the Mentawai's and more often than not there are a minimum of six boats camped out in front of it. Every magazine and surf video nowadays devotes an obscene amount of coverage to this wave, remarkably, it deserves it. The wave itself barrels graciously on the take-off before walling up into the most high performance oriented waves imaginable. To top it off, the scenery surrounding it is breathtaking as it sits comfortably inside a picturesque cove with emerald green water lapping its shores. The only downside to surfing Macaroni's is the fact that it's usually smaller than everywhere else because it faces an awkward direction. Macca's works best from three to six feet, it is possible to surf here during larger swells but the drops begin to look more like Teahupoo and the consequences become more substantial.
Nipussi:
Nipussi is a high-performance right situated inside a reef-laden cove. Most people line up at the apex of the point and surf a solid wall that hugs the inside, but during a west swell some people prefer to sit wide and wait for the swinger sets which break in the middle of the cove. Nipussi always has waves and is a good alternative when the rest of the islands are flat. It's known as one of the mellowest waves in the islands but it's still a powerful wave.
Pitstops:
Pitstops is one of the most high performance waves in the Mentawai Islands. Located a few hundred yards away from E-Bay you can't really tell if Pitstops is breaking unless you take a close look. The wave itself starts breaking in a compact area over reef, remarkably, if you're not paying attention, the take-off can be quite challenging. However, once you're on your feet you've got a really fun, semi-backwashy wave to carve, pull in, or boost on. As the wave progresses it starts breaking over a combination of sand and reef until eventually expiring itself on a beautiful tropical beach. One of the most photogenic waves in the world.
Rags Left
A great lefthander that can hold the biggest swells. It is very hollow and can often dish out some of the heaviest hold-downs in the island chain. Usually a bit more water moving around so a larger board can be useful.
Rags Right:
Rag's Right is a formidable opponent to your health, safety, and well being. It is a wide-open right capable of churning out oxygen-sucking dry barrels. Perhaps the most difficult part in the Rag's Right equation is the drop. The wave stands up and explodes over a nearly exposed reef, the faster you are able to get into it, the greater your chance for success. If it's breaking, it's definitely worth a gander as eight to twelve second tubes become standard. If you can swing it, ride a shorter board for increased maneuverability and control deep in the barrel. 
Rifles:
Rifles is one of the longest, most perfect, awe-inspiring waves in the world. When it's breaking properly with a hint of northwest wind you can expect four to six hundred yard right walls with numerous tube sections. Rifles is a violent barrel from start to finish, sometimes when you think you are coming out another section will throw over, and another, and another. If you do come out and see it lining up, you have to put the pedal to the metal to make it through the next barrel section. Basically, you have to go as fast as you can go almost the whole way through the wave.
Scarecrows:
Scarecrows is Telescopes' big brother, a little more forceeful, slightly bigger, and in general a little less refined. Nevertheless, it definitely has its good days and because it picks up a lot of swell is a good option when the rest of the chain is small. You'll probably find the wave to be very moody and inconsistent, some days it does a great impression of Telescopes on the right tide and direction while other days it is a warbled mess of high tide rubbish that is an unmotivating as it gets. You never can be sure until you're looking at it!
Telescopes:
Every thing you've heard about Telescopes is true. It's a remarkably long left which tempts you to sit deeper and deeper, almost daring you to backdoor an impossible section. With size, the wave breaks for over a half mile outside and descends upon the formal take-off area at mach one. Fortunately, by the time it reaches the pack its slowed down a bit and ready to serve up a wondrous, steep, hollow wall. Telescopes is frequented by many boats based on its premiere quality. However, there always seems to be plenty of waves to go around and when its absolutely firing at six to eight foot many less accomplished surfers watch it from the safe confines of their boats, videocameras in hand.
The Hole
Another very hollow left off a small island in the southern end of the Mentawais. Starts barrelling off the takeoff, but never really stops until a closeout section at the end of the reef. Definitely not a place to strighten out at.
Thunders:
is the largest, most consistent break in the Mentawai's. Aptly named, Thunders powerful lefts break so hard that it not only makes a booming sound; but it also creates a weird, sea foam that often has trouble clearing out before the next set. The line-up is extremely complicated as waves seem to break everywhere around you; however, on a rising swell a solid, slabby wall offers a serious drop followed by a forceful shoulder. The wave breaks in deeper water than you'd expect so it's unlikely you will hit the bottom here. The reality of surfing Thunders on a big day, which is often, is you'll get stuck inside and probably have to make a trip to the shore to make it back out. Grab a big board and charge.