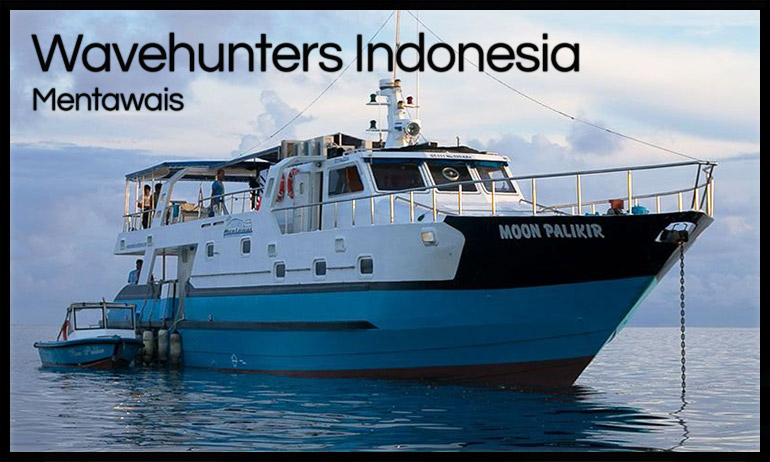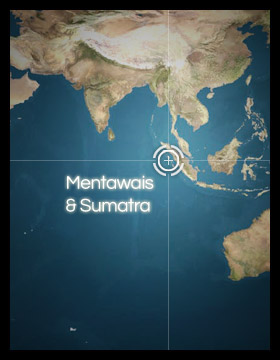 Moon Palikir - Mentawai Surf Charters
Welcome aboard 'Moon Palikir', a dedicated surf vessel that lets you unwind and relax in comfort and style as you hunt down the best surf the Mentawai Islands chain has to offer. Moon Palikir is owned by the Surf Guides on-board, so they are as keen to make sure you have a great time as they are to see you shacked off your nut. Moon Palikir offers an unforgettable surf experience in one of the most famous surf regions in the world. 
Spacious and well fitted, this surf charter has many mod cons and features that will have you enjoying your surf trip without sacrificing comfort. Moon Palikir offers an amazing experience and a perfect setting for your Mentawais surf adventure.
As far as surf destinations are concerned, the Mentawais needs no introductions. Discovered in the 1990's, the region has since popped up on many surfers ultimate 'bucket list'. Capturing swell all year round with the peak season falling from Apr-Oct, the Ments is easily one of the most consistent and sought after destinations on the planet. Moon Palikir's guides / owners spare no expense to go that extra mile in order to ensure you are surfing the best break on the day and having the surf trip of a lifetime. Whether that's another 50 nautical miles to score 'that spot', which only works with this particular new swell direction or an extra slice of bacon in the morning - the boys on Moon Palikir will look after you. Rest easy, surf hard and experience this amazing surf-infested region in complete style and comfort.
Accommodation
Moon Palikir is custom built to a very high standard. The amount of space and sleeping arrangements is a welcome break from the dorm style accommodation adopted by many surf travel vessels operating in the region. Living space is well appointed and there are plenty of open spaces providing opportunities to take in the sunsets with a cold bintang after an epic day of surf.

Meals
Moon Palikir puts a focus on dining and provide regular tasty meals and plenty of snacks to keep you going in the surf. From a variety of breakfast choices to see you in good stead for the early morning surf, to international cuisines at night, and a fresh lunch thrown in to keep you going throughout the day. Moon Palikir is dedicated to providing you with the best quality meals and produce to make sure you are energised and ready for each epic day of surf.
Vessel
Moon Palikir is a roomy vessel boasting an impressive hull width and length. The interior has been tastefully furnished and you will enjoy your own personal space as well. Onboard accommodation includes: 4 double cabins with 2 x single beds in each and a fifth cabin with 4 bunks and 1 double cabin (for whoever's fastest). All this space means that you're not sharing each other's living spaces and crammed in uncomfortably. On top of the 6 cabins you also have a large eating area, a lounge area sporting a 42inch flat screen TV, DVD player and stereo. Alongside this you have access to 2 bathrooms. There is a huge outdoor area on the upper deck for relaxing under the sun or stars. The whole vessel is air conditioned throughout making sure you stay cool in the humid conditions and sleep soundly, ready for the next day of waves. 
Specifications
Length Overall (LOA):  35 m
Width:  6.5 m
Style:  Fibre glass boat
Marine Engine:  Twin Engine Nissan RF10 (420 Horse Power x 2)
Generator:  Colt Diesel PS100 (40 KW x 2)
Radar:  24 Mile Range
GPS plo
Depth Sounder / Fish Founder
Radios:  HF / SSB, VHF Radios
Life Jackets / Life Ring with MOB Lights/ Life raft for 20 People / Life rings with MOB lights
Satellite Phone available
First Aid Kit
1 Fibre Glass Tender:  6.5 m (Engine 40 HP)

Surf
Since the early 1990's surfers from around the globe have been visiting the Mentawai islands to experience untouched rainforest and superb waves. More than a dozen "world-class" reef breaks exist making it one of the most surf infested regions in the world. Most spots host mechanical perfection and vary in intensity for all level of surfer, making it an ideal location for a surfing holiday.
Indonesia is such a great place for surf. It has got the classic waves, the crystal clear warm water and the balmy days. What more could anyone want. The Mentawai islands are a relatively new surfing location, having only been surfed since the early 90's. Although the main island has loads of spots, probably the best way to surf the Mentawai islands is by boat.
Our good friend, the South Indian Ocean, produces the swells that have the islands pumping from March through to November at 6-12ft, and the cyclone swells keep the surf rolling in throughout the remainder of the year. You go to Mentawai, you get surf! The calm winds ensure that the swells that do arrive, are always of a high standard.
Top Mentawai waves include Rifles, Telescopes, Lance's Left and Lance's Right, Macaronis, Greenbush, Thunders, Rags and the Hole… just to name a few.  All standard of surfers will be stoked with the variety and the consistency. "This is the real Surfers Paradise."
Flexible itineraries are devised to maximise surf time and to combat the 'crowd factor'. On the recommendation of the skipper / surf guide who analyses the prevailing surf conditions in the region, you will be given expert advice on where the best conditions and swell will be located.
Optimal conditions for the Mentawais:
Swell: Sth or SW
Wind: Any type of east
Surf Guides
The surf guides on-board the Moon Palikir are dedicated surfers who have spent 10 years in the Sumatran region hunting down the best waves. They are intimately familiar with the region and know the Mentawais well enough to call the best spot on any day. Moon Palikir prides itself on its 'no effort is too much' attitude in finding you the best waves. The guides are privileged to a few secrets spots too and will work their best to see you in an uncrowded line up.
Non Surf Activities
Moon Palikir provides a few extra activities to keep you away from the treacherous waters of boredom. However given that you will be surfing in the famous Mentawais island chain, spare time would most likely be spent massaging paddle weary spaghetti arms, drinking icy cold Bingtang's and enjoying the company of your fellow travellers. Onboard you'll find an SUP and some snorkelling gear and basic fishing gear. Islands trips can be arranged...your guides speak fluent Bahasa and will gladly show you around.