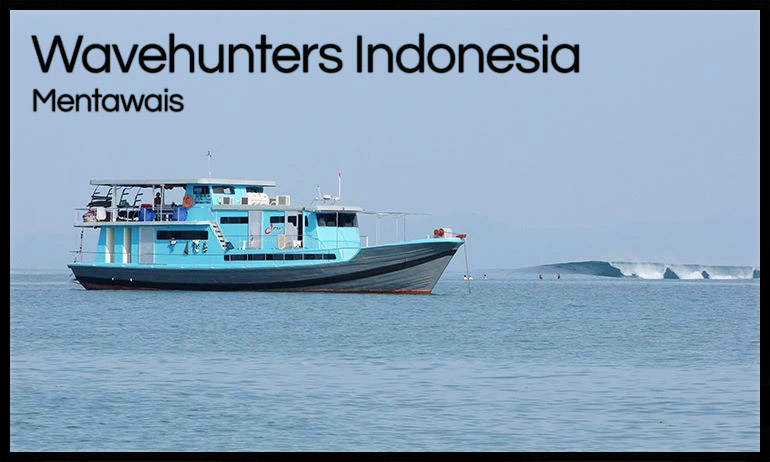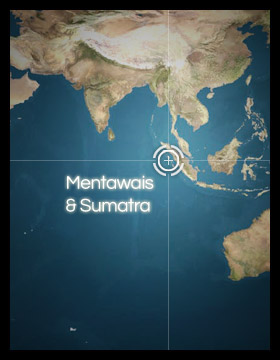 Banyaks Dreams : 

Power Cruiser
The Banyak Islands lie a hundred miles to the West Coast of Sumatra, North of Indonesia. It's reached by boat some 12 hours of sailing from the home town of Sibolga, homeport of The Dream. 
Daily flights operate from Medan via Kuala Lumpur or Singapore. Daily morning flights from Medan to Sibolga. Given this schedule, all of the Dream Charters begin on Monday and end on Friday.
Indonesia, with regular and consistent swells, is the most popular surf destination in the world. The Banyak Islands are indeed a wave paradise. Its location facing the Indian Ocean gives it powerful swells generated by low pressure systems throughout the Indian Ocean.
Offering a variety of waves that have nothing to envy its famous neighbour the Mentawai archipelago, the Banyak Islands offer additional world class waves, without a crowd. Only a small handful of boats now operate in this heavenly and unspoiled area.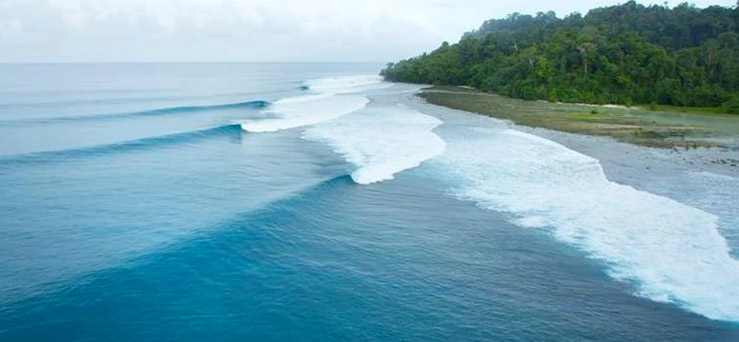 The Surf 
The Banyak Islands are one of the most remote surf destinations in Indonesia. You can still surf by yourself on empty waves as there are only three charter boats based full time in the area.
The archipelago is surfable throughout the year but the best conditions are from March to October. With an average size of 1 to 2.5 metres, the waves are most consistent from April to October.
You will have to think about a spare leash, fins, wax and a repair kit. For the board selection, it's up to you, but we recommend you take a quiver with 2-3 surfboards:
»    5.6 to 6.8 surfboard
You can surf in shorts as the water temperature is on average, 27 degrees centigrade. A long sleeve rashie is highly recommended for sun protection. It's best to also bring booties.
Itinerary
Once you are met at Sibolga airport, you'll go straight on to the boat where you will chill out in your cabin.  In order not to miss any days of surfing, the crossing to the Banyak Islands will be done during the night (same for return).  At dawn, you'll be ready for your first surf in this pristine paradise.
There is a potential of about 12 waves, including secret waves.  The captain will share all this knowledge and his secret for finding the ideal conditions of the day. The surf guides (speaking English, French, Spanish and Indonesian) in consultation with the captain will offer you many options to decide on.
Throughout the day, you will have the opportunity to chose a variety of other activities like beach walks, snorkelling and spear fishing.
The Vessel
Length: 26m
Width: 6.5m
Engine: Nissan V8 300 pk
Generator: 2 isuzu 20 kwa
Cruise Speed: 10 Knots
Air Conditioning: Rooms & Lounge
Capacity: 12 guests + 4 crew
Life Raft: 20 people
Navigation: GPS, radar, sounder, SSB, VHF, phone satellite
Dingy: 30 HP
Video: LCD 32 inch, DVD , xbox360
Facilities: Fishing rods, snorkeling and spearfishing
Accommodations
This dedicated surf charter boat offers plenty of relaxation with 5 large private double bedrooms with large beds. There is also a VIP room with king size bed to accommodate couples. All rooms are air-conditioned.
There is a spacious and comfortable air-conditioned living room where you can relive the greatest moments of the day with beer in hand. As well as a fully equipped kitchen and two bathrooms on the second floor, there is also a large terrace to admire the sunsets and check the waves.
Meals
Your day begins with a buffet breakfast of cereals, fruit, juice, toast, tea and coffee. After a morning surf you will have a 2nd breakfast that includes bacon, eggs, toasted sandwiches, pancakes and homemade bread.
Lunches and dinners are a selection of European and Asian dishes, from Mexican to Italian, sushi, pizza, burgers, seafood and desserts!
All 2020 bookings have unlimited beer included in the cost!
Spirits can be purchased onboard or just bring your own. Soft drinks are kept in ice boxes for your convenience.
Package Inclusions
11 nights onboard The Dream
10 full surfing days (Sibolga to Sibolga unless otherwise stated)
Meet & Greet on arrival in Medan
Return flights Medan to Sibolga
Surfboards overland Medan to Sibolga to Medan
Meet & Greet in Sibolga and airport transfers to/from the boat
Buffet Breakfast, Lunch & Dinner daily
Unlimited beer
Soft drinks unlimited
Dingy transfers for surfing each day
T-shirts or hats
Experienced surf guide and skipper
Minimum 6 / Maximum 10 for Sole Use groups
Package Exclusions
International Airfares
Travel Insurance (COMPULSORY as you will be denied boarding if you cannot present a copy of your insurance policy)
Photo Package AUD$138pp
Airport transfers in Medan
Accommodation in Medan (we recommend guests stay 1 night on arrival in Medan, and 1 night after the charter, OR book flight out of Medan after 8pm on the last day)