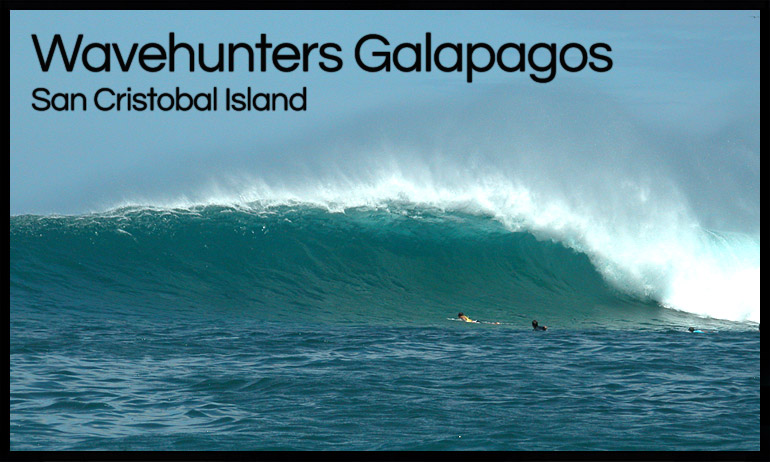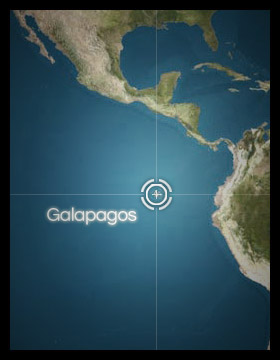 Galapagos, San Cristobal Island
Known as "Las Islas Encantadas" (The Enchanted Isles), the Galapagos islands are located on the equator approximately 800 km west of the Ecuador mainland. More than half of the islands is national parkland under the protection of the nation of Ecuador, a stable Latin American democracy recently dollarized. The Galapagos Islands are the pride of Ecuador and are internationally renowned as the place where Charles Darwin witnessed unique animal species cut off from the natural evolutionary processes of the continents and advanced his theories of Evolution. The Galapagos is mostly famous for its many indigenous species including marine iguanas, huge land tortoises, sea lions, blue-footed boobies, albatross, manta-rays, and finches.
The Galapagos also has world class surf. Wavehunters' focus is the island of San Cristobal where there are more than a half-dozen outstanding waves, at least 4 of them world class, 2 of which are square tubes with Hawaiian power. San Cristobal island is unique because it picks up BOTH North and South Pacific swells equally well. (Note, there are other waves on other islands in the Galapagos but most of them are closed off due to park regulations and access is difficult to impossible).
The waves on San Cristobal occur on the southwest and northwest facing sides of the island where they are exposed to ground swells from both the North and South Pacific. Though the Galapagos has waves year-round, the optimal "surf season" is from December until May. The reason is that the cold Humboldt current which travels northward up the coast of Chile and Peru during the Austral winter months of May-November creates prevailing onshore wind conditions during this period, with the wind and swell coming from the same direction.
The hot season from Dec-May sees the diminishing influence of this current, with hotter, sunnier offshore conditions ideal for surfing. The North swells occur most commonly from December until March. The south swell, despite pulses from December until February, is strongest during March, April and May. These months are particularly good for SouthWest swells which the island tracks far better than the more southerly swells which tend to be more dominant from June until November.
The Surf
San Cristobal island is located 960 Km west of Ecuador. The best surfing season is from December-April. This is the period when wind and swell conditions conspire to offer world class perfection. The waves average 3-6 ft, but can get up to 15 ft on the biggest swells. Long period ground swells arrive from a NW or SW direction and last between 3 and 4 days at a time. There is rideable surf everyday in the Galapagos at least chest-head high so getting skunked is a very remote possibility. For surfboards, recommended quiver would be a shortboard, a 6-6 to 6-9 rounded pin or mini gun, and one gun in the 7-foot range for the bigger days. Bring all equipment as there are no surf shops on the island.
North Swells
The Galapagos lies in an ideal geographical location to pick up the brunt of North Pacific ground swells which pound Hawaii and California but largely miss Mexico and Central America due to their south-facing orientation. As such, the Galapagos islands are on a short list of locations which really amplify and harvest the power of North Pacific ground swells and enjoy ideal weather and wind conditions at the same time. La Carola (hollow Sunset-like righthander), El Canon (peak lefthander similar to Popoyo), and Manglecito (hidden bay w/peaky A-frames) are at their best on NW swells.
South Swells
While the North swells have received a lot of attention, the South Swells are actually bigger and more consistent most of the year (especially from March onwards). Loberia (an A-frame reef break reminiscent of Pipe/Backdoor) is the go-to option for serious chargers, while Tongo Reef provides a more classic line (lefthander) with rides up to 300 yards. El Canon and Outer Reef will also pickup strong SW swells and provide some additional surfing venues.
Consistency, Size, Variety - Galapagos has it!
Because of the combination of northerly and southerly swells the Galapagos has a high degree of consistency over 70% during the season, although some of the breaks are deepwater volcanic rock reef waves which take a moderate to strong swell to go off. If it is breaking it is rarely under 4-5 feet. When major swells hit it can sometimes be huge at spots such as La Carola and Loberia hitting a legitimate 8-10 ft Hawaiian scale though 4-7 ft is more common, and fortunately there are some softer options like El Canon, Tongo Reef and Manglecito to find shelter.
Accommodations : Wavehunters Seaside Villa Option
Our Wavehunters Seaside Villa is an excellent, upmarket self-catering option for families, couples and for all surfers. Quick access to surf and exclusive atmosphere. The villa has 8 private guest rooms with ensuite bathrooms, Cable TV, WIFI internet, a swimming pool, and cash beverage bar. Villa is located just a few hundred meters from the water and overlooking the town of Puerto Baquerizo. Onsite property manager and security.

Accommodations : Luxury Boutique Hotel option

The 21-Room Bahia Dorado Hotel & Spa was designed and conceived to offer its guests an unparalleled level of comfort and world-class service in the strikingly beautiful and unique Galapagos Islands. The Hotel fuses its luxury status with the environmental demands of the "Enchanted Archipelago".  The architectonic design combines modernity with the natural surroundings. The Bahia Dorado Hotel was also designed to integrate its hometown's emblematic "Playa de Oro" to the architectonic complex and to enhance the natural beauty of the bay, the port, the town and the dramatic backdrop of San Cristobal Island's green hillsides. Our Hotel seeks to provide much more than a superior lodging option: our mission is to deliver to our guests an unforgettable and outstanding Hotel Experience created to enhance the already fabulous experience of visiting Galapagos.
The Bahia Dorado Hotel & Spa offers 4 types of rooms, all generously ample, international-level comfortable, elegantly appointed, decorated and modernly equipped. Architects and interior designers have come up with a fresh and creative proposal, internal and externally, to charm the guests. All four types of rooms feature private bathroom facilities, including quality amenities. Natural light plays an important role in the overall architectonic design of the Hotel and all of the rooms have their share of magnificent natural illumination and sights through their floor-to-ceiling and wall-to-wall panoramic windows.
Rooms are equipped with King-sized and Full-size beds arranged as one Matrimonial single large bed or Twins with two Full-sized beds. We will be glad to accommodate to our guests needs and requirements. Please don't hesitate to contact us for specific details or requests regarding room's layout. 
The bedding is complemented by the finest quality mattresses, pillows, sheets, covers, duvets and all complementing amenities. All rooms feature 40' LED Smart TV sets; Cable TV, telephones, in-room safe deposit boxes; a Minibar and Free WiFi Internet. The equally ample bathrooms feature spacious showers, fine tap and faucet materials, hair dryer, fine amenities, best quality towel sets and a daily supply of complementary bottled water. 
All rooms are serviced by our professional Housekeeping department in the morning and afternoon, actually whenever our guests may need it. Rooms also receive a night turn-down service as our guests deserve. A Laundry service is also available for our guests, including the supply of environmentally friendly laundry bags. In addition to the articles available at the Mini-bar, Room Service is available for drinks, refreshments, snacks and designated menu articles.
The Hotel features two ground-floor rooms especially fitted to accommodate guests with physical limitations or disabilities.
The Bahia Dorado Hotel & Spa offers the following types of rooms:
3 Ocean View Suites with balconies, in-room bathtub and a surface of approximately 75 square meters (807 square feet).
5 Balcony Ocean View Rooms with balconies and a surface of approximately 45 square meters (484 square feet)
7 Deluxe Waterfront View Rooms with balconies and a surface of approximately 40 square meters (430 square feet).
6 Deluxe Garden View Rooms included 2 rooms for persons with disabilities on the Ground floor, all with a surface of approximately 25 square meters (269 square feet)
Location
Bahia Dorado Hotel & Spa is situated beachside at a privileged location overlooking the spectacular bay that frames Puerto Baquerizo Moreno, the administrative and political capital city of the Galapagos Islands at the northwestern tip of San Cristobal Island. The Hotel stands at the eastern end of the picturesque city's Waterfront, a five minute walk to the town center with its many souvenir shops and cafes, the busy tourists dock and less than ten minutes away from the Airport. One of the Hotel's main attractions is the direct access to Playa de Oro, a beach frequented by Galapagos sea-lions, marine iguanas and some seabirds. The Bahia Dorado Hotel brings to you the magic and uniqueness of the Galapagos Archipelago almost to your doorsteps. The beach also harbors intriguing legends of pirate treasures, mermaids and stories that make it even more fascinating and special. San Cristobal is one of the five largest islands of the Galapagos Archipelago; one of the oldest of the group geologically speaking; the one with the most amount of natural fresh water (just on Floreana and San Cristobal) and also one of the oldest human settlements in the islands with a stable population since the second half of the 19th Century. San Cristobal teems with amazing Galapagos wildlife, stunning sceneries, rich history and hospitable people. Puerto Baquerizo Moreno is a lovely island port that maintains much of its original charm with its antique wooden houses and quaint life pace.
Facilities and Services
The Bahia Dorado Hotel & Spa offers ample and charming indoor and outdoor public spaces and Social Areas for our guests' enjoyment. These include:
Reception Area and Lobby
Business Center with two computer terminals
Main Restaurant in the Ground Floor (please see more in the "Gastronomy" Section)
Snack-Bar with special oven for baking fresh-pizzas in the Panoramic Terrace (Please see more in the "Gastronomy" Section)
Swimming pool located on the Ground Floor at the interior garden that features endemic and ornamental plants. There is an adjoining Children's pool.
Panoramic Terrace with partially covered and open-air seating plus two Whirlpool bathtubs on volcanic rock which make them unique and innovative.
Spa Services offering special relaxation and wellness body and facial treatments provided by previous appointment by a professional Therapist. A complete Menu of treatments can be found in your room.
Reception Services staffed by bilingual (Spanish/English) Receptionists
Children's playroom supervised for their security
Private, public transport or shared Airport-Hotel-Airport transfers
Private or shared Tours and Activities are available. Please see the "Tours and Activities Section" on our navigation menu.
Gastronomy
Food is an important element in travel and at the Bahia Dorado Hotel & Spa we take special care and attention at providing our guests with a top-class dining experience.
Our Main Restaurant located on the Ground Floor is the venue to enjoy delightful food, carefully crafted and prepared by our expert Head Chef and his team. From the bountiful breakfasts which include fresh fruit juices, our homemade breads and a variety of local and international specialties, to our full Lunch and Dinner Menus, our aim is to offer you a real special Gastronomic Experience, an original fusion of flavors that include Galapagos and Ecuadorian traditional cuisine like the unequalled Galapagos "ceviches" as well as international fare, served with the freshest ingredients and mouth-watering presentations.
Our cuisine options also include children's menus, sandwiches, hamburgers, pasta platters, deserts, cakes, ice-cream, etc.
The Main Restaurant has an adjoining fully-stocked Bar with an assortment of liquors, cocktails, wines, beers, refreshments, coffee tea and natural herbal infusions.
Our Panoramic Terrace's Snack-Bar is the ideal place to enjoy our delicious and freshly oven-baked pizzas and other snacks while you sunbathe, read a book, relax or enjoy the spectacular vistas of the bay, the town and the surrounding hillsides in the background.
The Snack-Bar at the Panoramic Terrace also offers a selection of refreshments, drinks, liquors and tempting cocktails, ideal to accompany the observation of the Islands' beautiful sunsets from the Terrace.
We will be happy to cater for special food requirements (vegetarian, vegan, etc.) as well as for allergies and food intolerances. Please advise us in advance about any food restrictions in order to be prepared to properly cater for such requests.
Eco Tours / Activities
Snorkeling
Anytime. No charge. Guests must bring their own masks and fins.
León Dormido (sleeping lion)
A 20 minute boat ride. This is a 90 m tall rock in the middle of the ocean (submerged volcano) with great snorkeling possibilities and the place to spot some Galapagos sharks and perhaps some Hammerheads as well (harmless).
Included in Wavehunters package
La Laguna (the lagoon)
A lagoon in the highlands (It use to be also a volcano). This is the main supply of fresh water for the island. Lots of birds and other species.
Lobos island
A 20 minutes ride by boat to this islet. Lots of birds and other species.
Horse rides
Prices on request.
Scuba diving
2 dives at Kicker Rock, equipment, divemaster and boat provided. Prices on request.

How to Book:
1.  THERE ARE FOUR WAYS TO MAKE A RESERVATION
A. BOOK ONLINE: Click the "BOOK ONLINE" button on the right side or bottom fo your desired destination/option and follow the instructions to make a deposit using our secure online reservation system.
B. SUBMIT A TRIP INQUIRY: Fill out the "Trip Inquiry" form on the right side of the page or under the "Booking Info" section on the top menu. Wavehunters will get back to you as soon as possible, usually within 24 hours.
C. SEND US AN E-MAIL: Send your questions and trip inquiries to wavehunters@wavehunters.com.
D. GIVE US A CALL: We are located in Carlsbad, California, USA. 1-760-413-1513
2. CONFIRM DATES AND MAKE DEPOSIT: Before you book online please double check that the trip you want and the dates you need match up. If you make a reservation online you will pay the deposit by credit card. We can also process credit cards offline, take checks made out to "Wavehunters Surf Travel", and we accept wire transfers, cashier's checks, money orders, or direct deposits. 
3. SEND US YOUR INFORMATION: During the booking process we strive to make everything as simple and easy as possible. When you're ready to make your reservation please have your passport ready as we will need the number, expiration date, and country of issue. We will also need your flight itinerary (if we do not help set it up) as well as a few destination specific questions. If you are travleing with a group please specify the number of people in your group and their names.
4. MAKE FLIGHT RESERVATIONS (AS NEEDED): Wavehunters is a full service travel agency capable of handling all of our guest's flight arrangements. Each destination typically requires a specific flight itinerary that needs to be confirmed by Wavehunters prior to departure. If you don't have the time or inclination to deal with setting up your flight arrangements Wavehunters will be happy to coordinate them for you. 
5. MAKE FINAL PAYMENT: You final payment is due two to four months prior to your trip's departure depending on which trip you are on. Once that's in along with the requested information you're all set to go!
6. SHOW UP: Rule #1 is to remember to not miss your flight and remember to have a passport with at least 6 months left before the expiration date.
7. SURF: Once you're at your destination the only thing you should have to to worry about is what board you should ride and where to surf. Have fun!