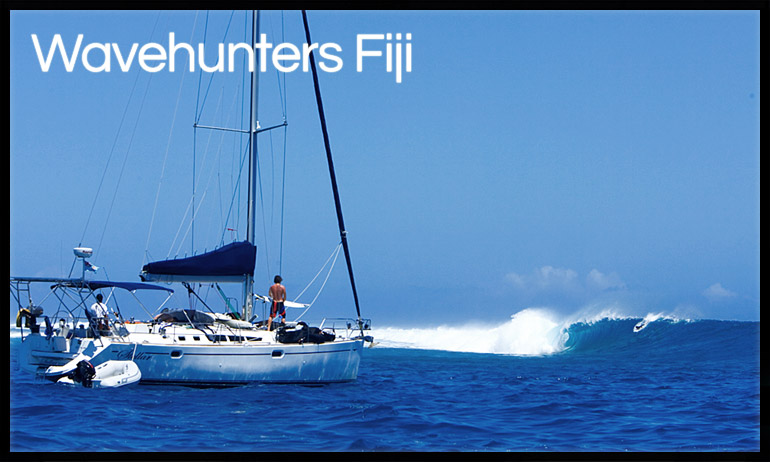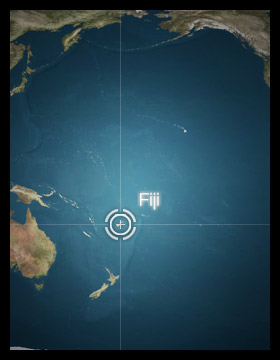 Fiji Live-Aboard : 49ft Sailboat
Fiji Safaris
Experience the wonder of Fiji on board the "Stellar". Your skipper and guide Steele Jones knows the region intimately and always makes the best call, putting you in the right spot without fail. 10 years of Sailing and surfing experience in Fiji mean that all you have to do is sit back, wrap yourself in luxury and throw yourself into wave perfection whenever the boat stops.
Steele Jones, a kiwi (from New Zealand), is a lifetime surfer and all-around waterman. In July 2009 Steele (with former business partner Ian Thomson) embarked on an 8000 nautical mile passage to bring Stellar back from the Caribbean to her new home in Nadi waters of Fiji where she is now based and operating surfing and sailing charters since. Stellar provides plenty of room for the guests and the luxury of a fast and comfortable sailing experience.
Onboard the Stellar you acheive a rare Fijian experience without the tourist fingerprint. Find the real magic of Fiji, its people and their culture as Yacht Stellar takes you off the main stay paths. Steele and his team are committed to finding rare and remote surf gems so crowd factor is minimal and your experience becomes truly unique.
Yacht Stellar
Stellar is a 2005 Sun Odyssey 49 Fast Cruiser built by Jeanneau Yachts of France. Designed by Philip Briand well renowned for designing many of the supreme yachts sailing today. She is the perfect complement of performance, safety and comfort for her size. At 49 feet she has 4 separate double cabins all with ensuites for your complete privacy. Uncluttered decks enable you to spend time onboard while cruising or anchored, or sit in the well sized cockpit with full open views. The saloon below provides comfortable seating for 6 around a generous sized central table ideal for dining if you choose not to dine under the stars.
Indulge and Enjoy
Stellar provides every comfort for her guests. You will experience a very personalized surf adventure when onboard. Dine on great variety of dishes whilst relaxing in the warm tropical breeze under the starlight or try a traditional Fijian Lovo and have some Kava with the locals. Fiji Surf charters provide for the fussiest of connoisseurs and will cater to any requirement. You will sleep like a baby in your one of four luxury double cabins with personal ensuite. This is one surf adventure that you will be bound to remember forever.
Stellar can cater for your abilities and demands so just tell us what you're after and they can tailor an itinerary together based on likely conditions. With internet on the boat they have very accurate forecasting for up to a week ahead so can usually predict where to be on the day.
Charters are for a maximum of 4 surfers (5 or 6 passengers OK for couples) so you will not be surfing with a crowd. All charters are exclusive to you and your mates and partners.
Their surf charters include all the other activities, so there is plenty to do if the surf is not doing it.
Food and Beverage
The crew onboard Stellar have always taken pride in guest service and love eating fresh food ourselves so that is the accent of the cuisine on board.
Sumptuous fresh garden salads, freshly caught fish cooked or sushimi, Thai and Italian Dishes, or a delicious barbeque the crew can cater for your individual tastes. There is always plenty to eat of the top quality food. Juices and bottled water are available at all times. Beer, wine and alcoholic beverages are available at ship's prices. 
Why not a traditional Fijian Lovo (local foods cooked in an earth oven). This delicious cuisine is a must. Maybe partake in a little Kava (Yaqona) at the same time and have a small party with the locals.
Safety
Having completed an 8000 nautical mile passage from the Caribbean in 2009, Stellar comes extremely well equipped with up to date recently surveyed navigation and safety equipment. Her inventory of gear well surpasses the requirements of local Fijian survey which is done 6 monthly. All crew on board are trained in all aspects of marine safety.
Safety Equipment includes
SSB AND VHF RADIOS,PLUS HANDHELD VHF
RADAR AND GPS FOR NAVIGATION
OFFSHORE LIFEJACKETS AND HARNESSES
EPIRBS X2
OFFSHORE 10 PERSON LIFERAFT
FLARESSHIPS COMPASS AS WELL AS HANDHELD COMPASSES
FIRE EXTINGUISHERS X 3 PLUS FIRE BLANKETINTERNET ONBOARD
Other Equipment includes
ONBOARD WEATHER FAX
EMAIL VIA S.S.B12 VOLT SYSTEM WITH 240 VOLT INVERTER FOR CHARGING CAMERAS ETC
FANS IN ALL CABINS AND SALOON
COCKPIT AND HEAD SHOWERS
BARBEQUE
SNORKELLING GEARCD SOUND SYSTEM (SALOON AND COCKPIT)
The Surf
Surfing Fiji & The New Surfing Decree
The surfing in Fiji is world class and it's no surprise when you consider that Fiji is a collection of over 300 islands and atolls surrounded by reefs, and is exposed to year round swell from the Southern Ocean. Many of Fiji's famous surf breaks Cloudbreak, Restaurants and Namotu were difficult to gain access to because of former legislation that policed the rights to surf certain breaks. However on July 9th, 2010 The Fijian Government instigated the Fijian Surfing Decree which abolished exclusivity and now Fiji is free to surf any break at any time.
Wavehunters and the Yacht Stellar will put you into any break in Fiji but their extensive knowledge of the region ensures that you are very well placed. Surf remote Fiji and dozens of less documented waves that will reduce crowd factor and will get you surf stoked in remote paradise with just you and your mates. In 10 years of sailing and surfing Fiji, they know the region intimately enough to be able to pick the right spot at the right moment whether you're after perfect barrelling pits or more mellow cruisy long board type waves Fiji surfing has it all. All charters can be tailored to suite your needs and ability and surfboards can be provided upon request.
The Breaks
The Mamanucas: Cloud Break, Restaurants, Namotu, Wilkes, Desperations and other more secret locations.
The Yasawas: Secret spots
The Coral Coast: Hideaway , Sigatoka, Serua, Vunanui, Natadola, Frigates, Kadavu, Nagigia, Vesi, Typhoon Alley and other secret spots
Lau: Being only a day sail to the first islands of the Lau group opens up endless opportunities to see the most untouched of all the Fijian islands for surfing and cruising. The Lau group offer several different surfing locations.

How to Book:
1.  THERE ARE FOUR WAYS TO MAKE A RESERVATION
A. BOOK ONLINE: Click the "BOOK ONLINE" button on the right side or bottom fo your desired destination/option and follow the instructions to make a deposit using our secure online reservation system.
B. SUBMIT A TRIP INQUIRY: Fill out the "Trip Inquiry" form on the right side of the page or under the "Booking Info" section on the top menu. Wavehunters will get back to you as soon as possible, usually within 24 hours.
C. SEND US AN E-MAIL: Send your questions and trip inquiries to wavehunters@wavehunters.com.
D. GIVE US A CALL: We are located in Carlsbad, California, USA. 1-760-413-1513
2. CONFIRM DATES AND MAKE DEPOSIT: Before you book online please double check that the trip you want and the dates you need match up. If you make a reservation online you will pay the deposit by credit card. We can also process credit cards offline, take checks made out to "Wavehunters Surf Travel", and we accept wire transfers, cashier's checks, money orders, or direct deposits. 
3. SEND US YOUR INFORMATION: During the booking process we strive to make everything as simple and easy as possible. When you're ready to make your reservation please have your passport ready as we will need the number, expiration date, and country of issue. We will also need your flight itinerary (if we do not help set it up) as well as a few destination specific questions. If you are travleing with a group please specify the number of people in your group and their names.
4. MAKE FLIGHT RESERVATIONS (AS NEEDED): Wavehunters is a full service travel agency capable of handling all of our guest's flight arrangements. Each destination typically requires a specific flight itinerary that needs to be confirmed by Wavehunters prior to departure. If you don't have the time or inclination to deal with setting up your flight arrangements Wavehunters will be happy to coordinate them for you. 
5. MAKE FINAL PAYMENT: You final payment is due two to four months prior to your trip's departure depending on which trip you are on. Once that's in along with the requested information you're all set to go!
6. SHOW UP: Rule #1 is to remember to not miss your flight and remember to have a passport with at least 6 months left before the expiration date.
7. SURF: Once you're at your destination the only thing you should have to to worry about is what board you should ride and where to surf. Have fun!