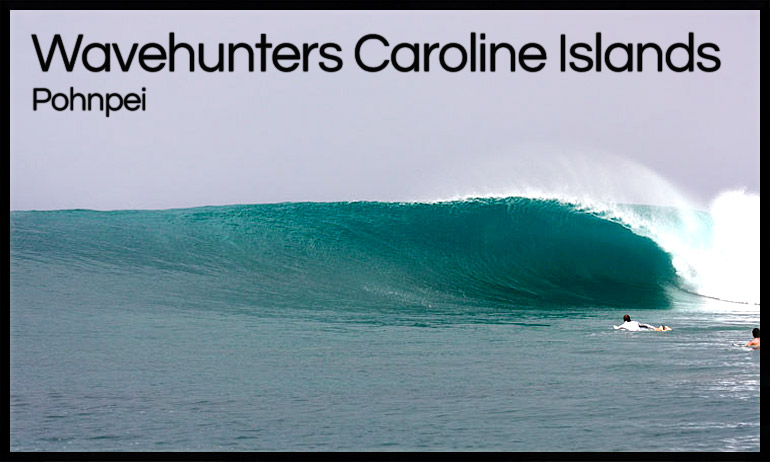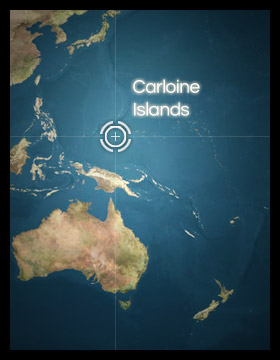 Caroline Islands, 
Pohnpei
Brand New Hotel For This Season!
Pohnpei Surf Club is proud to announce a major upgrade to their previous location. They are now running our operation from the most significant and recent development in Pohnpei. Located just a 10 minute car ride from the airport, Pohnpei Surf Club 3.0 has direct access to the water, a nice dock for their boats, 7 lagoon-front rooms upstairs, office and full-service bar downstairs, and fast internet connection. Centrally located and just a very short walking distance or quick car ride to numerous bars, restaurants, and markets, it's the perfect location!

The Pohnpei Surf Club is business as usual on the water for this winter season with dedicated P.S.C. boats fully equipped for surfing, fishing, and other activities around the lagoon. Their experienced captains and surf guides will put you straight onto the best right hand reef pass in the world, with the famous P-Pass roughly 20 minutes across the lagoon at full throttle. There's numerous other reef passes around the island that may also be working good on various swell directions or opposing winds and are within easy striking distance with their boats.

Pohnpei Surf Club will be hosting guests in the newest rooms on island above the water and with a great views and service. All double rooms, waterfront balcony, TV, Air Conditioner, WIFI, and a beautiful view of the lagoon mountains.
This is the perfect option for surfers looking for comfortable, modern accommodations with full amenities on a world class surfing trip, or for couples seeking a unique, authentic experience in the Pacific Islands instead of another chain resort experience.

Space at the hotel is very limited so advanced bookings will be required to avoid the necessity of overflow accommodations elsewhere on the island.
The Pohnpei Experience
Pohnpei Surf Club wants every guest, surfer or non-surfer, to really enjoy The Pohnpei Experience: to see the most and the best of Pohnpei without hassles. They strive to keep their guests busy with all the island has to offer from the moment they step off the plane.
There is so much to Pohnpei besides surfing that it is hard to find a place to start:
Nan Madol. Ancient, incredible are the mysterious Ruins of Nan Madol. Words or pictures are not enough to explain what you are about to see. You have to be there in person to feel and try to understand the meaning or try to figure out how it was built.
Waterfalls. From a five minute easy hike to an all day six waterfall tour. What would you expect from an island with tall green mountains and lots of rain? There are more waterfalls in Pohnpei than you will ever be able to see on one trip.
Outer Atolls Excursions. Ant and Pakin are located 10 and 30 miles off shore, respectively. Incredible diving, deep sea fishing, beaches, reef passes, snorkeling, and bird watching. All the guests we have taken there said these were the most beautiful beaches and unreal water they have ever been to or seen in their lives. Other places you have visit in order to enjoy the feeling and understand the islands are Nahlap and Black Coral. These two islands are located on the barrier reef on the south west side of the island, tranquil local style resorts with thatch roof bungalows. Black Coral is a Marine Protected area where fish such as grouper spawn during certain times of the year. It's one of the best places in Pohnpei to dive and see the aggregation of these fish by the hundreds. Nahlap on the other hand is one of the best fishing grounds in Pohnpei.
Hiking. Let's not forget all the hikes and lookouts like Sohkes Ridge, the World War II historical sites located in many different locations around the island, and the many good restaurants and bars.
Fishing, Kite Surfing, Wind Surfing, Hiking, Exploring, Diving
A day with no waves in Pohnpei means only you will have a lot to choose from the list above.

Other must-see-and-do things in Pohnpei:
Go to the Rusty Anchor. One of the best bars on the Island and now with an excellent menu and wood oven baked pizzas.
Coco Marina. Bar, restaurant, hang out, good grinds.
PCR All You Can Eat Rotary Sushi. Only $8.00. Eat until you drop! From 11:30 am until 2:00 pm. Also open for dinner with an Ala Carte Menu.
Sunset, happy hour and dinner at the Tattooed Irishman Bar/Restaurant at The Village hotel.
Simon's Market for some fresh (alive) mangrove crabs.
Cliff Rainbow restaurant for the best pizza and fried ice cream in town.
Joy Restaurant for the best Pohnpei Pepper Steak.
Cupids for good food, drinks and the best sunset on island.
Arnolds for a good meal.
Don't forget Ocean View and Club Flamingo just across the street.
Plenty to do seven days (and nights) a week!
The Surf
Micronesia has some of the best waves in the world and Pohnpei has by far the best one in Micronesia. Expect warm, crystal clear water, with perfect powerful waves. In Pohnpei, waves break far from the beach, similar to Tahiti or Fiji, either on the barrier reef or near a reef pass. It is not possible to check the surf from shore, so the only way to get to the waves is by boat. Most of the swells that reach Pohnpei are generated by North Pacific winter storms (does not necessarily have the same swell window as Hawaii) and from typhoons in the Western Pacific. Pohnpei surf season goes from early September thru early May. Up to four feet, the waves on Pohnpei are user-friendly. Once the surf gets bigger, you enter another level of surfing. Late take-off's, fast down-the-line rides, and hollow barrels are what you will find.
The Pohnpei Surf Break Down
No, Pohnpei is not always 8 to 10 ft with top to bottom barrels and pro surfers like you see on surf magazines. Those days do happen 2 to 5 times depending on the year. On most days during our surf season the Pohnpei surf scene is comprised of around 20 laid back surfers on the whole island. During the off season you will be lucky to find someone to surf with at one of the off season spots or on an odd day at P-Pass. Most swells that hit Pohnpei are from the north with size ranging from 2 to 6 feet. At this size P-Pass and most of the other waves in Pohnpei are for the intermediate to advance level. On a 2 to 3 ft day and a high tide P-Pass is a very easy and friendly wave to ride.
Ninety per cent of the waves surfed in Pohnpei are located on reef passes. The other waves are all located on bends on the barrier reef. Because there's no way of checking these waves except by boat, and in most cases by leaving another perfect wave, these reef bends are hardly ever surfed. There are no beach breaks or waves breaking close to the island in Pohnpei. All waves in Pohnpei break on the barrier reef and do require a boat ride.
The weather is always hot. The only time you might feel cold is during a rain squall or when the boat is moving. Bring a rain jacket for these days and lots of sun protection for when it is not raining. The ocean water is always warm, around 80+ degrees. Pohnpei is heaven on earth for surfers and one of the friendliest places to surf in the world. It's a little bit far from it all and expensive to get to, and this is the main reason this beautiful part of the world has been left untouched by tourism and surfers.
North Side
The Surf Season on the north side of Pohnpei is from October through April with occasional swells in September and May. Winds have a tendency to blow very light and variable from August through December. Trade winds will blow from December until around June or July. Trades winds are offshore. During every winter there will be a time when the trades will blow stronger then suddenly dying out into perfect conditions for surfing. For most of the time you would not find a place on earth with such perfect wind conditions. Palikir Pass can handle trade winds unless they start blowing too strong or with a lot of north in it.
P-Pass
It's a perfect right hander. P-Pass is a short for Palikir Pass. Palikir is the name of the area in which this wave is located, a district of Pohnpei. Palikir Pass is by far the number one wave in the region. Not only perfect but also works under most conditions. The predominant trade winds are always off shore or side shore. Any swell from the NW to NE will make it work, with a straight north being the best for Palikir Pass. Too much E on the swell and it starts missing the pass (Palikir Pass faces a perfect NW and the wave still has to wrap around and into the pass). Too much W and the wave start to close out on the inside. Anyways, most swells that hit Pohnpei during our surf season are from the north with small variations from the east and west which is the best direction for Palikir Pass. Most swells that hit Pohnpei in the winter range from 2 to 6 feet with occasional bigger days. On most days Palikir can be surfed at any tide and the reef is a lot more user friendly than Indo, Tahiti or Fiji. There is no reef walking unless you might have to retrieve your lost board on a really low tide day. Swells here have nothing to do with Hawaii or anywhere else in the Pacific. We are located between Honolulu and Manila and a completely different swell window. We do require the same kind of low pressure systems as Hawaii, but from a different location in the Pacific Ocean.
Under small conditions Palikir Pass is a easy wave for a novice surfer. Once it reaches 5 ft and up you enter a different level of surfing. Even at that size it is a easy and perfect wave to ride with a predictable take off and absolutely perfect wall and sections. On up to a 5 ft day you can ride the wave all the way in until it becomes a 2 ft wave, or you can just ride the first two barrel sections and paddle back for more. On most days there is no current at Palikir Pass. On some extreme tide days the current can get strong and move towards the channel. The tide variation on Pohnpei goes from 3ft to almost 6 ft on the most extreme tides of the year. P-Pass holds good all the way to 10 ft (Hawaiian size here!). At this size or bigger, the wave will start doing a double up similar to Shipsterns in Tasmania. Our guest Mark Matthews from Australia called it a tropical Shippies on the biggest day ever surfed. We have seen a few perfect waves on the 12 ft + range rolling through but to get into one of these waves you would have to be towed in. Days over 10 ft happen as often as the Eddie Aikau contest in Hawaii. Once every few years!
Well, if you don't like those giant days with lots of pro surfers and photographers around, you won't see any on most days at P-Pass. As we have mentioned before, on most days you will be living the South Pacific dream setup with a crew of friendly surfers sharing the line up. Because all waves in Pohnpei are perfect, surfers do take turns. If you want to be part of the friendly crew of surfers that share these line ups, DO NOT BACK PADDLE OR PADDLE AROUND, DON'T DROP IN, and DON'T BE SNEAKY. The wave is perfect and everyone out is polite, so wait your turn, enjoy the ride and come back out for another one.
Palikir Pass has been surfed by the best surfers in the world — by all world champions from the last 15 years (every one of them), the best female surfers, free surfers, and hundreds of regular surfers like me and you. At Palikir you can surf at any tide meaning no waiting for the tide or winds to come up. Unless we are on some extreme low tides and powerful swells, we just move a little up the reef. The only time you might walk on the reef is if you lose your board, and most of the time the winds will blow it right to the channel, where the boats can go pick it up.
The main reason why people love and talk about Palikir Pass is because a regular guy can come out here and ride a wave, which at any other break in the world would have dozens, if not hundreds of locals and pros surfers fighting for that same ride. Here you will have a shot at riding a wave you see mostly in a photos or movies, without the hassle you would find at other well known spots around the world. Off course it also always depends on your level of surfing, so stay within it. For sure, the ride of your life! Once the north swells are in and the trades are blowing, no one wants to surf anything but Palikir Pass. But there are options on the right days, or for the right surfers. Other waves on the north side will always be bigger the Palikir and very possibly, shallower. On a high tide the Lighthouse can be a fun wave, and the Main Pass always bigger and challenging. To surf the Main Pass you have to make the wave or you might be in for some serious reef walks.
The East side has really fun and perfect waves from August until mid to late December.
The West side also has some epic spots and on a giant swell there are other options that can go from a fun escape to the most epic ride of your life. No kidding. As for most of the other waves in Pohnpei, we hardly see any surfers around as most don't know about them, or where and when to go. Leave it to us to get you there.
Always make sure to get good travel insurance. 99.9% of our guests have never needed to use it, but for the other 00.1%, it's a way to get home safe and alive. Be safe and smart when you travel. Get travel insurance!
Pohnpei's Other Waves
When the North Swells are on and the trades are blowing, Palikir Pass is the place to be. But if you happen to be in Pohnpei during our off season, early season, or one of those days where the weather and surf do strange things, there are other really perfect waves in Pohnpei, most of them hardly ever surfed (or even seen). We like searching for new gems and we know when to do it. With around 12 reef passes, bends and corners all around the island, there has to be a few other good rides to be found on the right days. None of the pictures on this page are of Palikir Pass. Pictured here are 14 different waves. Like we say, every pass has it's day.
Which is the best month to come?
We will let you look at the pictures and decide. For the last 4 seasons waves have been good and not so good during every month of the season. Every year it is different. During the early season, September, October, November, up to mid-December, they get the cleanest conditions. There were years where September had more good days then peak season. One thing is for sure during early season. We get the least winds and get to surf the East, Northeast, Southeast, Southwest and possibly even the outer atolls. Not only do the conditions get really clean during early season, the winds also shift from trade winds (NE) to Southwest, bringing the east side alive. Early season swells can come from typhoons to the West, from North Pacific lows off Japan or trade winds swells from the East. During the month of December and January the trade winds can come back and sometimes they do come back strong. The trade winds cycle can last all the way to May but not necessarily strong. Light to moderate trade winds are good for P-Pass. During the last two seasons wind conditions were perfect during the month of February, March and April. During the months of December thru April, most swells come from the North and P-Pass is the place to surf. As we said, we have seen perfect waves every month from September thru late April but not necessarily every month of every year. It is different every year. On average 85% of our guests do surf good waves, 60% surf it under epic conditions. So which is the best month to come? We will let you answer this question. Take a look at the pictures and decide.
Surgical Strikes
Wavehunters and The Pohnpei Surf Club have the Surgical Strike trips figured down to the minute. No more waiting for waves. Fly in, surf and fly out. We will drop you in a perfect line up one hour after you get off the airplane. If you have the flexibility to leave in a minutes notice, send us an e-mail and we will put you in our Surgical Strike list. Expect to pay substantially more for last minute airline tickets, but that's the insurance of knowing 100% certain that there will be waves. For the majority of surfers is not necessary or even desirable to come during the biggest swells as P-Pass at 6-10ft (Hawaiian size) is just for experts. 3-4-5ft can be just perfect and plenty hollow and powerful. Direction and period are important here and if you don't know what information to look at you may draw the wrong conclusions so please ask us if you have any questions.
The Boats
This is where Wavehunters' hopes you will spend most of your trip — inside the boats using them to get to the best surf spots, fishing grounds, exploring Pohnpei waters or just cruising around. The main priority with the boats is to get you quickly and safely from point A to B. In ten seasons they never had a boat accident with guests or a boat that had to be towed back to the camp from any unsafe location. Even if they have a motor problem they always have a boat on standby at the camp to come pick you up, or many friends on the island that would be happy to help us. Theboat pilots are born and raised here. No need of GPS for these guys. They know these reefs like the palms of their hands.
All boats are very well maintained and equipped with cell phones, radio, first aid kits, GPS (when needed) coolers for food and drinks, ice, lots of shaded area, seat cushions, fishing and diving equipment (when needed).
For this season they are running 3 boats from 30 to 33 ft all powered by single and twin Honda 150 outboard motors and two jet skis for safety and surf checks when required. Mangrove Bay Hotel also has a great fleet of boats that can be used as back up in case one of the boats break down. 
Boat Rides
They leave it up to the guests to choose when they want to leave based on weather, waves and activities to be done that day. With up to eight guests they use only one boat. When they have more than 8 guests they use a second boat. On most surf days they have a good breakfast and go. For long days out, they always make sure to pre-order take-out food for a second meal later in the day. If they have two boats going, the first one leaves early, with or without breakfast, and the second one leaves around one to two hours later. That helps to break the crowd apart. PSC usually bring some snacks and water on the boat but you are welcome to bring your own food or order some take-out from the restaurant. Ideally, you want to spend the whole day out, especially if the surf is good. When they do have two boats out, a group that wants to return to the hotel can go back on one of the boats, usually leaving the bigger boat out at the line up for a later return to the hotel.
Fishing
Most fishing is done outside the reef: casting, trolling and deep sea fishing. Most fish caught in Pohnpei when deep sea fishing are skip jack (aku), yellow fin tuna (ahi), Wahoo (ono), mahi mahi, sail fish, marlin, dog tooth tuna and rainbow runners. Trolling is done anywhere from the drop offs all the way to Ant and Pakin Atolls, up to 30 miles offshore. For guests who bring their own fishing gear, they recommend light tackle to fish at places where you surf. Small poppers and spoons, jigs or rubbers work good on most reefs. Big lures do not work in these areas. In front of the hotel really small tackle works the best. The smaller the better here, with spoon, small poppers or similar lures for fish like travelly, barracuda and snappers. For a real fishing charter with excellent chances of getting big fish by spin casting or trolling, the Pohnpei Surf Club does half and full day charters to less fished areas, where you will not only get a chance at a big GT or a black Marlin, but also enjoy seeing parts of Pohnpei and surrounding islands which most people don't get to see.
The Pohnpei Surf Club has won local and international fishing tournaments and has hosted fishing magazines and TV shows such as Hawaii Goes Fishing, Hawaii Skin Diver (magazine and TV Show) two years in a row, and many articles in Hawaii Fishing News Magazine. When we asked Ben Wong (co-producer for Hawaii Goes Fishing) about how good his fishing trip to Pohnpei was, or how he would compare Pohnpei to one of the many other good fishing destinations he had been to, he told us his fishing trip to Pohnpei was as good as the best he had ever been too. That's a lot coming from someone who has fished all over the Pacific with the best charters. Spin Casting and Trolling are our specialty. The Pohnpei Surf Club does fishing trips and also works with other local fishermen who can take you out on half or all day fishing charters.
Diving
Yap has the Manta Rays. So does Pohnpei. Palau has the Blue Corner. So does Pohnpei. No wrecks here but lot's of waterfalls and other land attractions, bars, restaurants, a little night life and the best of all, hardly any divers in the water. For most of the dives, your group will be the only one you will see out there, not to mention so many places to dive from a short 10 minute boat drive to outer atolls with top notch world class diving. Pohnpei has nine Marine Protected Areas, an incredibly healthy reef ecosystem, reef passes, walls, manta rays, sharks, schools of travelly and barracudas, and dolphins. Let's not forget the outer atolls of Ant and Pakin. What else can you ask for?
Staff
Beru - Boat driver, surf guide, fisherman, mechanic, scientist, story teller, tour guide, movie star.
Roro - Boat driver, surf guide, fisherman, tour guide, singer.
Jerry - Boat driver, surf guide, fisherman, spear fisherman, master of the oceans and jungles.
Justin - Dive master, surf guide, tour guide, boat driver, fisherman, spear fisherman.
Anson - Boat driver, surf guide, tour guide, fisherman, spear fisherman, diver.
Walik - Tour guide, security, master boat repair man.
Atele - General Manager, Ukulele player/singer.
Veronica - House keeping.
Janet - House keeping.
Polly - House keeping.
Eddie - Fisherman, mechanic, electronic engineer.

How to Book:
1.  THERE ARE FOUR WAYS TO MAKE A RESERVATION
A. BOOK ONLINE: Click the "BOOK ONLINE" button on the right side or bottom fo your desired destination/option and follow the instructions to make a deposit using our secure online reservation system.
B. SUBMIT A TRIP INQUIRY: Fill out the "Trip Inquiry" form on the right side of the page or under the "Booking Info" section on the top menu. Wavehunters will get back to you as soon as possible, usually within 24 hours.
C. SEND US AN E-MAIL: Send your questions and trip inquiries to wavehunters@wavehunters.com.
D. GIVE US A CALL: We are located in Carlsbad, California, USA. 760-494-7391
2. CONFIRM DATES AND MAKE DEPOSIT: Before you book online please double check that the trip you want and the dates you need match up. If you make a reservation online you will pay the deposit by credit card. We can also process credit cards offline, take checks made out to "Wavehunters Surf Travel", and we accept wire transfers, cashier's checks, money orders, or direct deposits. 
3. SEND US YOUR INFORMATION: During the booking process we strive to make everything as simple and easy as possible. When you're ready to make your reservation please have your passport ready as we will need the number, expiration date, and country of issue. We will also need your flight itinerary (if we do not help set it up) as well as a few destination specific questions. If you are travleing with a group please specify the number of people in your group and their names.
4. MAKE FLIGHT RESERVATIONS (AS NEEDED): Wavehunters is a full service travel agency capable of handling all of our guest's flight arrangements. Each destination typically requires a specific flight itinerary that needs to be confirmed by Wavehunters prior to departure. If you don't have the time or inclination to deal with setting up your flight arrangements Wavehunters will be happy to coordinate them for you. 
5. MAKE FINAL PAYMENT: You final payment is due two to four months prior to your trip's departure depending on which trip you are on. Once that's in along with the requested information you're all set to go!
6. SHOW UP: Rule #1 is to remember to not miss your flight and remember to have a passport with at least 6 months left before the expiration date.
7. SURF: Once you're at your destination the only thing you should have to to worry about is what board you should ride and where to surf. Have fun!