Fiji Boat Charter Specials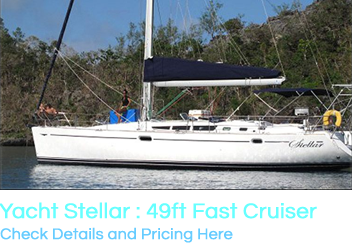 Yacht Stellar, Fiji (Cloudbreak/Mamanucas, Frigates, Kadavu, Lau, Great Sea Reef)
Current Availability:
June 20-30: Available upon request
July 1-10: BOOKED
July 11-15: Available upon request
July 16-25: BOOKED
July 26-31: Available upon request
July 31-August 17: BOOKED
August 18-31: Available upon request
September 1-22: Available upon request
September 23-30: BOOKED
October 1-22: BOOKED
October 23-29: Available upon request
October 30-November 8: BOOKED
November 9- : Aviailable
2015 Prices Reduced. Save Heaps with US Dollar trading near all time highs!
4 nights:
2pax: $2,300 per person; 3pax: $1,700pp; 4pax: $1,400pp; 5pax: $1,220pp; 6pax: $1,110pp

5 nights:
2pax: $2,875 per person; 3pax: $2,125pp; 4pax: $1,750pp; 5pax: $1,525pp; 6pax: $1,375pp
6 nights (7th night free)!- Best Value
2pax: $3,450 per person; 3pax: $2,550pp; 4pax: $2,100pp; 5pax: $1,830pp; 6pax: $1,650pp
Yacht Stellar Package inclusions:
Accommodation onboard yacht Stellar - 2 double cabins + 2 single cabins or 3 doubles w/Ensuite bathrooms ( walls can be removed)
All Meals and snacks plus non-alcoholic beverages ( including bottled water)
Alcohol can be purchased on behalf of guests as an addition expense.
Use of all onboard equipment including fishing and snorkeling gear also paddle board.
Skipper, deck hand and cook/hostess. 
Waterman and Surf Guide Steele Jones (New Zealand)

Access to Fiji's best surf:

The Mamanucas: Cloudbreak, Restaurants, Namotu, Wilkes, Desperations, and other more secret locations
The Coral Coast: Frigates Passage, Hideaway, Sigatoka, Serua, Vunanui, Natadola
The Yasawas:  Secret spots
Kadavu: Nagigia, Vesi, Typhoon Alley, and other secret spots
Lau Group*:  The Lau group opens up endless opportunities to see the most untouched of all the Fijian islands for surfing and cruising.
North Vanua Levu/Great Sea Reef*: Receives North swells in Opposite season best December to February
* These locations are 1-2 days sail from Nadi and will require a minimum 10 night charter.
Steele Jones, your skipper and Fiji surfing guide, has been surfing Fiji for over 20 years. The more time spent here the more locations he found. From perfect barrelling pits to more mellow  longboard type waves. Fiji surfing has it all, and we know where these waves are. Our Fiji surfing charters can be tailored to suit your needs and ability. Surfboards can be provided upon request.
Transfers can be arranged prior to charter at an additional cost.
© 2015 Wavehunters Surf Travel, Inc. is a registered California Seller of Travel, C.S.T. Registration # 2060272-40. WAVEHUNTERS SURF TRAVEL . all rights reserved | Privacy Policy