Las Flores Surf Club, El Salvador
Special: 7 night Shared Rate for individuals:
Cost: $1,795.00 per person
Availability: Upon request basis subject to availability. Sat-Sat schedule.
Includes: 7 night Las Flores Surf Club Surfer package based on run of house accommodation on shared basis*. Includes roundtrip airport transfers, breakfast, lunch, dinner, water, 3 sodas or national beers per day, taxes and service, and up to 2 boat trips per day.
*Surfer accepts bed in any available suite on shared basis and may need to change rooms. Subject to availability.
2015 Dates Now Available Upon Request
Las Flores Surf Club – 6 night Package Pricing and Inclusions
Las Flores Surf Club- 7 night Package Pricing and Inclusions
Tavarua Island, Fiji
Book now to Secure your Space on the island!
Current openings- Subject to Change at any time
2015 Peak Season:
May-July: Sold Out
August 22-August 29: Availability upon request
August 29-September 5: Availability upon request
September 5-September 19: Availability Upon request
September 26-Oct.3: Availability Upon Request
October 3-24th:  Availability Upon request
*All other 2015 Peak Season Dates are Fully Booked at this time.
2015-2016 OffPeak Season:
November 7-November 21: Bures Available Upon Request
November 28-December 05: Bures Available Upon Request
December 5-12: Bures Available Upon Request
December 12-19: Bures Available Upon Request
January 23-30: Bures Available Upon Request
Tavarua Island Inclusions and Pricing  
Sa'Moana Resort, Samoa
Surf X Sa'Moana All Inclusive Package (Based on "Surf House" Dormitory Accommodation)
RATE (SURFER):
USD: $870.00 for 6 nights-6 days 
USD: $145.00 per additional night

Inclusions:
Accommodation in the Surf House (1 bedroom downstairs, 2 bedrooms upstairs)
Airport/ferry transfers (arrival & departure – 24 hour service)
Tropical Breakfast daily
Lunch & Dinner from the Sa'Moana a la carte menu (1 main per meal)
½ Day Surf Tour
1 complimentary bottle of water per person in room daily
Uncrowded waves
Free use of snorkel gear and kayaks
Full use of Sa'Moana Resort's fully licensed Bar & Restaurant
Full use of pub size Pool Table, Infinity Pool and Volley Ball gear
We have two boats – a 24 foot fibreglass boat and a 28 foot fibreglass boat.  One will be dedicated to the Surf X guests.
Kandui Resort, Mentawai Islands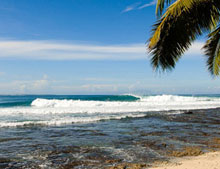 Now accepting bookings for 2015 Season.
Please see our Package inclusions and Pricing page for Discounts and Package Details.
Hudhuranfushi Resort, Maldives
Get-in Early Sale now in Progress. Rates will go up approx. 10% as of May 15, 2015.
2015 Season Runs March 1-October 31, 2015.

Please visit our Maldives Resort home page for details.
© 2015 Wavehunters Surf Travel, Inc. is a registered California Seller of Travel, C.S.T. Registration # 2060272-40. WAVEHUNTERS SURF TRAVEL . all rights reserved | Privacy Policy