Las Flores Surf Club, El Salvador
Special: Early booking sale now through January 31, 2015
5% off any booking of 6 nights or longer
10% off for return guests (on Surfer package only)
Terms:
-Blackout dates: March 28-April 5; December 26-January 2, 2016
-Prepayment in full due at time of booking or by January 31, 2015
-Valid new bookings only
-Sun-Sat for 6 night bookings or Sat-Sat for 7 night bookings required
Special: 7 night Shared Rate for individuals:
Cost: $1,795.00 per person
Availability: Upon request basis subject to availability. Sat-Sat schedule.
Includes: 7 night Las Flores Surf Club Surfer package based on run of house accommodation on shared basis*. Includes roundtrip airport transfers, breakfast, lunch, dinner, water, 3 sodas or national beers per day, taxes and service, and up to 2 boat trips per day.
*Surfer accepts bed in any available suite on shared basis and may need to change rooms. Subject to availability.
2015 Dates Now Available from February 7, 2015- November 30, 2015. Please Request
Las Flores Surf Club – 6 night Package Pricing and Inclusions
Las Flores Surf Club- 7 night Package Pricing and Inclusions
Tavarua Island, Fiji
Book now to Secure your Space on the island!
Current openings- Subject to Change at any time
2015 OffPeak Season- Reduced Pricing!
Adult- USD$2,310.00 (15years and over)
Couple (1 surfer/1 non-surfer)- USD$3,878.00
2015 OffPeak Season:

January 17-31: Bures Available
February 7-14: Bures Available
February 14-21:  1 Sunrise / 1 Regular Bures Available
February 21-28: 1 Sunrise / 1 Regular Bures Available

2015 Peak Season:

March 7-14: 1 Sunrise / 4 Regular Bures Available
March 21-28: 1 Sunrise / 5 Regular Bures Available
April-August: SOLD OUT, except Apr 18-25 Waitlist upon request
September, October, November: Availability Upon request

*All other 2015 Peak Season Dates are Fully Booked at this time.
Tavarua Island Inclusions and Pricing  
Sa'Moana Resort, Samoa
Awesome Value on this Australian managed resort. USD trading near 10 year highs vs. Australian dollar!
Surf X Sa'Moana All Inclusive Package (Based on "Surf House" Dormitory Accommodation)
RATE (SURFER):
AUD $1,080.00 for 6 nights-6 days  (USD$900.00 at current exch rates as of 12/30/14)
AUD $180.00 per additional night (USD$150.00 at current exch rates as of 12/30/14)

Inclusions:
Accommodation in the Surf House (1 bedroom downstairs, 2 bedrooms upstairs)
Airport/ferry transfers (arrival & departure – 24 hour service)
Tropical Breakfast daily
Lunch & Dinner from the Sa'Moana a la carte menu (1 main per meal)
½ Day Surf Tour
1 complimentary bottle of water per person in room daily
Uncrowded waves
Free use of snorkel gear and kayaks
Full use of Sa'Moana Resort's fully licensed Bar & Restaurant
Full use of pub size Pool Table, Infinity Pool and Volley Ball gear
We have two boats – a 24 foot fibreglass boat and a 28 foot fibreglass boat.  One will be dedicated to the Surf X guests.
Sa'Moana New "All-Inclusive" Surfer Package  (Based on Beachfront Bungalow Accommodation)
Minimum 2 surfers required.
RATE: AUD $1,680.00 for 6 nights (USD$1,400.00 at current exch rates as of 12/30/14)
AUD $280.00 per additional night (USD$233.00 at current exch rates as of 12/30/14)

Package Inclusions:
Airport and Ferry transfers
Accommodation in one of our absolute beach front bungalows
Complimentary Mini Bar on Arrival
Tropical Breakfast Buffet and Hot Breakfast Daily
Lunch and Dinner from our premium Ala'Carte menu. Lunch includes 1 main and a side or desert, dinner is a 3 course meal (entrée, main and desert).
1 surf tour, land tour or watersports tour per day as per our standard tour inclusions
1 Bottle of water per guest in Mini Bar per day
1 Vailima beer tower per group booking
Complimentary Sa'Moana T-Shirt
Sa'Moana Resort Pricing & Package Inclusions
Kandui Resort, Mentawai Islands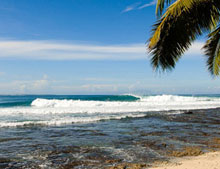 Now accepting bookings for 2015 Season.
Please see our Package inclusions and Pricing page for Discounts and Package Details.
Hudhuranfushi Resort, Maldives
Get-in Early Sale now in Progress. Rates will go up approx. 10% as of February 1, 2015.
2015 Season Runs March 1-October 31, 2015.

Please visit our Maldives Resort home page for details.
© 2015 Wavehunters Surf Travel, Inc. is a registered California Seller of Travel, C.S.T. Registration # 2060272-40. WAVEHUNTERS SURF TRAVEL . all rights reserved | Privacy Policy