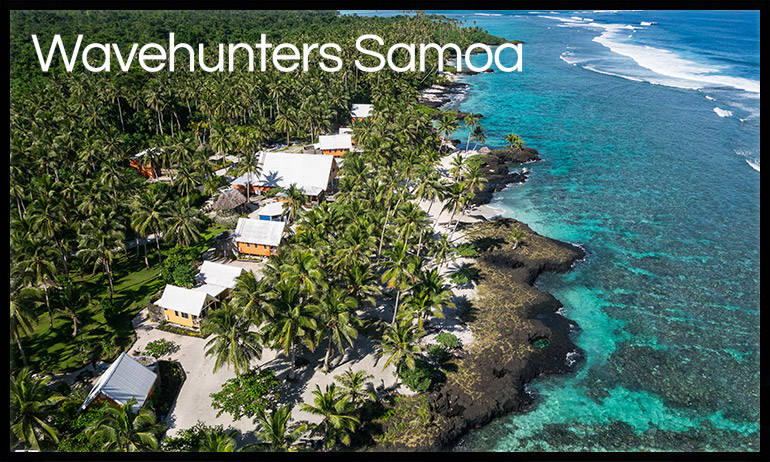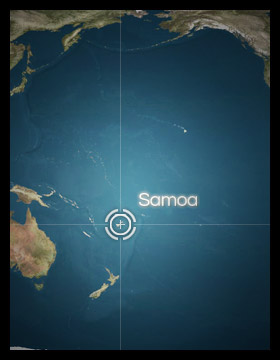 Wavehunters Samoa Resort
Trip Highlights
Polynesian paradise!!!
Set on the South Coast of Upolu Island, Sa'Moana Resort is ideally suited to couples and families or mature age surfers who are looking for a relaxed holiday in paradise with a daily surf trip. Sa'Moana offers a very personalized holiday experience, unlike most large resorts. All staff (other than management) are from the local Salamumu village and this ensures you experience traditional Samoan hospitality during your stay.
Uncrowded reef breaks
Upolu Island on Samoa has the potential to offer surf all year round, subject to swell and wind conditions. There is a vast variety of surf within proximity of Sa'Moana Resort. Surfers must be of intermediate level or higher to safely enjoy the array of reef breaks
Family friendly
Families love the relaxed atmosphere and personalised service of this small resort. Dad can take a morning surf and then return to sea kayak and snorkel with the kids whilst Mum relaxes with a good book in a hammock. Kids love the natural swimming pool. The menu is extensive with a great variety for children. Samoa offers a rich cultural experience that your kids will remember forever.
Sa'Moana Resort
Ppened on the 13th of March, 1999. It is unique in its privacy, peacefulness and beautiful setting - in a coconut grove at Salamumu Beach, on the south coast of the island of Upolu in Samoa, formerly known as Western Samoa. The 3.5 star resort provides absolute beach front accommodation and caters for up to 32 guests in beautiful beach bungalows with private facilities and a decor in vibrant Polynesian tones to complement the bungalow's timber features. Singles, couples, groups and families are all catered for with accommodation in 2, 3, 4 and 6 bed configurations.
Samoa offers a rich Polynesian culture which is passionately kept alive and evident at every turn. It is perfect for relaxing tropical holidays and romantic honeymoons, catching that big tuna or sailfish, for the golf fanatics or that perfect wave! Our natural saltwater swimming pool abutting the ocean was constructed in a depression in the lava rock formation at the eastern side of the resort and is truly incredibly beautiful, in an amazing setting.
Centrally located with incredible panoramic views over the south shore's spectacular coastline Aiga, with cocktail bar & restaurant, features a large undercover front deck for dining and relaxing. This is the ultimate location at Sa'Moana after a rewarding surf, tour or relaxing day to kick back and enjoy your favourite cocktail and a sensational meal!
Equipment for activities such as snorkelling, canoeing, sea kayaking, football, volleyball, golf practice nets, and our pool table are provided free of charge to in-house guests. We are approximately 45 minutes from the airport and from the capital, Apia. Amenities such as coffee shops, or shops in general, are mostly in Apia. Samoa is not a shopping mecca like Bali or Thailand, it is a completely different cultural and relaxing experience.
Great holidays don't happen without great food. Our chefs provide some of the best food on the island. Our cuisine is restaurant quality with the finest fresh produce prepared with innovative style. We have something to offer everyone, from historical tours to hand-feeding turtles to surfing, deep sea fishing, swimming, diving and kayaking. Alternatively you can simply relax with a book in a hammock or catch up on that well deserved sleep! Whatever you decide we will do our utmost to make your stay with us a fantastic and memorable one.
Accommodations
All beach bungalows are absolute beach front with breathtaking views of the beach, reef and Pacific Ocean.
There is a complimentary mini bar upon arrival, tea/coffee making facilities, fridge, overhead fan(s) and hairdryers on request.  All bungalows have incredible outdoor lava rock bathrooms where you can shower under the stars.  They also have Internet throughout the resort.  And did we mention they ALL have sensational views?!
Feel the ocean breeze while the sound of the ocean lulls you to sleep at night and by day you will want to swim, surf, experience and explore the incredible reef, beaches and jungle that surrounds our little piece of paradise.  
Included in the accommodation is - 
Airport/ferry transfers (for stays of 3 nights or more)
Tropical breakfast daily
Complimentary mini bar upon arrival
Complimentary seasonal fruit basket upon arrival
Bottled water daily per person in room
FREE use of our kayaks and snorkel gear
Check in/out times
Check in: 2:00pm
Check out: 11:00am
Pool View Beach Bungalow
BEACH/OCEAN VIEWS 
Queen bed.  Plus stunning private outdoor lava rock bathroom.
Family 1 Beach Bungalow
BEACH/OCEAN VIEWS
This bungalow has a queen bed upstairs in the loft area and 1 bedroom downstairs with 2 bunk beds and lounge area.  Plus a stunning private outdoor lava rock bathroom.
Family 2 Beach Bungalow
BEACH/OCEAN VIEWS
This bungalow has a queen bed upstairs in the loft area and 1 bedroom downstairs with 2 bunk beds and lounge area.  Plus a stunning private outdoor lava rock bathroom.
Frangipani 1 & 2 Beach Bungalows
BEACH/OCEAN VIEWS
Each beach bungalow has a queen bed and 1 single bed.  These 2 bungalows share a large covered deck area with gorgeous bamboo lounge and are popular for friends, couples or families travelling together. Both have their own stunning private outdoor lava rock bathrooms.
Alofa Beach Bungalow
BEACH/OCEAN VIEWS  *Deluxe bungalow*
Queen bed. Lounge area. Plus a stunning outdoor lava rock bathroom. Perfect for couples and honeymooners! With plenty of space for a rollaway bed or cot. 
Beach House (3-bedrooms)
3 bedroom house - 1 x Queen bed upstairs with ensuite / 2 bedrooms downstairs, 1 queen bed room, and 2 x bunk beds room / lounge area / private outdoor lava rock bathroom, private beach access. Additional bedding for a 7th or 8th separate bedding is on the single day lounges in the lounge room.
SurfX House
Surf House / SurfX Sa'Moana
Dorm Style accommodation max. 8pp
Single Beds
3 x bedrooms (2 x 2 singles, 1 x 4 singles)
Board racks
1 minute walk to the bar!
Max 8 guests
Min 2 guests for bookings
Minimum stay 5 nights
Surfing or Non surfing guest (partner or friend of surfing guest)
Non surfing guest can choose 'Surf' package and go on a ½ day tour daily… 
except Thursdays when there are no Land tours
The Surf
Samoa has waves all year round. Wavehunters is thrilled to announce the discovery of several hot new breaks that are 'all tides & all winds friendly'.
When you go surfing in Samoa you'll discover that the majority of locations are coral reef or rock bottom. There is a great diversity of wave types ranging from medium to long point breaks like Village Lefts or Missions to the bowling barrels of Cocos and a great imitation of Hawaii's Sunset at Tiavea.
The waves are generated from far away with swells coming from deep in the southern ocean before hitting the south coast shore of Upolu Island and with north swells originating in the Alaskan territory coming via Hawaii to Samoa's north shore.
The "wet season" (April to November) normally sees the south shore getting the majority of swell while the "dry season" (December to March) is when we expect the north swells.
However swell and waves can be found on both sides of the island at the same time and all depends upon the swell size and direction. Rarely is there a flat day.
Sa'Moana Resort is equipped to get you to the best possible surf with a 34 ft aluminium twin hull and 14ft zodiac/inflatable on a trailer.
The twin hull is well organised with canopy, ladders, storage areas and is also set up for some semi-serious fishing, not to mention that we have all the correct safety and emergency equipment.
To access the breaks best travelled by road they have 3 vehicles. All are air conditioned and have mobile phones and first aid kits on board.
There is also a good chance that you'll score some fun or challenging waves right out in front of the resort, with a variety of depressions in the reef creating several waves depending again upon size and direction. You can also be lucky and get Village Lefts working, for which you'll only need to make a casual 10 minute walk to find uncrowded waves all to yourself.
There are many good reasons for staying at Sa'Moana Resort and surfing with us is only one of them. They  take pride in their expertise and safety preparedness. They maintain several permanent moorings at various breaks, protecting the fragile reef and marine life systems. They attempt to maximize surfer guest experience by keeping surfer numbers to no more than 15 at any one time and by leaving locations cleaner than they found them! The financial contributions we make will directly benefit and support their communities.
Surf Breaks
Some of the best surf breaks in Samoa are available to Wavehunters' guests. Sa'Moana Resort is well known for surfing trips and great surf. Check out the breaks below for some of the best surfing in Samoa.
South Shore
Resorts - Out the front there are  lefts & rights. Depending upon swell direction and size it can go from fast lefts to playful rights.
Village Lefts - a 5-8 minute walk, down the line left that has it all when it's on.
Special K - a 10 minute boat ride, fun right-hander.
Pebbles - a15 minute boat ride, short, punchy super hollow left.
Barras - a 25 minute boat ride, amazing, hollow bowling right.
Wackas - a 28 minute boat ride, wackable fun left.
Coco's - a 35 minute boat ride, from fun to..... you name it, an HT-type right.
Inside Siumu - an 8 minute boat ride, peaky short fun left.
Outside Siumu - a 40 minute boat ride, longer than it's little bro and also a left.
Boulders - a 45 minute boat ride, "The Left". This is a classic big wave again, has it all - power, speed, a big wall and an even bigger barrel and holds up to 3-4 times overhead faces.
Nuusafe'e Island - a 55 minute boat ride, this is also a classic big wave with power, speed a bit wall and barrel.
Spot X - a 45 minute boat ride, short, powerful hollow right.
Y Tops -a 50 minute boat ride, yet another left that has it all.
North Shore
Tiavea - a 1 hour 45 minute drive, has 4 x waves.
Left Point - challenging barrel.
The River Mouth - fun left & right.
Main Peak - this one does Sunset Hawaii impersonations really well.
Missions - it's a long paddle across but the fun rights are worth it.
Pudding Rock - a 1 hour 20 minute drive, short playful right.
Dragon's Breath – a 1hour 10 minute drive.  If you can surf big Back Door Pipe, Hawaii, you'll love this wave - serious chargers only.
* Several other north shore waves exist and all can produce on their day
These are only a few of the places Sa'Moana has access to, and as mentioned previously there are more unnamed and unchartered breaks available to guests of the resort.
Activities
CULTURE - FIAFIA NIGHT
Every week we have an AMAZING cultural night beginning with the string band then a traditional Samoan ava ceremony followed by a sumptuous buffet made up of western and Samoan food, and of course don't forget the entertainment! In preparation for this evening of cultural experiences you can see how the food is traditionally prepared in our NEW Umu Fale.You will be highly entertained with Samoan traditional dancing and singing and the AMAZING fire dancers. Come see the world champion perform, the advanced and intermediate fire dancers and of course the gorgeous young children from the local village who are learning this amazing art. Great food, drinks and entertainment! GREAT NIGHT! This is a truly fantastic and exciting experience, one you will never forget! Cameras are most welcome.
KAYAK & CANOES
Kayaks and canoes are available to use free of charge. They are an excellent way to see parts of the island right at our doorstep, venturing either east or west over shallow, crystal clear water inside the reef. Heading east, explore the lagoon and around the resort area, stopping at low tide beaches or the edge of the jungle. Heading west, see the everyday village life from the water. We can pack you a picnic lunch or light refreshments and for those unsure of their abilities or safety, we can send you off with a guide.
SNORKELING
Snorkeling gear is available to use free of charge. Right out the front of the resort is excellent for shallow water snorkeling with a diverse display of marine life, fish, reef and white coral sands. Nemo & friends are regularly seen! You can snorkel either east or west in the lagoon for hours of underwater exploring. The snorkeling here is one of the best spots on the island!
GENERAL ACTIVITIES
A slate pool table is available for guest use. Also we have magazines, books and a variety of board games. We have a volleyball court, which is big enough for many sports including football & frisbee. Challenge other guests to a game! There is also a golf net and golf clubs available to practice your swing.
WALKS
Take a walk through our village of Salamumu, experiencing the lifestyle first hand. It is a 15 minute walk west to the start of the village, or head east via the rainforest trail down to the lagoon, 20 minutes each way. There is no limit to where or how far you can walk, all villages are friendly so long as you remember to show Samoans the respect they deserve. Be polite and dress appropriately, ie. no revealing clothing. Samoans are very welcoming people.
CULTURAL DAY
Each Thursday we have a free Cultural Day. You can see baskets, hats and mats being weaved... maybe even try weaving your own. Watch coconuts being cut from the trees and get your very own fresh coconut to drink! You will also then get to see how they make coconut cream and listen to stories about the village history.
Sunday Church Service 8:30am - 10:30am
Salamumu Methodist Village
TOURS:
The Capital-Apia-Local Markets or Robert Louis Stevenson Museum Tour and Sliding Rocks (5 hr tour) Scenic Drive Tour
Lefaga Bay Scenic Jungle Drive, West Coastal Road and Hand-Feeding Turtles (5hr tour) Scenic Drive Tour
Natural Wonder Sea Cave Swim Thrus & 60m Waterfall (5hr tour) Eco-Adventure
Apia Capital Shopping Tour - Visit Flea/Craft Markets and a variety of stores

How to Book:
1.  THERE ARE FOUR WAYS TO MAKE A RESERVATION
A. BOOK ONLINE: Click the "BOOK ONLINE" button on the right side or bottom fo your desired destination/option and follow the instructions to make a deposit using our secure online reservation system.
B. SUBMIT A TRIP INQUIRY: Fill out the "Trip Inquiry" form on the right side of the page or under the "Booking Info" section on the top menu. Wavehunters will get back to you as soon as possible, usually within 24 hours.
C. SEND US AN E-MAIL: Send your questions and trip inquiries to wavehunters@wavehunters.com.
D. GIVE US A CALL: We are located in Carlsbad, California, USA.1-760-413-1513
2. CONFIRM DATES AND MAKE DEPOSIT: Before you book online please double check that the trip you want and the dates you need match up. If you make a reservation online you will pay the deposit by credit card. We can also process credit cards offline, take checks made out to "Wavehunters Surf Travel", and we accept wire transfers, cashier's checks, money orders, or direct deposits. 
3. SEND US YOUR INFORMATION: During the booking process we strive to make everything as simple and easy as possible. When you're ready to make your reservation please have your passport ready as we will need the number, expiration date, and country of issue. We will also need your flight itinerary (if we do not help set it up) as well as a few destination specific questions. If you are travleing with a group please specify the number of people in your group and their names.
4. MAKE FLIGHT RESERVATIONS (AS NEEDED): Wavehunters is a full service travel agency capable of handling all of our guest's flight arrangements. Each destination typically requires a specific flight itinerary that needs to be confirmed by Wavehunters prior to departure. If you don't have the time or inclination to deal with setting up your flight arrangements Wavehunters will be happy to coordinate them for you. 
5. MAKE FINAL PAYMENT: You final payment is due two to four months prior to your trip's departure depending on which trip you are on. Once that's in along with the requested information you're all set to go!
6. SHOW UP: Rule #1 is to remember to not miss your flight and remember to have a passport with at least 6 months left before the expiration date.
7. SURF: Once you're at your destination the only thing you should have to to worry about is what board you should ride and where to surf. Have fun!

© 2017 Wavehunters Surf Travel, Inc. is a registered California Seller of Travel, C.S.T. Registration # 2060272-40. WAVEHUNTERS SURF TRAVEL . all rights reserved | Privacy Policy