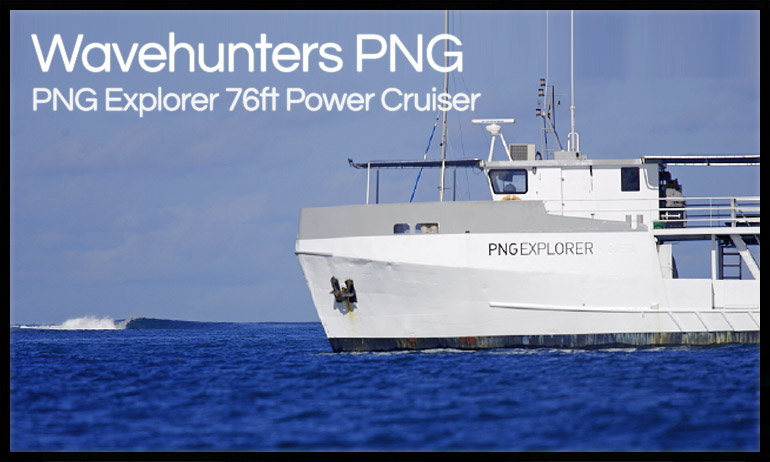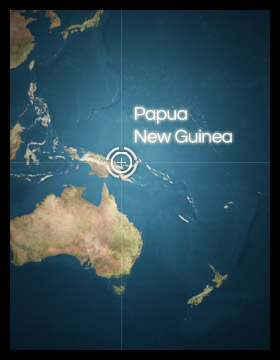 PNG Frontier Surfaris : Pricing & Inclusions
Charter Rates and Schedule
We operate a secure online reservation system for trip deposits. Trip deposits can be made via wire transfer, check, direct deposit, credit card online via our website, or credit card offline. 
By default, 10 spaces are bookable on the PNG Explorer. You will receive confirmation between 1 - 48 hours after making your online reservation. 
--------------------------------------------------------------------------------------------------------------------------------
PNG Explorer 2017/2018 Sailings:
 
Season: November to April  
PNG Explorer Frontier Surfaris Inclusions:

• 10 night/9 days New Ireland & New Hanover charter onboard PNG EXPLORER
• Airport transfers
• All meals, snacks and bottled water
• 2 beers a day
• PNG Frontier Surfaris tee
• Use of all recreational gear (snorkelling, fishing, kayaks and SUP) except Dive related
• On island cultural activities and tours
• Minimum of 8 passengers required to guarantee a departure. Until a trip is a guaranteed departure Group booking requests will have priority. Please do NOT pay for airline tickets until a departure is guaranteed
• MAXIMUM 10 SURFING GUESTS & 2 NON SURFERS PER CHARTER
• THE PER PERSON PRICE WILL CHANGE IF 8 SURFERS ARE NOT BOOKED
What is not included (All at local prices):
Airfare: Flights are via Brisbane, Australia to Kavieng, PNG (via Port Moresby): 

Add USD$989.00 per person.

Photo package of images - yourself and highlights of your charter experience.  These packages will be from $50pp - to be paid at the end of the trip
Diving - $60 per dive - YOU MUST ADVISE YOUR CONSULTANT THAT YOU WISH TO DIVE SO THE BOAT CAN ORGANISE HIRE GEAR ETC. Dive gear hire – cost to be confirmed once booked
Sat phone – charged per minute - Price start from $3.50 (1 min increments)    
A VISA IS REQUIRED FOR PNG.  PLEASE CONTACT YOUR NEAREST PNG CONSULATE FOR INFORMATION ON HOW TO OBTAIN YOUR ENTRY PERMIT.
DEPOSIT AND PAYMENT TERMS:
1. $500.00 USD per person is required to reserve the charter.
2. A 2nd Deposit of $500.00 USD per person is due 7 days after the initial deposit to guarantee the booking.
3. Final Balance is due 90 days before sailing.
4. No refunds of deposits or payments unless boat does not sail.
5. Medi-Vac insurance is required.
6. A current passport with 6 months validity from date of entry to the Maldives is required.
RELEVANT LINKS:
Wavehunters Online Booking Center (This links to all the destinations)
Wavehunters Contact Information
BOOKING AND TRAVEL INFORMATION
We operate a secure online reservation system for trip deposits. Trip deposits can be made via wire transfer, check, credit card online via our website, or credit card offline.
•  All online credit card deposits are subject to a one time $30 USD processing charge per person.
•  All offline credit card deposits are subject to a 1.9% processing charge per person.
•  All credit card final payments are subject to a 1.9% processing charge per person.
•  All wire transfers for deposits or final balances are subject to a $10 bank handling charge per transaction. This charge will be waived for group bookings if you send one wire transfers for the entire group.
•  Deposits or Final Payments made by check require no extra fee. All checks can be made out to Wavehunters Surf Travel
 No personal checks can be accepted for tours departing within 30 days. For all tours departing within 30 days, we require credit cards, cashier's check, money order, direct deposit, or wire transfer.
CHECKS
Please include your booking # on the check and mail to:
Wavehunters Surf Travel.
701 Palomar Airport Road Suite 300
Carlsbad, CA 92011 
WIRE TRANSFER OR DIRECT DEPOSIT
Please request details.
PLEASE NOTE
In some instances during the online booking process a specific trip's availability will have changed before a live update is possible. If the dates or trip you've chosen are no longer available we will do our best to find a suitable replacement date or send you a refund within a 48 hour period.
In other instances during the online booking process a specific trip may require a "minimum" number of participants to activate that specific trip package. In this case we will contact you with the details and information about the current status of that trip and do our best to consolidate other individuals and groups to ensure your desired trip proceeds as planned. This is most common in "surf charter" trips which require a certain number of people on the boat before sailing.
FLIGHT INFORMATION
Wavehunters is a full service travel agency capable of handling all of our guest's flight arrangements. Each destination typically requires a specific flight itinerary that needs to be confirmed by Wavehunters prior to departure. If you don't have the time or inclination to deal with setting up your flight arrangements Wavehunters will be happy to coordinate them for you. Simply fill out the flight information section during the online booking process or send us an e-mail with your flight request. [wavehunters@wavehunters.com](wavehunters@wavehunters.com)
TRAVEL INSURANCE
Travel Insurance is required on most Wavehunters trips. We have partnered with Allianz Global Assistance Click on the link to sign up online. For any island destinations or remote areas we recommend you have at least the Virtuoso Classic policy level provide adequate medical-evacuation coverage levels.
WAVEHUNTERS SURF TRAVEL
Want to speak to surfers and agents who have actually been there?
Wavehunters management has collectively visited virtually all of our international destinations and offers unprecedented firsthand knowledge of its trips, or email us individually for expert travel advice. Assistance also available in Spanish or Portuguese. 
Wavehunters are experienced surf travel agents on call 7 days a week, coordinating travel logistics, flights, and other details to ensure our clients have the smoothest experience with nothing left to chance. This is an around-the-clock job for us and we remain on call dedicated to meet our clients' needs all over the world at any given time, from the most routine to the most urgent. Wavehunters' operators are the most experienced and professional in the industry, and they are super keen and ready at each location to get you into some perfect waves, with your safety and comfort our highest priority.
CONTACT DETAILS
Wavehunters Surf Travel. Inc
701 Palomar Airport Road, Suite 300
Carlsbad, Ca 92011
E-mail: wavehunters@wavehunters.com
Phone: 760-494-7391
© 2017 Wavehunters Surf Travel, Inc. is a registered California Seller of Travel, C.S.T. Registration # 2060272-40. WAVEHUNTERS SURF TRAVEL . all rights reserved | Privacy Policy