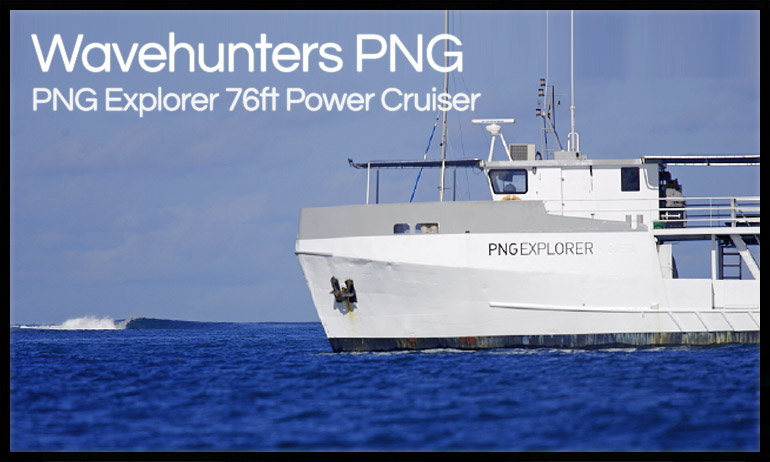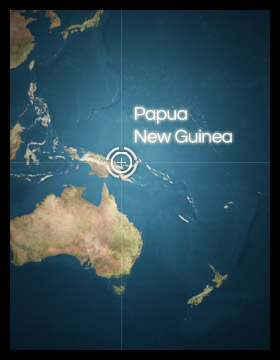 PNG Frontier Surfaris : Pricing & Availability
PNG Explorer Frontier Surfaris 2013-2014 Information, Pricing and Availability: 
10 nights Charter Cost: AUD$4,100.00* (Australian Dollars)
* Subject to change until deposited. Longer trips than 10nights will be priced differently.
 Availability:
12-22FEB 13: 2 spots

23FEB-5MAR 13: Booked

7-17MAR 13:  Booked

18-30MAR 13 KVG-MAS (photo trip) 1 spot

30MAR-11APR 13 MAS-KVG:  2 spots

25OCT-4NOV 2013: 10 spots

6-16NOV 2013: 10 spots

18-28NOV 2013: 10 spots

29NOV-9DEC 2013: 10 spots

11-21DEC 2013: 10 spots

26DEC13-05JAN14: 10 spots

6-16JAN 2014: 4 spots

20-29JAN 2014: 10 spots

02-12FEB 2014: 10 spots

14-24FEB 2014: 10 spots

26FEB-08MAR 2014: 10 spots

10-20MAR 2014: 10 spots

21-31MAR 2014: 10 spots

02-12APR 2014: 10 spots

14-24APR 2014: 10 spots
PNG Explorer Frontier Surfaris Inclusions:
10 night/9 days New Ireland & New Hanover charter onboard PNG EXPLORER 
Airport transfers
All meals, snacks and bottled water
2 beers a day
PNG Frontier Surfaris tee
Use of all recreational gear (snorkelling, fishing, kayaks and SUP) except Dive related
On island cultural activities and tours
Minimum of 8 passengers required to guarantee a departure.  Until a trip is a guaranteed departure Group booking requests will have priority.  Please do NOT pay for airline tickets until a departure is guaranteed
MAXIMUM 10 SURFING GUESTS & 2 NON SURFERS PER CHARTER
THE PER PERSON PRICE WILL CHANGE IF 8 SURFERS ARE NOT BOOKED   
What is not included (All at local prices):
Airfare: Flights are via Brisbane, Australia to Kavieng, PNG (via Port Moresby)
Photo package of images - yourself and highlights of your charter experience.  These packages will be from $50pp - to be paid at the end of the trip
Diving - $60 per dive - YOU MUST ADVISE YOUR CONSULTANT THAT YOU WISH TO DIVE SO THE BOAT CAN ORGANISE HIRE GEAR ETC. Dive gear hire – cost to be confirmed once booked
Sat phone – charged per minute - Price start from $3.50 (1 min increments)    
A VISA IS REQUIRED FOR PNG.  PLEASE CONTACT YOUR NEAREST PNG CONSULATE FOR INFORMATION ON HOW TO OBTAIN YOUR ENTRY PERMIT.
© 2014 Wavehunters Surf Travel, Inc. is a registered California Seller of Travel, C.S.T. Registration # 2060272-40. WAVEHUNTERS SURF TRAVEL . all rights reserved | Privacy Policy