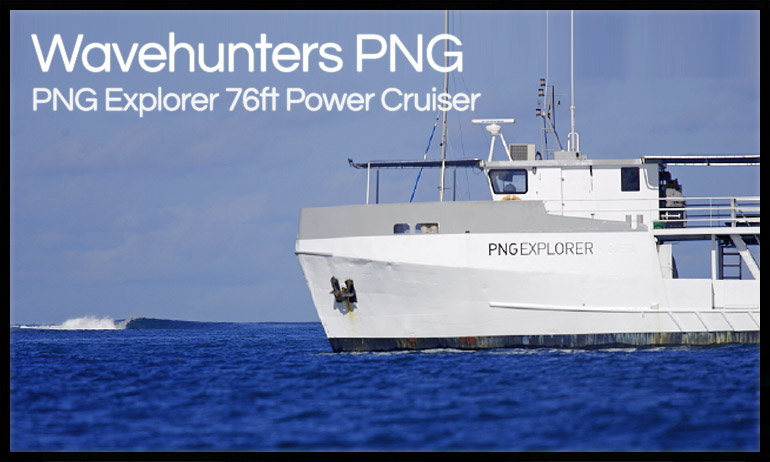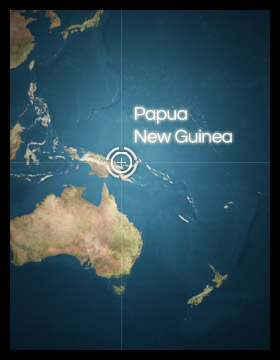 Papua New Guinea Live-Aboard: 76ft Power Cruiser
Remote far north eastern Papua New Guinea
Surfing in Papua New Guinea, the perfect destination for those keen to surf uncrowded and newly discovered waves. Fly into Kavieng then straight onto the air-conditioned comfort of the "PNG EXPLORER", a 23M ft steel vessel kitted out with all mod cons and safety gear. Cruising along at a comfortable nine knots, the "PNG EXPLORER" and her crew will ensure you have the charter experience of a lifetime.
New waves to surf
"There are many miles to explore. Until 2006 no-one had surfed these waves before. It's a good feeling to hear the locals say that the first person to ever surf the si bruk (sea break) standing on foam and fiberglass is me. This is obvious by the crowds that gathered to watch as I surfed." Quote from Captain Andrew Rigby. PNG SURFARIS are exploring the New Ireland, New Hanover and beyond in the true sense of adventure.
Legendary hosts
Andrew and Jude Rigby are the perfect hosts. Andy is a high energy character and surf mad. He will travel all night to hunt down the best waves on offer. Jude ensures you are well fed, is passionate about PNG and loves to show you around the local villages.
PNG Explorer
Solidly built, this spacious 23 metre charter vessel has been refitted to ensure the absolute comfort and functionality for the ultimate uncrowded surf charter experience in the perfection of tropical PNG. Providing fantastic service is a top priority for PNG's most experienced duo in surf exploration with Captain Andrew Rigby and wife Jude. Together with their experienced crew, they aim to maintain and expand on the great hospitality & PNG experience they have provided over the past three years of surf charters.
Built to survey the super sea worthy PNG Explorer provides air conditioned comfort, a must have in the tropical climate of Papua New Guinea. The large shaded deck space allows ample room for outdoor relaxing, dining & board storage. Not forgetting the amazing cuisine ranging from locally caught shellfish and fish to locally reared beef. Accompanied by a selection of Aussie beers & wines not forgetting the local favourite – SP!
Enjoy the flexibility of being on a boat and the knowledge of your experienced skipper/surf guide Andrew Rigby, who will always take you to the best possible locations. Surf waves discovered only in the past two years, with no crowds and only your mates to see you get barrelled.
Imagine... 
you arrive at the next island for another spectacular sunrise and jump straight into the speed boat for a quick ride to the closest quality wave. Back on board after an early surf for an awesome cooked brekkie to set you up for another day of surf and adventures in a tropical paradise.
The PNG Explorer has six spacious cabins set up as four twin berths and two single doubles maintained at a perfect temperature with a well thought out ventilation & air conditioning system. Enjoy a hot shower in one of two separate shower rooms.
Spread out in the 'house' sized lounge hosting a large flat screen with DVD player and cranking sound system. Alternatively relax and read from our library of popular books and magazines.
The huge upper deck on the Explorer is a great spot for lounging on one of the many day beds. It's also the main dining area onboard, which is a perfect location for relaxing. Grab a drink from the well stocked icy cold beer fridge to help you chill near the large barbeque while listening to the cranking outdoor sound system.
The lower "surf" deck is perfectly designed and set up for a tropical surfer, consisting of a board preparation table and padded alloy board racks for thirty surfboards. The large duckboard at water level is accompanied with aluminium dive ladder which boasts an underwater platform so you can easily access the mighty explorer even from the water.
To ensure fast and safe transfers to the breaks the PNG Explorer runs two tenders. A 24 foot tender and a 23 foot banana boat. Both tenders have all the necessary safety equipment, alloy board racks and dive ladders for easy water to tender access.
Food and drink
All food is prepared by your western hostess and chef. Each dish is freshly made, inspired by local cuisine and suitable for Western tastes. Any special dietary requests/allergies can be catered for, just let us know well in advance of departure.
The catering onboard comes from a modern gallery with the lot! Enjoy a latte along with your poached eggs then watch the sunset as you prepare to feast on fresh Lobster or tender roast lamb on surf & turf night. The delicacies onboard will dazzle the tastebuds of the most discerning gourmet traveller.
Breakfast - Experience PNG's finest Gorokan coffee or choose from a variety of teas. Fresh fruit smoothies or fresh fruit. Toast and/or pancakes and a cooked breakfast of eggs and bacon will be provided on request and during more leisurely mornings.
Lunch - A range of sandwiches and toasties, salads and omelettes will be available dependent on timings and your preferences.
Dinner - Catch of the day - fish, lobster or mud crab or a selection of meat and vegetarian dishes.
Snacks - Fresh fruit: sugar bananas, pineapples and pawpaw in abundance. Sweet baked coconut and banana cakes and other popular local delicacies. "Sundowner" snacks of chips, peanuts, fresh sashimi, the skipper's favourite fish bites ... and many more.
Drinks - Whether in the dory or onboard "PNG Explorer" we will provide bottled drinking water and a ration of soft drinks per person. Similarly, we have an ample beer allowance per person. If exceeded (it's unlikely) more is available to purchase at local prices.
Health and Safety
Bottled water is provided to drink.
PNG does have malarial mosquitoes so they recommend you take anti-malarial medication for the duration of your stay in PNG and also bring effective mosquito repellents. Since the "PNG Explorer" is air conditioned there isn't much risk whilst on board, but risk is increased if walking on the island near fresh water areas.
Medi-vac insurance is mandatory for all passengers. They have two fully equipped first aid kits onboard (both your hosts are senior first aiders plus crew are CPR trained). They have phone contact with a local doctor and, if required, a direct steam back to the local hospital.
Specifications
23 metre steel vessel Built to USL Code 2B for 12 pax plus crew to 200 miles offshore
Current safety and survey certificates
Water capacity – de-salinator plus 9000 litres water storage
Fuel capacity - 40,000 litres
Cruising speed - 9 knots
Main engine - 3412 twin turbo caterpillar
Aux engine- 4 cylinder caterpillar with 100 kva alt, 4 cylinder Hino with 40 kva
Features
Air-conditioned accommodation for 12 guests in four single/double cabins plus two twin cabins
3 hot/cold showers plus duckboard showers
3 toilets
Flat screen TV with DVD & entertainment system with video/camera and IPOD plug in facilities
Email facility - send/receive
Sat phone
Large dive deck/duck board for easier water to tender access
Large lower deck space for board preparation & board storage.
Comfortable upper & lower deck day beds for relaxing
Equipment
1* 24 foot tender (high speed) with 2 * 50 H.P tohatsu
1* 23 foot tender with 50 H.P tohatsu 2* kayaks
1* stand-up paddle board plus 1 mal
6 * Shimano TLD 25 game rigs plus egg beaters
14 Dive tanks, weights for 14 divers BC's and regs available, 12 mask/snorkel sets.
Fast compressor refill system for up to five dives per day if desired

How to Book:
1.  THERE ARE FOUR WAYS TO MAKE A RESERVATION
A. BOOK ONLINE: Click the "BOOK ONLINE" button on the right side or bottom fo your desired destination/option and follow the instructions to make a deposit using our secure online reservation system.
B. SUBMIT A TRIP INQUIRY: Fill out the "Trip Inquiry" form on the right side of the page or under the "Booking Info" section on the top menu. Wavehunters will get back to you as soon as possible, usually within 24 hours.
C. SEND US AN E-MAIL: Send your questions and trip inquiries to wavehunters@wavehunters.com.
D. GIVE US A CALL: We are located in Carlsbad, California, USA. 1-760-413-1513
2. CONFIRM DATES AND MAKE DEPOSIT: Before you book online please double check that the trip you want and the dates you need match up. If you make a reservation online you will pay the deposit by credit card. We can also process credit cards offline, take checks made out to "Wavehunters Surf Travel", and we accept wire transfers, cashier's checks, money orders, or direct deposits. 
3. SEND US YOUR INFORMATION: During the booking process we strive to make everything as simple and easy as possible. When you're ready to make your reservation please have your passport ready as we will need the number, expiration date, and country of issue. We will also need your flight itinerary (if we do not help set it up) as well as a few destination specific questions. If you are travleing with a group please specify the number of people in your group and their names.
4. MAKE FLIGHT RESERVATIONS (AS NEEDED): Wavehunters is a full service travel agency capable of handling all of our guest's flight arrangements. Each destination typically requires a specific flight itinerary that needs to be confirmed by Wavehunters prior to departure. If you don't have the time or inclination to deal with setting up your flight arrangements Wavehunters will be happy to coordinate them for you. 
5. MAKE FINAL PAYMENT: You final payment is due two to four months prior to your trip's departure depending on which trip you are on. Once that's in along with the requested information you're all set to go!
6. SHOW UP: Rule #1 is to remember to not miss your flight and remember to have a passport with at least 6 months left before the expiration date.
7. SURF: Once you're at your destination the only thing you should have to to worry about is what board you should ride and where to surf. Have fun!

© 2017 Wavehunters Surf Travel, Inc. is a registered California Seller of Travel, C.S.T. Registration # 2060272-40. WAVEHUNTERS SURF TRAVEL . all rights reserved | Privacy Policy