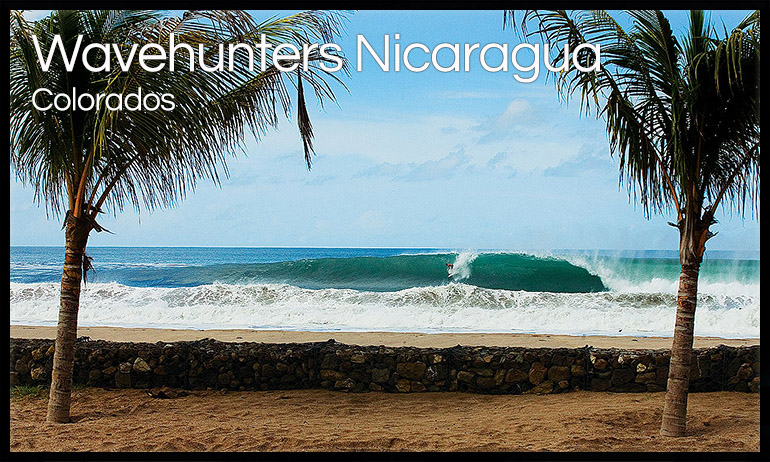 Colorados, Nicaragua : Pricing & Inclusions
ALL TRIPS ARE ON A SATURDAY TO SATURDAY SCHEDULE. (BOOKINGS OF 9-10NIGHTS OR LONGER ARE ALSO ACCEPTED ON A CASE BY CASE BASIS). SEE MOST CURRENT AVAILABILITY UPDATE BELOW AND INQUIRE DIRECTLY WITH WAVEHUNTERS@WAVEHUNTERS.COM
7 NIGHT STAY PACKAGE COSTS (SATURDAY-SATURDAY)
**Note: Stays of 4 or 5 nights within any 7 night block are allowed with $100pp off a 5night trip or $200pp off a 4 night trip.
CASITA ROOM:  This is our largest most luxurious room with open panoramic windows and views of the waves and headlands.  The Palapa style room is perfect for couples, groups of two or three and small families.  Equipped with a King size bed, full size couch-bed and individual bed as well as a modern bathroom and is air-conditioned.
Price:  $1850 per person based on double occupancy
            $1550 per person based on triple occupancy
Price Private/Solo: $3150
HACIENDA ROOMS (4 OF THEM):  Centrally located and steps away from the main Hacienda, are four private and individual, air-conditioned guest rooms with private bathrooms and showers.  Each room has either 2 full size beds or a King bed.
Price: $1550 per person based on double occupancy
            $1450 per person for groups of 6+
Price Private/Solo: $2650
BOARD ROOM: This room has two twin size beds, a cold water only outdoor shower with a privacy wall and a detached bathroom about 30 feet away.  Originally designed for the house surfboards, it was turned into a guest room and is perfect for those on a tight budget.
Price:  $1250 per person based on double occupancy
Price Private/Solo: $2050
TOUR INCLUSIONS:
• Seven nights oceanfront living on the best beach at the best location in Central America.
• Airport transfers with food and drink. Two and a half hours to house in a spacious 24 passenger van.
• Three incredible meals per day with App's every pre-sunset. Pre breakfast starts at 5:30 a.m. then hot breakfast at 8. Hours for lunch are from 11:30-2 p.m. and then everyone sits down together for dinner at 7 p.m.
• House comes with several long boards, 1- 11 ft. SUP and 4 INT soft top 8 ft. long boards. The INT's are perfect to learn on. Also fun if you have had a few cold ones and want to have some fun with your buddies. We do have a good assortment of short boards to rent if you don't want to hassle bringing your own.
• All drinks with 1.5 cases of beer per guest.
• Unlimited wireless internet.
• Satellite T.V. and Apple T.V. on our big 60" LED flat screen. Also 20" flat screens in every room with DVD player.
• Service- Their managers will take care of your every want and need. You want a massage, fishing (best from Mar-Oct), canopy tour, volcano tour, horseback riding, golfing, etc.? You name it they will have it for you. Your biggest worry may be how to stay up for dinner cause you did so much in one day. Come join them for an unforgettable trip and you will understand why the surf industry and their returning guests have only one spot to stay in Wavehunters Nicaragua - Colorados. See ya soon.
OTHER
BOARD RENTALS- Please note that you will be charged $125 by Avianca/Taca Airlines for up to 3 boards each way. Rates are subject to change without notice.
Firewire surfboards are available for rent at Wavehunters Nicaragua - Colorados. Board rental package rates are available if you do not want to take boards with you.
TRAVELING SOLO? We can put you in with another vacationer or you can have your own room for a slightly additional cost.
FAMILIES- Please ask about our family and children price discounts.
AVAILABILITY UPON REQUEST.  email  wavehunters@wavehunters.com
© 2019 Wavehunters Surf Travel, Inc. is a registered California Seller of Travel, C.S.T. Registration # 2060272-40. WAVEHUNTERS SURF TRAVEL . all rights reserved | Privacy Policy