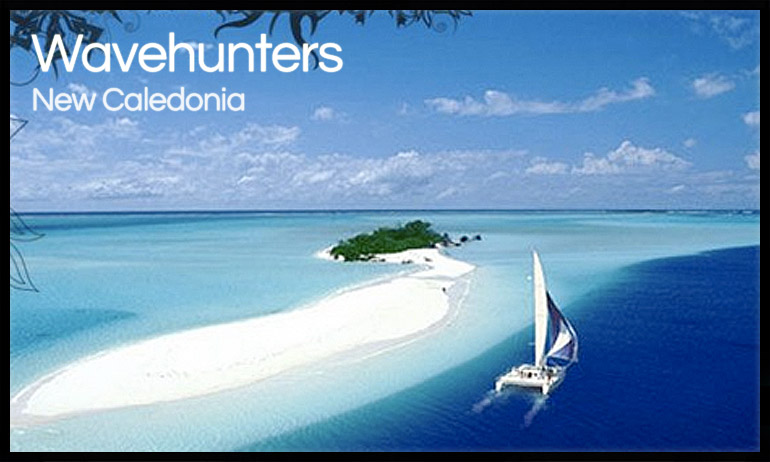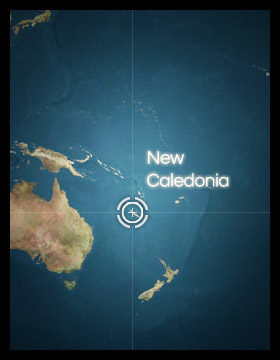 New Caledonia Live-Aboard: 46ft Catamaran
French reef breaks with no crowds
Surf New Caledonia on a superb French yacht with a great host. There are so many waves going unridden every day in NC and it's only 2.5 hours flying time from Australia. Try something different for a unique 'french style' surf adventure.
Only 2.5 hours from the east coast of Australia and you will find yourself in the French territory of New Caledonia. Noumea, the nation's capital, is a tropical, cosmopolitan metropolis and the stepping stone to some of the most beautiful islands and reefs in the South Pacific. This land of contrast is composed of a group of islands: the main island, Loyalty Islands, Isle of Pines, Belep and a myriad of small islands. The barrier reef, stretching 1600 km and encircling the mainland island, is the world's largest lagoon and surely one of the most beautiful.
Key Features:
Kuare Catamaran
Kuare is a 46 ft Bahia Catamaran from Fontaine Pajot with two double cabins with ensuite bathrooms and two twin cabins. It is ideal for groups of 6-8 passengers.
Offshore surf in SE trade winds
The South Pacific can be tricky in winter with the predominent wind being SE. Most south-facing Pacific coasts are onshore or cross shore in these conditions. New Caledonia is similar to Indo, with surf on the west coast which means offshore in SE trades. This, combined with the fact that New Caledonia is a swell magnet serving up Indo-style power, makes it a fantastic winter surf destination.
French Flavours
Your expert local skipper and crew will add a French flavour to your trip. The food on board is healthy and tasty ensuring your body's got fuel to burn when you're in the water. Sit back in the afternoon and enjoy the sunset as you knock back a few cold local beers or sip on french wine. Kuare lacks for nothing where food and drink is concerned.
About New Caledonia Catamaran Charters
Noumea, the nation's capital, is a tropical, cosmopolitan metropolis and the stepping stone to some of the most beautiful islands and reefs in the South Pacific.
This land of contrast is composed of a group of islands: the main island, Loyalty Islands, Isle of Pines, Belep and a myriad of small islands.
The barrier reef, stretching 1600 km and encircling the mainland island, is the world's largest lagoon and surely one of the most beautiful.
We proudly present Kuare catamaran charters.
Our most popular charter duration is 8 nights and an example 8 night/7 day itinerary is as follows:
Day 1

- Met at the airport by English-speaking guide and transferred by bus to the boat. If arrival is mid to late afternoon you will spend the night on Kuare in Noumea harbour and check out the sights of the nation's capital, Noumea. Meals at own expense whilst in port.

Day 2

- Depart Noumea harbour at first light and arrive at first surf break by approximately 9am. The guide will decide this surf break based on prevailing conditions and experience. Options are two right-handers, three lefts close to Noumea, two lefts a little further away. Quick breakfast available (cereal, coffee, tea) at daybreak before first surf. Cooked breakfast around 9am after first session. Depending on conditions it is surf, sail, fish, swim, explore islands or just kick back on deck with a good book, interrupted only by lunch. Mooring is usually beside an island for the night as close as possible to the next day's surf spot. Dinner consists of another home-cooked meal.

Days 3, 4, 5, 6, 7

- As above arriving into the Noumea Port late afternoon/early evening on day 7. Hit the town for dinner/beers at your own expense.

Day 8

- Free time until your transfer to the airport in time to check in for your flight home.
We are only operating in the PEAK surf months, months that almost guarantee swell and good conditions. New Caledonia can get surf in March and October however these months are LESS consistent.
Scheduled departures operate with a min. of 5 passengers. Bookings available for individuals or sole use groups. For bookings made up with individuals a maximum of 6 passengers will be booked as there is only 6 beds onboard. For SOLE USE groups you can have up to 8 passengers sharing the 6 beds (4 singles/2 doubles). Group of 8 get 1 space free and only pay for 7 spaces.
Charter includes:
Return airport transfers.
3 meals daily and snacks (excludes meals whilst in port).
Bottled water, soft drinks and hot drinks.
Accommodation on board in cabins with ensuites
Services of English-speaking skipper/SURF GUIDE with extensive local knowledge.
Use of all onboard equipment.
Other activities:
New Caledonia is blessed with the largest reef lagoon in the world which is riddled with islands, reefs and fish. If there is no surf your options are fishing, island hopping (all uninhabited), snorkelling or swimming. Very basic fishing and snorkelling gear is provided on the boat free of charge however we do recommend you bring your own if you are a keen fisherman or snorkler.
There are also obviously other things to see on the land, such as rainforest with flora and fauna found nowhere else in the world. Land-based tours can be arranged on request at an additional cost.
Scenery
New Caledonia is a place of contrasts, from the people - Melanesians, Polynesians, French, ex-convicts (Australian style) and Vietnamese - to the landscape - dry, inhospitable mountains dotted with pockets of rainforest, grassy hills rolling down to grazing cattle, large tracts of mangroves sheltering prawn farms and clean, clear oceans full of fish and vibrant reefs. A great place to visit. It is like flying into Europe with out the jet lag as it is only 2.5 hours from Sydney.
Kuare Catamaran
Boat Description:
Name: KUARE
Type: 46 feet Bahia Catamaran from Fontaine Pajot
2 double cabins with en suite bathrooms
2 twin cabins
Email on board
DVD - computer
Desalinator - generator
Spinnaker - gennaker
220 volts on board
STEPHANE GUILBERT: THE SKIPPER.
Born 3rd Decembre 1969 in Morocco.
Experienced surfer and kite surfer. Dive instructor (BEES 2) and skipper (BPPV : sailing boat skipper certificate) since 1995.
Detailed local knowledge of the lagoon for all three sports and sailing.
1993 National Surf Champion, Morocco
2002 Para-gliding champion, New Caledonia
The Surf
New Caledonia has over 200 reef passes. Each one is a potential surf break in the right conditions. Normally for our charters we visit the most consistent we know of. There are approximately 10 breaks within 8 hours sailing from the most southerly to the most northerly.
Froggie: Short left that works from 1m to 3m.
Skatepark: Long fast left that can start at the take off point at only 0.5m and grows as it swings down the reef to a solid 2m "skate park". Not for the faint hearted.
Light House: Fast, long, barrelling right-hander. Can get very shallow.
Dumbe: Left long fast barrel. When big the take off reminds me of small Teahupoo in Tahiti. Dredging from below sea level. Right long steady wall, can get barrelled and can be a race to keep up. Works in big swell on low tide.
Isie: Incredibly fast Right hand barrel. No time to think just go!!! Finishes in shallow water. - Booties recommended.
Ouano: Our pride and joy. When working this wave has three sections that link up. Takeoff outside and pull in for a short tube, race the wall with time for one reo before cutting back to line up for the second gaping barrel, come out and crack off two three more reos before racing into the third tube section and finish the wave with a few more reos before your legs collapse in from fatigue.
Love this wave, usually not much current. Ouano doing its stuff !!
Surfing at Ouano is exclusively on coral reef. The break is located in a channel of the barrier reef, about ten km off shore and these can only be accessed by boat. The ride is worthwhile as the Ouano pass offers world class surfing. Jayak surfari speed boat service will take you out to the spot in 20 minutes. The boat takes you out to the left every day but on those rare days that the surf quality is not there the boat captain may decide to take you to other spots.
Ouano - The Left: Ouano left is the most consistent surf spot in New Caledonia. It can be ridden from 2-15 feet with various swell directions (from South-West to South-East). The trade winds are off shore for this break so it can handle up to 15 knots of south-easterly winds. The 300m long break, can offer day-to-day variety from big barrels or playful long lines wrapping around the reef. It can be good on any tide but it is usually best with the upcoming tide. On the good days, three sections connect, making it a great ride, with slow cut back material sections between speedy barrel sections.
Ouano – The Right: .Ouano right is a fast wave with a great barrel section but it is less consistent and shorter than the left. This break is just across the pass from the left, about 5 minutes by speedboat. It is a good option with south-west swell direction from 4 to 10 feet, and no wind.
Nekweta - The Left: 15 Minutes away, a radical wave which works with south east to south west swells, it can be ridden up to eight feet. You will be highly impressed by the clarity of the water and the coral beneath. Turtles and mantra are often around.
Nekweta - The Right: Just 5 minutes away from Nekweta Surf Camp, a very consistent and fun wave, works with all swells from south east to west, can be surfed up to ten feet. A dugong often comes to say hello to the surfers.
Tenia: Loves a big swell. There are three breaks two lefts and a right. The left at the pass is the go. I have surfed this at a solid 3m and was shitting myself. I have also grovelled at 0.5m here. A great consistent spot with a beautiful island nearby.
© 2014 Wavehunters Surf Travel, Inc. is a registered California Seller of Travel, C.S.T. Registration # 2060272-40. WAVEHUNTERS SURF TRAVEL . all rights reserved | Privacy Policy