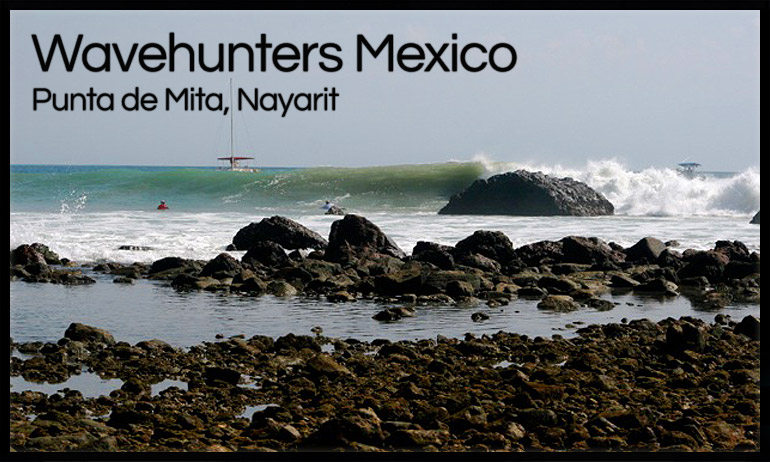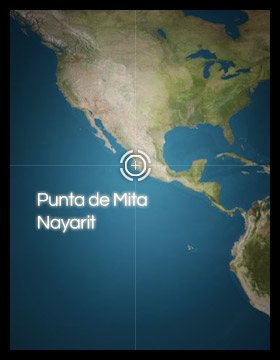 Punta de Mita : La Punta Estates, Nayarit MX
Trip Highlights:
Short inexpensive flight to Puerto Vallarta, Only 45min drive from airport.
Year-round waves. NW and SW swell exposure
Beginner, Intermediate and Advanced Level Waves available
Great Longboarding and Stand-up paddle surfing
Experienced local boat guides and surf instructors
Luxury Couples and family-friendly accommodations
Punta de Mita world class activities: Beaches, Golf, Fishing, Snorkeling, Dining and more
Safe
Accommodations : The Villa, La Punta Estates
Location: 

EL Faro Pointbreak  

A gorgeous compound located inside the prestigious La Punta Estates. The Villa is less than one mile from the St. Regis Punta Mita Hotel. With 5,500 square feet of space, there's plenty of room to roam, so whether it's a guys' surf vacation or a getaway with friends and family, your style won't be cramped. The main villa has a master bedroom, three guest rooms and a bonus room which can be transformed into a media room, a teenager's hangout or a king suite, depending on the guests' needs. The master suite itself is a fabulous spread with an office, a library, and a master living room with views of the Bay of Banderas from the huge soaking tub. Common areas include a state-of-the-art kitchen, dining 'pod', and an open living room that leads out to the pool deck and unrestricted views. The entire building is designed to maximize indoor/outdoor living, with a surfer chic décor that echoes the brilliant hues of the Mexican sunset and furnishings that welcome tired, happy paddlers after a day out on the water. Outdoors, an infinity pool with Jacuzzi overlooks the beach, a fire pit awaits guests on chilly evenings under the stars, and a beach volleyball court is ready for a quick game anytime. The compound also has its own onsite organic garden, for fresh "farm to table" cuisine served in the adjacent Napa-style palapa.

The Villa sits right on top of El Faro, a high quality right point break which peels for several hundred meters on a good swell, and is within walking distance of two other surf spots. These 3 breaks work on opposing wind conditions, and are only accessible to La Punta Estates and Resort guests. (Surfers from town may boat in throughout the day). The sweeping views from any and every part of the villa include the peninsula, the Jack Nicklaus golf course, and the brilliant waters of the Pacific. A stay at The Villa includes access to the SUP facilities and lessons at nearby Hotel Cinco (additional cost applies), use of the Four Seasons golf course (green fees are extra). We also offer the opportunity to practice early morning yoga on the terrace (private instructor can be arranged). Stand up paddling (SUP) has never been so accessible and a visit to the luxurious Villa is the perfect opportunity to explore what is currently the "fastest growing water sport" in the world. Surf breaks of varying degrees offer paddlers of all abilities an appropriate challenge. In addition, our onsite concierge staff may arrange SUP lessons for beginning to advanced paddlers during your stay. Our onsite concierge may arrange rental surfboards and boats to transport you to the best breaks on any given day, and lessons are easily arranged as well.
Golf
Guests of The Villa may enjoy access to the Four Seasons Punta Mita Golf Club, boasting two full courses, both designed by Jack Nicklaus. Stunning panoramic views make this golf experience truly unique. The Bahia course offers a difficult, yet enjoyable game, while the Pacifico course offers the world's only natural island green.
Beaches & Lifestyle
Guests of The Villa have access to 2 exclusive beach clubs inside the gates: St Regis Beach Club and The Residents Beach Club. Nearby Punta Mita Villa has over 15 restaurants along the beach.

How to Book:
1.  THERE ARE FOUR WAYS TO MAKE A RESERVATION
A. BOOK ONLINE: Click the "BOOK ONLINE" button on the right side or bottom fo your desired destination/option and follow the instructions to make a deposit using our secure online reservation system.
B. SUBMIT A TRIP INQUIRY: Fill out the "Trip Inquiry" form on the right side of the page or under the "Booking Info" section on the top menu. Wavehunters will get back to you as soon as possible, usually within 24 hours.
C. SEND US AN E-MAIL: Send your questions and trip inquiries to wavehunters@wavehunters.com.
D. GIVE US A CALL: We are located in Carlsbad, California, USA. 760-413-1513
2. CONFIRM DATES AND MAKE DEPOSIT: Before you book online please double check that the trip you want and the dates you need match up. If you make a reservation online you will pay the deposit by credit card. We can also process credit cards offline, take checks made out to "Wavehunters Surf Travel", and we accept wire transfers, cashier's checks, money orders, or direct deposits. 
3. SEND US YOUR INFORMATION: During the booking process we strive to make everything as simple and easy as possible. When you're ready to make your reservation please have your passport ready as we will need the number, expiration date, and country of issue. We will also need your flight itinerary (if we do not help set it up) as well as a few destination specific questions. If you are travleing with a group please specify the number of people in your group and their names.
4. MAKE FLIGHT RESERVATIONS (AS NEEDED): Wavehunters is a full service travel agency capable of handling all of our guest's flight arrangements. Each destination typically requires a specific flight itinerary that needs to be confirmed by Wavehunters prior to departure. If you don't have the time or inclination to deal with setting up your flight arrangements Wavehunters will be happy to coordinate them for you. 
5. MAKE FINAL PAYMENT: You final payment is due two to four months prior to your trip's departure depending on which trip you are on. Once that's in along with the requested information you're all set to go!
6. SHOW UP: Rule #1 is to remember to not miss your flight and remember to have a passport with at least 6 months left before the expiration date.
7. SURF: Once you're at your destination the only thing you should have to to worry about is what board you should ride and where to surf. Have fun!

© 2017 Wavehunters Surf Travel, Inc. is a registered California Seller of Travel, C.S.T. Registration # 2060272-40. WAVEHUNTERS SURF TRAVEL . all rights reserved | Privacy Policy