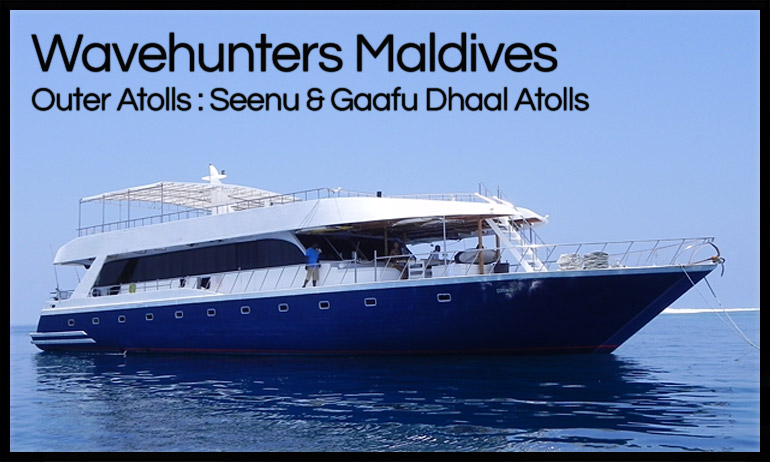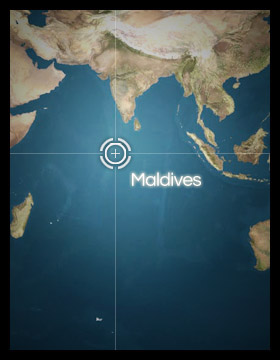 Handhu : 90ft Power Cruiser
Surf Gaafu Dhaal and Seenu atolls
We created this unique multi-atoll itinerary in 2008 and it proved very sucessful and popular with those looking for a remote adventure. New breaks were surfed for the first time ever. Fly to the southernmost atoll of Seenu and surf for a few days before crossing to the better-known Gaafu Dhaal atoll that is littered with reef breaks for the remainder of your trip.
Key Features :
Abundant surf
The combination of Seenu and Gaafu Dhaal atolls hosts at least a dozen different surf set-ups that work on varying conditions and winds ... if one place is too small there will be a swell magnet that is surfable ... if somewhere is onshore another break will be offshore. Some world-class set-ups and no crowds!
The best surf boat
Handhu is not as luxurious as some of the more top-end boats and therefore does not attract many couples. She is still 90 ft of comfort with an excellent design that maximises space. Designed primarily for surf trips, Handhu has board racks and plenty of outdoor shade area to chill out and relax in between surfs.
Incredible Fishing
The fishing is some of the best in the world and the amazing variety of species will keep the hardcore angler stoked and the novice angler hooked! The crew of Handhu love fishing and are happy to assist. Keen fishermen should take their own game rod and reel and lures!
About Handhu - Outer Atolls
Note: YOU CANNOT TRAVEL WITH SURFBOARD BAGS OVER 8 FT IN LENGTH' ON THIS TOUR AS THE DOMESTIC FLIGHTS CANNOT ACCOMMODATE THEM.
If you and a group of mates want to discover this remote frontier that few before you have then this is the trip for you.
You arrive in Male to connect that night with an Island Aviation flight to the far south, where the 90 ft Handhu and her friendly crew will be waiting to greet you. Overnight anchorage near the airport island then early the following morning commence your adventure of a lifetime.
The cost is slightly higher than the more mainstream charters however the experience of pioneering this new territory in total solitude is hard to put a price on.
Historic data shows that there are only three PEAK SURF MONTHS in this region, FEBRUARY, MARCH AND APRIL. We would love to sell more of these trips throughout the year however we would be doing you an injustice by sending you to this remote region at time other than the PEAK surf season.
Charters are 11 and 12 nights and our highly experienced surf guides will ensure you achieve maximum surf time.
Hakoo, the Maldivian guide onboard Handhu, is originally from Seenu atoll (Gan) in the far south and has been surfing this region for years. He has been the guide on Handhu for two years and was taught his trade by the former guide. Igay, Handhu's skipper from Day 1, has very good surf knowledge vast experience in dealing with western surfers. With the expertise of Hakoo and Igay maximum surf time is assured!
Handhu's sister boat, Handhu Fahli, will also operate in Gaafu Dhaal atoll during this period. Both boats/guides will stay in touch constantly regarding the surf and coordinating their positions so they will be surfing different breaks, as many breaks work simultaneously.
Awesome fishing
Even if you are not a keen fisherman you will find yourself hooking into a spot of game fishing as you travel between breaks. The variety of species is unbelievable. Bring your own gear and lures if you are keen!
Tropical paradise
The Maldives is one of the prettiest Island paradises in the world and the outer atolls offer you the opportunity to witness remote locations that few tourists have ever seen. Watching the sunset over the islands whilst sipping on a cold beer after a rewarding days surfing with just you and your mates is as good it gets !
Handhu is 90 ft in length and very well laid out with air-conditioned twin cabins with ensuites, air-conditioned saloon and lounge and a massive outdoor deck space featuring a large undercover alfresco lounge/dining area capable of seating at least 15 people. This is the favorite dining area as it allows guests to escape the hot Maldivian sun yet still remain outdoors capturing cool ocean breezes whilst watching the surf break nearby.
Facilities on Handhu include an air-conditioned saloon and lounge area with TV, DVD player and stereo system that is compatible with Ipods. If you prefer the outdoor breezes then the huge undercover lounge area is the ultimate place to chill out. The upper sundeck is a great area to hang out and watch the world go by and a great platform for photography. The aft deck is the ideal fishing platform and many a fish has been caught here!
HANDHU CHARTERS WILL COMMENCE IN SEENU AND END IN GAAFU
DHAAL (TO THE NORTH) AND VICE VERSA.
Handhu example itinerary as follows:
Day 1: Arrive Male and same night connect with flight south to Seenu or Gaafu Dhaal.
Days 1-12/13: 11 or 12 nights onboard Handhu with expert guides.Surfing Seenu and Gaafu Dhaal atolls.
Day 12/13: Fly back to Male in the afternoon before connecting with evening flight home.
This is a totally unspoilt region that promises UNCROWDED consistent surf during these months.
Optimum surf conditions for the outer atolls Swell :
Sth or SE and even SW for Westside breaks
Wind: NW is best

© 2016 Wavehunters Surf Travel, Inc. is a registered California Seller of Travel, C.S.T. Registration # 2060272-40. WAVEHUNTERS SURF TRAVEL . all rights reserved | Privacy Policy