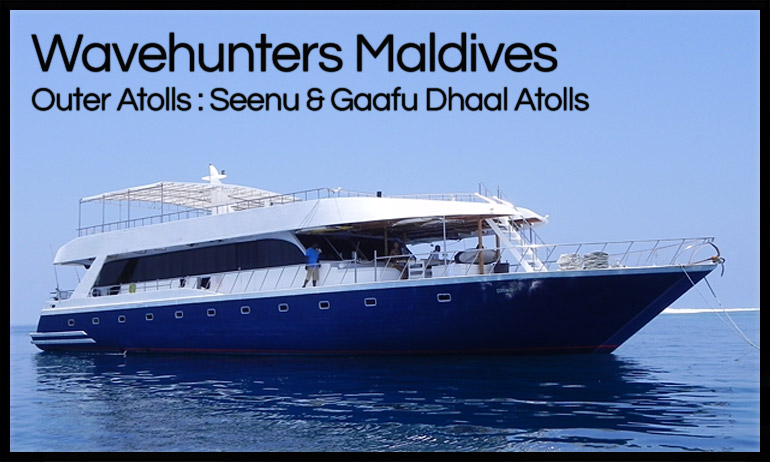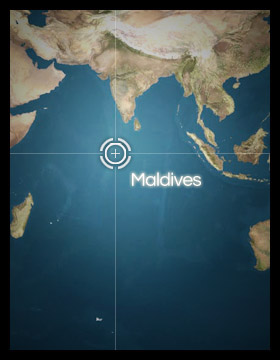 Handu - Outer Atolls : Pricing & Availability
Yacht: Handhu 90ft Outer Atolls
Location:
Gaafu Dhaal and Seenu atolls
Minimum 7 passengers for guaranteed departure. Maximum 12 passengers.
Minimum 10 passengers for sole use group bookings 
The Handhu charter will be travelling to two Atolls in the Outer Atolls (Seenu & Ghaafu Dhall), offering access to more waves. Charters will alternate starting in Seenu and ending in Ghaafu Dhall, then Gaafu Dhall to Seenu on the next trip.
Package Inclusions:
10-11 NIGHTS ONBOARD HANDHU (BASED ON LATE EVENING FLIGHT TO SOUTH ON NIGHT 1) SURFING SEENU AND GAAFU DHAAL ATOLL
TWIN SHARE CABINS WITH ENSUITE
ALL MEALS
SERVICES OF EXPERT SURF GUIDE WHO KNOWS WHERE THE BEST SURF IS AT ALL TIMES
1 BOTTLE WATER PER DAY
USE OF ALL ON BOARD EQUIPMENT •RETURN DOMESTIC MALDIVIAN FLIGHTS
NOTE MAX. SURFBOARD BAG LENGTH OF 8' DUE TO DASH 8 AIRCRAFT OPERATING FROM MALE' TO SOUTHERN MALDIVES
** The Maldivian Government currently charges 8% GST. If this increases prior to you paying your balance then you will need to pay the increased amount. PLEASE CHECK THE CORRECT TOTAL DUE AT THE TIME OF YOUR FINAL PAYMENT.
ARRIVAL:DEPARTS FROM MALE ARRIVALS HALL AT APPROX. 10PM IF FLIGHTS ARRIVES EARLIER IT WILL BE AT YOUR OWN ARRANGEMENTS UNTIL 10PM DEPARTS: RETURNS TO MALE ARRIVALS HALL AT APPROX. 9PM
____________________________________________________________________________________________________
2014 Summer/Fall Charter Cost: $3,562.00
NOTE: 3% discount for cash payments (Check or money order, Direct deposit or Wire transfer)
**Discounted price for groups of 10-12 pax Air-inclusive prices available upon request E-mail Wavehunters@wavehunters.com
 *11 NIGHTS ONBOARD HANDHU (BASED ON LATE EVENING FLIGHT TO SOUTH ON NIGHT 1) SURFING GAAFU DHAAL ATOLL
2014 Handhu Outer Atoll Late Season Charter Schedule and Availability:
08 Sep – 19 Sep - BOOKED
22 Sep – 03 Oct - BOOKED
06 Oct – 17 Oct - BOOKED
20 Oct – 31 Oct - BOOKED
   **Trips Embark/Disembark at Ghafu Dhaal Atoll
TERMS AND CONDITIONS:
1) $800 NON-REFUNDABLE DEPOSIT REQUIRED AT TIME OF BOOKING
2) FINAL BALANCE DUE 60 DAYS PRIOR TO SAILING
3) MED-EVAC INSURANCE REQUIRED
4) VALID PASSPORT WITH 6 MONTHS VALIDITY REMAINING ON IT FROM DATE OF ENTRY IN THE MALDIVES REQUIRED
______________________________________________________________________________________________________
2015 Winter/Spring Charter Cost:
NOTE: 3% discount for cash payments (Check or money order, Direct deposit or Wire transfer)
**Discounted price for groups of 10-12 pax Air-inclusive prices available upon request E-mail Wavehunters@wavehunters.com
2015 Handhu Outer Atoll Charter Schedule and Availability:
09 Mar – 20 Mar - 12 spots KDM-GAN *Professional Photo Trip - $3,673.00pp
23 Mar – 03 Apr - 12 spots GAN-KDM *Professional Photo Trip - $3,673.00pp
07 Apr – 17 Apr - 12 spots KDM-GAN - $3,396.00pp
20 Apr – 01 May - 12 spots GAN-KDM - $3,396.00pp
04 May – 15 May - 12 spots KDM-KDO (Laamu Atoll) - $3,396.00pp
   **Trips Embark/Disembark KDM, GAN or MLE KDM= Ghafu Dhaal Atoll GAN= Seenu Atoll MLE= Male
_______________________________________________________________________________________________________
2015 Summer/Fall Charter Cost: $3,673.00
NOTE: 3% discount for cash payments (Check or money order, Direct deposit or Wire transfer)
**Discounted price for groups of 10-12 pax Air-inclusive prices available upon request E-mail Wavehunters@wavehunters.com
 *11 NIGHTS ONBOARD HANDHU (BASED ON LATE EVENING FLIGHT TO SOUTH ON NIGHT 1) SURFING GAAFU DHAAL ATOLL
2015 Handhu Outer Atoll Late Season Charter Schedule and Availability:
07 Sep – 18 Sep - 12 spots
21 Sep – 02 Oct - 12 spots
05 Oct – 16 Oct - 12 spots
19 Oct – 30 Oct - 12 spots
   **Trips Embark/Disembark at Ghafu Dhaal Atoll
TERMS AND CONDITIONS:
1) $800 NON-REFUNDABLE DEPOSIT REQUIRED AT TIME OF BOOKING
2) FINAL BALANCE DUE 60 DAYS PRIOR TO SAILING
3) MED-EVAC INSURANCE REQUIRED
4) VALID PASSPORT WITH 6 MONTHS VALIDITY REMAINING ON IT FROM DATE OF ENTRY IN THE MALDIVES REQUIRED
© 2014 Wavehunters Surf Travel, Inc. is a registered California Seller of Travel, C.S.T. Registration # 2060272-40. WAVEHUNTERS SURF TRAVEL . all rights reserved | Privacy Policy