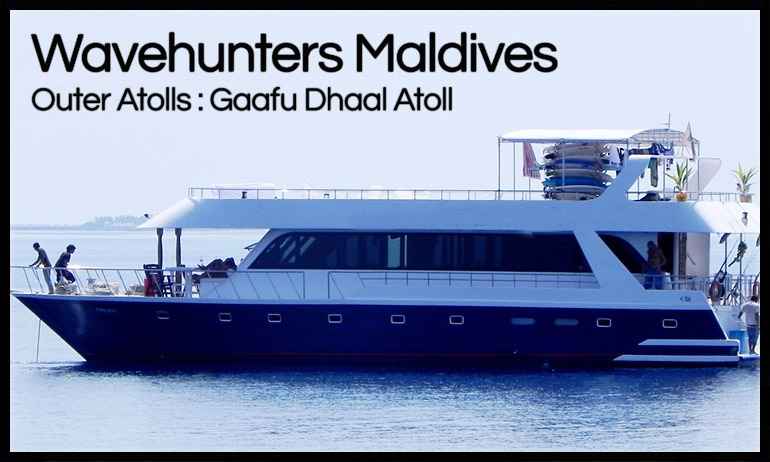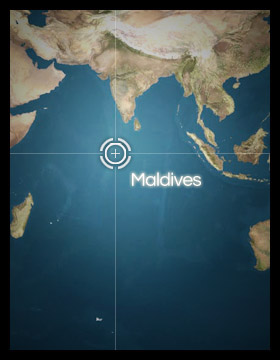 Handhu Fahli : 78ft Power Cruiser
Surf the incredible Gaafu Dhaal atoll
Gaafu Dhaal atoll is blessed with surf-infested reef passes. The optimum surf condition window is small, with the very best condtions historically occurring from March-April each year before the winds swing. The Handhu Fahli crew has vast experience in this atoll.
Key Features :
Comfortable boat
Handhu Falhi is 78 ft, maximum of 10 passengers, air-conditioned cabins and saloon area, good outdoor shade with board racks and upper sundeck. Very comfortable and a favourite of many World Surfaris clients.
Amazing scenery
The Maldives is an aquatic paradise and Handhu Fahli will show you the marvels of the Maldives.
Surfers paradise
Gaafu Dhaal atoll hosts a multitude of fantastic waves with reef pass after reef pass of lefts and rights that vary in characteristics and intensity. Your surf guide will find you the best waves at all times and you will be totally surfed out after 12 days in this wave-rich region
About Handhu Fahli - Outer Atolls
Note: YOU CANNOT TRAVEL WITH SURFBOARD BAGS OVER 8 FT IN LENGTH' ON THIS TOUR AS THE DOMESTIC FLIGHTS CANNOT ACCOMMODATE THEM.
You will arrive in Male and connect with a flight way down south, where you will be met by your boat. The following morning depart from your airport anchorage and within a three hour cruise you will be surfing world-class reef breaks.
This atoll hosts at least a dozen documented waves. The costs involved are slightly higher than the more mainstream charters, however the experience of pioneering this new territory in total solitude is hard to put a price on.
Historic data shows that there are really only two PEAK SURF MONTHS in this region, MARCH and APRIL. We would love to sell more trips to this remote region however we would be doing you a disservice by sending you any time out of the PEAK surf period.
Handhu Fahli was launched in 2005. She is the sister boat of Handhu and almost identical in layout, with five air-conditioned and fan-cooled twin cabins with ensuite bathrooms and upper air-condtioned saloon/lounge with TV, DVD and stereo. Outdoor shade areas provide a great place to chill between surfs and the aft deck is a great fishing platform.
Food is a mix of local and western dishes, with plenty of it to refuel you after surfing up to eight hours per day.
The Male atolls host over a dozen quality breaks and Handhu Fahli charters will give you an opportunity to sample these.
Handhu Fahli Specs:
Size: Length 78 ft / width 22 ft
Cruising: speed 10 knots
Guest cabins: 5 cabins (10 pax) with attached toilet and shower with hot and cold water
Crew: 1 captain, 1 chef, 2 crew, 1 surf guide
Equipment : 1 x 225 hp Cummins engine, 1 x fibreglass dinghy with 15 hp outboard engine, 1 x desalination plant (4800 litres per day), 2 x soundproof marine generators (22.5 kW and 17.5 kW), 5 x air-conditioned cabins and restaurant, expresso coffee machine, snorkelling and fishing gear, TV, VCD/DVD player, video cassette player, hi-fi system, washing machine.
Navigation and communication: CB radio, mobile phone, GPS, searchlight, binoculars, plotting toolkits, compass and charts.
Non-surfing activities: Night fishing, snorkelling, barbecue on desert islands, island- hopping visits to resort islands, visits to uninhabited islands and local fishing villages.
Island culture
The outer atolls of the Maldives are a paradise few tourists will ever see. Surf adventurers are most fortunate to experience this incredibly beautiful region.
Charters are 13 nights duration and our VERY experienced surf guides will ensure you acheive maximum surf time. Maldivian surfer Martey has been the surf guide on Handhu Fahli for the past four years. He is one of the Maldives top surfers and wants to surf the best uncrowded waves as much as you do.
Handhu, the Handhu Fahli's sister boat, will also visit this region during her multi-atoll charters. The guides on both boats will keep in touch with each other constantly to ensure they are different surfing breaks (many breaks work simultaneously) at any one time.
Handhu Fahli example itinerary as follows:
Day 1: Arrive Male and connect with flight to Gaafu Dhaal.
Days 1-13: 12 nights onboard Handhu Fahli with expert guides.
Day 13: Fly back to spend the afternoon in Male before departing on evening flight.
This is a totally unspoilt region that promises UNCROWDED consistent surf during these months.
Detailed surf report below
Optimum surf conditions for the outer atolls;
Swell: Sth or SE and even SW for Westside breaks
Wind: NW is best
© 2016 Wavehunters Surf Travel, Inc. is a registered California Seller of Travel, C.S.T. Registration # 2060272-40. WAVEHUNTERS SURF TRAVEL . all rights reserved | Privacy Policy