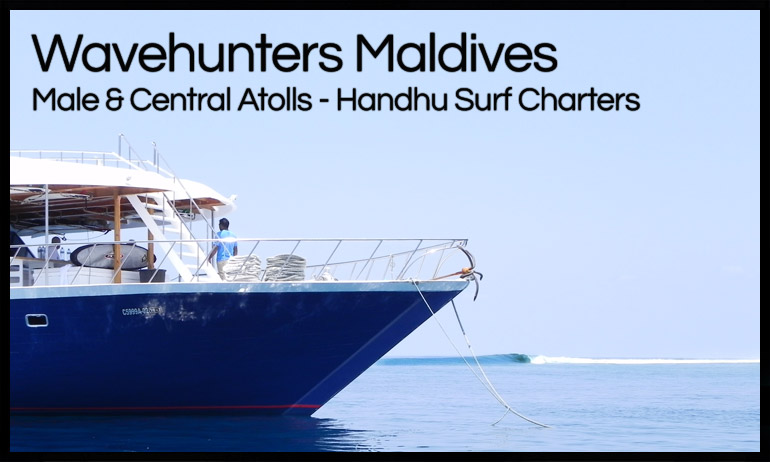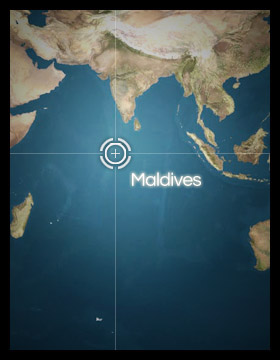 Handhu : 90ft Power Cruiser
Surfing Charters with Crowd Dodging Itineraries
Surf up to six atolls in 12 days
Surf Remote Locations
From May to August, Handhu is deployed for 12 night one-way directional trips (Male-Laamu) that surf Maluku, Hadhdhunmhthee, Meemu and Laamu atolls (in addition to the North & South Male Atolls at the beginning or conclusion of the trip). These more remote Central atolls contain many recently discovered secret spots that avoid crowds and experience a wide variety of waves. Our surf guide's aim is to get you surfing where no-one else is - in pristine, perfect locations. We have many repeat customers on these trips for this very reason. At the same time you'll have the opportunity on these trips to spend several days surfing the famed waves of the North Male Atoll including Cokes, Chickens, Sultans, Honkys and Jailbreaks. Handhu goes down to the Outer Atolls from late August to October for more uncrowded surf!
Awesome Fishing
Even if you are not a keen fisherman you will find yourself hooking into a spot of game fishing as you travel between breaks. The variety of species is unbelievable. If you are keen, bring your own gear and lures!
Legendary Boat
Handhu is 90 ft and very well laid out with air conditioned twin cabins with ensuites and air conditioned saloon and lounge. Outside, the deck space is massive with a large undercover alfresco lounge/dining area capable of seating at least 15 people. This is the favorite dining area as it allows guests to escape the hot Maldivian sun yet remain outdoors, capturing cool ocean breezes whilst watching the surf break nearby.
Central Atolls (Uncrowded) Surf
An 8 hour steam south from the South Male Atoll brings you to Mulaku atoll.
Mulaku Atoll
All Spots in the Mulaku Atoll are on a coast line facing to the east. There is always a left or a right hander well protected from the predominant wind directions. All spots are close to each other so that you can change spots within a few minutes!
Veyvah : Left Hander Perfect wave with long wall. Easy take of with several options with long rides. Not too heavy - Great Fun.
Mulha : Right Hander Can hold bigger swells. Easy to ride even when it is big. Good for intermediates and even beginners.
Mulha : Left Hander Pretty shallow, fast wave. Works only in certain times of conditions.
Muli Inside : Righthander Very fast, long walls, hollow, barreling, can be shallow but still save ending. Very well protected from southerly winds. Needs bigger swells.
Muli Outside : Righhander Picks up more swell, good in sw winds, long walls, can max out easily, on the corner easy exit.
We have recently scoped out 2 atolls on the West Side between Mulaku and Hadhdhunmathee atoll and in the right swell direction, Handhu will take you over there. There are some perfect set-ups on these atolls and almost certainly no-one else around. If the surf on the East side is small or onshore then your guide will use his expertise to determine whether it's worth visiting the west-side also.
A further. approx. 8 hour steam south brings you to Hadhdhunmathee atoll hosting the following breaks.
Hadhdhunmathee atoll
Spots are spread from the south facing coastline along the east facing up to the north east corner where waves wrap around. As a result you will find spots protected from all wind directions except a rare straight easterly breeze.
Isdhoo : Righthander which needs large easterly swell but very well protected from southerly winds.
Maabaidhoo : Left and Righthander. Left: Very fast and hollow, sometimes closing out, well protected from westerly to northerly winds. Right: works only in large swells. Fun Wave, Longboarders and shortboarders will have a good time.
Mundoo : Righthander Fast and shallow take off sectiont, barelling, spitting, perfect wave. With soft ending.
Gaadhoo : Lefthander Fun clean wave playground. When big: perfect lefthander.
Ying Yang/Hithadhoo : Righthander Yin Yang is a long and typical outside -typical reef corner right in a pass. Outside is a mellow wall, often cross shore, with safe rides in deep water. Then, the wave bends in the corner, mush out for a while, then wraps into one of the most critical sections in the Maldives. Inside section can be long and tubular, guys getting barreled 3 times but it can be fairly heavy too on pretty uneven reef, producing potential intimidating barrels on the first bend.
There is another atoll to the west (between Mulaku and Hadhdhunmathee atolls) that with the right swell direction (SSW) will offer a few other options and may be worth investigating on the 11 night Male to Hadhdhunmathee trips.
Wavehunters boats and expert surfguides have been surfing all these waves listed above for the last decade on route to Gaafu Dhaalu atoll (Southern atolls). Claims by other operators have been made that they discovered these breaks etc...We don't make these claims as surfing in the Maldives dates back to the 70's and some local Maldivian surfers were surfing these breaks 3 decades ago.
About Handhu Charters
TRIPS WILL START IN MALE ATOLL AND FINISH IN LAAMU ATOLL (with domestic flight back to Male) OR REVERSE DIRECTION. Please note board bags 8 ft and over will be unable to travel on this trip as the aircraft cargo hold cannot accommodate longboards.
Launched in February 2004, Handhu is a 90 ft vessel built specificaly for surf charters. Unlike other Maldivian vessels that operate diving charters plus some surf trips, Handhu is 100 percent dedicated to surf trips. The massive interior saloon area is fully air-conditioned with all the latest electronic entertainment equipment (large flat screen TV, DVD, stereo system etc). There is a massive lounge/dining area that easily seats a dozen guests in comfort.
The bar is well-stocked with European beer, French wine and a variety of spirits plus a large variety of soft drinks. Tea, coffee and drinking water is included in the package price. Outside, the deck space is massive with a large undercover alfresco lounge/dining area capable of seating at least 15 people. This is the favourite dining area as it allows guests to escape the hot Maldivian sun yet still remain outdoors, capturing cool ocean breezes whilst watching the surf break nearby.
An outside stairwell leads to a massive sundeck with bench seating around the perimeter. This is the ideal party venue at the end of a hard day's surfing with a few cold drinks and the stereo pumping out the tunes whilst watching the sun go down over the islands. The aft deck is ideal for game fishing and even the most accomplished game fishermen will be impressed with the set-up. There are two outdoor showers for rinsing the salt water off after your surf, snorkel, swim etc.
The cuisine is prepared by a resort-qualified chef with a strong European influence and features Italian pasta dishes and salads along with fresh fish, vegetables, rice dishes, curry dishes and a variety of deserts.
Sample menu
Pre-surf light breakfast: Cornflakes, toast, bananas, tea or coffee. 
After-surf breakfast: Eggs, toast, tea, coffee, fruit juice. 
Lunch: Variety of pasta, fresh fish, salads, fruit. 
Dinner: Meat dish, pasta, fish curry, vegetables, dessert. 
Unfortunately you will not lose weight onboard Handhu and we will keep your energy levels up at all times to compensate for long surf sessions.
Accommodation consists of six air-conditioned twin guest cabins (1 double/1 single bed) with ensuite bathrooms with hot showers and flush toilet. All cabins have plenty of storage for luggage and clothes and power points for charging batteries.
Extra onboard equipment includes snorkelling gear and basic fishing gear.
MAXIMUM 12 /MINIMUM 10 PASSENGERS FOR SOLE USE GROUP. DISCOUNTS APPLY FOR GROUPS OF 11 OR 12.
Handhu Specs :
Size: Length 90 ft, width 25 ft
Cruising speed: 10 knots
Guest cabin: 6 cabins (12 pax) with attached toilet and shower with hot and cold water
Crew: 2 captains, 1 chef, 1 assistant chef, 2 crews, 1 surf guide
Equipment: 1 engine 350 hp (Cummins), 1 aluminium dinghy with 25 hp outboard engine, 1 desalination plant 4800 litres/day, 2 soundproof marine generators (22.5 kW and 17.5 kW), air conditioned cabins and restaurant, expresso coffee machine, snorkelling and fishing gear, TV, VCD/DVD player, video cassette player, hi-fi system, washing machine.
Navigation and communication: CD radio, mobile phone, GPS, search light, binoculars, plotting tool kit, compass, and chart.
Optimal Swell & Conditions
Male Atolls Swell: SE Wind: Any type of westerly Central atolls: Swell: SE on East side SW on Westside Wind: Any type of westerly on East Side Any type of easterly on Westside.

© 2017 Wavehunters Surf Travel, Inc. is a registered California Seller of Travel, C.S.T. Registration # 2060272-40. WAVEHUNTERS SURF TRAVEL . all rights reserved | Privacy Policy