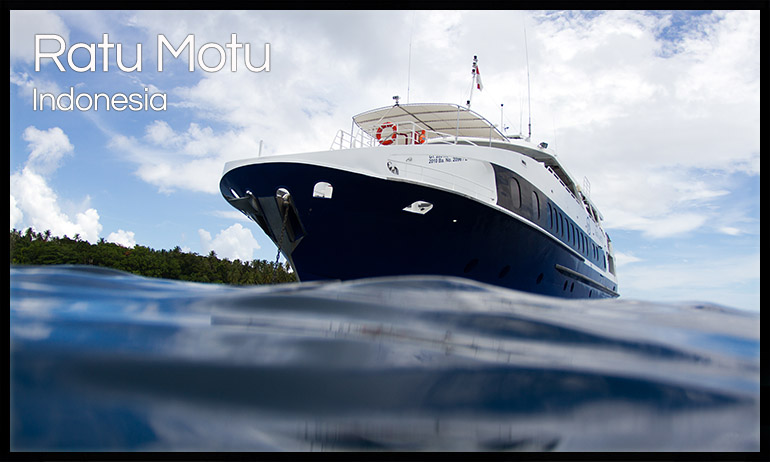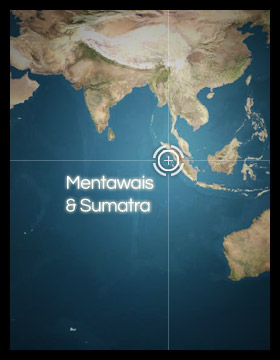 Ratu Motu : 129ft Luxury Yacht
Indonesia's Best Charter Boat
The Ratu Motu is the best charter boat in Indonesia, period.  It follows the waves from West Sumatra (Mentawai Islands, Telo Islands, Nias, the Banyaks, and the coast of Banda Aceh) from March - October and West Papua from November  - February.  It's no easy feat to navigate an archipelago that contains roughly 18,000 islands but boasting an unparalleled range as well as unmatched service and comfort, the Ratu Motu is head and shoulders above anything else.  The Ratu Motu also delivers unlimited access to unexplored pristine beaches, waking to a different surf break each day, and the opportunity to take your family and friends on the experience of a lifetime!
Ratu Motu has 10 guest cabins, a sun deck and lounge, swim platform, observation deck, and dining room. The boat is packed with water-sports equipment, including stand-up paddle boards, kayaks and snorkeling and fishing gear. Their experienced crew — including a private chef — is part of the package. It is a true 5 star adventure,
The Ratu Motu accepts whole group bookings exclusively and does not follow any set schedule or route. Each trip is totally customizable to suit your groups' needs. If you are looking for the ultimate surf charter experience in Indonesia the Ratu Motu is the best option available!
Why:
If you are looking for the best boat, best service, best surf, and best experience there is nothing equal to the Ratu Motu. Onboard safety is paramount and with a helicopter landing pad on the roof a number of redundant systems and procedures are in place to ensure that everyone has a fun and safe experience.
How:
West Sumatra charter passengers fly into Padang (PDG) via Jakarta (on Garuda, Lion Air or Tiger Air), Kuala Lumpur (on Air Asia) or Batam (on Citilink).  Upon arrival in Padang, the ground crew will be waiting for you and arrange luggage collection on your behalf and escort you to an air conditioned mini-van or vehicle (depending on group numbers arriving at any one time).  Afternoon arrival is preferred, the transfer is direct to the Harbour where after about an hours drive through the region (subject to traffic) you will be welcomed aboard Ratu Motu.  
West Papua bound passengers can transit through Jakarta, Bali or Singapore on a variety of domestic Indonesian carriers to Sorong (SOQ). Transfer to the Ratu Motu from the airport is a seamless 20-minute private car transfer. Hotel accommodation can be arranged if flight schedules do not align.
The Surf
When to Go:
The waves off West Sumatra are one of the most consistent surf destinations on Earth. The ideal time to go is between March through October when the south Indian Ocean is busy churning out swell after swell. The Ratu Motu has navigated these waters for over ten years and knows every reef pass, slab, and secret beachbreak up and down the coast. 
The waves off West Papua are a bit more fickle but offer a surf experience like nothing else on earth. Virgin, unexplored coastline offers a bounty of nooks and crannies that come to life during the North Pacific's winter, November through February. Besides surfing, West Papua trips offer diving, fishing, and cultural excursions to this special region, one of the most isolated and untouched regions left on Earth. 
Life Onboard the Ratu Motu
Accommodation
The Ratu Motu is equipped with everything you need and more!
Platinum State Rooms (2)
Queen-size island bed under three large windows offering panoramic views
Ensuite with shower and two hand basins facing large windows
Desk
TV and DVD player
Email access
Phone
Air conditioning
Laundry service
2 x daily housekeeping
Gold State Rooms (2)
Double bed under large picture window
Ensuite with shower
Desk
TV and DVD player
Email access
Phone
Air conditioning
Laundry service
2 x daily housekeeping
Silver Cabins (4)
Double bed with pull-down bunk
Ensuite with shower
TV and DVD player
Phone
Air conditioning
Laundry service
2 x daily housekeeping
Bronze Cabin (1) with ensuite
Two bunk beds
Air conditioning
Laundry service
2 x daily housekeeping 
Bronze Cabin (1) with bathroom in hallway
Two bunk beds
Air conditioning
Laundry service
2 x daily housekeeping 
Salon Lounge
The Salon lounge is the main inside hang out area. There are two large wrap around couches that you can take a comfortable break from the heat reading, playing board games or watching movies on the flat screen plasma TV. With large windows on either side of the lounge you can still take in the breathtaking scenery without compromising your view.  
Fine Dining
The dining and the salon lounge is open plan, creating a large inside area that creates a sense of luxury with the amount of space.  You can sit in the dining area for your lunch and dinner meals. There is full wait-staff to tend to your every need while you sit back and relax in the comfortable executive dining chairs.   
Sun Deck
The sundeck is the perfect place to sit outside whilst on the move.  With the wind in your hair and your skin lightly protected by some shade you can sit and take in the views on the way to your next destination.  This is the prime outside viewing area on the boat and somewhere you'll never forget long after your trip has finished. 
Observation Deck
This area is fully undercover with lounge chairs as well as coffee tables and a standing bar. The observation area is the outside place to be if you want to take a break from the sun and play board games, read a book or watch the surf when you feel you've had a bit too much sun but still want to take in all that your destination has to offer.  This also can transform into a little raging party area, the crew are always eager to help set up for a themed dress up party!
Swim Platform
The large swim platform at the stern of the vessel makes it extremely easy to access the water if you don't want to jump off the roof every time you want to go for a swim. The platform is flush with the water level so you can get in and out of the tenders and kayaks easily as well as walk directly onto your stand up paddle board or just slip in for a swim.
Internet
Internet access via satellite is available onboard. You can also be contacted on your mobile phone as long as you have global roaming activated and you can use our satellite phone to make outbound calls (fees apply).  Mobile and internet services are not always in range, but you will get a steady connectivity most of the time throughout your charter.
 

Activities
There are a range of activities on the Ratu Motu that you can take part in, in a group or on your own, for children or adults. 
Stand up paddle boarding
Kayaking
Snorkelling
Scuba diving
Fishing
Tin boat tours
Jet skis (these are for transport, not recreation)
Beach days
Swimming
Surfing
Sunbaking
Village tours
Boat jumping competitions
Food/Wine
The Ratu Motu is very proud of the food and beverage offering on-board and have invested a lot of time and energy to ensure that  meals are both healthy and satisfying. The Food and Beverage team are on point from dawn 'til late at night delivering everything from traditional feasts to a quick snack. 
Fresh fruit such as bananas, watermelon, mandarins, apples or papaya are available for you to help yourself at all times while aboard. As is tea, coffee, fruit juice and bottled water.  All you need to do is ask one of the staff.
Breakfast
Breakfast is typically served in the open air of the Observation Deck area from 7:00am to 9:00 am and includes everything from fresh fruit salad, various cereals, bacon and eggs, French toast, banana pancakes and omelettes. There's always plenty of fresh toast and all the various spreads. 
Lunch
A sit-down affair served after guests return from the morning surf session and activities. Lunch times vary from 11:00am to 2:00pm and are served in the Main Cabin dining area.  The lunch menu changes daily and you will generally not eat the same meal twice during your stay. Some of the lunch offerings may include fresh salads and cold meats, sandwich selections, burgers & fries, pastas, Mexican buffets or a traditional lunch of Indonesian "Nasi Champur". 

Evening Bar Snacks
They have built a tradition across the years of serving antipasto plates or a fresh seafood snack around sunset drinks, or when guests return from the day of activities. The type of sashimi varies depending on what fresh fish has been caught that day. Nothing tastes better than a snack and a cold beer after a day on the ocean.
Dinner
Dinner is the pride & joy of the Staff and is certainly a no-holds-barred affair. Whole grilled fresh reef fish, roasted meats, traditional Indonesian banquets, mud crabs, curries, crumbed or grilled fish, pasta dishes, a variety of fresh salads including green salads, exotic fruits, the list goes on. 
Dessert
Usually a hand-prepared dessert from ice cream to cakes, pies, and traditional desserts.
Wine
Wines can be selected from their suppliers list pre-charter and delivered directly to Ratu Motu for your arrival (delivery costs on-charged).  Consumption can be managed by the bar staff and charged accordingly, or guests can divide up the order and cost on arrival.  Any remaining wine can be taken with you on departure (Indonesian customs limit of 2L per passenger), or Ratu Motu may purchase remaining bottles at cost.  Wines are purchased at the risk of the guests, but assured of refrigerated transport and immediate air-conditioned storage. Alternatively, they have a selection of wines available on board and charged to guests on consumption. 
Technical Specifications and Layout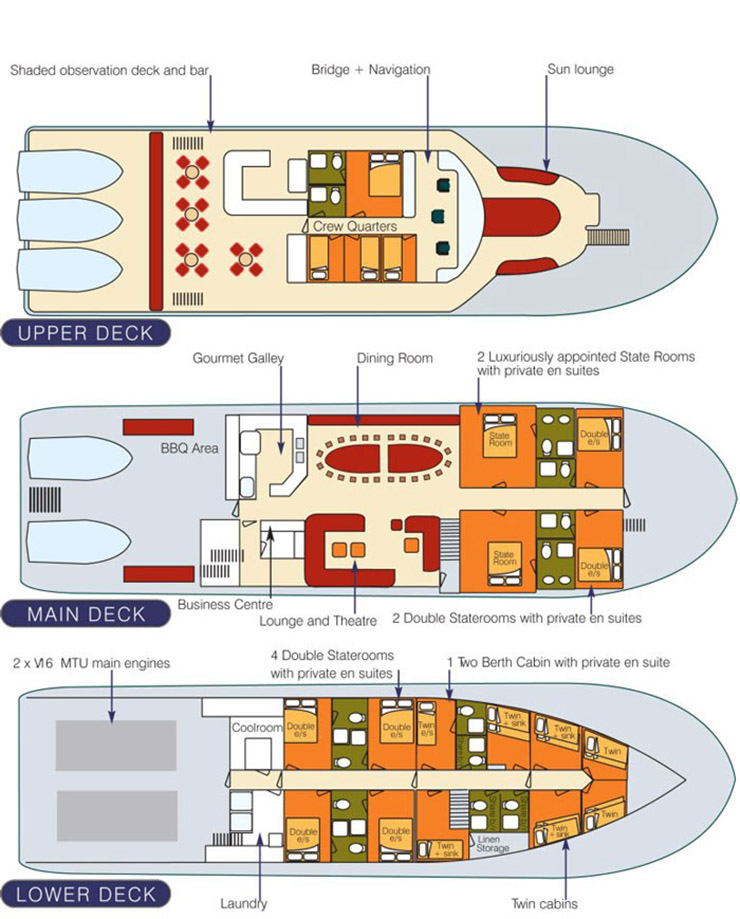 Ratu Motu's hull is single chine mono displacement. The vessel is a twin screw ocean passenger cruising vessel constructed of welded aluminium with a raked stem, full keel, stepped transom stern, raised two deck accommodation with bridge located forward.

How to Book:
1.  THERE ARE FOUR WAYS TO MAKE A RESERVATION
A. BOOK ONLINE: Click the "BOOK ONLINE" button on the right side or bottom fo your desired destination/option and follow the instructions to make a deposit using our secure online reservation system.
B. SUBMIT A TRIP INQUIRY: Fill out the "Trip Inquiry" form on the right side of the page or under the "Booking Info" section on the top menu. Wavehunters will get back to you as soon as possible, usually within 24 hours.
C. SEND US AN E-MAIL: Send your questions and trip inquiries to wavehunters@wavehunters.com.
D. GIVE US A CALL: We are located in Carlsbad, California, USA. 1-760-413-1513
2. CONFIRM DATES AND MAKE DEPOSIT: Before you book online please double check that the trip you want and the dates you need match up. If you make a reservation online you will pay the deposit by credit card. We can also process credit cards offline, take checks made out to "Wavehunters Surf Travel", and we accept wire transfers, cashier's checks, money orders, or direct deposits. 
3. SEND US YOUR INFORMATION: During the booking process we strive to make everything as simple and easy as possible. When you're ready to make your reservation please have your passport ready as we will need the number, expiration date, and country of issue. We will also need your flight itinerary (if we do not help set it up) as well as a few destination specific questions. If you are travleing with a group please specify the number of people in your group and their names.
4. MAKE FLIGHT RESERVATIONS (AS NEEDED): Wavehunters is a full service travel agency capable of handling all of our guest's flight arrangements. Each destination typically requires a specific flight itinerary that needs to be confirmed by Wavehunters prior to departure. If you don't have the time or inclination to deal with setting up your flight arrangements Wavehunters will be happy to coordinate them for you. 
5. MAKE FINAL PAYMENT: You final payment is due two to four months prior to your trip's departure depending on which trip you are on. Once that's in along with the requested information you're all set to go!
6. SHOW UP: Rule #1 is to remember to not miss your flight and remember to have a passport with at least 6 months left before the expiration date.
7. SURF: Once you're at your destination the only thing you should have to to worry about is what board you should ride and where to surf. Have fun!

© 2018 Wavehunters Surf Travel, Inc. is a registered California Seller of Travel, C.S.T. Registration # 2060272-40. WAVEHUNTERS SURF TRAVEL . all rights reserved | Privacy Policy