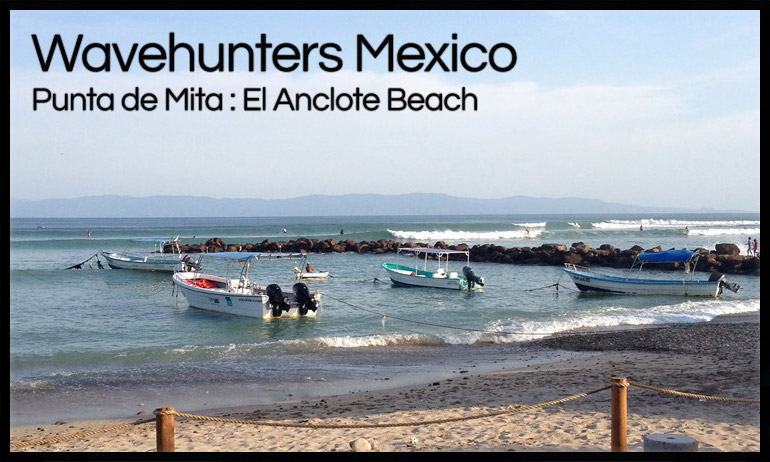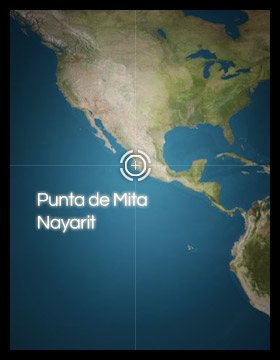 Punta de Mita : El Anclote Beach, Nayarit MX
Trip Highlights:
Short inexpensive flight to Puerto Vallarta, Only 45min drive from airport.
Year-round waves. NW and SW swell exposure
Beginner, Intermediate and Advanced Level Waves available
Great Longboarding and Stand-up paddle surfing
Experienced local boat guides and surf instructors
Luxury Couples and family-friendly accommodations
Punta de Mita world class activities: Beaches, Golf, Fishing, Snorkeling, Dining and more
Safe
Mexico's Riviera Nayarit spans 100 miles of pristine coastline, from Nuevo Vallarta all the way to San Blas. The highest concentration of quality surf spots in this region is around the Northern tip of the Bay of Banderas where there are over a dozen pristine surf breaks with crystal clear tropical water. In the heart of the Riviera, Punta de Mita is an impressive 1,500-acre pear-shaped peninsula surrounded by the Pacific on three sides—and home to one of the most awe-inspiring coastlines in the entire country. The villas and resorts that have sprung up along these golden shores are nothing short of spectacular, and offer visitors an elite combination of championship golf, trophy game fishing, gourmet dining, and top-drawer service in an extraordinary setting. At the same time, all the development of this region has created access complications to the surf breaks, making it very difficult to access the majority of the breaks by car. Wavehunters' Nayarit Surf Tours utilize panga boats as the everyday transportation from your accommodations to the surf, with overland transportation a secondary option when necessary to access the few breaks outside the bay that we occasionally drive to on the appropriate swell conditions.
The surf in this region of Mexico is generally 1/2 to 1/3 the size on South swells of more powerful breaks to the South such as Pascuales, Nexpa, or Puerto Escondido. For average surfers, longboarders and SUP this is welcome news considering mainland Mexico's surf can reach 20-30ft at the most exposed spots. It is unusual to see surf over 6-8ft face heights in this region. What is lost in size is compensated for in quality, the spots inside the bay well protected and offshore in the dominant afternoon Westerlies. The swell angle for this region is limited by 2 factors, Cabo Corrientes to the South and the tip of Baja to the North. Therefore swells over 300 degrees and under 200 degrees generally don't make it into the bay. The ideal swell angles are 205-230 (SW) or 280-300 (WNW). The SW swells are most common from April to October and the WNW swells from December to March. Tropical swells from storms passing to the West provide another source of swell from June-October. Still, the multiple swell sources do not guarantee consistency because of the fact that some S swells are under 200degrees and some N swells are over 300degrees. Overall the surf is very consistent for longboarding and SUP and less consistent for shortboarding. For this reason, this is a great destination for longboarders, SUP, beginners and intermediates, while potentially disappointing Alpha shortboarders seeking larger, hollower surf on a daily basis, although it is possible to luck into some bigger surf maybe 60 days of the year or less. If you're a mellow surfer with a positive attitude seeking a nice trip with your girlfriend, wife, family or friends, and enjoy experimenting with different equipment, maybe a little golf, fishing, or snorkeling, you'll be very content here in this tropical paradise. The breaks in this region are a mix of coral reef and rock bottom with a few beachbreaks. There are both right and left breaks, but rights are dominant by about 2 to 1. A-frame peaks, long walls, rippable sections, and perfect lines are typical of this region, not so much big tubes, but there are opportunities to get barreled including a few ledges and reefs. The dry season is from November to April and the wet season is from May to October, although both can be lovely. The dry season is cooler and less humid, while sultrier tropical weather prevails in the wet season.
Wavehunters range of accommodations include a 12-key Boutique Hotel on the surf break at El Anclote in the Village of Punta de Mita and a Luxury 4-bedroom Villa on El Faro point break at La Punta Estates. Our tours are packaged with airport greeting and roundtrip transfers, breakfast and lunch daily, your choice of accommodations, concierge services, daily boat trips with local surf guides, and optional surfing or SUP lessons, fishing or snorkeling trips. We work with a group of surf instructors and guides who we refer to as The Founding Fathers of Punta de Mita Surfing. All grew up surfing these local waves. They not only teach, and work with local kids to keep the Mita surfing tradition alive and well, but many compete in Mexico's national competitions.
This is truly a tropical paradise, where the ocean offers choice waves for surfers, cool breezes for sailors and an underwater world for divers filled with dolphins, sea turtles, humpback whales and myriad tropical fish. On land, the sandy beaches fringed with palms that give way to an exuberant jungle that marches up hills and peaks. The call of tropical birds fills the morning air, and the rustle of wildlife accompanies hikers seeking closer encounters with Mother Nature.
Accommodations : Boutique Hotel, El Anclote Beach, Punta Mita Village
Wavehunters Punta de Mita Resort
Not only is the resort located on the beachfront, but it is also situated on one of the region's most consistent surf breaks, El Anclote. The hotel is a 45-minute drive north of the Puerto Vallarta International Airport via Carretera 200 Norte, in the heart of Punta de Mita's restaurant row and steps from a protected half-moon of pristine blue water in Banderas Bay.
Hotel Cinco has 12 units, six CINCO Starfish Suites and six CINCO Signature Suites.
CINCO Starfish Suites
One- two- or three- bedroom suites with over 1,400 square feet of luxury accommodations. Each bedroom has a private full bathroom en suite. The master suite has a king size bed overlooking the terrace with an ocean view. The second bedroom features a king split, which can be made up as two twin beds or a king size bed. Each unit can sleep a maximum of four persons.
CINCO Signature Suites
One, two or three full bedrooms with over 2,700 square feet of luxury accommodations. All bedrooms have a private full bathroom. There is a king size bed in the master suite overlooking the terrace with a stunning ocean view. The second and third bedroom features a king split, which can be made up as two twin beds or a king size bed. Each unit can sleep a maximum of six persons.
Amenities & Features
Fully equipped gourmet kitchen 
Private safe 
Flat screen satellite TV 
Wireless Internet 
Private laundry room 
Large dining area 
Breakfast bar 
Living room 
Terrace overlooking El Anclote surf beach
Central air-conditioning 
Ceiling fans 
Nightly turndown service 
Full bathrooms with hotel amenities provided daily 
Luxury bathrobes, facial, hand and body towels 
500 thread count sheets
ADDITIONAL AMENITIES & SERVICES
AquaCenter offers lessons, excursions, workshops, day trips, and equipment sales and Surf/SUP Concierge 
Concierge CINCO – Anything, Anytime 
Fishing charters and golf rounds (arranged through the concierge)
Sun lounges and beach umbrellas 
CINCO Athletic Club & Spa with cardio training room, elliptical machines, stationary bikes and Lifecycle weight training equipment. Lockers and change rooms . Wet steam, sauna and Jacuzzi are available in each locker room. 
Beach level pool with lounge chairs. 
Rooftop infinity pool and whirlpool, deck and bar, with food and beverage service. 
Room service 
Private taxi and car rental services available
SUNSET BAR AND GRILL
Rooftop dining open is for breakfast and lunch at the Sunset Bar and Grill, run by Chef Emma. The menus at Sunset Bar and Grill are drawn from fresh, catch-of-the-day fish and farm-to-table organic ingredients.
Featuring both regional and seasonal cuisine. Imagine dining al fresco, close to the sea, at a table filled with the bounty of locally grown organic vegetables, sun-kissed tropical fruits and freshly-caught fish. At Sunset Bar and Grill, we connect diners with local farmers and artisan chefs of the region. The menu which changes every day is designed to be appropriate to the season and composed to feature the finest sustainably-sourced, organic, and seasonal ingredients including fruits, vegetables, greens, meat, fish, and poultry. Room service  is available 9am-5pm. Enjoy the casual vibe and beach music to watch the waves or catch up with friends over a revitalizing meal, fresh juices or a glass of wine–and, our communal dining table makes it easy to make new friends!
The Sunset bar is where you come to celebrate yet another perfect day in paradise. Whether you've spent it paddle-boarding, riding the waves, biking the hills, or contemplating the meaning of life from the perspective of a lounge chair, the welcoming, comfy, scenic perch of Sunset Bar makes the end of the day as idyllic as the hours preceding. Enjoy specialty cocktails with muddles organic ingredients, or the simplicity of an icy cold cerveza. Open each evening, from sunset, until....
Café des Artistes
Café des Artistes is a casually elegant 74-seat restaurant serving an avant-garde, a la carte bistro menu focused on seafood. It follows a farm-to-table model, seeking out and highlighting the freshest seasonal ingredients from regional fisheries and farms in the Nayarit region of Mexico. Chef Thierry Blouet, owner of the exquisite Café des Artistes, was awarded the rank of Maitre Cuisinier, distinguishing him as one of an exclusive group of culinary professionals and ambassador of French cuisine throughout the world. He is also a member of the Academie Culinaire de France, an organization that brings together French chefs with those of other countries such as Mexico, Canada and the United States. Café des Artistes is open for lunch and dinner, including beach dining at its new Beach Club. Not available for room service. Café des Artistes is owned by Chef Thierry Blouet, distinguished member of the Maîtres Cuisiniers de France and Assistant Director of Chaine des Rotisseurs in Puerto Vallarta.
Cinco AquaSports Center
The AquaSports Center at CINCO has four sea kayaks and a Hobie cat for guest enjoyment, as well as a broad array of SUP and surf boards available for rent. In addition, we have a Panga  boat with a captain available for your trips to nearby surf breaks, or for whale watching (Dec-May) or exploring the offshore Marietas Islands. The surf break just in front of Cinco is known as the Anclote break, and is recognized by the community of surfers as one of the best breaks for beginning surfers. The hotel beach, El Anclote is known as a great break for learning to surf, with the adjacent cove ide­al for Paddle-boarding. This setting makes it a rarified location for the celebration of all things surf and SUP. CINCO's surf Concierge will arrange boards and boats to take to you where the waves are best on any given day and time.
The CINCO Athletic Club and Spa offers a fun, fit club experience located in the heart of restaurant row in Punta de Mita. The on-site amenities include access and full use of CINCO's state-of-the-art cardio training room, ellipticals, stationary bikes, treadmills, and a full complement of weight training machines and weight station. Adjacent to the training room is a treatment room for spa services.  Expansive separate men's and woman's locker and changing rooms offer wet steam, sauna and jacuzzi, for unwinding after your spa treatment or workout. The ocean view CINCO Athletic Club & Spa uses only Natura Bisse amenities. The massage menu can be duplicated en suite or on the rooftop. The team of experienced therapists offer therapeutic massage, rejuvenating, deep tissue therapies, aromatherapy, exfoliation using natural seeds and sea salts, facials, and other services. The Athletic Club is open daily from 6 am – 9 pm; Spa services are available daily from 10 am – 7 pm. Reservations required for spa treatments.
Active Pursuits
Considered one of the world's best spots for big game fishing, the waters off Punta de Mita place you in the heart of the action. Anglers from around the globe return for Punta de Mita fishing each year to see if they can beat last year's big catch. The 40-mile-wide bay has depths up to two miles, which makes it a perfect place to find sailfish, mahi-mahi, marlin, tuna, rooster tail and red snapper. Numerous charters are available year-round – on small pangas to large trawlers with fly bridges. Arrangements can be made by the CINCO Concierge for parties of one to a dozen for half- or full-day fishing. Bass and other freshwater fishing is also available at lakes in the Puerto Vallarta area.
Fishing Charters
Considered one of the world's best spots for big game fishing, the waters off Punta de Mita place you in the heart of the action. Anglers from around the globe return for Punta de Mita fishing each year to see if they can beat last year's big catch. The 40-mile-wide bay has depths up to two miles, which makes it a perfect place to find sailfish, mahi-mahi, marlin, tuna, rooster tail and red snapper. Numerous charters are available year-round – on small pangas to large trawlers with fly bridges. Arrangements can be made by the CINCO Concierge for parties of one to a dozen for half- or full-day fishing. Bass and other freshwater fishing is also available at lakes in the Puerto Vallarta area.
Biking/Hiking
From January through May you can enjoy Riviera Nayarit's dry season with an exciting and intense cycling . The hills surrounding Punta de Mita, provide the perfect scenery to start this adventure and discover the wonders of Pacific Mexico.
Whale Watching
Whale watching is a popular activity as well from December to April when humpback whales return to the Banderas Bay. Around 300 individual whales, identified by distinctive markings on their tales, are known to migrate here. With so many whales in the bay, it easy to spot them from the shore, but for an up-close and personal encounter, whale-watching tours operate daily.
SCUBA, at the Marietas Islands
The Marieta Islands Marine Reserve, a marine life and bird sanctuary that has been studied by such acclaimed marine naturalists as Jean-Michel Cousteau, is a 40-minute boat ride from Puerto Vallarta. These islands are a haven to numerous species of birds (many of them endemic), turtles, fish and dolphins.  Visitors are not allowed onshore, but are guided around the islands by boat and may observe exotic and rare animals, including blue-footed boobies (found only here and in the Galapagos). The reserve is also a popular spot for divers and snorkeling.
Canopy Tour
Experience a spectacular eco-adventure – feel feel the rush of adrenalin and enjoy the stunning views while you traverse from treetop to treetop through the tropical forest along a series of zip lines.
Birdwatching
Puerto Vallarta and the surrounding region is a birder's paradise, offering numerous locations to observe a great variety of birds, surrounded by lush, tropical vegetation
Horseback Riding
Whether riding through the Sierra Madre foothills, or along a pristine beach at sunset, experienced guides will take you along the trails for a memorable ride, while they share their knowledge of the indeginous plants and wildlife of the region.
Golf
Golf is booming in popularity in Puerto Vallarta and the Mexican Riviera, with an ample offering of excellent courses to choose from. Condo-side courses, beachside courses, resort courses, private courses, public courses are what make golf in Puerto Vallarta.
Accommodations : The Penthouse (4br)
Activities
Location : Across the street from the Beach. In the heart of the Village of Punta Mita. Over 15 restaurants on the beach.
3700 sq foot penthouse with 4 bedrooms 4 baths 
2 Sat TV's 
Free USA VOIP phone 
Wireless internet 
Best views in Punta Mita 
Chef's kitchen 
Walk-in pantry 
Bar seating for 6 
Indoor and outdoor Dining for 8 
Concierge staff available 
Pool 
Use of CINCO Athletic Club & Spa across the street

How to Book:
1.  THERE ARE FOUR WAYS TO MAKE A RESERVATION
A. BOOK ONLINE: Click the "BOOK ONLINE" button on the right side or bottom fo your desired destination/option and follow the instructions to make a deposit using our secure online reservation system.
B. SUBMIT A TRIP INQUIRY: Fill out the "Trip Inquiry" form on the right side of the page or under the "Booking Info" section on the top menu. Wavehunters will get back to you as soon as possible, usually within 24 hours.
C. SEND US AN E-MAIL: Send your questions and trip inquiries to wavehunters@wavehunters.com.
D. GIVE US A CALL: We are located in Carlsbad, California, USA. 1-760-413-1513
2. CONFIRM DATES AND MAKE DEPOSIT: Before you book online please double check that the trip you want and the dates you need match up. If you make a reservation online you will pay the deposit by credit card. We can also process credit cards offline, take checks made out to "Wavehunters Surf Travel", and we accept wire transfers, cashier's checks, money orders, or direct deposits. 
3. SEND US YOUR INFORMATION: During the booking process we strive to make everything as simple and easy as possible. When you're ready to make your reservation please have your passport ready as we will need the number, expiration date, and country of issue. We will also need your flight itinerary (if we do not help set it up) as well as a few destination specific questions. If you are travleing with a group please specify the number of people in your group and their names.
4. MAKE FLIGHT RESERVATIONS (AS NEEDED): Wavehunters is a full service travel agency capable of handling all of our guest's flight arrangements. Each destination typically requires a specific flight itinerary that needs to be confirmed by Wavehunters prior to departure. If you don't have the time or inclination to deal with setting up your flight arrangements Wavehunters will be happy to coordinate them for you. 
5. MAKE FINAL PAYMENT: You final payment is due two to four months prior to your trip's departure depending on which trip you are on. Once that's in along with the requested information you're all set to go!
6. SHOW UP: Rule #1 is to remember to not miss your flight and remember to have a passport with at least 6 months left before the expiration date.
7. SURF: Once you're at your destination the only thing you should have to to worry about is what board you should ride and where to surf. Have fun!

© 2017 Wavehunters Surf Travel, Inc. is a registered California Seller of Travel, C.S.T. Registration # 2060272-40. WAVEHUNTERS SURF TRAVEL . all rights reserved | Privacy Policy