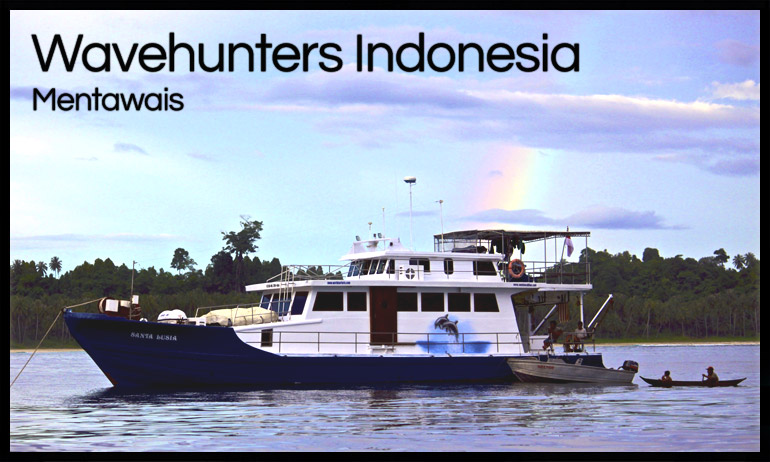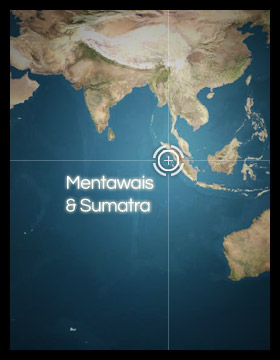 Santa Lusia : 65ft Power Cruiser
Legendary boat with hundreds of happy customers.
One of the top value boats in the Mentawais. Owned by Padang marine engineers ensuring she is always in top working order. Experienced western surf-guide, 2 x speedboat tenders, air conditioned accommodation for up to 10 guests and access to great surf spots secret and popular. Our most popular Mentawais boat ! Great value for money.
Travel in Air-Conditioned Comfort onboard the best budget boat in The Mentawais. Built in Padang by the most experienced local seafaring mechanic/boat builder with 45 years at Sea in this region. Santa Lusia has been a favorite for travelers to the Mentawais for the past 8 years due to the very comfortable living conditions, expert crew, fast speedboats and excellent value for money.
Key Features
High Comfort at Budget prices
'Santa Lusia is 65' Motor Cruiser with SPEEDBOAT and western Skipper. Air-conditioned very spacious Dormitory style accommodation to sleep 10. T.V, Video, stereo. Great food.
Speedboat Tender
At such a value for money price you would usually expect a basic tender boat ! Not on Santa Lusia. STACIA is a fiberglass speedboat with new 200hp outboard (capable of 30 knots+). The advantage of having the speedboat means that when Santa Lusia is steaming over long crosssings the guests can go ahead in the speedboat to maximize surf time!
World-class surf
The Mentawais are open to almost every swell direction as the islands block swell reaching mainland Sumatra. "World-class" reefbreaks exist everywhere making it one the most surf infested regions in the world. Most spots host mechanical perfection and vary in intensity. All standard of surfers will be stoked with the variety and the consistency. "This is the real Surfers Paradise."
Expert Skipper and Surfguide.
Ryan was born on the Big Island of Hawaii in 1975. Grew up on the ocean Surfing Fishing Diving and has been traveling to the Mentawais since 1996 and has been the surf guide on the Santa Lusia since 2009. Ryan is dedicated to researching swell and weather conditions so that he can make the best call possible while skippering the boat so that the quality of waves are always the best and surf time is maximized. Safety is very important onboard so Ryan has taken courses in lifesaving and has the ability to Suture minor lacerations in the event someone on board is cut. The main priority of the Santa Lusia crew is to ensure the safety of the guests and acheive maximum surf-time without crowds.
The Santa Lusia
The Santa Lusia runs her charters mainly in the Mentawai Island group but if we requested upon booking we can also cater for other areas such as the Telo island region and surroundings. The Santa Lusia offers two smaller crafts to get you to the surf quicker an aluminium boat equipped with a 40HP Tohatsu and the "Stacia" a fibreglass little zipper equipped with 140HP to get you to the surf in a flash. The boats can also be taken for other activities such as fishing, diving or exploring the islands nearby.
* Trips operate with minimum 6 /Max 10 passengers. - Individual or group bookings accepted. The Mentawai Islands offer a wide variety of breaks. Catering to Intermediate (long soft walls) and advanced surfers (shallow dredging barrels). Your group will be able to communicate to the guide what type of waves you would like to surf before going out and the guide will figure out the best spots to take you too depending on the size & direction of the swell and Wind.
Many of the waves visited on the charter have been featured in dozens of surf movies throughout the years. Spots like E-Bay,Bank-vaults, Hideaways, NoKandui, Riffles, Telescopes, HT'S, Macaronis, Greenbush, Rags, Lighthouse and The Hole are some of the most popular spots for Surf film makers. All of these waves are shallow reef brakes that provide insane tube rides for experienced surfers. The list goes on with a number of easier waves like; Pit stops, Burger World, Nipussi, Baby Kandui, Karanbijat left, 4-Bobs, A-frames, Scarecrows, Bintangs, Lances Left, Sand Bars, Bat Caves, KFC, Roxy's and Moots. Giving you the chance to carve your brains out and slip into some easy barrel rides.
There are many well known spots to score some great waves but if you want dodge the crowd and explore you can ask the surf guide and go to any number of lesser known but equally great breaks. If your group is a mix of intermediate and advanced surfers its no problem for the "Stacia" to drop off surfers to different breaks and still maintains radio contact with the Santa Lusia, so that you can maximise your surf time and stay within your limits.
Meals and Food
The Santa Lusia knows that surfers need to keep the energy up for their next Surf and make sure you're well fed.
Meals on board are now 50/50 Western/Indonesian style. A first breakfast is served at sunrise including; Weet-Bix, Cereal and fresh fruit. After the early session our chef prepares a second breakfast. French toast, Omelettes, egg n Toast or banana pancakes are some of the meals prepared.
Lunch usually includes fish, prawn or calamari, sandwiches, hamburgers, Nasi Goreng (fried rice) Gado Gado (noodles and vegies with Peanut sauce) or Pizza.
After a sunset surf and Bintangs dinner is served, chef Man always serves fresh chips and rice with dinner. Chicken with peanut sauce, spaghetti & garlic bread (Bolognaise and Carbonara), chopped steak, fresh fish and lamb chops are some of the favourites!
Drinks include; juice, soda, coffee, tea, water, 5 beers are available through out the day. Spirits are hard to come by in Padang so if you if want to hit the hard stuff we suggest purchasing it at duty free before arrival.
Other Activities
The Santa Lusia provides other activities for guest onboard; Fishing, diving, exploring and there are even two pubs in the islands with wireless internet and of course cold Beers!
Extras
A Surf Photographer is available on board with professional equipment so you can take your session home with you and get you mates frothing! A DVD with up to 900 Surf and Lifestyle photos will be available for purchase at the end of the trip for $100.usd. This service is optional and up to the individual.
Testimonials
"Surf Guide Ryan Did an Excellent Job in trying conditions to consistently get us the best waves that matched the conditions and skill set of all on board. Always ready to offer advice and also sacrificed his own surf time to get fantastic pictures of us all.Was great to have such local expertise at our disposal." - Greg Howart, travelled Sep 2012
"The Mentawais has been a surfers playground since the early 1990's. Hosting dozens of mechanical, consistent, world class breaks within close proximity its no wonder it has gained the notoriety it has. High season in the Mentawais is traditionally from Apr-Oct, in which times you're more likely to experience bigger swells but the Mentawais are really an all year round destination. You'll have access to the endless buffet of highly regarded waves such as; Rifles, Telescopes, Lance's left and right, Macaronis, Greenbush, the Hole and Rag's right to name a few. But with Ryan onboard you'll find a few hidden gems as well."
BOAT SPECIFICATIONS
Construction is of 50mm Planking , making her extremely solid. Propelled by 2 Mitsubishi 622,s with 280 Hp/ Engine, giving a guaranteed hull speed of 8.5 Knots 2 x Genset 25kva coupled with Mitsubishi colt Diesel,415 VAC 240VAC 24vdc
SPEEDBOATS
At such a value for money price you would usualy expect a basic tender boat! Not on Santa Lusia.
Boat 1: "Stacia" is a fiberglass speedboat with 200HP outboard (capable of 30 knots+)
Boat 2: Is a 4.75m long x 2.25m wide aluminium Tender with Yamaha 40hp outboard and centre console steering
The advantage of having these boats means the group can split up and surf different breaks and you can also travel at high speed ahead of the main boat when travelling longer distances to get to the surf quicker and MAXIMIZE SURFTIME !
SAFETY EQUIPMENT
Furuno 24Nm radar
Garmin G.P.S
S.S.B. Radio I-Com 700 S.S.B Padang Base station
V.H.F. Radio
Epirb 104Mhz SOLAS
15 Man Life Raft SOLAS all Flares and Safety Equipment
ONBOARD EQUIPMENT
Air-conditioned very spacious Dormitory style accommodation to sleep 10.
T.V, Video, stereo, Xbox (Byo Games)
Fishing gear/Snorkelling gear
Water skiing equipment
Satellite phone onboard
© 2015 Wavehunters Surf Travel, Inc. is a registered California Seller of Travel, C.S.T. Registration # 2060272-40. WAVEHUNTERS SURF TRAVEL . all rights reserved | Privacy Policy