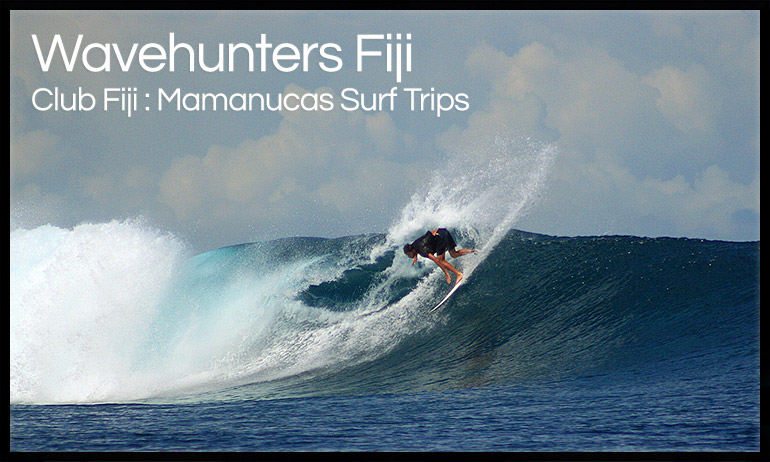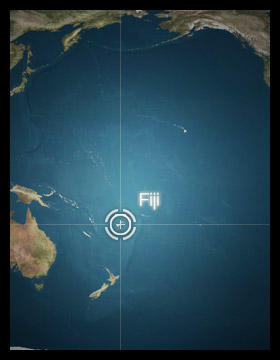 Wavehunters' Cloudbreak and Mamanuca Islands Day Boat Trips!
Wavehunters

now offering daily surfing trips to all the Mamanucas breaks.
Surf Cloudbreak, Wilkes, Namotu, Restaurants and Swimming Pools!
Fiji-Mamanuca Islands Surf and Fishing Day Trips!
Surf breaks include: Cloudbreak, Restaurants, Wilkes, Namotu, Swimming Pools and Desperations
Departing Wailoaloa Beach/Rendezvous and pickup from Denarau Hotels off the Beach (Sheraton, Westin, Sofitel, Radisson, etc…) 

Note:
- 5-day minimum as a stand-alone booking.
- 3-day minimum if booked in combination with another Wavehunters Fiji tour.
- Mamanucas Island Resorts pickup also available (on full-day charters only).
Wavehunters' boats now pick up from all Wailoaloa beach and Denerau hotels and resorts (Sheraton, Westin, Sofitel, Radisson, etc…). Beach pickup available from front of hotel!
Now book the resort, hotel or lodging of your choice, and hire our boats to take you out to the lineups. The Fiji surf decree made all Fijian breaks open for surfing tourism so there is no longer any exclusivity of waves by various resort islands.
Boat trips depart on a daily basis with professional guides and crew. Boats are registered, surveyed, have full safety, radios and communication equipment. We include the services of an experienced surf guide on all trips and can do light tackle sportsfishing on request. There is also excellent snorkeling on the outer reef and we include gear.
ALL PRICES IN FIJIAN DOLLARS.
Exchange rate 1USD= 2FJD/ 1FJD=.50USD as of 12/26/14.
Sugar Rush – 24ft islander with canopy and 115 Mercury
Surf trips FJD$160.00 per person per day
or
½ day CHARTER 4 HRS FJD$750.00 (max. 6 surfers)
Full Day 8 HOUR CHARTER FJD$1200 (max. 6 surfers). Includes water light snacks.
Black Magic – 23ft islander with 60hp Yamaha
Surf trips FJD$160.00 per person per day
or
½ day CHARTER 4 HRS FJD$600.00 (max. 4 surfers)
Full Day 8 HOUR CHARTER FJD$750.00 (max. 4 surfers). Includes water light snacks.
Surfboard Hire is FJD$50/board and we have a large range available.
Light tackle sports fishing and bottom fishing at the same rates as above, all equipment and bait supplied.
Fiji Surf Locations
Malolo Area – 45 mins to 1-hour from Wailoaloa Beach and Denerau Resorts
Malolo Area Waves
Cloudbreak
Fast and fun reefbreak at 2-4 feet and heavy barrels and tubes at 4-6 feet, offshore in tradewinds and picks up predominant swell from the S and SW year round. Sharp reef bottom – Strong Intermediate to Advanced surfer level
Restaurants
Mechanical wave that refracts and wraps around Tavarua Island – always about half the size of Cloudbreak offshore in tradewinds, endless barrels on the good days. Sharp reef bottom – Advanced surfer level
Wilkes Passage
Fast right hand reef break fun at 2-4 feet challenging at 6 to 8 feet, not as heavy as Cloudbreak and works in light w or sw winds. Best on mid tide rising. Intermediate surfers no problem here.
Namotu
Fun longboard and shortboard wave at 2-4 feet, performance wave at 6 to 8 feet and epic long walls and barrels at 10 feet plus !..not to be underestimated and as good as Cloudbreak on the day – needs east winds or light northerlies. Advanced Beginner to Advanced Surfer level depending on the conditions.
Swimming Pools
Fun right hander breaks opposite Restaurants and can have hollow big days or small fun days, needs west winds or glass. Beginner to Intermediate level.
Desperations
A fun bump in the reef a few miles from Namotu and Wilkes – good in northerly winds and smaller swells. Intermediate or Advanced Level. 
Tavarua Right
A rare gem that has its days and can be as good as Wilkes shorter faster and heavier. Strong intermediate or Advanced level.
General Information
Close to Nadi and Malolo Resorts these waves offer the best combination of waves in Fiji and are protected by the brunt of tradewinds by the mainland, there is always a rideable wave in this area and it is truly a surfers paradise and caters to all levels of ability.
© 2015 Wavehunters Surf Travel, Inc. is a registered California Seller of Travel, C.S.T. Registration # 2060272-40. WAVEHUNTERS SURF TRAVEL . all rights reserved | Privacy Policy