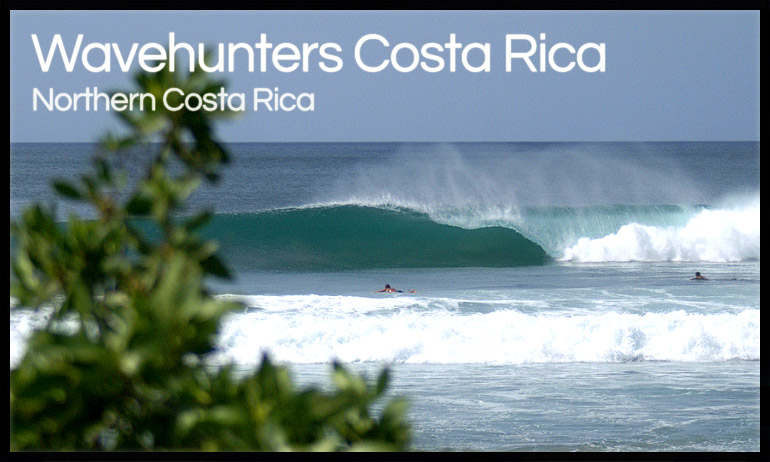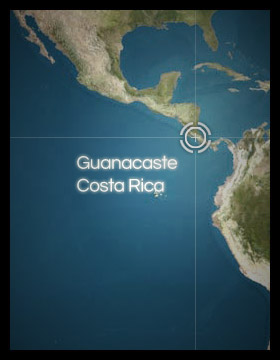 Wavehunters, Costa Rica - Wavehouse : Pricing
PLEASE CONTACT WAVEHUNTERS FOR THE MOST UP TO DATE SCHEDULE OPTIONS AND AVAILABILITY:
-------------------------------------------------------------------------------------------------------------------------------
Wavehouse Playa Negra Base Package Includes
Air-Conditioned accommodations in a private bedroom with safe (1 room for every 2 persons). 
For Amenities: See Description Below
Liberia Airport Pick up/ drop off (1 roundtrip transfer per group only)
Costa Rican style Breakfast (pancakes, fruits, eggs, gallo pinto, granola, toast, juice, coffee, etc...)
Dinner with (1)salad, (1) entrée, (1) soda
(1)liter of bottled water per week per guest with unlimited refills from 5 gallon water coolers in house
Full Day Surf Tours with private guide (Surfing instruction or coaching are available for Additional Cost)
Deluxe Accommodations 
Our new location is located 50 meters from a quiet beach with surf spots in both directions. The house has four fully equipped bedrooms and four bathrooms. High ceilings with big windows make this house light and bright, with good cross ventilation. The second floor features a big terrace- perfect to practice yoga, chill with a book, or enjoy the monkeys that pass by. Two big yards with tropical landscaping and a swimming pool lead to an ocean view through the trees and private access to the beach.
WAVEHOUSE PLAYA NEGRA FEATURES:
3,000 sq ft
12-ft ceilings
Four spacious bedrooms (1 king, 1 queen, 2 doubles)
Four full private bathrooms
Two large living areas
Satellite TV
Big deck off master
Large dining area outside
Air Conditioning & ceiling fans in every room
Swimming Pool and Private patio
Work area & Wi-Fi internet
 LOCATION INCLUDES:
Steps from the beach
2 meals per day, private chef
Fully guided surf transportation daily in 4×4 vehicles
All experience levels
Gated beach community, 24×7 security
NOTES:
Prices are per person
1 Airport transfer per group (Liberia). Extra airport transfers from Liberia airport are $100 each way. San Jose airport transfer is $250 each way per group. Free pickup from Tamarindo airport.
Surfboard rentals available: $20/day or $100/week. Nice quiver of high performance shortboards, longboards and fun board shapes.
7 night Surfer package Special (Saturday-Saturday)
*Excludes Semana Santa/Easter, Christmas and New Years Holidays

1 person: $1,995.00
2 persons: $1,795.00 per person 
3 persons: $1,695.00 per person
4 or 5 persons: $1,395.00 per person 
6 persons+: $1295.00 per person
Wavehouse Playa Negra Standard Tour Pricing (Any Schedule)

4 nights/5 days Base Package:
1pp: $1,495
2pp+: $1,295 per person
6 nights/7 days Base Package:
1pp: $1,895
2pp+: $1,695 per person
9 nights/10 days Base Package:
1pp: $2,195
2pp+: $1,995 per person
Extra Nights: $195.00 per person
Please inquire for group discounts for 4pp or more
Learn To Surf in Playa Negra, Costa Rica Beginners Surf Camp
Beginners Surf Camp includes:
Daily lessons
Board, leash and rash guard
Everything else included on Playa Negra Surfer Base Package
Cost: Add $60.00 per person per day to package cost. 
SERVICES & ACTIVITIES OFFERED
Photos:
Advanced bookings $100 per surfer per day unlimited sessions, please bring digital storage, Normal price $100 per session per surfer with group discounts available.
Boat Trips – Surf or Fish - $500 per day for our 32' Center Console, $400 per day for our 27'. Drinks and lunch provided. $15 park permit fee required
Massage - $50 per hour
Canapoy Tour & Zip Lining - $50 per session
Mountain Bike - $50 - $80 per session
Surf Board Rentals - $20 per day or $100 per week
Surf Lessons - $60 per 2 hour session (includes board and rash guard)
Yoga - $12 per class
Horseback Riding - $60 per two hour ride
SUP Tours – Ocean or River $60 -$80 for 2 hours
Snorkeling - $60 for 2 hours
Jungle Hike $30 -$50
DEPOSIT AND PAYMENT TERMS:
• Deposit required to confirm your booking is US$500. A 2nd Deposit to to bring the total reservation up to 50% of the booking cost is due 7 days after the initial deposit to guarantee the booking. Deposits are non-refundable.
• Balance is due 60 days before the trip starts
• No refunds of deposits or payments
• Travel insurance is mandatory;
• A current passport with 6 months validity from date of entry is required.
RELEVANT LINKS:
Wavehunters Online Booking Center (This links to all the destinations)
Wavehunters Contact Information
BOOKING AND TRAVEL INFORMATION
We operate a secure online reservation system for trip deposits. Trip deposits can be made via wire transfer, check, credit card online via our website, or credit card offline.
•  All online credit card deposits are subject to a one time $30 USD processing charge per person.
•  All offline credit card deposits are subject to a 1.9% processing charge per person.
•  All credit card final payments are subject to a 1.9% processing charge per person.
•  All wire transfers for deposits or final balances are subject to a $10 bank handling charge per transaction. This charge will be waived for group bookings if you send one wire transfers for the entire group.
•  Deposits or Final Payments made by check require no extra fee. All checks can be made out to Wavehunters Surf Travel
 No personal checks can be accepted for tours departing within 30 days. For all tours departing within 30 days, we require credit cards, cashier's check, money order, direct deposit, or wire transfer.
CHECKS
Please include your booking # on the check and mail to:
Wavehunters Surf Travel.
701 Palomar Airport Road Suite 300
Carlsbad, CA 92011 
WIRE TRANSFER OR DIRECT DEPOSIT
Please request details.
PLEASE NOTE
In some instances during the online booking process a specific trip's availability will have changed before a live update is possible. If the dates or trip you've chosen are no longer available we will do our best to find a suitable replacement date or send you a refund within a 48 hour period.
In other instances during the online booking process a specific trip may require a "minimum" number of participants to activate that specific trip package. In this case we will contact you with the details and information about the current status of that trip and do our best to consolidate other individuals and groups to ensure your desired trip proceeds as planned. This is most common in "surf charter" trips which require a certain number of people on the boat before sailing.
FLIGHT INFORMATION
Wavehunters is a full service travel agency capable of handling all of our guest's flight arrangements. Each destination typically requires a specific flight itinerary that needs to be confirmed by Wavehunters prior to departure. If you don't have the time or inclination to deal with setting up your flight arrangements Wavehunters will be happy to coordinate them for you. Simply fill out the flight information section during the online booking process or send us an e-mail with your flight request. [wavehunters@wavehunters.com](wavehunters@wavehunters.com)
TRAVEL INSURANCE
Travel Insurance is required on most Wavehunters trips. We have partnered with Allianz Global Assistance Click on the link to sign up online. For any island destinations or remote areas we recommend you have at least the Virtuoso Classic policy level provide adequate medical-evacuation coverage levels.
WAVEHUNTERS SURF TRAVEL
Want to speak to surfers and agents who have actually been there?
Wavehunters management has collectively visited virtually all of our international destinations and offers unprecedented firsthand knowledge of its trips, or email us individually for expert travel advice. Assistance also available in Spanish or Portuguese. 
Wavehunters are experienced surf travel agents on call 7 days a week, coordinating travel logistics, flights, and other details to ensure our clients have the smoothest experience with nothing left to chance. This is an around-the-clock job for us and we remain on call dedicated to meet our clients' needs all over the world at any given time, from the most routine to the most urgent. Wavehunters' operators are the most experienced and professional in the industry, and they are super keen and ready at each location to get you into some perfect waves, with your safety and comfort our highest priority.
CONTACT DETAILS
Wavehunters Surf Travel. Inc
701 Palomar Airport Road, Suite 300
Carlsbad, Ca 92011
E-mail: wavehunters@wavehunters.com
Phone: 760-494-7391
© 2018 Wavehunters Surf Travel, Inc. is a registered California Seller of Travel, C.S.T. Registration # 2060272-40. WAVEHUNTERS SURF TRAVEL . all rights reserved | Privacy Policy